Darrell Ewing, Derrico Searcy's new trial hearings continue  July 6, nearly five years after convictions overturned in 2019.
Judge Cox sets motion hearing for Oct. 10, 2023; due date for motions August 15, response Sept. 12, final conference and trial March 25, 2024.
Ewing files pro se motions to dismiss charges due to seven "egregious" pre-trial Brady violations, tainted ID prior to first trial, and more 
Violations include state's suppression of Tyree Washington's confession to the crimes to Michigan State Police in 2017
Above: Pre-trial hearing on Darrell Ewing/Derrico Searcy case July 6, 2023. (Download Google Chrome's Volume Master extension to hear video at 600% volume)
By Diane Bukowski                                                                          
July 20, 2023
DETROIT—Darrell Ewing and Derrico Searcy appeared before Wayne County 3rd  Circuit Court  Judge Kiefer Cox July 6, 13 years after they were convicted of the 2009 murder of J.B. Watson and assault on another man in a drive-by shooting on Detroit's east side.
Unexpectedly the two were shackled, in handcuffs.
Cox is resuming pre-trial hearings after WCCC Judge Michael Hathaway overturned Ewing and Searcy's first and second-degree murder convictions Oct. 24, 2019, ordering a new trial, after an evidentiary hearing mandated by federal courts.
In his ruling, Judge Hathaway cited juror misconduct related to the unproven prosecution theory that the crimes were part of a gang war, a "lack of  overwhelming evidence of guilt," and a "statement against penal interest"  by Tyree Washington, who confessed to the crimes.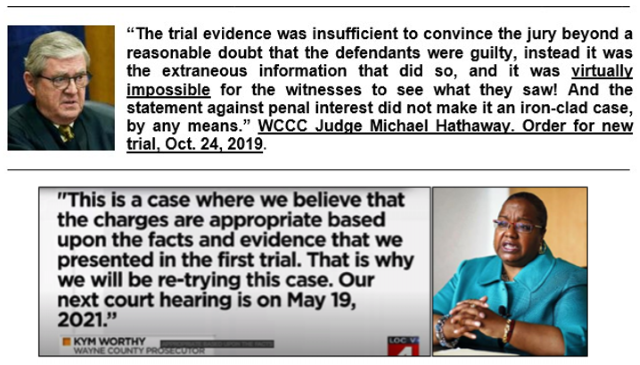 State courts upheld his ruling despite Wayne County Prosecutor Kym Worthy's appeals. She still says evidence at the first trial was sufficient to convict, and has appealed every judgment favorable to the defendants since U.S. District Court Judge Denise Page Hood's 2016 ruling vacating the pair's convictions and ordering a new trial. Judge Hood cited the jury's use of "extraneous information" including their own on-line and social media research about "gangs," which the jurors said weighed strongly into their "guilty" verdict.
Judge Cox set a new trial date for March 25, 2024, nearly five years after Hathaway's ruling, citing attorney availability. He set the first session to hear pre-trial motions for Oct. 10, 2023, which will be the next in-person hearing.
"The last time we were here, Judge Darnella Williams-Claybourne said we were a priority," Ewing reacted from his seat.  "Is it possible we can reserve a trial date for sooner? We've  been incarcerated 13 years on wrongful convictions, including nearly three years in the Wayne County Jail."
Ewing and other pre-trial detainees at the Jail filed a federal lawsuit June 23, 2022 alleging that their constitutional rights to speedy trials, open courts, family visits, and recreation are being violated.
It is being heard in the court of U.S. District Court for the Eastern District of Michigan Judge Sean Cox, currently before Magistrate Patricia Morris. Case No MIEDCE 22-11453.
Currently, many detainees have been without water for showering, drinking, and cleaning their cells for several days, Ewing told VOD. One detainee was beaten to death by another on July 17 in those conditions, according to news reports.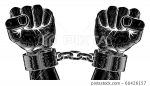 During the hearing, Ewing also quoted a U.S. Supreme Court ruling, "Judges must maintain a judicial process that is dignified, and to have a man plead for his life in shackles before a court of judges is the highest insult on the dignity of the court." Deck v. Missouri :: 544 U.S. 622 (2005) :: Justia US Supreme Court Center. 
Other courts have held that such treatment severely handicaps defendants not only physically, but psychologically, as they wend their way through a frequently biased justice system. During previous pre-trial hearings in front of WCCC Judge Williams-Claybourne in 2022, the defendants were not handcuffed.
Ewing is representing himself, with stand-by attorney Christopher Sinclair at his side. He said the handcuffs were making it difficult for him to take notes and review his pro-se filings as his own chief defense counsel. Searcy is represented by Atty. Blase Kearney of Neighborhood Legal Services
"Procedure in this building and with the WC Sheriff is that while in court, in-custody individuals are in handcuffs for proceedings but not for trial," Judge Cox replied. "This is not trial."
But Ewing says he has not let these difficulties deter him.
"I'm just glad to finally be back on the Court's docket and have a new judge presiding over the case," Ewing told VOD after the hearing.
"Judge Kiefer Cox is from a well-known Michigan family of law, which includes Michigan's former Attorney General Mike Cox, Judge Sean Cox, Chief Judge of the U.S. DC of Michigan, and 3rd Circuit Court Senior Judge Kevin Cox, who is his father."
Ewing has filed multiple pro se pre-trial motions with the court which will be heard Oct. 10. One asks for dismissal of charges due to seven pre-trial violations of Brady v. Maryland, dating from pre-trial proceedings in 2010, and continuing to pre-trial proceedings for the re-trial. It also details the history of court proceedings since 2009.

Ewing describes the seven suppressed items as follows: 1) an exculpatory federal interview,  2) info on car the real killer was in, 3) report identifying a different suspect, 4) photo array showing eyewitness ID of another man in first line-up, 5) 2010 federal statements and disclosure on first trial witness, 6) exculpatory Facebook photos of Ewing with no facial hair, et. al. 7) exculpatory phone subscriber/dump.
Another is for pre-trial bond based on People v. Reginald Lamarr Davis, a Michigan Supreme Court ruling that bond can be granted in capital cases including first-degree murder, under MCL 765.5, which provides that, "No person charged with treason or murder shall be admitted to bail if the proof of his guilt is evident or the  presumption great." Davis argued that this was NOT the situation in his case, and was upheld by the state's Supreme Court.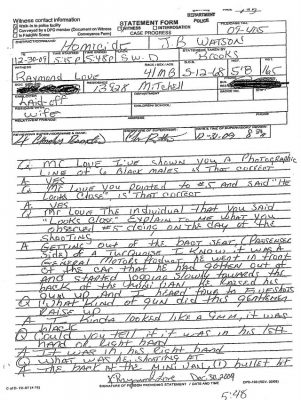 A third motion asks the court to bar the testimony of trial witness Raymond Love. Love  identified Ewing only after coaching from DPD Officer Brooks, including line-ups where he first identified a different man, and then said only that "he looks close" in a subsequent line-up.
Judge Hathaway said during the 2018 evidentiary hearing that it was " virtually impossible for witnesses to see what they saw!"
Love he saw Ewing for only seconds in a side-view mirror to his left, as he hid from the gunshots in his wife's bosom. She was in the  passenger seat and has since passed away.
"I just hope with his background, when Judge Kiefer Cox lays eyes on the conscience-shocking Brady violations and tainted identification procedures in my briefs, he will dismiss the case as a gross violation of my fundamental due process rights," Ewing said. "There's no way under the law he can turn from the truths of my innocence which the state has unfairly suppressed for over a decade now."

Most prominently, evidence of the prosecution's suppression of a 2017 confession by Tyree Washington to the murder, given to the Michigan State Police and recorded on audiotape as well as in writing,  and multiple other Brady v. Maryland and due process violations before, during and after the 2005 trial, as well as in current pre-trial proceedings, are at play.

The suppression of the 2017 Washington confession to the State Police was first exposed during a hearing Aug. 30, 2021. The confession came to light when Asst. Prosecutor Kam Towns provided discovery to the defense, after trying unsuccessfully for four months to get the discovery contents sealed pending the re-trial. She cited the city's danger of civil liability for the request.
Defense attorneys moved for dismissal of the charges against Ewing and Searcy due to the suppression, but Judge Williams-Claybourne denied their motions, claiming Brady does not cover post-conviction matters.  Ewing filed an interlocutory appeal that was denied by the Court of Appeals. The Michigan Supreme Court did not grant leave to appeal.
The revelation of Washington's MSP confession strengthens previous confessions he made in written affidavits and an interview with private investigator Scott Lewis. (See below.) Even during Ewing and Searcy's first trial, testimony from federal witness Christopher Richardson identified his cousin William Beal and Tyree Washington as perpetrators of the crime.
Richardson pointed to AP Kam Towns and DPD Officer in Charge Theophilus Williams during the first trial and testified that he met twice with each in 2010 to tell them he had direct knowledge that his cousin William Beal and Tyree Washington committed the murder of J.B. Watson and assault on another man. Although Washington did not testify during the trial, he said he had his confession delivered to Towns during the trial.
Ewing told the court July 6 that he had filed an attorney grievance complaint against Towns for her actions, and was told to address his concerns to the trial court. Towns is now employed in Michigan Atty. General Dana Nessel's office, along with others who originally worked under Kym Worthy.
Private investigator Scott Lewis' interview with Tyree Washington in 2017 
RELATED:
DID PROS. KYM WORTHY AND DPD SUPPRESS KILLER'S CONFESSION IN EWING/SEARCY CASE? HEARING DEC. 1 | VOICE OF DETROIT: The city's independent newspaper, unbossed and unbought
DID WAYNE CO. PROS. HIDE KILLER'S CONFESSION TO MSP IN EWING-SEARCY CASE, USE DPD TO STOP RETRIAL? | VOICE OF DETROIT: The city's independent newspaper, unbossed and unbought
8 JUDGES SAID EWING, SEARCY DENIED 'FAIR TRIAL' IN 2010; KYM WORTHY: WE WILL PRESENT SAME CASE MAY 19, 2021 | VOICE OF DETROIT: The city's independent newspaper, unbossed and unbought
https://voiceofdetroit.net/2019/10/27/darrell-ewing-derrico-searcy-win-new-trial-in-murder-case-after-nearly-two-decades/
JUROR IN 2010 EWING/SEARCY MURDER TRIAL: VERDICT TAINTED BY JURY'S "GANG-RELATED" INTERNET RESEARCH | VOICE OF DETROIT: The city's independent newspaper, unbossed and unbought
https://voiceofdetroit.net/2019/02/14/sixth-circuit-orders-evidentiary-hearing-instead-of-new-trial-in-darrell-ewings-2010-murder-conviction/ 
https://voiceofdetroit.net/2017/11/27/fed-judge-strikes-down-darrell-ewing-conviction-due-to-jury-discussion-of-gang-social-media  
DARRELL EWING, DERRICO SEARCY IN DETROIT COURT APRIL 13, NEW TRIAL ORDERED BY 8 STATE, U.S. JUDGES | VOICE OF DETROIT: The city's independent newspaper, unbossed and unbought 
APPEALS CT. UPHOLDS NEW TRIAL ORDER IN 'GANG' SOCIAL MEDIA CONVICTIONS OF DARRELL EWING, DERRICO SEARCY | VOICE OF DETROIT: The city's independent newspaper, unbossed and unbought 
MERRY XMAS! UP TO 800 WAYNE COUNTY JAIL DETAINEES FREEZING IN BITTER COLD, NO EXTRA BLANKETS, NO VISITS | VOICE OF DETROIT: The city's independent newspaper, unbossed and unbought
WAYNE CO. JAIL DETAINEES SUE TOP COPS FOR DENYING SPEEDY TRIALS, OPEN COURTS, FAMILY VISITS, RECREATION | VOICE OF DETROIT: The city's independent newspaper, unbossed and unbought
VIDEO VISITS TO INMATES AT WAYNE COUNTY JAILS SHUT DOWN, ACCESS TO FAMILIES, COURTS CURTAILED | VOICE OF DETROIT: The city's independent newspaper, unbossed and unbought
FAMILIES MARCH FOR MEN HELD WITHOUT TRIAL UP TO 4 YEARS IN WAYNE CO. JAIL; DEMAND "OPEN THE COURTS" | VOICE OF DETROIT: The city's independent newspaper, unbossed and unbought
UNLAWFUL, UNJUST! RALLY THURSDAY MAR. 17 TO FREE WRONGLY HELD PRISONERS; OPEN VISITS, COURTS, FILES | VOICE OF DETROIT: The city's independent newspaper, unbossed and unbought 
*********************************************************************************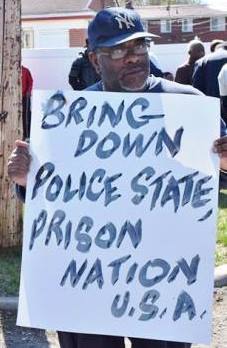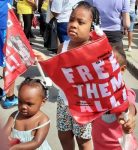 Voice of Detroit is a pro bono newspaper, now devoting itself entirely to stories related to our PRISON NATION and POLICE STATE. Funds needed now to pay quarterly web hosting fee of $460.00, due in August, 2023. VOD will disappear from the web if fee not paid.
VOD's editors and reporters, most of whom live on fixed incomes or are incarcerated, are not paid for their work. Ongoing costs include quarterly web charges of $460.00, P.O. box fee of $180/yr. and other costs including utility and internet bills, costs for research including court records and internet fees, office supplies, gas, etc.
Please DONATE TO VOD at:
 Cash App at $MDianeBukowski (313) 825-6126
************************************************************************************
https://voiceofdetroit.net/2020/09/29/fighting-for-his-life-darrell-ewing-in-court-again-despite-3-orders-in-3-yrs-granting-a-new-trial/
https://voiceofdetroit.net/2020/07/12/free-darrell-ewing-two-judges-have-ordered-new-trials-in-innocence-case-kym-worthy-still-appeals/
https://voiceofdetroit.net/2019/10/27/darrell-ewing-derrico-searcy-win-new-trial-in-murder-case-after-nearly-two-decades/
https://voiceofdetroit.net/2019/09/17/ewing-searcy-hearing-on-jury-use-of-internet-research-on-gangs-in-2010-trial-to-continue-oct-4/
https://voiceofdetroit.net/2019/08/27/juror-in-2010-ewingsearcy-murder-trial-verdict-tainted-by-jurys-gang-related-internet-research/
https://voiceofdetroit.net/2019/02/14/sixth-circuit-orders-evidentiary-hearing-instead-of-new-trial-in-darrell-ewings-2010-murder-conviction/ 
https://voiceofdetroit.net/2017/11/27/fed-judge-strikes-down-darrell-ewing-onviction-due-to-jury-discussion-of-gang-social-media