OPERATION LIBERATION  586-943-8780 
By Diane Bukowski

Editor, Voice of Detroit (Please note: to contact the organizers of these events, use the phone number above for Operation Liberation.)
Donate to VOD to keep our stories coming    https://www.gofundme.com/donate-to-vod
DETROIT — Operation Liberation rallied hundreds of supporters and family members of prisoners, including the wrongfully convicted, outside the Frank Murphy Hall last year, June 4, 2021. They took over the street in front for five hours and marched around the Wayne Co. Jail. Now they have issued a new call to address current urgent issues affecting prisoners in the Wayne County Jail and throughout the state.
Others organizing for this event include Wayne Co. exonerees Larry Smith and Davontae Sanford, and family members and supporters of prisoners in the Wayne County Jail and the MDOC.  Michigan Liberation, which will be getting petition signatures for the restoration of MDOC prisoners "good time" credits, and Silent Cry, based in New York City.
See: Good Time Makes Good Legislation Introduced by Senator Irwin – Michigan Justice Advocacy (mijustice.org)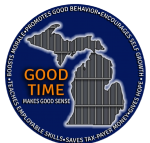 Darrell Ewing and Derrico Searcy, who helped organize last year's event, were in the jail then and are still there 10 months later, despite the fact that their convictions were vacated in 2020. They will be in court Friday, March 18, part of a seemingly non-ending series of "final conferences" to set up a new trial. Wayne Co. Prosecutor Kym Worthy is refusing to dismiss charges despite a Mirandized confession to the crimes given to State Police by another man in February, 2017 which had been concealed in prosecutor's files.
There are currently 1,416 men packed inside the Wayne County Jail with them, many also locked up months and even years past legal limits. None of them have been convicted of the charges on which they are being held. The state Speedy Trial Act sets a six-month pre-trial time limit and mandates release on recognizance in the case of confirmed violations.  Operation Liberation is further demanding:
DISMISS CHARGES VS. THOSE HELD PAST 180 DAY SPEEDY TRIAL ACT LIMIT
VOD interviewed a sample of men held without timely trials at the Wayne Co. Jail March 10. Screenshots of some of their faces are shown at left. VOD reviewed the Registers of Action on the Wayne Co. Court website for each to be able to report accurately on the comments.
However, as stated above, the actual PUBLIC records cited on each Register are NOT available for public review in violation of the Michigan FOIA>
Corey Holmes, 44: held since Oct. 19, 2018, bound over to Wayne Co. Circuit Court (WCCC) Jan. 18, 2019. First pre-trial hearing Dec. 2, 2019. Multiple pre-trials and adjournments since. A pre-trial set for March 3, 2022 was adjourned to June 6, 2022.  "This is causing me and my family a great deal of stress and anxiety," he told VOD. "It's affecting my mental health, causing hopelessness and despair with no end in sight. My attorney usually stays in touch, but since COVID-19, it's harder to see him."
LaTonya Holmes, Corey's sister, told VOD, "The situation in Wayne County Jail is deplorable, a violation of my brother's rights. He caught COVID while he was in there, which had to have been brought in by a guard. Every time he goes to court, the prosecutor says they need additional time; they're hiding evidence from his attorney. One judge retired, and the next one adjourned a hearing for a family funeral. Meanwhile, my brother was arrested while we were making arrangements for our brother's funeral, so he wasn't able to go to that, our mother had a heart aneurysm and we've lost many family members to COVID."
Javonte Wiley, 26: Held since Oct. 3, 2017 on capital (life) charges which were dismissed twice in 2017 and 2019 after lengthy trial proceedings including jury trials. The same charges in the same case were brought back in 2020 by Wayne Co. 3rd Circuit Court Chief Judge Timothy Kenny, acting as a one-man grand jury.  A "review date" is set for May 17, 2022 in front of 3rd Circuit Court Judge Shannon Walker, after a year of constant adjournments.
"Javonte's grandmother and aunt passed," his mother Deloris Jones told VOD. "His younger brothers and sister are going through school without him, and his daughter is growing up without her dad. He gets frustrated and depressed. The pressure they put on young Black men. I help by constantly putting money on his phone and commissary accounts and his father and I are spending a lot of money on attorneys every time the charges are brought back."
Immanuel Wesley: Held since Sept. 4, 2020 under a similar scenario. Court records show he was charged with assault with intent to commit murder and other crimes on that date. He was not arraigned in 36th District Court until Nov. 4, 2020, a violation of state law.
His preliminary examination was held Feb. 22, 2021, four months after his arraignment (another violation) and the case was dismissed without prejudice due to the failure of a witness to appear. His case then appears on a second docket for the same charges in 2021, with a preliminary exam held March 25,2021, resulting in a bind-over to WCCC with a bond of $150,000 which was not paid. Several final conferences, adjournments and a pre-trial hearing later, he is now awaiting another pre-trial hearing March 17, 2022 this week. "They don't even have a victim in my case," he told VOD, "but they're trying to get me to take a plea deal."
Lartrell Iverson, 24:  Held since Dec. 19, 2020, has not yet had a preliminary examination to bind him over to WCCC. He is still under the 36th Dist. Court's jurisdiction. "They are using the pandemic as a license not to hold hearings," he told VOD. "The prosecutor's office keeps stalling, trying to get guys to take plea deals. There is nothing to occupy us, recreation has been eliminated, we can't get exercise or fresh air."
Roderick Graham:  Held since 12/16/2020 on manslaughter charge. Bound over to WCCC Feb. 10, 2021. Multiple conferences, motion hearings, held since then, with several adjournments. Motion hearings indicate multiple orders were "signed and filed," but VOD has no way to access what those orders were, since they are not accessible on-line or in the court clerk's office. Witness lists filed Dec. 10, 2021. Review date set for March 30, 2022.
Christian Mitchell-Childress, 23: Held since October 20, 2020. Bound over after preliminary exam May 26, 2021. Four final conferences held in last half of 2021; next Final Conference scheduled for April 14, 2022. Once again, no public way to determine results of all previous hearings. Mitchell-Childress says most have been due to the prosecutor searching for missing discovery evidence and trying to locate prosecution witnesses.
Antrell Brown, 25: Held since December 21, 2020. Bound over after preliminary exam Jan. 13, 2021. Multiple pre-trial hearings, final conferences held with next review date April 1, 2022. That review has been postponed four times since May 25, 2021. He told VOD there are still many questions regarding actual evidence. He also said he suffers from heart problems and has symptoms of chest pain when he takes deep breaths, but the only test administered so far is an EKG and he needs to go to a hospital for follow-up.
Jordan Davison, 25: Held since August 24, 2020 on multiple assault and weapons charges with bond of $500,000, four of which were dismissed March 22, 2021 after preliminary examination was held.  Review date pending April 4, 2022 after multiple pre-trial, conferences, and motion hearings.
PUBLISH PUBLIC COURT FILES ON COURT WEBSITE!
Meanwhile, the public and the media are being denied their lawful right to review court case files. The only information currently on the website at Odyssey Public Access (OPA) (3rdcc.org) lists dates of hearings and actions, but no access to referenced documents is available. The Court has a separate website set up for internal use with links to those public documents, which could easily converted for public on-line use.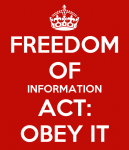 The Michigan Freedom of Information Act, enacted in 1977, guarantees access, with some restrictions, to public records of government bodies at all levels in Michigan. However, Third Judicial Circuit Court Criminal Division offices are still closed to the public, so individuals cannot go in to view actual court files. The Wayne Co. Probate Court provides links to all case documents on its website, citing the COVID pandemic. Why can't the Criminal Division do the same?
OPEN THE COURT AND JAIL VISITATION!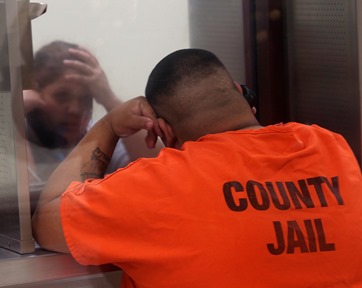 Although COVID restrictions have been lifted, for the most part, in Michigan and across the country, family members still cannot visit their loved ones in the Wayne County Jail, and even attorney visits are sometimes constricted. Courtrooms are not open to the public in-person.
Open jail visitation and court observation are vital to the interests of both the public and prisoners in the Wayne County Jail, who have not yet been convicted of any crime. Their families and attorneys are legally entitled to see them in-person to ensure their proper treatment and to maintain support systems, both in jail and in court.
**********************************************************************************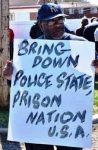 VOD's staff lives either on limited fixed incomes or is incarcerated. We are not paid; we publish the newspaper pro bono. Help keep us afloat by chipping in so stories on this Prison Nation and Police State, and related matters, coming! Any amount is appreciated.
                                       DONATE TO VOD 
(Contact editor for details on other ways to send funds, at 313-825-6126 or diane_bukowski@hotmail.com.)
**********************************************************************************
DARRELL EWING/DERRICO SEARCY Final Conference
Continued FRIDAY MARCH 18, 2022 @ 9 a.m.
Watch Live: Hon. Darnella D. Williams-Claybourne – YouTube
"The right to defend is given directly to the accused, for it is he who suffers the consequences if the defense fails." Faretta v. California :: 422 U.S. 806 (1975) :: Justia US Supreme Court Center (cited by Darrell Ewing in his "Motion to Compel Reconsideration of Brady/Discovery Violations") 
Darrell Ewing and Derrico Searcy are among others in the Wayne County Jail held beyond Speedy Trial Act time limits. Multiple courts ordered a new trial on their 2010 murder convictions, which were finally overturned in October, 2020. But defense attorneys have moved instead to dismiss the case, and for an evidentiary hearing, due to alleged violations of Brady v. Maryland, 373 U.S. 83 (1963), by the prosecutor.

A detailed Mirandized confession to the crimes by another man, given to the Michigan State Police in Feb. 2017, which surfaced in the prosecutor's files during pre-trial discovery, is the key Brady issue.  It had not been disclosed to the defense during the years after the 2010 conviction for the murder of J.B. Watson, while Ewing and Searcy filed repeated appeals.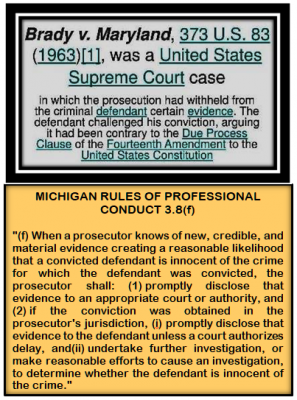 A "final conference" on the case is set for Friday, March 18 in front of Wayne 3rd Circuit Court Judge Darnella Williams-Claybourne. She denied defense motions Jan. 10, saying that Brady does not apply post-conviction. But she set time for reconsideration, ruling "Within 21 days, the parties can submit case law that shows that Brady applies on post-conviction, and any new theories."
Working with his attorney Lillian Diallo, Ewing has submitted his own "Motion to Compel Reconsideration of Brady/Discovery Violations and Egregious Prosecutorial Misconduct."  Ewing has used his years of incarceration to study law and says he spends most of the day in his cell surrounded by legal work.
He cites extensive case law in his motion, buttressed by two packages of supplemental authorities also submitted to the court. He lists the following topic headings in the main motion:
Brady does apply on post-conviction—"Numerous federal and state courts have extended Brady v. Maryland, 373 U.S. 87 (1963) and its progeny into the post-conviction context."
Due Process Clause:  "In 2017, shortly before the suppressed confession in the present case was taken, the Michigan Supreme Court adopted in the Michigan Rules of Professional Conduct, Rule 3.8 (B), which placed on notice and was broadcast to every prosecutor in this great state their duty and "Special Responsibility." (See graph above left.)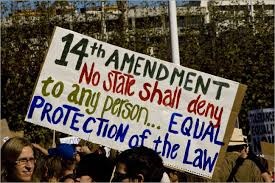 As far back as 1915, the Supreme Court held that when a state grants a criminal defendant a right to direct appeal, "The proceedings in the appellate tribunal are part of the process of law under which he is held in custody by the state, and to be considered in any question of alleged deprivation of his life or liberty, contrary to the Fourteenth Amendment." See Frank v. Mangum 237 US 309, 327 (1915); see also Evitts v Lucey, 469 U.S. 387, 393 (1995).
Ewing also cites the following case as precedential with regard to his and Searcy's, and provides detailed analysis of the U.S. Supreme Court ruling in:
Tennison v. City and County of San Francisco, 2009:  eerily similar to the circumstances of the Ewing-Searcy conviction.  In 1989, J.J. Tennison and Antoine Goff were convicted for the murder of a young man which the prosecution claimed was related to gang wars. The only witnesses who testified at trial to identify the defendants were two children, girls 11 and 14 years old. Another man afterwards confessed to the murder.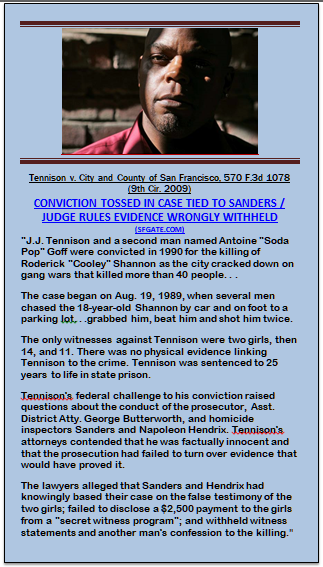 Courts thew out the convictions in proceedings after trial, citing Brady. Tennison later won a $4 million wrongful conviction settlement and was fully exonerated after the prosecutor filed for dismissal of the case.
They said the prosecution did not report a $2500 payment to the witnesses under a "secret witness" program, and concealed the Mirandized confession of another man to the crime.
Brady extends to police officers:
Although AP Kam Towns and Jon Wojtala submit that they were never informed of the [Tyree Washington] confession, it matters not. For Brady purposes, "the DPD/MSP and the prosecutor are one."
Even though "The state's obligation under Brady is managed by the prosecutor's office, that obligation applies to relevant information in the hands of the police, whether the prosecutors knew about it or not, whether they suppressed it intentionally or not, and whether the accused asked for it or not." Harris v. Lafler, 553 F.3d 1028, 1033 (6th Cir. 2009).
Mirandized Confession Like No Other
"A confession is like no other evidence, in that it is among the most probative and damaging types of evidence because it "comes from the actor himself, the most knowledgeable and unimpeachable source of information about his past conduct." Arizona v. Fulminante US S.Ct 1246, 1257 (1991).
LATER CONFESSION SHOULD HAVE CONSTITUTED NEW EVIDENCE
With regard to Washington's 2017 Mirandized confession to the State Police, Ewing, "In People v. Gumble, 1997 Mich App Lexis 1507 (1997), the Court of Appeals held, "It is the later confession suggesting [his] involvement that constitutes new evidence."
Therefore, as found in Tennison, when MSP and DPD received Washington's Mirandized confession by one who had been named pre-trial by a reliable witness [Christopher Richardson] known to FBI agents and multiple grand juries, and a confessor who recounted events surrounding the murder in detail, and whose accounts contradicted that of the prosecution's witnesses, that it should have immediately been disclosed to the defense." Tennison at 1094.
He goes on to allege multiple other discovery and Brady violations, including those he says happened during his original trial.
Ewing's motion joins the motions filed by his attorney and well as his co-defendant Derrico Searcy's attorney for dismissal and an evidentiary hearing, which are expected to be argued in court March 18.
Related coverage, documents and previous VOD stories: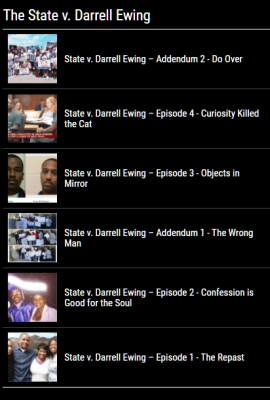 The cases of Ewing and Searcy have been featured on various national wrongful conviction websites, including a series of six episodes in which legal criminal conviction experts have reviewed the Ewing-Searcy case and found it woefully wanting in evidence to convict.
Darrell Ewing | Actual Innocent Prisoners
Rico Searcy | Actual Innocent Prisoners
Undisclosed Podcast (undisclosed-podcast.com)
https://www.unjustandunsolved.com/post/episode-8-darrell-ewing
*********************************************************************************
Related documents:
U.S. SUPREME COUT RULING BRADY V. MARYLAND: at 
http://voiceofdetroit.net/wp-content/uploads/Brady-v.-Maryland-__-373-U.S.-83-1963-__-Justia-US-Supreme-Court-Center.pdf
Michigan Rules of Professional Conduct: at 
http://voiceofdetroit.net/wp-content/uploads/Rule-3.1-3.9-Advocate-Mich.-R.-Profl.-Cond.-3.1-3.9-_-Casetext-Search-Citator.pdf
District Attorney's Office for Third Judicial District v. Osborne:  
http://voiceofdetroit.net/wp-content/uploads/08-6-District-Attorneys-Office-for-Third-Judicial-Dist.-v.-Osborne-06_18_09.pdf
Tennison v. City and County of San Francisco: 
http://voiceofdetroit.net/wp-content/uploads/Tennison-v.-City-and-County-of-San-Francisco-570-F.3d-1078-–-CourtListener.com_.pdf
Michigan Court of Appeals ruling affirming order for new trial in Darrell Ewing, Derrico Searcy cases: 
http://voiceofdetroit.net/wp-content/uploads/2-Darrell-Ewing-COA-opinion-10-13-20.pdf
Transcript of Judge Michael Hathaway's order for a new trial: 
http://voiceofdetroit.net/wp-content/uploads/Darrell-Ewing-Derrico-Searcy-Remmer-Hearing-Transcripts.pdf
6th Circuit ruling on Michigan AG's appeal of District Court ruling:  
http://voiceofdetroit.net/wp-content/uploads/Ewing-6th-CC-2-5-19-compressed.pdf
Judge Denise Page Hood's opinion on remand from 6th Circuit Court: 
http://voiceofdetroit.net/wp-content/uploads/Opinion-on-remand-Ewing_v_Woods__miedce-15-10523__0016.0.pdf
U.S. District Court Judge Denise Page Hood's order for new trial:  
http://voiceofdetroit.net/wp-content/uploads/Darrell-Ewing-habeas-corpus-grant-1.pdf
Related stories:      
DID PROS. KYM WORTHY AND DPD SUPPRESS KILLER'S CONFESSION IN EWING/SEARCY CASE? HEARING DEC. 1 | VOICE OF DETROIT: The city's independent newspaper, unbossed and unbought
DID WAYNE CO. PROS. HIDE KILLER'S CONFESSION TO MSP IN EWING-SEARCY CASE, USE DPD TO STOP RETRIAL? | VOICE OF DETROIT: The city's independent newspaper, unbossed and unbought
DETROIT: FAMILIES OF WRONGFULLY CONVICTED TELL PROS. KYM WORTHY, POLICE, JUDGES–'FREE THEM ALL' | VOICE OF DETROIT: The city's independent newspaper, unbossed and unbought
8 JUDGES SAID EWING, SEARCY DENIED 'FAIR TRIAL' IN 2010; KYM WORTHY: WE WILL PRESENT SAME CASE MAY 19, 2021 | VOICE OF DETROIT: The city's independent newspaper, unbossed and unbought
DARRELL EWING, DERRICO SEARCY IN DETROIT COURT APRIL 13, NEW TRIAL ORDERED BY 8 STATE, U.S. JUDGES | VOICE OF DETROIT: The city's independent newspaper, unbossed and unbought 
APPEALS CT. UPHOLDS NEW TRIAL ORDER IN 'GANG' SOCIAL MEDIA CONVICTIONS OF DARRELL EWING, DERRICO SEARCY | VOICE OF DETROIT: The city's independent newspaper, unbossed and unbought 
https://voiceofdetroit.net/2020/09/29/fighting-for-his-life-darrell-ewing-in-court-again-despite-3-orders-in-3-yrs-granting-a-new-trial/
https://voiceofdetroit.net/2020/07/12/free-darrell-ewing-two-judges-have-ordered-new-trials-in-innocence-case-kym-worthy-still-appeals/
https://voiceofdetroit.net/2019/10/27/darrell-ewing-derrico-searcy-win-new-trial-in-murder-case-after-nearly-two-decades/
https://voiceofdetroit.net/2019/09/17/ewing-searcy-hearing-on-jury-use-of-internet-research-on-gangs-in-2010-trial-to-continue-oct-4/
https://voiceofdetroit.net/2019/08/27/juror-in-2010-ewingsearcy-murder-trial-verdict-tainted-by-jurys-gang-related-internet-research/
https://voiceofdetroit.net/2019/02/14/sixth-circuit-orders-evidentiary-hearing-instead-of-new-trial-in-darrell-ewings-2010-murder-conviction/ 
https://voiceofdetroit.net/2017/11/27/fed-judge-strikes-down-darrell-ewing-conviction-due-to-jury-discussion-of-gang-social-media