Prosecution withheld 2017 confession of Tyree Washington to MSP in murder of J.B. Watson, say attys. for Darrell Ewing, Derrico Searcy 
"He stated two individuals had gone to jail for a crime they did not commit," MSP Det. Sgt. Eric B. Johnson, who took Washington's confession in 2017
Confession withheld while defendants were "pursuing a new trial based on jury misconduct related to evidence that Tyree Washington committed the homicide."–Atty. Kearney
AP also asked "Detroit police to engage in an investigation of the [trial] jurors to stop these men from getting a new trial."
Darrell Ewing/Derrico Searcy Final Conference
WED. DECEMBER 1, 2021 9 a.m. FMHJ
Update: Hearing continued Fri. Jan. 10, 2022 1 pm
Atty. Lillian Diallo, for Darrell Ewing, has filed a Motion to Dismiss Charges due to Brady Violations
 Hon. Darnella D. Williams-Claybourne – YouTube
By Diane Bukowski 
November 27, 2021
DETROIT— Defense attorneys for Darrell Ewing and Derrico Searcy are expected to argue in court Wed. December 1 that the two should be freed because Wayne County Prosecutor Kym Worthy's office and Detroit police knowingly hid another man's detailed, Mirandized confession to the 2009 murder in their case, given to the Michigan State Police in 2017.
Defense attorneys said in an Aug. 30 hearing that the prosecutor violated Brady v. Maryland, a 1963 U.S. Supreme Court ruling mandating provision of all "exculpatory" evidence (tending or serving to clear from alleged fault or guilt.) They also charged prosecutorial misconduct.
"I feel positive of victory, and am in good spirits, despite conditions in the jail," Ewing told VOD in a call from the Wayne County Jail. He and Searcy are being held there 13 months after their convictions were vacated by the Michigan Court of Appeals last October, after previous rulings by multiple federal and state courts that they did not receive a fair trial.
Ewing reported that they and others there have periodically had no water due to main breaks, and no hot food. He said the jail is filled to overflowing, with many prisoners sleeping on the floor of the holding area. Many of the hundreds of mostly Black men there are being held pre-trial for longer than the six months mandated by law.
But Worthy says she intends to re-try the pair using the evidence presented at the original trial, despite the backlog of other cases.
"I read [Tyree] Washington his Miranda warning," MSP Det. Sergeant Eric B. Johnson wrote in a four-page report detailing the confession, given in the inspector's office at Michigan's Chippewa Correctional Facility on Feb. 2, 2017.
"Washington agreed to waive his rights and speak with me. . . [He]Washington stated he murdered a subject by the name of J. B. Watson, also known as 'June Bug,' a black male, approximately 2o years old, in 2009."
Johnson said he asked Washington why he had come forward at that time.
"He stated two individuals had gone to jail for a crime they did not commit," Johnson wrote.
"He stated the names of those subjects are Darrel Gwing [sic] and Derrico Searcy and advised they had gone to prison for killing Watson in early 2010. Washington also said that as part of his practiced religion, he was advised through the teachings of Islam that 'in order to seek true forgiveness you have to be truly honest with yourself and God (and you must come forward with all the wrongs you have committed)."
Washington previously submitted multiple written affidavits confessing to the murder. Private investigator Scott Lewis audiotaped his confession on Aug. 1, 2017 (below), six months after the confession he gave to MSP Det. Sgt. Johnson. Legal experts say the MSP confession carries much more weight at trial since Washington was advised of his Miranda rights prior to giving it and he gave it to a law enforcement agency.
Washington is currently serving a term of 50-plus years in Federal prison for a separate conviction in an armed car-jacking that took place March 14, 2010, two and a half months after the Watson murder.
During a hearing Aug. 30, defense attorneys Blasé Kearney and Lillian Diallo told Wayne County 3rd Judicial Circuit Court Judge Darnella Williams-Clayborne that the defense had not seen the four-page confession and other documents until August, 2021. Asst. Prosecutor Kam Towns then provided discovery records under Brady v. Maryland after failing in her attempt to get them sealed.

Washington's statement to Johnson included a detailed history of an ongoing conflict among him, Watson, and a third man that began in the summer of 2009, over a woman he and the third man were dating. He said Watson and the third man fired guns at him and others during two occasions prior to his shooting Watson at Harper and Van Dyke in Detroit.
Washington's detailed description of the final incident, including the turquoise Aurora he was in, driven by a fourth man with a woman in the front passenger seat, jibes with testimony from multiple witnesses at Ewing and Searcy's trial in 2010.
According to a police LIEN report which surfaced along with Washington's confession, the car belonged to the woman he said was in the passenger seat when he shot Watson.

According to trial transcripts, Atty. Otis Culpepper, who represented Searcy at trial, reported to trial judge Carole Youngblood that the woman confirmed details of the killing and her presence there in an interview with him. She was subpoenaed to testify, but did not appear, telling Culpepper that she feared retaliation.
Culpepper said further that he notified Theopilus WIlliams, DPD's officer in charge (OIC) of the case, to ask for his assistance in the interview, but was ignored.
Pointing to Williams and AP Kam Towns during the trial, a federal witness testified in court that he told both Williams and Towns that he knew Washington committed the crime, during meetings set up by U.S. attorneys. (See box at left.)
Searcy's defense attorney Blase Kearney contended Aug. 30. ". . . it appears that [Worthy's head of appeals] Jon Wojtala asked the Detroit police to engage in an investigation of the [trial] jurors to stop these men from getting a new trial."
That investigation happened prior to the dramatic testimony of trial juror Kathleen Byrnes during an evidentiary hearing held in front of Wayne Co. 3rd Circuit Judge Michael Hathaway in 2019.
Byrnes detailed what Hathaway ruled were the illegal efforts of other jury members to research the case on Facebook and the internet generally, in line with the prosecution's claim that the killing of J.B. Watson was gang-related. Byrnes said pressure from the others caused her to retract her "not guilty" vote.
Hathaway ruled, "[I]t is just inescapable from Byrnes's testimony that the outside influences, the inappropriate influences caused her to change her mind," Hathaway said.
"There is just no way to get around that based on her testimony. And that the information, particularly about gang culture, gang hierarchy, gang signs, et cetera, were highly prejudicial. . ."
At trial, Judge Youngblood barred testimony from a DPD gang "expert" who's training primarily included research from Facebook and the internet.  Ewing and Searcy's supporters said they hope the Court of Appeals ruling that affirmed Hathaway's opinion may lead to the review of hundreds of convictions obtained through the use of untrained "gang" experts by the Wayne County Prosecutor and the Detroit Police Department.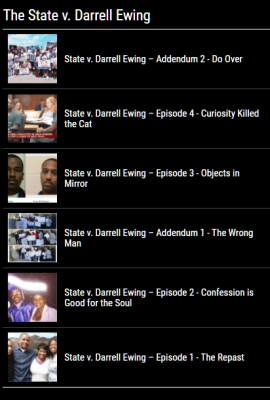 Related:
The cases of Ewing and Searcy have been featured on various national wrongful conviction websites, including a series of six episodes in which legal criminal conviction experts have reviewed the Ewing-Searcy case and found it woefully wanting in evidence to convict.
Darrell Ewing | Actual Innocent Prisoners
Rico Searcy | Actual Innocent Prisoners
Undisclosed Podcast (undisclosed-podcast.com)
https://www.unjustandunsolved.com/post/episode-8-darrell-ewing
*********************************************************************************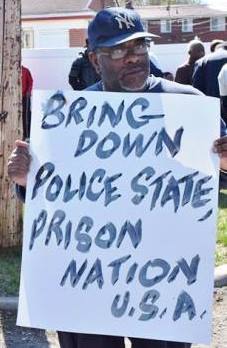 VOD must pay $435.00, our quarterly webhosting fee, on Dec. 19, 2021.  Our staff either lives on limited fixed incomes or is incarcerated. Help keep us afloat by chipping in to keep stories on this Prison Nation and Police State coming!
                                        

DONATE TO VOD
(Contact editor for details on other ways to send funds, at 313-825-6126 or diane_bukowski@hotmail.com.)
*********************************************************************************
Related documents and stories:
Michigan Court of Appeals ruling affirming order for new trial in Darrell Ewing, Derrico Searcy cases: http://voiceofdetroit.net/wp-content/uploads/2-Darrell-Ewing-COA-opinion-10-13-20.pdf
Transcript of Judge Michael Hathaway's order for a new trial: http://voiceofdetroit.net/wp-content/uploads/Darrell-Ewing-Derrico-Searcy-Remmer-Hearing-Transcripts.pdf
6th Circuit ruling on Michigan AG's appeal of District Court ruling:  http://voiceofdetroit.net/wp-content/uploads/Ewing-6th-CC-2-5-19-compressed.pdf
Judge Denise Page Hood's opinion on remand from 6th Circuit Court: http://voiceofdetroit.net/wp-content/uploads/Opinion-on-remand-Ewing_v_Woods__miedce-15-10523__0016.0.pdf
U.S. District Court Judge Denise Page Hood's order for new trial:  http://voiceofdetroit.net/wp-content/uploads/Darrell-Ewing-habeas-corpus-grant-1.pdf
Related stories:      
DID WAYNE CO. PROS. HIDE KILLER'S CONFESSION TO MSP IN EWING-SEARCY CASE, USE DPD TO STOP RETRIAL? | VOICE OF DETROIT: The city's independent newspaper, unbossed and unbought
DETROIT: FAMILIES OF WRONGFULLY CONVICTED TELL PROS. KYM WORTHY, POLICE, JUDGES–'FREE THEM ALL' | VOICE OF DETROIT: The city's independent newspaper, unbossed and unbought
8 JUDGES SAID EWING, SEARCY DENIED 'FAIR TRIAL' IN 2010; KYM WORTHY: WE WILL PRESENT SAME CASE MAY 19, 2021 | VOICE OF DETROIT: The city's independent newspaper, unbossed and unbought
DARRELL EWING, DERRICO SEARCY IN DETROIT COURT APRIL 13, NEW TRIAL ORDERED BY 8 STATE, U.S. JUDGES | VOICE OF DETROIT: The city's independent newspaper, unbossed and unbought 
APPEALS CT. UPHOLDS NEW TRIAL ORDER IN 'GANG' SOCIAL MEDIA CONVICTIONS OF DARRELL EWING, DERRICO SEARCY | VOICE OF DETROIT: The city's independent newspaper, unbossed and unbought 
https://voiceofdetroit.net/2020/09/29/fighting-for-his-life-darrell-ewing-in-court-again-despite-3-orders-in-3-yrs-granting-a-new-trial/
https://voiceofdetroit.net/2020/07/12/free-darrell-ewing-two-judges-have-ordered-new-trials-in-innocence-case-kym-worthy-still-appeals/
https://voiceofdetroit.net/2019/10/27/darrell-ewing-derrico-searcy-win-new-trial-in-murder-case-after-nearly-two-decades/
https://voiceofdetroit.net/2019/09/17/ewing-searcy-hearing-on-jury-use-of-internet-research-on-gangs-in-2010-trial-to-continue-oct-4/
https://voiceofdetroit.net/2019/08/27/juror-in-2010-ewingsearcy-murder-trial-verdict-tainted-by-jurys-gang-related-internet-research/
https://voiceofdetroit.net/2019/02/14/sixth-circuit-orders-evidentiary-hearing-instead-of-new-trial-in-darrell-ewings-2010-murder-conviction/ 
https://voiceofdetroit.net/2017/11/27/fed-judge-strikes-down-darrell-ewing-conviction-due-to-jury-discussion-of-gang-social-media