Brothers Vargas and Marco Johnson say Inkster Police Det. Gregory Hill, involved in the 2002 wrongful convictions of  George Clark and Kevin Harrington (video above) elicited false witness statements in their case.
"Every case these officers was involved in needs to be reopened. . .we need to start right here, right now."–Kevin Harrington
Johnson brothers have been in prison for 30 years although witnesses recanted, said Hill had threatened them.
Report by Nat'l Registry of Exonerations:  Gov't. misconduct involved in 54% of exoneree cases, 78% of murder cases involving Black defendants
By Ricardo Ferrell, VOD Field Editor   
With Diane Bukowski, VOD editor
In a homicide dating back thirty years, evidence has surfaced which calls into question the convictions of two brothers from Inkster, Michigan, who are serving life without the possibility of parole in the 1991 murder of Corey Smith.
Vargas Johnson, 50, and his younger brother Marco Johnson, 48, say they have been sitting inside Michigan prisons based largely on the coerced and concocted lies of witnesses who have recanted in court beginning in 1995, and in sworn affidavits since.
Anthony Lee, Brian Day, and Anthony Brown claim Inkster Police Detective Gregory Hill (deceased in 2016), the lead detective on the case, obtained their false statements and testimony, by threatening to charge them also if they did not cooperate.
The National Registry of Exonerations issued a report in Sept. 2020 which found that misconduct by police and prosecutors was involved in the wrongful convictions of 54 percent of exonerees, and 78 percent of Black defendants in murder conviction cases. (See link and summary below story.)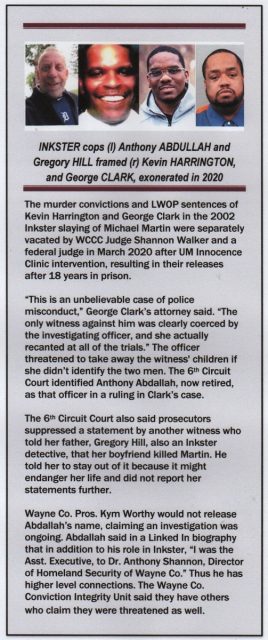 Hill's name surfaced earlier during  investigations into the cases of Kevin Harrington and George Clark, who were exonerated of the murder of Michael Martin, and released after 17 years in  2020.
The U.S. Sixth Circuit Court found under Brady v. Maryland that the Wayne County prosecutor's office had suppressed a  statement by Hill's step-daughter Kaneka Jackson that could have cleared the two men.
She said she told Hill that she  witnessed the murder of Michael Martin, and that neither Harrington nor Clark were involved.
"Jackson's stepfather, Gregory Hill, was a detective with the Inkster Police Department," the National Registry of Exonerations reported on Clark's case. "Jackson wrote, 'after I explained everything in detail to my father, he told me to keep my mouth closed, and don't mention what I saw to anybody, because he would take care of the situation and he did not want me placing my life in danger."
Police and government officials are required under Brady to submit all "exculpatory" evidence including such statements to the defense.
The chief prosecution witness additionally recanted her testimony against Harrington and Clark, swearing that Inkster detective Anthony Abdallah, a close associate of Hill's, had threatened to have Child Protective Services take her children if she did not implicate the two men.
In the Fox 2 News video at top, Harrington said, "Every case these officers was involved in needs to be reopened. If we're going to be transparent about the criminal justice system, we need to start right here, right now."
Vargas Johnson described the history of his and his brother's case in a detailed report with documents sent to VOD. He cited first a 1994 Michigan Court of Appeals ruling. The COA remanded the case to the trial judge, 3rd Judicial Circuit Court Judge Wendy Baxter, now retired, for a Ginther evidentiary hearing. It cited "tainted identification evidence," including Brown's testimony at the preliminary exam that Hill showed him mug shot photos of the two defendants to obtain an identification.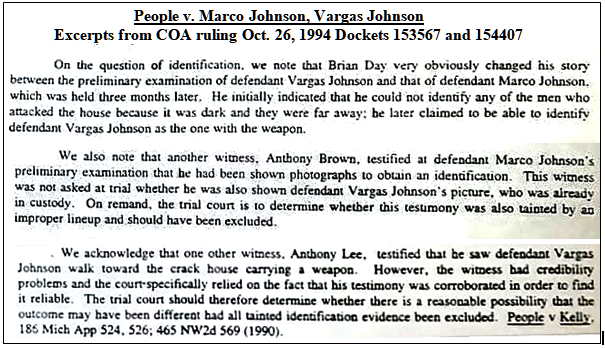 Three years later, Brian Day testified before Baxter at the Ginther hearing in 1995 that the testimony he gave at trial was false and that he was high on cocaine at the time of his testimony, and that he was threatened by Det. Hill,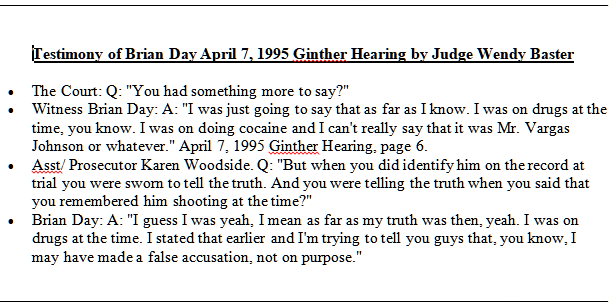 After Baxter denied the Browns' motion for relief, the three witnesses later executed written affidavits stating that their testimony at trial was false and obtained under threats from Hill. Brian Day executed his on Nov. 23, 2005. (Excerpt below).

See the full affidavit at http://voiceofdetroit.net/wp-content/uploads/Affidavit-of-Brian-Day.pdf.
The second witness at the Ginther hearing was to have been Anthony Brown, regarding the mug shots shown to him by Hill.  Hill told Judge Baxter that he could not locate Brown, because he was on drugs and likely homeless. But Brown has since executed a written affidavit stating the following:

Full affidavit at http://voiceofdetroit.net/wp-content/uploads/Affidavit-of-Anthony-Brown-in-M-and-V-Johnson-case2.pdf.."

Full affidavit at http://voiceofdetroit.net/wp-content/uploads/Affidavit-of-Anthony-Lee-re-M-and-V-Johnson-case3.pdf.
Vargas Johnson said he does not blame the three men who testified against him, but puts the guilt on the Inkster Police Department and prosecutors.
"Who knew what they were facing while they were being questioned by Detective Gregory Hill?" he remarked. "How could anyone have known? One thing for certain, in those moments alone with an officer seasoned at his craft, fear and his power over you become the clearest things you know."
Vargas' wife Niecola Johnson decried what she says  is a miscarriage of justice.
"I haven't been able to get a good night's sleep knowing my husband is locked away in a cage like an animal for something he did not do," Ms. Johnson (Klima) said.
"When we first decided to get married I told Vargas I'd always stand by him. I've known in my heart that he is innocent and didn't commit this crime. What kind of system of justice do we have, when it locks someone away for the rest of their life, when evidence points towards them being innocent?
The detective in his case used unsavory tactics to pressure witnesses to falsely accuse Vargas and Marco, or be charged criminally for the same murder they were being interrogated about.  My wish, is that some light will shine on this corruption by Detective Gregory Hill, which unfortunately has led to my husband sitting in prison for the last 30 years for something he unequivocally had nothing to do with."
The two men and their families say they were told May 11 by Valerie Newman, director of the Wayne County Conviction Integrity Unit,  that the Unit is now reviewing their cases.
DO PRISONERS LIVES MATTER? 125 NOW DEAD, HALF IN MICH. DEPT. OF CORRECTIONS INFECTED WITH COVID-19 | VOICE OF DETROIT: The city's independent newspaper, unbossed and unbought
Editorial comments by VOD field editor Ricardo Ferrell: "Sadly, we see more and more people serving decades upon decades for crimes they were later shown to be innocent of. Since its inception in 2018, the Conviction Integrity Unit has exonerated 29 innocent men, the majority of them young Black men at the time of their arrest. In the City of Detroit and Wayne County, homicide investigators have often used trained 'snitches' to help obtain convictions.
They have relied on jailhouse informants, obtained false confessions, tampered with evidence, and threatened witnesses to give fabricated statements, and false and perjured testimonies. In the cases of Davontae Sanford and Thelonious Searcy,  the actual killer, Vincent Smothers, came forward to testify and provide written affidavits and interviews to heal his conscience.
But corrupt police and overzealous prosecutors have often turned a blind eye, condemning innocent people to years and decades in prison when the truth was known from the beginning.  Even in the case of recently released Raymond Gray, who served almost 50 years for a 1973 murder another man admitted his role in, Gray still remained in prison.
GOVERNMENT MISCONDUCT AND CONVICTING THE INNOCENT: The Role of prosecutors and police and other Law Enforcement."
The National Registry of Exonerations published a report in Sept. 2020, "Government Misconduct and Convicting the Innocent, the Role of Prosecutors, Police, and Other Law Enforcement."   (Summary and link below.)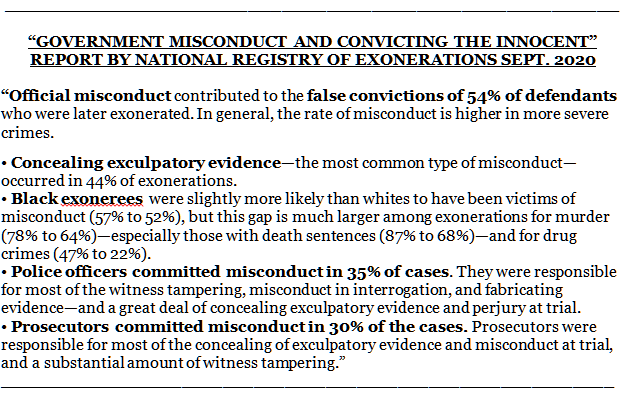 https://www.law.umich.edu/special/exoneration/Documents/Government_Misconduct_and_Convicting_the_Innocent.pdf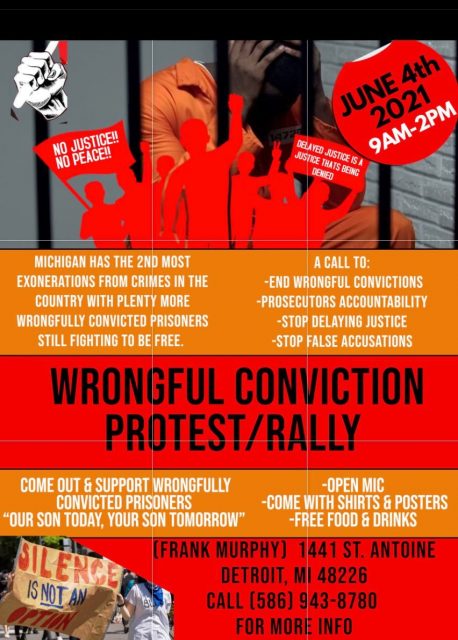 ***********************************************************************************

Voice of Detroit is a pro bono newspaper. VOD's editors and reporters, most of whom live on fixed incomes or are incarcerated, are not paid for their work. Ongoing costs include quarterly web charges of $380, P.O. box fee of $150/yr. and costs for research including court records, and internet fees, as well as office supplies, gas, etc.
Please DONATE TO VOD at:
**********************************************************************************