Judge Tracy E. Green granted  Michigan lifer Nosakhare Onumonu's motion for new trial Dec. 21, 2021, after his pro se presentation 
Through FOIA, Onumonu acquired substantial evidence favorable to defense that had been suppressed by DPD, prosecution
Judge Green patiently examined evidence, agreed with Onumonu that if it had it been presented at trial, acquittal more likely than not
Judge Green currently on paid administrative leave pending resolution of JTC complaint, can still dispose of matters on cases previously in progress
Next hearing date July 27, 2022
By Diane Bukowski
June 29, 2022
DETROIT — "If it doesn't fit, you must acquit," O.J. Simpson's attorney Johnnie Cochran famously told his client's jury regarding a glove found at the scene of the 1995 murder of Nicole Brown. It didn't fit, and Simpson was acquitted.
Nosakhare Onumonu, convicted in 2015 of the 1999 murder of 94-year-old Helen  Klocek of Plymouth, MI asks a different question about the glove used to convict him–did it exist? The glove doesn't appear in police department criminal records until 2007, and was not examined for trace DNA evidence until 2011, according to reports viewed by VOD.
The Detroit Police Department sent the glove in question to the Michigan State Police Forensic Lab for what testing of what is known as "touch trace" DNA evidence only after Onumonu was belatedly identified as a suspect in 2011.
"This whole case revolves around a glove and then it's built on inference after inference after inference," Onomuno told Third Circuit Court Judge Tracy E. Green at the opening of arguments on his motion for relief from judgment in 2021.
Acting in pro per, Onumonu continued with a powerful presentation on his case which countered subsequent media accounts depicting a depraved Black man preying on an elderly white woman. (e.g. DNA on glove helps solve 1999 Detroit cold case (clickondetroit.com).
Murder victim Klocek lived in Plymouth, Michigan and had gone out for lunch at a local restaurant before her murder. Her body was found in an alleyway behind Joy Rd. in Detroit on March 2, 1999. Her white Ford Escort car, which had been torched, was found Mar. 4 several miles away in a church parking lot on Grand River.
Onumonu's  presentation centered around his discovery of evidence that had been suppressed during his trial, in violation of Brady v. Maryland, 373 U.S. 83 (1963). That U.S. Supreme Court ruling and others which followed in its wake said all exculpatory evidence (favorable to the defense) must be promptly disclosed by police and prosecution.
In his case, a Freedom of Information Act request produced documentation hidden from his defense, largely in files from the Plymouth Police Department, including (see below).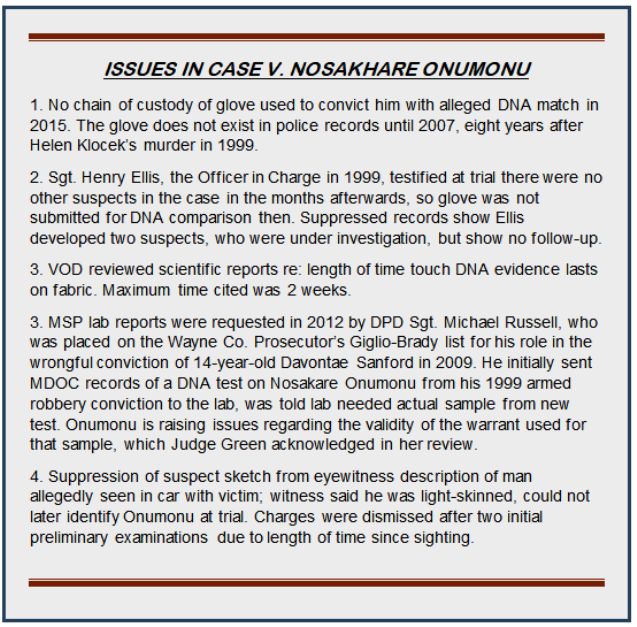 On Dec. 21, 2021, Judge Green granted Onomonu's motion for a new trial, acknowledging three of his four claims: fraud upon the court by a detective, perjury by a detective that was significant to his conviction, and a Brady violation by withholding exculpatory evidence. She noted that it appeared Sgt. Henry Ellis and other Detroit Police officers had indeed lied about the existence of other suspects, and that suppression of evidence of those suspects and the 1999 eyewitness sketch made it more likely than not under Brady that a jury would  have acquitted him if they had seen that evidence.
Judge Green had several more hearings afterwards, with the prosecution trying to say that an evidentiary hearing instead of an immediate new trial was the proper relief.  The last date she ruled on the case was June 9, 2022 according to court records. Since that time, she has been on a paid administrative leave while she resolves a Judicial Tenure Commission complaint that is pending before the Michigan Supreme Court.
VOD does not have responses from the prosecutor's office to Onumonu's filings, as they are not currently available to the public. The Third Judicial Circuit Court building, where the records are held, is closed, with no access to the Clerk's office to request publicly available court files. No links to the documents are provided on the court's website.
Also due to this restriction, which violates various state and federal laws, VOD currently cannot  review the actual court file in this case for complete accuracy of most issues reported in this story.
Among the evidence hidden in police files were progress reports from Sgt. Ellis, who handled the case from its outset in 1999. During his presentation, Onumonu cited Ellis' testimony at his trial that he did not submit the glove in question for DNA trace evidence testing during the time after the murder, because he had no suspects. However, Onumonu said, police progress reports from 1999 showed that Ellis was investigating two other suspects.
Onumonu has filed motions previously requesting that the glove be barred from evidence due to chain of custody issues, but the judges on his case denied the motions.
Prosecutors including the Wayne County Conviction Integrity Unit (CIU) also produced graphs which claimed that Onumonu was working at a plant near to Ms. Klocek's apartment, where they said the type of glove allegedly found in her car was commonly used by multiple workers. In the graphs, they noted the short distance from his mother's house in Detroit to the locations where Ms. Klocek's car and body were separately found.
Onumonu says he was not living with his mother, but in Dearborn Heights at the time. The Wayne Co. CIU reviewed his case twice earlier, according to Onumonu and his mother, and rejected it for further processing. They say that CIU director Valerie Newman showed up at an initial hearing in front of Judge Green, but that Onumonu rejected her participation.
Plymouth Twp. police reported 1n 1999 that they had been investigating multiple burglaries there, many of them involving senior citizens.
Police said the burglaries had taken place in apartments that were temporarily unoccupied while the residents had gone out to work or other matters. They cautioned residents to watch out for cars cruising slowly in the neighborhoods and for any 'suspicious' people on foot, and report those to the police.
One eyewitness saw TV coverage of the case in 1999 and contacted police, saying she saw a woman resembling Mrs. Klocek driving with a Black man, in a white car. She was shown a composite sketch of a purse-snatching suspect and said he looked similar to the man. She described him as light-complected, likely with light-colored eyes.
That witness from 1999 was brought forward in 2012 to testify against Onumonu at two preliminary examinations. Both resulted in dismissals of the charges due to the years that had passed since the witness said she sighted the suspect, and the witness' inability to identify Onumonu in court, among other factors.
Onomonu says that he filed a Brady motion to dismiss the charges again, which was circumvented when the judge in the case at that time privately met with defense and prosecution attorneys in his offices and decided to remand the case back to the 36th District Court for more proceedings.

Onumonu had been convicted on an armed robbery charge in 1999, and was sentenced to two to five years in prison. He was being paroled in 2o11 after serving his time, when police and prosecutors intervened in the parole with an arrest warrant in the Klocek case, and he was remanded to custody again. Court records show that he remained in prison for four more years, while the proceedings in that case took place. He was not tried in the Klocek case until 2015.
WAYNE 3RD JUDICIAL CIRCUIT COURT JUDGE TRACY E. GREEN
Third Judicial Circuit Court Corporate Counsel Richard Lynch told VOD, "Judge Green is currently on administrative leave as approved by SCAO [State Court Administrator's Office.]  Judge Giovan is the visiting judge assigned to her docket.  Formal complaints issued by the Judicial Tenure Commission are matters of public record."
In 2019, the Michigan Judicial Tenure Commission (JTC) brought charges against Judge Green stemming from a custody dispute between her son and his wife during divorce proceedings. Custody was granted to her son, who later was convicted of child abuse and sent to prison.
The JTC charges said Judge Green did not report her knowledge of the abuse. They were based on the testimony of the two young children to the Judicial Tenure Commission. Currently, the Michigan Supreme Court, the only entity that can actually remove a judge from the bench, has the charges under review.
According to public filings on the JTC website at Welcome To Michigan Judicial Tenure Commission, Judge Green is represented by the Bloomfield Hills-based firm of Plunket Cooney, and is vigorously contesting the charges, which were initiated while she was running for election.  As in Onumonu's case, the mainstream media has indiscriminately smeared Judge Green without citing her publicly available responses. As a sitting judge, she cannot respond publicly to the charges lodged against her.
Screenshot of Nosakhare Onumonu's hearing June 29; top left is Judge William Giovan. Atty. Peter Ellenson is currently assisting as defense counsel, AP Brittney Taratuta is at top right.During a scheduled hearing today on the case, Judge William Giovan said, "I was instructed by the Chief Judge that all matters that had been submitted to Judge Green and argued and were awaiting only a decision from Judge Green were to be decided by Judge Green. This case calls for Judge Green to rule on it. I agree with the defendant that it seems she issued an inconsistent order. I'm going going to recap what's happened today and tell Judge Green that the parties are awaiting further action on her part on this matter."
Judge Giovan set another meeting date for July 27 and said he would send copies to both the prosecution and the defense of his written request to Judge Green.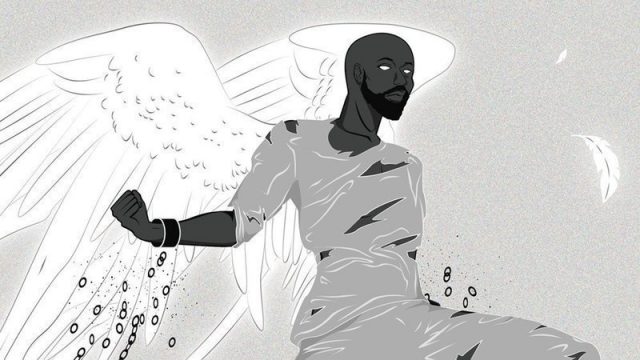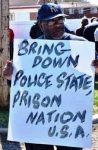 VOD's staff lives either on limited fixed incomes or is incarcerated. We are not paid; we publish the newspaper pro bono. Help keep us afloat by chipping in so stories on this Prison Nation and Police State, and related matters, can keep coming! Any amount is appreciated.
                            DONATE TO VOD 
(Contact editor for details on other ways to send funds, at 313-825-6126 or diane_bukowski@hotmail.com.)
##########################################