Above: 2018 Rally  vs. Wrongful Convictions of  Pettiford, others. Prior to court hearings Aug. 3, 2018, families gathered outside the Frank Murphy Hall of Justice in Detroit to protest wrongful convictions of loved ones including Roosevelt Pettiford. Afterwards, Pettiford received word that Wayne County Conviction Integrity Unit was taking his case. They have not yet announced any resolution.)
DPD PO Gerald Williams, AP Molly Kettler falsely claimed major direct eyewitness to murder gave a fake address to avoid testifying 
Prosecution's main witness recanted ID at trial, but Judge Annette Berry allowed jury to hear previous false statement
No physical evidence at trial
Michigan Supreme Court granted Pettiford appeal March 18, 2020, denied Wayne Co. CIU's request to delay ruling
Four years after Wayne Co. CIU took case, Pettiford remains among 1700 prisoners still on "wait" list 

By Diane Bukowski
(Ed. Note: VOD reviewed extensive documentation in Pettiford's case, including court records and defense counsel filings. before publishing this story.)
July 3, 2022
DETROIT— Lifer Roosevelt Pettiford is one of 1700 applicants whose cases have been in limbo at the Conviction Integrity Unit (CIU) of the Wayne County Prosecutor's Office, in his case, for almost four years.
"No decision has been made," Maria Miller, Chief of Communications for Wayne Co. Prosecutor Kym Worthy, told VOD. "The case has not been presented to Prosecutor Worthy."
But the Michigan Supreme Court granted Pettiford's motion for relief from judgment tw0 years ago, on March 18, 2020. They ordered an evidentiary hearing on his claims that police lied about witness testimony that would have exonerated him. The high court refused to grant the CIU's motion to suspend the ruling while it investigated the case.
That hearing has yet to happen. See MSC ruling at: http://voiceofdetroit.net/wp-content/uploads/Roosevelt-Pettiford-MSC-evidentiary-hearing-order-3-18-2020-1.pdf
Pettiford was convicted of the Nov. 1, 2005 murder of Vinson Ellington, 24, at a Marathon Gas station located at 2844 E. Grand Blvd. and Oakland Ave. Ellington was shot multiple times, first in the back while standing at a gas pump, and then as he lay on the ground.
The CIU initially took Pettiford's case after the protest by Pettiford's supporters and others (shown above). After the MSC ruling, they talked Pettiford and others into allowing them to continue their investigation prior to the evidentiary hearing granted by the high court.
"I'm here to free my son's father because he is innocent," Sheila Vincent told VOD during the 2018 protest. "He's in there because of folks lying that they could not find the person that would set him free."
She referred to the trial testimony of the Detroit Police Officer in Charge (OIC) of Pettiford's case, Gerald Williams.
Williams, who died in 2016, claimed a direct eyewitness to the murder of Vinson Ellington Nov. 1, 2005, Joyci Riley, had given him a fake address to avoid testifying. Asst. Prosecutor Molly Kettler backed up his testimony to the judge and jury, citing "the overall  unwillingness of people to come to court and testify."
That testimony was thoroughly debunked on appeal.
Police and court records show that Riley gave her 2005-06 address of 2500 W. Grand Blvd. to police during an interview directly after the killing.  That address is Young Manor,  a well-known 12-story federally subsidized property. Williams claimed the closest building to that address was the former GM Building at 3044 W. Grand Blvd., 1.2 miles away from Young Manor.  Riley also gave other addresses for her job and her church where she could be found. Williams did not testify that he actually went to any address to find her.
But the warrant for the case cites Yolanda Browning as the key witness, with no mention of Joyci Riley. In listings of witnesses, Riley is shown as an "unknown witness."  But Riley was seen at the location of the murder by other prosecution witnesses, as well as a DPD officer who responded to the scene. Browning recanted her testimony at trial, where she said that her original statement to the police was false, and that she was angry because she claimed Pettiford had assaulted her niece in an unrelated incident. Another witness swore that Browning was at her home, not at the site of the killing when it happened.
In 2018, Private Investigator Scott Lewis obtained a sworn affidavit from Riley giving more extensive details regarding what she witnessed. See: http://voiceofdetroit.net/wp-content/uploads/R-Pettiford-Ex-A-to-CIU-Spp-Summary-Joyci-Riley-Transcript-of-Second-Interview-2.pdf
Police records show that officers at the crime scene talked eagerly to multiple individuals who claimed Pettiford had hurt or killed their  relatives in unrelated cases, even enlisting them as key witnesses although they did not see the murder and their  statements were nothing more than hearsay. Police devoted many pages to each hearsay report.
"Joyci Riley said that the killer was short and wore a mask," paralegal Roberto Guzman, who worked on Pettiford's appeal to the Supreme Court, told VOD. "Her description of him wearing a mask was something the jury never knew. It undercut Yolanda Browning's two statements to police falsely identifying Roosevelt as the killer."
Riley elaborated on her witness statement in a sworn affidavit obtained by private investigator Scott Lewis in 2018.
Browning told police pre-trial that the killer had no mask or head covering and that she clearly saw his face. Other prosecution witnesses said the killer did have his face obscured. Browning also claimed the victim was shot first in the face, a version contradicted by autopsy reports.
"No one has ever testified that Pettiford killed the victim." Guzman said. "The only evidence before the jury was Browning's out of court statement, and this unsworn document made the difference between a guilty or a not guilty verdict. This is why it was so important for Sgt. Williams and the prosecutor not to have Ms. Riley come to court and testify, because her testimony that the killer wore a hood and had on a mask would have caused a not guilty verdict.  What you have in this case is a witness and a prosecutor who lied to a sitting jury in a capital case."
Since Pettiford's trial, other witnesses have come forward, one of whom said that he saw the actual shooting by a man he named. That man is now deceased.
Valerie Newman, Director of the Wayne Co. Prosecutor's Conviction Integrity Unit, has communicated frequently with Pettiford's attorney Cornell Pettiford (his uncle) and paralegal Guzman during the years his case has been under review by them. In a recent email, Newman told Atty. Pettiford that her review of the case was completed, and it was awaiting a decision by Prosecutor Worthy, a claim that was denied by Maria Miller on Worthy's behalf in the statement at opening of the story.
The CIU required Pettiford to pass a polygraph exam, as they frequently have done with other applicants for exoneration. Newman recommended polygrapher James Hoppe, a  former FBI agent, for a second exam after the first was inconclusive.  Defense Atty. Pettiford hired him, and he conducted a second polygraph exam.
But he allegedly revealed the results to Newman,  although he should have gone instead to defense Atty. Pettiford. Afterwards, Pettiford passed a third polygraph exam with a different examiner.
Hoppe is currently at the center of a dispute in an Oakland County murder case, where the defendant Floyd Galloway was convicted of the 2016 murder of Danielle Stislicki, who worked in the office building where Galloway was a security guard. Hoppe, hired by Galloway's defense attorney, allegedly revealed the results of his polygraph to a personal friend, who then revealed them to the Farmington Hills Police Chief Charles Nebus. Nebus used the results to get warrants to search Galloway's car, phone and home. His defense attorney is calling for the suppression of that evidence.
On its application, the Wayne County CIU says, "All claimants who file papers with CIU should be aware, however, that the evidence developed by CIU during its investigation will be shared with other units within the Prosecutor's Office." This disclaimer is at the end of the application, but many individuals believe the CIU is independent of the Prosecutor's Office.
The CIU Application used by Philadelphia D.A. Larry Krasner includes a much clearer caveat: "The prosecutors in the CIU at the District Attorney's Office do not represent you and cannot offer you legal advice. A prosecutor cannot legally or ethically be your attorney. If you do not understand any of the above, you should consult an attorney immediately."
Pettiford says he is currently weighing his options as he approaches his 16th year of incarceration. He no longer faces Wayne County Circuit Court Judge Annette Berry if he opts to continue with the court proceedings and leave the CIU review.
He is now on the docket of Judge Paul Cusick, appointed to the bench by former Michigan Gov. Rick Snyder in 2016, Ricardo Guzman told VOD. Judge Cusick graduated from Notre Dame University and got his law degree at Wayne State University. His Ballotpedia website note says he was an assistant attorney general prior to becoming judge.
##########################################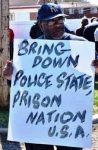 VOD's staff lives either on limited fixed incomes or is incarcerated. We are not paid; we publish the newspaper pro bono. Help keep us afloat by chipping in so stories on this Prison Nation and Police State, and related matters, can keep coming! Any amount is appreciated.
                            DONATE TO VOD 
(Contact editor for details on other ways to send funds, at 313-825-6126 or diane_bukowski@hotmail.com.)
###########################################