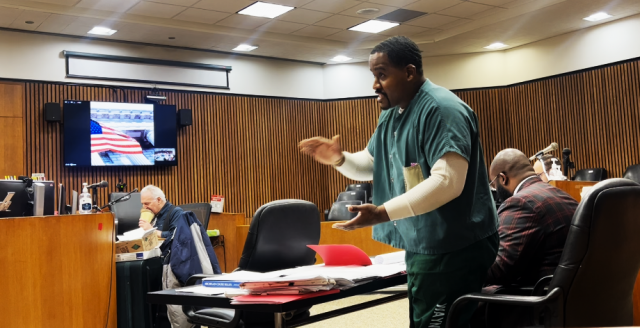 Darrell Ewing, Derrico Searcy in court Oct. 10, 12 for separate pre-trial motion hearings, 4 yrs. after courts ordered new trial in 2019
WCCC Judge Kiefer Cox denies Ewing's motion  for pre-trial bond,  which cited People v Reginald Lamarr Davis.pdf : bond granted if the proof of the defendants' guilt is NOT 'evident or the presumption great.'
Granted: Ewing's motions to remove his handcuffs, hire PI and ID expert, provide discovery on many items 
Granted: Searcy motion for suppression of  ID procedure by Raymond Love, due to no lawyer at line-ups, unreliability; prosecution conceded 
Ewing cites suppressions of : statement from Detroit schools officer who saw 2009 killing of  J.B. Watson; Tyree Washington's 2010 statement to police admitting to murder, assault of J.B. Watson et al., noted in prosecution brief
Next hearings: Darrell Ewing Dec. 1, 2023 at 1:30 PM for remainder of his motions, Derrico Searcy motion hearing Jan. 4, 2024 asking for suppression of Jendayi Love testimony,  and Feb. 21-23, 2024  for evidentiary hearing on shell casings allegedly planted on Searcy's car at the time of arrest
Trial set for both March 25, 2024, pending action on motions to dismiss all charges
By Diane Bukowski
October 20, 2023
Updated Oct. 24 2023 with corrections, including fact that Judge Thomas Hathaway dismissed Thelonious Searcy's murder conviction in similar case WITH PREJUDICE, after granting pre-trial bond.

To supporters of those whose cases are being covered in VOD: Please DONATE TO VOD to keep the newspaper publishing! https://www.gofundme.com/donate-to-vod Cash App $MDianeBukowski 
Above: Darrell Ewing reports stunning new evidence from discovery files that  Detroit Public Schools officer Anthony Reed witnessed and reported the murder of J.B. Watson on Detroit's east side 12/9/2009.  Reed specified that h saw a "green Aurora" involved in the shooting, and left his contact information. Ewing said this is the first the defense knew of this witness. This would be the only police officer witness to the actual crime. In confessing to this crime to the Michigan State Police, Tyree Washington said he and William Beal were in a "turquoise Aurora" when the murder was carried out. WCCC Judge Kiefer Cox ordered the prosecution to follow up using the contact information of the reporting entity. See: http://voiceofdetroit.net/wp-content/uploads/Tyree-Washington-MSP.pdf
DETROIT– The 13-year battle by east-side Detroiters Darrell Ewing and Derrico Searcy against their alleged wrongful convictions in the 2009 murder/assault of J.B. Watson and others moved forward slowly but surely during separate pre-trial motion hearings Oct. 10 and Oct. 12.
Ewing entered court without the handcuffs both defendants wore at their last hearing July 6. WCCC Judge Kiefer Cox had had granted his motion to allow him to represent himself by freely accessing three boxes of legal research and making his own notes during the hearings. Ewing is assisted by his stand-by attorney Christopher Sinclair. Cox did not order Searcy freed from his handcuffs during his own brief hearing Oct. 12. Ewing told VOD he has filed a lawsuit to overturn the procedure for all defendants.
Searcy is represented by Neighborhood Defender Services attorney Blase Kearney. Although their hearings were conducted separately, Judge Cox denied Ewing's motion for separate trials which cited their individual concerns in the case.
Separate hearings are further scheduled for Ewing on Dec. 10 to address the remainder of 3o motions he filed, and Feb. 23, 2024 for Searcy's evidentiary hearing on shell casings allegedly planted in his vehicle at the time of his arrest.
JUDGE COX DENIES EWING'S MOTION FOR PRE-TRIAL BOND
Ewing filed a motion for pre-trial bond, citing "binding precedent" in the case of People v Reginald Lamarr Davis.pdf. In Davis, the Michigan Supreme Court ordered the Appeals Court to "remand the case to the trial court to assess whether 'the proof of [the defendant's guilt is evident or the presumption great' for purposes of MCL 765.5.'" or in the alternative to "address whether the trial court abused its discretion by granting the defendant's request for pretrial release," MCR 6.106(H)(1).
Davis had been charged with first-degree murder. He was acquitted after a jury trial and the charge was dismissed on Nov. 30, 2022.
"Binding case law says that defendant is entitled to a bond when the presumption of guilt is not great or evident. . . .In this case it's clearly not great or evident," Ewing argued.
He cited the repeated confessions of Tyree Washington to the murder and assault of J.B. Watson, attested to by others, WCCC Judge Michael Hathaway's 2019 finding that "The trial evidence in this case was "certainly not what we would call overwhelming," and the lie detector test he took for the DPD and passed in 2010. Ewing said he would submit to a tether to monitor his activities.
But Judge Cox denied the motion. "The Court finds that a remand bond is appropriate , the circumstances will not be changed so the motion for bond reduction will not be granted. I may or may not remand considering the charges in this case, and the fact that the court does have a concern for public safety if Mr. Ewing is released." Ewing said he will file an interlocutory appeal, citing Judge Cox's failure to include findings of fact in his ruling.
Bond granted in similar case in 2021
WCCC Judge Thomas Hathaway granted a pre-trial release bond for Thelonious Searcy, (a brother of Derrico Searcy), in a case also covered by VOD. Hathaway has since dismissed the first-degree murder case with prejudice, citing particularly blatant prosecutorial misconduct. This means the charges CANNOT be re-instated. See http://voiceofdetroit.net/wp-content/uploads/Thelonious-Searcy-Order-Gg-Defs-Mtn-to-Dismiss-10.3.20223311-3.pdf.
The National Registry of Exonerations now lists Searcy as an exoneree, but the prosecutor's office has appealed Judge Hathaway's Oct. 3, 2022 ruling, and the case is still tied up in the appellate courts. This has so far prevented Searcy from filing motions for compensation under WICA (Michigan's act on wrongful convictions), or in the federal court.
Prosecution brief filed with Mich. Sup. Ct. cites undisclosed "2010 statement" by Tyree Washington admitting guilt and exculpating defendant in the case.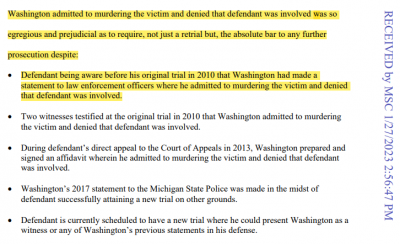 Ewing also reported during the Oct. 10 hearing that  a prosecution brief on Searcy's motion, filed with the Michigan Supreme Court Jan. 27, 2023,  includes a 2010 exculpatory statement by Tyree Washington not disclosed to the defense: "Defendant [was] aware before his original trial in 2010 that Washington had made a statement to law enforcement officers where he admitted to murdering the victim and denied that defendant was involved."
Ewing said the defense has never received that statement either before or since the 2010 trial and asked the court to have the prosecution produce it.
Washington has repeatedly admitted to the 2009 shooting death of J.B. Watson and assault on others, in multiple affidavits and a videotaped interview with private investigator Scott Lewis. During pre-trial preparation in 2021, the defense discovered that he had also reported this to the Michigan State Police in 2017, but the prosecution still pursues the re-conviction of Ewing and Searcy.

MOTIONS TO BAR TESTIMONY OF TRIAL WITNESS RAYMOND LOVE 
Searcy's evidentiary hearing is to follow up on his motion regarding witness Raymond Love's ID of him in a photo line-up,  titled, "The Photo Array Identification was impermissibly suggestive, conducted in violation of Mr. Searcy's right to counsel, and not reliable." The motion says in part,
". . .a photographic array procedure cannot be unduly suggestive. United States v. Wade,
388 U.S. 218 (1967). Here, where a photographic array was conducted once already, an arrest had been made based on the previous photographic array, a second photographic array is unduly suggestive. "An in-court identification following an unnecessarily suggestive out-of-court law-enforcement procedure implicates a defendant's due-process rights because of the involvement of improper state action." People v Posey, No. 162373, 2023 WL 4873422, at *10 (Mich, July 31, 2023). Full motion at http://voiceofdetroit.net/wp-content/uploads/Derrico-Searcy-motion-to-exclude-id.pdf.
Ewing has also filed a motion to exclude Love's testimony on separate grounds, which is to be heard December 1. See motion at http://voiceofdetroit.net/wp-content/uploads/Motion-to-Suppress-Raymond-Love-Identification-as-Unduly-Suggestive_Darrell-Ewing8418.pdf
MOTION TO DISQUALIFY ENTIRE WAYNE CO. PROSECUTOR'S OFFICE
Ewing addressed his motion to disqualify the entire Wayne County Prosecutor's Office for 'committing fraud on the court' by repeatedly insisting that "pre-trial" Brady motions had already been addressed by the court, with no record of the court or opinion from the court. "They don't want the truth of the matter to come out in this case, because they convicted an innocent man," he said.
Judge Cox denied the motion, saying in part, "Mr. Ewing's motion [is] saying that a previous member or member of Wayne Co. Pros. Office had animosity towards Mr. Ewing. . . .There is no showing that the Director of Homicide or whoever was handling this matter knew about this at the time she made the statements Mr. Ewing is saying were fraud on the court." The WCPO Director of Homicide was Kam Towns. Ewing's former defense attorney Lillian Diallo told the court during a hearing in 2021 that she has represented many young Black men prosecuted by Towns and that typically,  Towns "hit[s] on all [the jury's] terrors and fears dealing with Black men and gangs." 
MOTION to MAKE WITNESSES AVAILABLE to DEFENSE FOR INTERVIEWS
Never resting in his impassioned battle for exoneration, Darrell Ewing on Oct. 12 filed this motion to enable him, acting as his own attorney, to interview witnesses he plans to call at the trial scheduled for March 2024 (unless the charges are dismissed pursuant to his motion to dismiss, still to be heard Dec. 1.
Under state law, rather than providing contact information for these witnesses, attorneys and pro se defendants can ask the prosecution to make the witnesses available to the defense, Ewing notes.
They  include Wayne Co. Prosecutor Kym Worthy, fprmer DPD Chief James Craig; DPD Dep. Chief David LeValley; DPD Officer Theophilus Williams; DPS Officer Anthony Reed; FBI Agent Matthew Allen; Christopher Hess; Lori Dillion; Kareem Wheeler; Royce Hall and George Linen, as well as Raymond Love, Willie Williams, Phillip Reed and Larita Thomas pursuant to MCR 6.201(A)(1).
Full motion at http://voiceofdetroit.net/wp-content/uploads/Darrell-Ewing-motion-to-make-witnesses-available.pdf
Ewing said he wants access to these witnesses because the prosecution claimed not to have  information in response to motions to compel production of requested information, which he addressed Oct. 10. Among others,  these included:
What Worthy, Craig, and LeValley did after receiving letters from Tyree Washington admitting to the murder of J.B. Watson, which Washington said he sent to them among other officials.
Follow up on DPS Officer Anthony Reed's eyewitness report that he saw the shooting J.B. Watson and that the car involved was a "green Aurora."
RELATED:
WRONGLY CONVICTED DARRELL EWING, DERRICO SEARCY: JUSTICE SHACKLED, DELAYED 13 YRS. IN MDOC, WC JAIL | VOICE OF DETROIT: The city's independent newspaper, unbossed and unbought
DID PROS. KYM WORTHY AND DPD SUPPRESS KILLER'S CONFESSION IN EWING/SEARCY CASE? HEARING DEC. 1 | VOICE OF DETROIT: The city's independent newspaper, unbossed and unbought
DID WAYNE CO. PROS. HIDE KILLER'S CONFESSION TO MSP IN EWING-SEARCY CASE, USE DPD TO STOP RETRIAL? | VOICE OF DETROIT: The city's independent newspaper, unbossed and unbought
8 JUDGES SAID EWING, SEARCY DENIED 'FAIR TRIAL' IN 2010; KYM WORTHY: WE WILL PRESENT SAME CASE MAY 19, 2021 | VOICE OF DETROIT: The city's independent newspaper, unbossed and unbought
https://voiceofdetroit.net/2019/10/27/darrell-ewing-derrico-searcy-win-new-trial-in-murder-case-after-nearly-two-decades/
JUROR IN 2010 EWING/SEARCY MURDER TRIAL: VERDICT TAINTED BY JURY'S "GANG-RELATED" INTERNET RESEARCH | VOICE OF DETROIT: The city's independent newspaper, unbossed and unbought
https://voiceofdetroit.net/2019/02/14/sixth-circuit-orders-evidentiary-hearing-instead-of-new-trial-in-darrell-ewings-2010-murder-conviction/ 
https://voiceofdetroit.net/2017/11/27/fed-judge-strikes-down-darrell-ewing-conviction-due-to-jury-discussion-of-gang-social-media  
DARRELL EWING, DERRICO SEARCY IN DETROIT COURT APRIL 13, NEW TRIAL ORDERED BY 8 STATE, U.S. JUDGES | VOICE OF DETROIT: The city's independent newspaper, unbossed and unbought 
APPEALS CT. UPHOLDS NEW TRIAL ORDER IN 'GANG' SOCIAL MEDIA CONVICTIONS OF DARRELL EWING, DERRICO SEARCY | VOICE OF DETROIT: The city's independent newspaper, unbossed and unbought 
MERRY XMAS! UP TO 800 WAYNE COUNTY JAIL DETAINEES FREEZING IN BITTER COLD, NO EXTRA BLANKETS, NO VISITS | VOICE OF DETROIT: The city's independent newspaper, unbossed and unbought
WAYNE CO. JAIL DETAINEES SUE TOP COPS FOR DENYING SPEEDY TRIALS, OPEN COURTS, FAMILY VISITS, RECREATION | VOICE OF DETROIT: The city's independent newspaper, unbossed and unbought
VIDEO VISITS TO INMATES AT WAYNE COUNTY JAILS SHUT DOWN, ACCESS TO FAMILIES, COURTS CURTAILED | VOICE OF DETROIT: The city's independent newspaper, unbossed and unbought
FAMILIES MARCH FOR MEN HELD WITHOUT TRIAL UP TO 4 YEARS IN WAYNE CO. JAIL; DEMAND "OPEN THE COURTS" | VOICE OF DETROIT: The city's independent newspaper, unbossed and unbought
UNLAWFUL, UNJUST! RALLY THURSDAY MAR. 17 TO FREE WRONGLY HELD PRISONERS; OPEN VISITS, COURTS, FILES | VOICE OF DETROIT: The city's independent newspaper, unbossed and unbought 
*********************************************************************************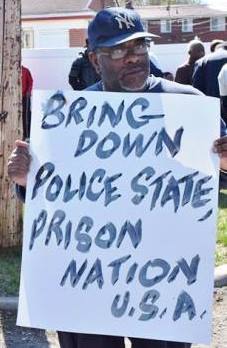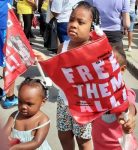 Voice of Detroit is a pro bono newspaper, now devoting itself entirely to stories related to our PRISON NATION and POLICE STATE. Funds are needed regularly to pay quarterly web hosting fee of $460.00 and other expenses. VOD will disappear from the web if fee not paid.
VOD's editors and reporters, most of whom live on fixed incomes or are incarcerated, are not paid for their work. Ongoing costs include quarterly web charges of $460.00, P.O. box fee of $180/yr. and other costs including utility and internet bills, costs for research including court records and internet fees, office supplies, gas, etc.
Please DONATE TO VOD at:
 Cash App at $MDianeBukowski (313) 825-6126
***********************************************************************************