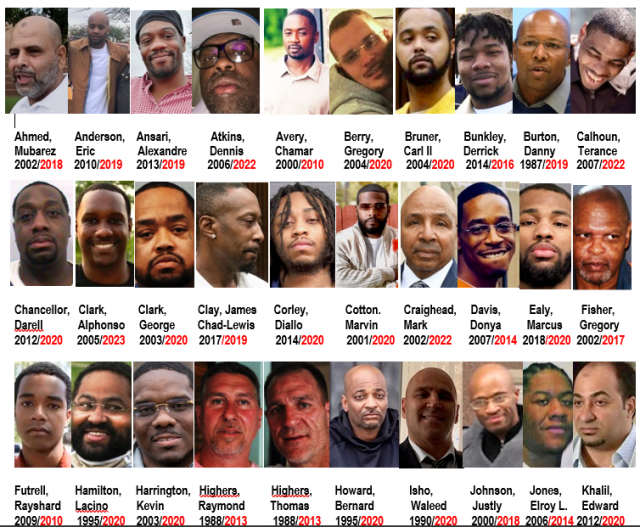 Wayne Co. CIU has announced 38 exonerees/vacated convictions, who served 700 yrs. total in prison; Nat'l Registry of Exonerations lists 84 exonerees since 1989, who served 4,382 yrs. total 
What criminal Wayne Co. Judges, Cops, Prosecutors sent 84 innocent individuals to prison?  
NAT'L LIFERS CHAP. 1016 PROJECT–who else is still in prison because of the same criminal injustice system players?  Why hasn't Pros. Kym Worthy investigated?

EDITOR: The Voice of Detroit is researching these cases, and compiling  lists of the Wayne County criminal injustice officials who sent these innocent people to prison for 4,372 years of their lives. VOD continues to investigate other likely wrongfully convictions and unjust sentences below.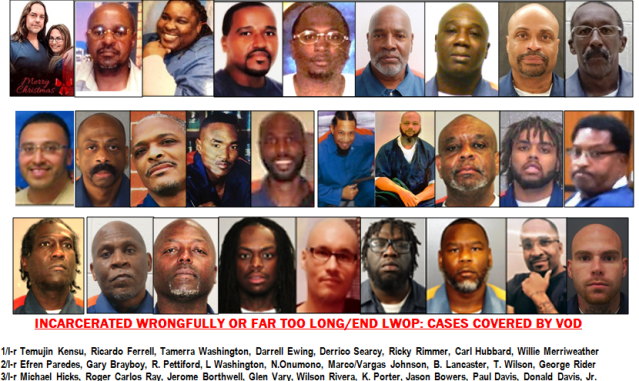 By Mark McCloud-El  #199143
President—National Lifers of America, Chapter 1016
August 25, 2023 — Part Two
"The Wayne County Prosecutor's Office is directly responsible for sending these innocent men and women to prison. Yet they want credit for freeing these men. Well, this is like the arsonist setting the fire—then calling the Fire Department and trying to take credit for calling the Fire Department." (VOD NOTE: ARTICLE BELOW COVERS WAYNE CO. CIU CASES, which resulted in 700 years of prison time for innocent individuals.)
Kinross, MI –  In 2017, the Wayne County Prosecutor Kym Worthy officially announced that she would be opening a unit within her office to look into wrongful convictions. That unit would be called—The Conviction Integrity Unit (CIU).
Of course, no one truly believed that there would actually be men and women, wrongfully convicted. And if by chance there were men and women wrongfully convicted—it surely would be one or two.
Well, after five and a half years, in Wayne County alone, there have been THIRTY EIGHT (38) men exonerated for crimes they did not commit! And these INNOCENT men have served a combined SEVEN HUNDRED YEARS IN PRISON FOR CRIMES THEY DID NOT COMMIT!
On average, each innocent man served approximately twenty years in prison. That's twenty years—they did not get to spend with their mothers, fathers, brothers and sisters. Twenty years—they did not get to raise their children or to even have children. Twenty years—they did not get to marry and travel the world. Twenty years—they did not get to start careers and make something of themselves. But in reality, most of these men have served much more than twenty years in prison for crimes they did not commit.
As bad as those FACTS are, there is an even greater tragedy. NOT ONE SINGLE OFFICIAL who played a role in sending these innocent men to prison has even been reprimanded in any way. NOT A SINGLE JUDGE, DISTRICT ATTORNEY, ASSISTANT PROSECUTOR, DETECTIVE, OFFICER IN CHARGE, BALLISTIC EXPERT, DNA EXPERT—NO ONE!!
The corrupt and illegal misconduct by the Detroit Police has been nothing short of Criminal! NO ONE HAS BEEN CHARGED. In the Desmond Ricks case, for instance, the homicide detective—Donald Stawiasz and Ballistic Expert – David Pauch switched out the bullets and lied under oath, which led to Mr. Desmond Ricks' wrongful conviction. Neither Detroit police officer was charged. Mr. Ricks spent 25 years in prison for a crime he did not commit.
In the Marvin Cotton and Anthony Legion exonerations, Detroit homicide Sgt. Walter Bates supplied all the details of a coerced confession in the case to Ellis Frazier, Jr., a well-known jailhouse snitch, who had never met Mr. Cotton in the jail.
Before Frazier Jr.'s appearance at trial, Bates showed the jailhouse snitch a picture of Mr. Cotton, and told the jailhouse snitch where Mr. Cotton would be sitting in court so  jailhouse snitch Frazier could make an accurate in-court identification. Mr. Cotton and Mr. Legion spent 21 years in prison for a crime they did not commit. Again, the Detroit police were not charged.
The Officer-In-Charge of the Cotton/Legion case was Donald Hughes. According to a lawsuit filed against Hughes, Walter Bates, and Detroit cops Ernest Wilson and Santonin Adams, Hughes recruited a witness that he knew had not seen the killers in the case, to lie and testify that they "looked like" Legion and a third co-defendant. Charges against the third co-defendant were dropped after he provided a definite alibi, but not until after Cotton and Legion were convicted, to prevent him from testifying at their trial.
"Hughes also knew Lockhart's identification was fabricated because Lockhart had previously never identified anyone as the shooter(s) and Lockhart's story was contradicted by the physical evidence at the scene," says the lawsuit. "Hughes wanted both Plaintiffs arrested because he believed they were neighborhood thugs who robbed 'dope boys.'
Additionally, Hughes, Bates and Wilson, all veteran homicide detectives, wanted Cotton arrested and jailed because he had earlier filed several complaints with DPD Internal Affairs relating to a handgun that had been stolen from naked and handcuffed in his shower. Internal Affairs later charged the officers with several violations. . ."
Read entire lawsuit at:  http://voiceofdetroit.net/wp-content/uploads/Cotton_et_al_v_Hughes_et_al__miedce-22-10037__0001.0-1-with-info-on-Donald-Hughes.pdf  
Wayne Co. Prosecutor Kym Worthy said in her release on the Cotton/Legion cases that the OIC was responsible for the wrongful convictions, but did not identify him by name. Hughes' name did not surface until after the suit was filed.
In the case of exoneree Danny Burton, Detroit police homicide detective Ronald Sanders locked a 14-year-old witness in a closet and kept her there even after she urinated on herself. The judge in the Burton case barred another witness' confession from evidence because it came out the Sanders had kicked the witness in the groin and locked the witness in a room until he confessed. And again, the Detroit police officer was not charged with a single crime.
From Lying Under Oath, to Planting Evidence, to Brutally Beating False Confessions out of suspects, illegally Holding Witnesses without warrant until the witness said what wanted the detective wanted the witness to said, to Withholding Exculpatory Evidence, Switching Bullets to frame innocent people. Threatening to take Witness's Children, Telling Witnesses Who to Pick Out of Lineups, Falsifying Ballistics Evidence, Falsifying DNA Evidence, and much more. Again, no Detroit Police Officer has been charged with a single crime as it relates to the known 38 exonerees!
But let's now forget the Prosecutors and Judges. As corrupt as the Detroit police and homicide detectives' illegal conduct was and still is, the Wayne County Prosecutor's Office and Judges want the public to think that they simply did not know about any of this illegal and corrupt behavior. UNIMAGINABLE!
The same police agency—the Detroit Police Department, and the same officers whose names keep appearing in the exonerees' case, Homicide Sgt. Walter Bates, Homicide Sgt. Ernest Wilson, Homicide Detective Donald Stawiasz, Ballistics Expert David Pauch, Homicide Det. Monica Childs, Homicide Investigator William Rice, Homicide Investigator Kevin Reed, Officer Dale Collins, Officer Donald Hughes, Officer Ronald Sanders, and many more Detroit police officers' names keep appearing.
Stawiasz and Sanders were the chief architects of the conviction of Willie Merriweather. Its horrifying history, including systematic witness beatings and deliberate frame-ups, and the use of a co-defendant witness who went on to become a career member of the Wayne County Jail "Ring of Snitches" in the 90's, is detailed in the VOD story linked below.
And the same Prosecutor's Office and Court presided over every exoneree's corrupt conviction – the Wayne County Prosecutor's Office and the Third Judicial Circuit Court are in the same building—which is located directly across the street from the original Detroit police headquarters. However, the Prosecutor's office and Judges want the public to think they did not know about any of the Detroit police corrupt and illegal behavior. UNBELIEVABLE!
Atty. Wolfgang Mueller, who has represented eight wrongfully convicted  Detroit area residents, ". . .and estimates there could be as many as 2,000 Michigan inmates who were put behind bars on wrongful convictions."
He went on to say, ". . .part of the solution is lifting qualified immunity for police." DO AWAY WITH IMMUNITY FOR OFFICERS AND PROSECUTORS." (See Detroit News article, Sept. 15, 2020, titled "Official Misconduct to Blame in Bevy of Wrongful Convictions."
AND YET, THERE ARE HUNDREDS OF MEN STILL IN PRISON BASED ON THE CREDIBILITY AND INVESTIGATIONS OF THESE CORRUPT DETROIT POLICE!! Something must be done to free these men!
RELATED STORIES:
HUNDREDS OF MEN, SERVING LIFE SENTENCES ON THE CREDIBILITY OF CORRUPT DETROIT POLICE DETECTIVES! | VOICE OF DETROIT: The city's independent newspaper, unbossed and unbought
DETROIT COPS WHO FRAMED WILLIE MERRIWEATHER IN 1987 INVOLVED IN MULTIPLE WRONGFUL CONVICTIONS | VOICE OF DETROIT: The city's independent newspaper, unbossed and unbought
LIFER CARL HUBBARD'S "ACTUAL INNOCENCE" APPEAL AT U.S. 6TH CC AFTER 31 YRS.; CLAIMS DPD, PROS. FRAME-UP | VOICE OF DETROIT: The city's independent newspaper, unbossed and unbought
MUBAREZ AHMED WINS $9.95 M FOR WRONGFUL DETROIT CONVICTION; BAD COPS, PROSECUTORS NOT CHARGED | VOICE OF DETROIT: The city's independent newspaper, unbossed and unbought
**********************************************************************************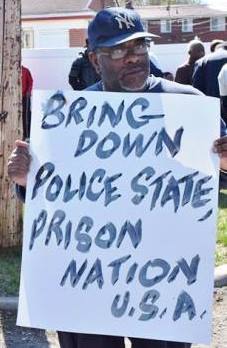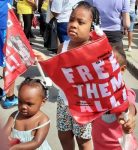 URGENT: Voice of Detroit is a pro bono newspaper, now devoting itself entirely to stories related to our PRISON  NATION and POLICE STATE. Funds urgently need to keep VOD going.
VOD's editors and reporters, most of whom live on fixed incomes or are incarcerated, are not paid for their work. Ongoing costs include quarterly web charges of $460.00, P.O. box fee of $240/yr. and other costs including utility and internet bills, costs for research including court records and internet fees, office supplies, gas, etc.
Please DONATE TO VOD at:
CASH APP 313-825-6126 MDianeBukowski
***********************************************************************************