"Stewart said, 'If you don't cooperate. . . I will put everything on you, evidence, testimonies, everything.'" — Willie Merriweather
Cdr. Gerald Stewart's corrupt practices exposed in 1981, 1984 Love, Ray cases; Love exonerated in 2001:  DPD use of  hidden 'miscellaneous files' 
DPD switched guns in Merriweather case in 1987; his DPD CIO Donald Stawiasz switched bullets in 1992 case of exoneree Desmond Ricks
DPD Sgt. Ronald Sanders, others beat and threatened Merriweather; Sanders' brutal tactics cited in Danny Burton 1987 conviction, vacated 2019
Co-defendants back account of frame-up; Frederick Hammond, chief witness vs. Merriweather, told an0ther man he and cops set Merriweather up
Despite former DPD chief  Craig's promise to investigate all cases linked to Stawiasz, Wayne Co. CIU admits no action on Merriweather case for 5 yrs.
By Diane Bukowski
May 21, 2023
Willie Merriweather, 68, has contended since his 1987 conviction of three execution-style murders on Detroit's west side that police framed him because he would not testify against five of his co-defendants, who went free while he was convicted. He says he refused despite vicious beatings by the police.
Merriweather tells a harrowing tale of witness round-ups and coercion, beatings, manufactured evidence, and other police abuses particularly rampant during the decades of the 1980's and 1990's.
DPD Cdr. Gerald Stewart, Det. Sgt. Ronald Sanders, and Sgt. David Stawiasz were the chief players in his case. Each has been cited for their misconduct in multiple cases of other defendants, including exonerees Desmond Ricks, Dwight Love, and Danny Burton, as well as Roger Carlos Ray, whose case VOD has covered.
"Former Homicide Inspector Gerald Stewart was totally responsible where he stated directly to me the following after [I was] beaten by Sgt. Ronald Sanders and others," Merriweather told VOD in 2022."Stewart said, 'If you don't cooperate with my detective, I will put everything on you, evidence, testimonies, everything."
Merriweather says cops replaced the murder weapon in evidence, a .38 blue steel revolver taken from Frederick Hammond, the chief prosecution witness in the case, with Merriweather's .38 nickel-plated revolver. They also changed dates on police witness reports, and coerced witnesses to the murder to testify falsely against him.
MARK MCCLOUD, FORMER MERRIWEATHER CO-DEFENDANT, STRONGLY BACKS HIM IN AFFIDAVIT
Co-defendant Mark McCloud swore in a 2001 affidavit that "police misconduct plagued our entire trial . . . the trial judge threatened to throw the police in jail for their conduct."
He says he saw Merriweather at DPD's homicide division and that he "could see he has been beaten where his face was puffy and dried blood around his nose and mouth area." Merriweather told McCloud the police did it.
"I can attest to the corruption of police Sgt. Ronald Sanders and . . . others who tampered with all the witnesses during the course of the trial," McCloud added.
"Merriweather was offered a deal to testify against myself and others in return for a 10 to 20 year sentence as the same was offered to police witness Fred Hammond, if they both lied during their testimonies . . . However, Hammond agreed with the police to do so, [but] Merriweather refused to lie and send us to prison."
He says Merriweather told the others he would take the stand and say none of them were there or knew anything about the murders. "We all asked Merriweather not to do so because he would be saying he knew about the crime, but he stated to us that we didn't have a chance in the world at a fair trial."
ARTICLE BY MARK MCCLOUD PUBLISHED EARLIER IN VOD:
WHERE ARE MASS EXONERATIONS IN WAYNE CO. AND MICHIGAN? CHICAGO, BALTIMORE HAVE RELEASED 100'S | VOICE OF DETROIT: The city's independent newspaper, unbossed and unbought

McCloud reports that Cook County, Ill. State's Attorney Kim Foxx, and Baltimore State's Attorney Marilyn Mosby released hundreds of defendants after finding that cops involved in their cases had been found to have used coercive interrogation tactics, falsified evidence, and intimidated witnesses in other key cases.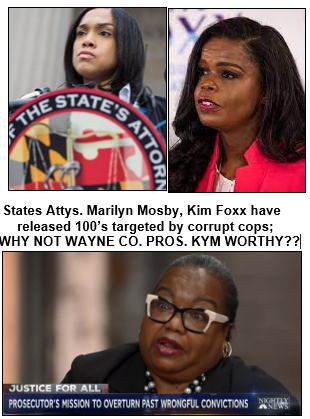 "Kim Foxx (DA Cook County) and Marilyn Mosby (DA Baltimore) DID NOT put an INSURMOUNTABLE BURDEN on POOR AFRICAN-AMERICAN MEN AND WOMEN, with no resources to prove what their independent investigations and offices had already discovered," McCloud says.
"There are many other current and former disgraced Detroit police officers and Detectives who committed misconduct, and have either been allowed to retire with full pensions, forced into early retirement or prosecuted for the criminal acts.
"Yet, there are numerous Poor African-American men and women who were sent to prison in their youth, and are still in prison on the Testimony, Credibility, and investigations by these disgraced current and former Detroit police officers."
McCloud cites in particular DPD's Donald Stawiasz and David Pauch, involved in the case of exoneree Desmond Ricks and Willie Merriweather.
The Wayne Co. Prosecutor's office has not researched other prisoners affected by the cops involved in the 35 cases of exonerations/dismissal of charges its Conviction Integrity Unit has engineered. In 2011, Kym Worthy limited her review of over 1400 cases of prisoners affected by the 2008 closure of the Detroit Crime Lab after discovery of falsified evidence,  to convictions from only 2003-2008, a minimal fraction of the total.
MERRIWEATHER'S FORMER CO-DEFENDANT SCOTT TRUMP BACKS HIM
Scott Crump, another former co-defendant, backed up McCloud's account in an interview with VOD June 18. He said he had nothing to do with the killings and didn't even know Hammond and another co-defendant previously.
"Will told me in the county jail,  "Y'all kids man, I'm gonna take this—I'm gonna get you all out of this,'" Crump told VOD.
"I know for a fact Hammond made up all this stuff," he went on. 'I was on the case, and I got the transcripts later. This was a murder case, so he was going to snitch. He said one person paid him for the hit, another gave him the gun, another gave him the bullets, another guy drove the car.
"It was clear the cops were in on this 'magical' story. Hammond and another man I never saw in my life  were much older than the rest of us, in their 40's  and 50's."
Shortly after his acquittal in the Merriweather case, Crump told VOD he was arrested on another charge and held in the Wayne County Jail again. He said cops allowed Frederick Hammond, who had just testified against him, into his cell to attack him physically, but he fought him off.
Crump backed up Merriweather's contention that police and prosecutors changed a key  date on police reports describing the alleged conspiracy, which said all the defendants met together on Feb. 28, 1987 to plan the murders. In fact, he and Mark McCloud were in the Wayne County Jail on that day, he said.
"[The cops] went into an extreme overzealous mold ordering the state's witness to give false testimony by changing the dates of the conspiracy from February 28, 1987 to a new date of March 1st, 1987," Merriweather told VOD.
"At first the witness denied ever talking to police or prosecutor about the change of the dates, until the witness' admission was broken down, revealing the truth that the witness did in fact have a discussion with the police and prosecutor about changing the dates of the conspiracy."
HAMMOND TOLD JAIL DETAINEE HE, NOT MERRIWEATHER, GUILTY
A man who spent time in the Wayne County Jail with Hammond in the 1990's swore in a 2017 affidavit, "Hammond stated that little Will was not with him when Hammond and another guy did the crime, but him and the police made little Will take the fall."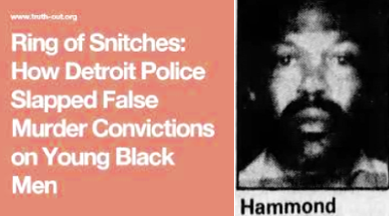 He says Hammond was operating as a "jail-house snitch" with privileges like luxury furnishings in his cell, and freedom to leave to get fast food and have sex. Cops and prosecutors granted such perks to the infamous "Ring of Snitches" in the 1990's, according to multiple accounts.
"I asked him was he still on the case with Little Will, and why was he still in the police station. . . .He stated to me that he was there in the police station and Little Will was in prison because Little Will tried to stand solid instead of being with the winning team. . . . [He] said the only thing Will had to do was lie like Hammond . . .that because he refused to help the police, he f***ed up."
VOD has since interviewed this man about the document and found him credible. The man says he had known Hammond since childhood. He Jpayed VOD,  "I am willing to do whatever is necessary to assists you in W.M. liberation. Whatever assistance that I can render please do not hesitate to call on me. I have personal interest in this case knowing that W.M. is innocent of these fabricated charges." VOD is withholding his name for his protection.
ALSHAM HALEEM: "EVERYONE DESERVES A SECOND CHANCE"
Alsham Haleem attended a large rally for wrongfully convicted Wayne County prisoners June 4, 2021 to speak for his friend Willie Merriweather. Hundreds flooded the streets outside the Frank Murphy Hall of "Justice" courthouse in downtown Detroit to demand freedom for their loved ones.
DETROIT: FAMILIES OF WRONGFULLY CONVICTED TELL PROS. KYM WORTHY, POLICE, JUDGES–'FREE THEM ALL' | VOICE OF DETROIT: The city's independent newspaper, unbossed and unbought
"I've been knowing Will for about 20 years, Aleem told VOD. "He's a very humble guy. His spirit and energy have always been that he has made mistakes in his life, and he felt being convicted for something he didn't do was his punishment. But he feels like enough is enough, he has worked to change his thinking and his life. Everyone deserves a second chance."
Aleem added, "Since he was convicted of second-degree murder, he still goes before the parole board every five years, but they want him to claim ownership of this crime that he didn't do. It perplexes me that the very officers whose deeds figured in the wrongful convictions of many men exonerated through the Wayne County Conviction Integrity Unit also were involved in Will's case, but he has had no action from the CIU in five years."
Merriweather provided very curt letters from Valerie Newman, Director of the Wayne County Conviction Integrity Unit, responding to his inquiries through the five years. Each letter tells him that the CIU has not even begun investigation on his case.
POLICE, PROSECUTORS WOVE WEB OF LIES TO JUSTIFY WRONGFUL CONVICTIONS DURING WAVE OF DETROIT HOMICIDES IN '80s, '90's   Including exonerees Dwight Love, Danny Burton, Desmond Ricks, more
Recorder's Court Judge Dominic Carnovale found Merriweather not guilty of 1st-degree murder, but guilty of three counts of 2nd-degree murder during a bench trial in the deaths of Marlin Underwood, Duuna Summers, and Stacy Gist at 15888 Coyle on March 2, 1987. The grisly killings were allegedly carried out as a drug-related hit. The victims had been tied up before being shot to death. Two infants were in the home at the time.
Court records show that police originally fingered Frederick Hammond as the shooter and chief perpetrator, bringing charges against him in case #87-57858, on three counts of first degree murder, felony murder, and assault with intent to commit murder. Merriweather and five others were charged with conspiracy to commit the last two crimes.
But Hammond agreed to testify against his co-defendants and became the prosecution's chief witness in case#87-57666, later converted to #87-002623. In that case, Merriweather was charged  with three counts of First Degree or Felony Murder, Assault with Intent to Commit Murder, and felony firearm. Hammond pled out and did not face a jury. Merriweather was convicted of Second-Degree Murder and other charges, while his five co-defendants were acquitted at trial after his testimony that they were not involved, as confirmed by Scott Crump.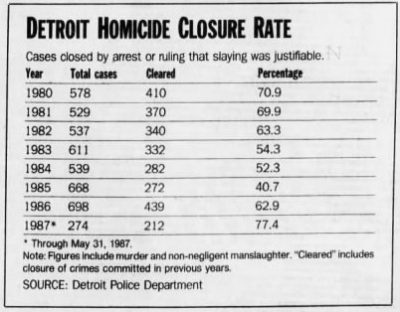 Particularly during the decades of the 1980's and 1990's, pressure on the DPD to close homicide cases QUICKLY was ratcheted up, leading to the number of wrongful convictions exposed so far.
Likely hundreds to thousands of prisoners from Wayne County remain. A private investigator who investigates such cases told VOD that he estimates at least 80 percent of Wayne Co. prisoners convicted during the "Ring of Snitches" era are wrongfully convicted.
The Detroit Free Press reported in an article dated July 13, 1987,  "Detroit's Solved Homicide Rate Increases."  The chart in the article says "Cases closed by arrest or ruling that slaying was justifiable." Clearly an arrest does not constitute actual closure of a case, since it does not always lead to a conviction, and when it does, the individual can still pursue appeals. It appears that DPD members were likely arresting people without regard to the legitimacy of the arrests and whether they had enough evidence to convict.
DPD MAJOR CRIMES CHIEF GERALD STEWART
Framed Dwight Love, Roger Carlos Ray, likely many others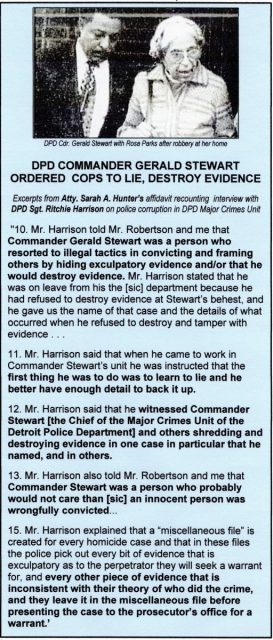 Records show that Gerald Stewart, head of the Major Crimes Unit of the Detroit Police Department at the time, DPD Sgt. Donald Stawiasz, the officer in charge (OIC) of the case, and Det. Sgt. Ronald Sanders were the chief players in the macabre plot to a death in prison sentence for  Merriweather.
Stewart was exposed in the notorious case of Dwight Love, #81-006966-01, found guilty of first-degree murder and multiple other crimes in 1981. Detroit Recorders Court Judge Daphne Means Curtis dismissed all charges in 2001 on a motion for relief from judgment filed by Love's attorney Sarah Hunter. Hunter revealed for the first time DPD's use of "miscellaneous files" on defendants, withheld from the defense and prosecution.
During her investigation, she held secret meetings with a former FBI agent and DPD Sgt. Ritchie Harrison, both of whom died under questionable circumstances in the years following. She cited their statements in a sworn affidavit (excerpt in box at left).
She said Harrison told her that Commander Gerald Stewart "was a person who resorted to illegal tactics in convicting and framing others by hiding or destroying exculpatory evidence," among other allegations.
Read full affidavit:  http://voiceofdetroit.net/wp-content/uploads/Sarah.Hunter.Affidavit
VOD also cited Stewart in the case of  lifer Roger Carlos Ray, who lingers in prison with a case very similar to that of Dwight Love, also dating to 1987, the year of Merriweather's conviction.
See also: LIFER ROGER CARLOS RAY FIGHTS CONVICTION OF 1987 MURDER; HEARING ON SUPPRESSED EVIDENCE JULY 7, 2022 | VOICE OF DETROIT: The city's independent newspaper, unbossed and unbought
SGT. RONALD SANDERS
 DANNY BURTON: 1987 life conviction vacated 2019 due to beatings, threats, coercion by Sanders. DPD alleged drug trafficking as in Merriweather case. 
Danny Burton's first-degree murder conviction was overturned Dec. 6, 2019, citing recantations and statements from four young witnesses that DPD Detective Ronald Sanders had subjected them to threats, brutality, confinement in closets, and other criminal tactics.
The prosecution contended that Burton, Paul Young, David Owens, and murder victim Leonard Ruffin were working for a major crack cocaine ring, delivering crack and picking up money from "crack houses."
Ruffin, 20, was found fatally shot in an alley in Detroit on May 2, 1987. A day later, police arrested Burton, Young and Owens. Young confessed, implicated the other two and said they were with a 14-year-old girl named Clara Hill at the time.  The judge in Burton's case, however, barred Young's confession from evidence because it came out that Sanders had kicked him in the groin and locked him in a room until he confessed.
Clara Hill ultimately refused to testify against Burton and the other two. She said Detective Sanders locked her in a closet  and kept her there even after she urinated on herself. No adults besides the officers were present during her interrogation.
The three recanting witnesses told similar stories. One said Sanders had paid her $40 to $60 on about 10 occasions, and threatened to take away her children unless she testified for the prosecution. Another said that Sanders threatened to charge her with murder until she implicated the defendants. A third said she was high on crack when Sanders wrote out a statement for her and she signed it without reading it.
Ronald Sanders left DPD in 1993, He is now promoting a book  called "Concerned but Not Consumed," on Facebook.
In a blurb for the book, he says, "I was a Detroit Police Homicide Detective Sergeant. While working homicide, I was involved in some of the most sensational homicide cases from 1984-1993. One case involved the serial killing of 11 women. This aforementioned serial killer case catapulted me to local notoriety and national fame. This notoriety led me to being photographed and featured in the popular magazine, Vanity Fair. This new found fame also led to the signing of a Hollywood movie contract for the rights, to my police career. I even opted to have 'Mr. Denzel Washington' play my part in the prospective movie. All of the previous events occurred in April of 1993. One month later, I suffered a massive and devastating stroke. I went from euphoria and utopia to severe depression and sadness." Authors Testimony — Concerned Not Consumed, The Story of Ron Sanders
VOD is contacting Sanders for comment on the cases of Willie Merriweather and Danny Burton.
DPD SGT. DAVID STAWIASZ
DPD CIO in Merriweather case, also partnered with DPD ET David Pauch in the case of exoneree DESMOND RICKS; Pauch cited in many other cases
In 2017, former Detroit Police Chief James Craig promised to re-open all cases involving  the CIO (Chief Investigative Officer) in Willie Merriweather's case, Donald Stawiasz, and Detroit Police Crime Lab Firearms Technician David Pauch.
Convicted in 1992, Desmond Ricks  had just been exonerated because it was discovered that the Stawiasz and Pauch knowingly substituted bullets found in victim Gary Bennett's body with bullets from a gun belonging to Ricks' mother. Pictures of the bullets from the body had been withheld from the defense, and a state police expert said in a 2015 affidavit that the bullets provided by Detroit police for his court examination were likely not taken from Bennett's body, because they didn't have the elements of bullets that had penetrated a body.
Wayne County Prosecutor Kym Worthy's Conviction Integrity Unit dropped all charges against Ricks and he was exonerated.
Detroit Free Press editorial writer Rochelle Riley wrote in 2017, "It is not enough that Desmond Ricks is free. It is not enough that the state has a mandated way to pay him for the 25 years Michigan's injustice system took from him. . .Now, Detroit Police Chief James Craig must re-open every case that Pauch and Stawiasz ever touched to determine whether they sent any other innocent people to prison."
That editorial led to former Detroit Police Chief James Craig's pledge to re-open all cases associated with Stawiasz and Pauch, and to the same pledge from Prosecutor Kym Worthy.
"We're not taking this lightly," Craig said in a news article. "I don't know how vast this thing would get, but we are committed to finding the truth. "If that means uncovering criminal acts on the part of current or past investigations, we would do that."
Merriweather's case has been pending in the Wayne County Conviction Integrity Unit since January 9th, 2018, Merriweather told VOD.
"My case demonstrates a perfect example of how the CIU has implemented cover-up tactics when cases directly involve Wayne County Assistant Prosecutors having previously indulged with bad cops in illegitimate practices. How the CIU has been able to sweep my case under the rug is really beyond comprehension. They has simply turned a blind eye and reneged on their promises to the public to reopen those cases."
Merriweather said that in 2019, CIU Director Valerie Newman referred his case to the Western Michigan Cooley Law School Innocence Project without notice to him. On Feb. 9, 2021, the Cooley law School contacted him to say to tell him that his case was outside the case acceptance criteria, since Cooley screens only for "potential DNA or False Forensics Evidence."  The School returned the case to the CIU remain open for  review.
Merriweather has long contended that the guns in his case were switched, a claim of false forensics evidence.  He said he believes the CIU is taking a hands off approach because he names Wayne County Asst. Prosecutor Douglas Baker and Stawiasz among the parties responsible for his wrongful conviction.
"Clearly the CIU and Wayne County Prosecutor's Office refused to expose facts involving Mr. Merriweather's case but, instead, covered up those facts as in the same scenario as the Davontae Sanford case.
He told VOD that on May 5, 2021, he participated in a teleconference with CIU Director Newman and an Asst. State Attorney General, to make a deposition as a witness on behalf of Raymond Gray, who spent almost 50 years in prison before his release.
The CIU and the Prosecutor's Office essentially forced Gray to plead guilty to second-degree murder instead of exonerating him. This was despite the existence of two eyewitnesses to the crime, including the actual killer, who swore he was not even there, and a years-long investigation affirming that by then WXYZ Channel 7 top reporter Bill Proctor.
At the court hearing on his release, Newman claimed the "only" witness left opposed his release.
Merriweather said that during the deposition, he attempted to discuss his case with Valerie Newman, but she stalled him out, simply assuring him that she knew about his case but would see him later and for Mr. Merriweather to be more patient. CIU Director, Valerie Newman's verbal promise to review Mr. Merriweather's case has been hanging in limbo nearly 5 years!"
"The public should be in a outraged where its top attorney is directly involved in continual cover-ups again, again, again and again!" Merriweather said.
He is also asking attorneys to offer assistance on his case.
"PLEASE OFFER YOUR ASSISTANCE IN THIS MATTER. WE ALL SHARE A DUTY TO EXPOSE CORRUPTION WITHIN THE WAYNE COUNTY'S JUDICIARY WHERE THE RECORDS SPEAK THE TRUTH!"
Write to:
WILLIE MERRIWEATHER #131483                                                                              Lakeland Correctional Facility                                                                                        141 First St. 
Coldwater, MI 49036
Related: 
How many lives beyond Desmond Ricks have police helped steal? (freep.com)
LIFER PAUL DAVIS: FRAMED BY DETROIT COPS, APA WHO SENT CHILDREN TO CPS, JAIL TO GET FALSE TESTIMONY | VOICE OF DETROIT: The city's independent newspaper, unbossed and unbought
LIFER KENNETH COOPER FIGHTS 2001 CONVICTION; NO PHYSICAL, EYEWITNESS EVIDENCE; BRADY VIOLATIONS | VOICE OF DETROIT: The city's independent newspaper, unbossed and unbought
(more to be added)
**********************************************************************************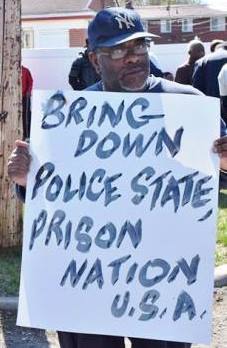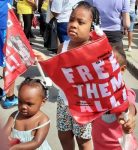 URGENT: Voice of Detroit is a pro bono newspaper, now devoting itself entirely to stories related to our PRISON  NATION and POLICE STATE. Funds urgently need to keep VOD going.
VOD's editors and reporters, most of whom live on fixed incomes or are incarcerated, are not paid for their work. Ongoing costs include quarterly web charges of $460.00, P.O. box fee of $200/yr. and other costs including utility and internet bills, costs for research including court records and internet fees, office supplies, gas, etc.
Please DONATE TO VOD at:
CASH APP 313-825-6126 MDianeBukowski
***********************************************************************************