Only eyewitness to killing could not ID Cooper or co-defendant Willie D. Stovall in live and photo line-ups, despite repeated police, pros. efforts
She DID identify photo of another man; police had linked him to earlier crime where same gun was used
Police allegedly contaminated U-M jacket, a key exhibit worn by a cop  BEFORE it was tested for GSR
Mother and wife of deceased co-defendant swear that he told them HE killed victim, Cooper was not present
Victim was a recent immigrant from Albania; some questioned whether he had ties to law enforcement and/or organized crime
By Ricardo Ferrell, VOD Field Editor
with Diane Bukowski, VOD Editor

September 21, 2021
DETROIT — Kenneth Cooper has now served 20 years of a life without parole sentence for the murder of Anton Lleshaj, 32, a recent immigrant from Albania, outside a shady east-side Detroit after-hours club on Dec. 24, 2000.
"I have always maintained my innocence, and I knew that when someone took a deeper look into my case that the truth would come out and that truth would set me free," Cooper told VOD.  "My faith keeps me going!"
Cooper maintains that there has never been any no physical or eyewitness testimony that he committed the crime, or was anywhere near the scene of the crime.
" I don't believe my husband has it in his heart to rob and murder another human being," says Tamika Merchant, an advocate for Cooper along with his parents.
According to Cooper's 993-page Homicide File, the Metro Detroit Violent Crimes Task Force (VCTF) carried out an unusually far-ranging investigation into the obscure Christmas Eve murder.  The VCTF included Detroit Police Sgts. David Wilkerson and Ira Todd, the Bureau of Alcohol, Tobacco and Firearms, the DEA, the Michigan State Police and the Wayne County Sheriff's Department.
A financial transaction with the victim's credit card soon after the homicide led to Cooper's arrest, based on a trace of cell phone records linked to Cooper after the user called to check its balance.
No physical evidence identified Cooper as the killer. The only eyewitness identified another man police linked to the alleged murder weapon, not Cooper or his co-defendant. No witness testimony placed him at or near the scene of the crime during or around the time of the murder. No one testified that he had a weapon the morning of the murder, or that he was in the car that drove up behind the victim. No one saw the killer wearing U-M jacket, a key prosecution exhibit.
At the time, some questioned whether the victim had ties to law enforcement or organized crime. Nothing in the homicide file shows any significant investigation of Lleshaj other than brief interviews with his family members, despite statements given to police by others alleging Lleshaj sold drugs.
. I don't believe Kenneth have it in his heart to rob and murder another human being.
Renowned Michigan Appeals Court Judge Hilda Gage agreed with Cooper's claim of innocence in her dissenting opinion on the case Oct. 14, 2003. Although the two other judges on the panel said they felt the evidence was sufficient and denied relief, Gage's statement is unusually strong. VOD thoroughly reviewed the homicide file and other documents in Cooper's case, and came to the same conclusion.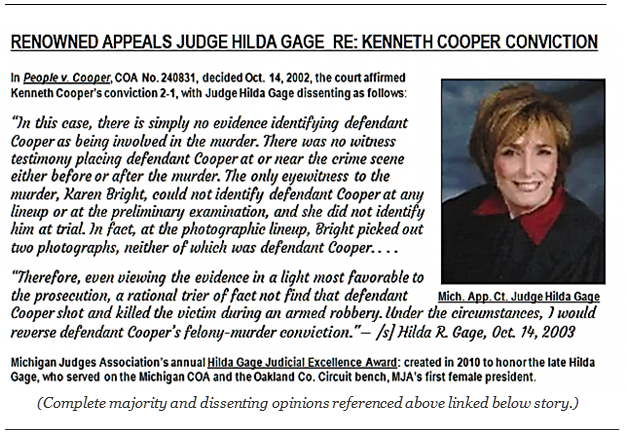 Cooper is represented by Atty. Phillip Comorski, who said a motion for relief from judgment filed in his case March 24 this year was denied without a hearing on June 17 by Wayne Co. Third Circuit Judge Chandra Baker. Comorski said he is filing an appeal with the Michigan Court of Appeals, and that it is likely the COA will remand the case to the trial judge. Baker was not the trial judge and should not have denied the motion without an evidentiary hearing, he said.
Eyewitness ID'd another man's photo, couldn't ID Cooper in live or photo line-ups despite DPD's numerous visits to her home, work places
There was only one direct eyewitness to the murder, who is not named here for her safety and that of her family. She ultimately identified another man, not Cooper, as the killer. Police showed her a photo of that man because they said a 9 mm shell casing found at the scene of the Lleshaj homicide matched the Luger 9 mm. gun used in an earlier crime for which that man had been charged. Police later claimed that a Tech-9 gun was used in the killing, and that Cooper had been seen with a similar gun. No forensic evidence connected Cooper to any gun in the case.
The eyewitness told DPD that she reluctantly accompanied Lleshaj to the after-hours club. She said that as they were leaving, Lleshaj got out of his car to relieve himself, and was shot multiple times by one of three men who drove up behind their car. She described many other possibly suspicious people who were at the club, including sex workers, traffickers, and drug dealers.
DPD investigators including the OIC (officer-in-charge) David Wilkerson, and Sgt. Ira Todd, Sgt. David Ruiz, Sgt. David Jackson, Sgt. William Anderson, E.T.s David Pauch and William Steiner, and DPD Polygraph Examiner Andrew Sims were involved in the investigation. Todd conducted live and photo line-ups for the eyewitness repeatedly, but she did not identify Cooper or his co-defendant Willie D. Stovall (now deceased), in any of them. She said police had threatened to arrest her.
In the last of three photo line-ups, she identified another man charged for an  earlier  crime as the killer. Police alleged that the gun which killed Lleshaj was  the same weapon used in an earlier shooting involving that man. The witness said she had not identified him earlier because she was scared.
Records show that investigators repeatedly visited the eye witness at her home and other addresses, as well as her places of employment, hoping to secure an ID.  Fearing for her life, she moved away from Detroit soon after the events.
During the trial, Wayne County Asst. Prosecutor Thomas Furtaw told the court that this witness had changed her mind and now would identify Cooper. She was never called to testify. The jury never was given the opportunity to hear from the key witness that she had excluded Cooper as the shooter despite telling the police she got a clear look at his face.
Police also visited the homes of Cooper's siblings, girl friend and others, arresting some after they said Cooper had provided them with a stolen credit card to buy Christmas gifts for their children. Some of Cooper's relatives gave statements to the police that he had gone with them when they bought the items the morning of Dec. 24, and gave detailed descriptions of the trip and the items involved. But none of them was arrested for possession of the credit card or the purchases.
Chain of custody and identification issues, evidence tampering
Police used photos from a Meijer's Livonia videotape of Dec. 24, 2001 as evidence that Kenneth Cooper took Lleshaj's credit card to that store and used it to purchase the Christmas gifts there.
They claimed the videotape showed Cooper wearing a blue and yellow U-M jacket as he used the credit card.
However, documents in Cooper's homicide file show that a Michigan State Trooper who enhanced the videotape said photos from it were not sufficient to identify any suspect.  The photo from the videotape also does not appear to show such a blue and yellow jacket.
DPD Officer David Ruiz confiscated a yellow and blue U-M jacket police alleged Cooper had worn at the Meijer's on Feb. 6, 2001, during a search at the home of his sister, and turned it in as evidence on Feb. 7, 2001, 44 days after Lleshaj's murder. Crime lab technician William Steiner testified at trial that he found gunshot residue on the jacket, in a report dated Feb. 13, 2001.
But OIC David Wilkerson's progress notes (below) show that he went with DPD P.O. David Jackson to the Livonia Meijer's on Feb. 8,  to make a videotaped re-enactment showing Jackson wearing the same U-M jacket that Cooper allegedly wore at the Meijer's, BEFORE it was tested for gunshot residue. The jacket had been tagged as evidence Feb. 7, and the GSR test was performed on Feb. 13, 2001.

Cooper and his supporters say the jacket could easily have been contaminated by GSR from a police officer. They have been trying to get a copy of the videotape made Feb. 8 at Meijer's through the Michigan FOIA, but police FOIA representatives told them they haven't yet found it.
VOD has since submitted its own request for a copy of the Cooper homicide file, as well as any miscellaneous file on the case to the Law Department.  In 1996, Attorney Sarah Hunter exposed the use of such miscellaneous files by the DPD to hide evidence from defendants in the case of Dwight Love, who was later exonerated.
BRADY-GIGLIO VIOLATIONS: 
Failure to provide the Meijer's videotape to the defense  likely constitutes a violation under Brady v. Maryland, 373 US 83 (1963), which requires prosecutors and the police to disclose evidence that is exculpatory (favorable) to the defendant.
In addition to that Brady violation, it is likely that Cooper's jury never heard about the backgrounds of several other officers involved in his case, under Giglio v. United States, 405 US 150 (1972). That ruling requires that impeachment evidence that can call into question the testimony of police and other witnesses must also be provided to the defense.
Sgt. Ira Todd was one of two Detroit police officers charged with second-degree murder, tried and later acquitted in the shooting death of Jose Iturralde, a Cuban immigrant, on April 28, 1993, on a sidewalk in southwest Detroit.  The death caused an uproar in Detroit's Latino community.
The two were charged as the trial of DPD Sgts. Walter Budzyn and Larry Nevers for second-degree murder in the 1992 beating death of Malice Green was underway. Todd and Rico Hardy were acquitted in the Iturralde case. Todd said at the time "If it wasn't for Malice Green and Rodney King, this never, ever would have happened. I won't go back. They did everything but burn a cross in my grass."
Testimony by Detroit Crime Lab technicians including Officers David Pauch and William Steiner is also subject to disclosure requirements under Brady/Giglio. DPD's Detroit Crime Lab was closed in 2008 after a Michigan State Police review found a 10 percent error rate, with some likely due to falsifications by crime lab personnel.
Testimony by Pauch and Donald Stawiaz on ballistics evidence was shown to have been falsified in the case of Desmond Ricks, leading in part to his 2018 exoneration and a $1.25 million lawsuit by Ricks against the two crime lab officers. Former Detroit Police Chief James Craig swore in 2017 that he would re-open every case tied to the two officers for re-examination.
Testimony by William Steiner in the case of Vidale McDowell, who's conviction was later overturned, was cited as a factor in that wrongful conviction. Testimony by DPD polygraph examiner Andrew Sims, who did polygraph exams on the eyewitness to the Lleshaj murder was also cited in  McDowell's case.
The State Appellate Defenders Office (SADO) in 2019 cited the wrongful convictions of others due to crime lab errors and/or falsifications of ballistics evidence, including Orande Thompson, Nathan Jacobs, Karecio Eatman, Jerah Arnold, Dewayne Span, and Darrell Siggers. See: 10-03-2019 – SB 276, 277 – Jonathan Sacks – Senate Judiciary.pdf (mirsnews.com)
SADO got a federal grant to work on the Crime Lab Project with Wayne Co. Prosecutor Worthy. Worthy determined in 2011 that they would only investigate cases from 2003 to 2008, leaving thousands of other prisoners incarcerated in previous years without recourse.
"Kenneth is my only son of my four children," Cooper's mother Shirley Dennis, told VOD.
"I have worried day and night over the fact he still sits in prison for a crime he didn't commit. I recall when two of the officers told me they knew my son was innocent, but that someone had to take the fall. The actual killer told his family members that he was the one who shot and killed the victim and that Kenneth didn't have anything to do with the murder. How much longer must my son stay locked up for something he absolutely didn't do?"
The mother and wife of Cooper's co-defendant Willie D. Stovall executed sworn affidavits for private investigator Scott Lewis.  Both said Stovall  told them shortly before his death after his release from prison that HE was the killer in the Lleshaj case, and that Cooper was not even at the scene. Stovall was sentenced to 10 to 30 years for a firearms charge in the case and was released in 2016. Their affidavits have been submitted in Cooper's ongoing post-conviction case.
"I once had aspirations to become an attorney so I could represent my uncle Kenny and get him out of prison," said Tya Boone, daughter of Cooper's sister the late Andrea Boone. Her twin sister Tia added, "I am still baffled by the fact someone can be arrested, charged, convicted, and sentenced to a life sentence meant for them to die in prison, which resulted from a wrongful conviction."
Related documents:
Dissenting opinion by COA Judge Hilda Gage at:
http://voiceofdetroit.net/wp-content/uploads/COA-240830-PEOPLE-OF-MI-V-KENNETH-COOPER-Opinion-Partial-Concurrence_Dissent-10_14_2003.pdf
Majority opinion by COA judges:
http://voiceofdetroit.net/wp-content/uploads/COA-240830-PEOPLE-OF-MI-V-KENNETH-COOPER-Opinion-Per-Curiam-Unpublished-10_14_2003.pdf
Related Stories:
END MASS INCARCERATION! NAT'L LIFERS OF AMERICA RALLY LANSING THURS. OCTOBER 14 @ 12-3 PM | VOICE OF DETROIT: The city's independent newspaper, unbossed and unbought
WORTHY OR NOT? DETROIT'S INSTAGRAM FOLLOWERS SAY NOT AFTER NBC INTERVIEW OF WAYNE CO. PROSECUTOR | VOICE OF DETROIT: The city's independent newspaper, unbossed and unbought
DETROIT: FAMILIES OF WRONGFULLY CONVICTED TELL PROS. KYM WORTHY, POLICE, JUDGES–'FREE THEM ALL' | VOICE OF DETROIT: The city's independent newspaper, unbossed and unbought
***********************************************************************************

Voice of Detroit is a pro bono newspaper, now is devoting itself entirely to coverage of stories related to our PRISON NATION and POLICE STATE.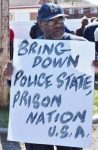 VOD's editors and reporters, most of whom live on fixed incomes or are incarcerated, are not paid for their work. Ongoing costs include quarterly web charges of $450.00, P.O. box fee of $180/yr. costs for research including court records, internet fees, utilities, office supplies, gas, etc.
Please DONATE TO VOD at:
********************************************************************************