BY TAMERRA WASHINGTON 
VOD FIELD REPORTER
June 25, 2023 
Tamerra Washington is vice-president of the Nat'l Lifers Association chapter at Women's Huron Valley CF, chairs the WHV Actual Innocent/Wrongfully Convicted Committee, and facilitates N/A. She is creating an internal registry for claims of innocence as well. She has a Facebook page under her name and another to publicize other women's cases  at https://www.facebook.com/MissCarryingJusticeLeague1. 
Tamerra Washington 486364
Women's Huron Valley Correctional Facility  3201 Bemis Rd. Ypsilanti, MI 48197
LETTERS FROM A MODERN CELL 
16 April 1963 Martin Luther King's Letter from a Birmingham Jail… rewritten as how I feel it today from Women's Huron Valley Prison. Join me on this sentiment still felt 60 years later. Rise up!
(Excerpts from Dr. Martin Luther King's letter are in all CAPS.)
" INJUSTICE ANYWHERE IS A THREAT TO JUSTICE EVERYWHERE. "
" WHATEVER AFFECTS ONE DIRECTLY, AFFECTS ALL INDIRECTLY. "
" IN ANY NONVIOLENT CAMPAIGN THERE ARE FOUR BASIC STEPS: COLLECTION OF THE FACTS TO DETERMINE WHETHER INJUSTICES EXIST; NEGOTIATION; SELF PURIFICATION; AND DIRECT ACTION. "
Collecting facts looks like accurate Intel from claims of innocence ( we are creating an internal Registry of Claims of Innocence: http://www.MCJLRegistry.com), timely investigations, and transparency in the process;

Negotiations could be exonerations or a FAIR trial. A procedural change that addresses disparities and no longer allows decades to pass on claims of injustices. We all know that minorities still receive grossly unjust treatment in the courts. That's the foundation this system was built on. We've come a long way as a people, but there's still work to do;

Self purification, I questioned this one, but this one's for us wrongly convicted… are we willing to sacrifice, reach out despite the many rejections, not allowing bitterness or hatred to set in, and continued love regardless as to the outcome;
DIRECT ACTION... now that's for you. Advocates and loved ones. All of humanity that is aware of these injustices that continue to occur by the hands of the system as it stands. It's up to you to band together for diversity, all inclusion, and change. Women need

ACTIVE PARTNERS IN THE STRUGGLE FOR FREEDOM.

Look back over history, all change happened when the people said '

ENOUGH! '" DIRECT ACTION SEEKS TO DRAMATIZE THE ISSUE SO THAT IT CAN NO LONGER BE IGNORED. "
" THERE IS A TYPE OF CONSTRUCTIVE, NONVIOLENT TENSION WHICH IS NECESSARY FOR GROWTH. "
" THE PURPOSE OF OUR DIRECT ACTION PROGRAM IS TO CREATE A SITUATION SO CRISIS PACKED THAT IT WILL INEVITABLY OPEN THE DOOR TO NEGOTIATION. "
" FREEDOM IS NEVER VOLUNTARILY GIVEN BY THE OPPRESSOR; IT MUST BE DEMANDED BY THE OPPRESSED. "
We see that with the prosecution and wrongly convicted individuals. If we sit silently… 50 years can pass us by. Life that cannot be regained. Precious moments that cannot be replaced.
FOR YEARS NOW I'VE HEARD THE WORD " WAIT! " IT RINGS IN THE EAR OF EVERY wrongly convicted individual WITH PIERCING FAMILIARITY. THIS " WAIT " HAS ALMOST ALWAYS MEANT " NEVER ".
" WE MUST COME TO SEE WITH ONE OF OUR DISTINGUISHED JURISTS, THAT JUSTICE TOO LONG DELAYED IS JUSTICE DENIED. "
How long must we wait? Are women even a discussion in the equation of exonerations?
PERHAPS IT'S EASY FOR THOSE WHO HAVE NEVER FELT THE STINGING DARTS OF a wrongful conviction TO SAY " WAIT! "
But when you have seen the treatment of individuals in the MDOC, when you have seen the spiritual and emotional deaths at the hands of ' corrections officers'; WHEN YOU SEE daily dehumanization and an absence of interpersonal intelligence from staff in positions of authority over individuals; WHEN YOU SUDDENLY FIND YOUR morale, morals, and value system obliterated by authority daily, you'll too question this "WAIT!".
Situations beginning to distort our personality by developing an unconscious bitterness toward the law. when you are humiliated day in and day out by nagging C/O's; when your name becomes a number; when you are harried by day and haunted at night by the fact that you are a prisoner unjustly, living constantly at a tiptoe stance, never quite knowing what to expect next, and are plagued with inner fears and outer resentments; when you are forever fighting a degenerating sense of " NOBODINESS" — then you will understand why we find it difficult to wait.
THERE COMES A TIME WHEN THE CUP OF ENDURANCE RUNS OVER, AND WE ARE NO LONGER WILLING TO BE PLUNGED INTO THE ABYSS OF DESPAIR.
" I HOPE YOU UNDERSTAND OUR LEGITIMATE AND UNAVOIDABLE IMPATIENCE "
Wrongful Convictions are NOT ONLY POLITICALLY, ECONOMICALLY, AND SOCIOLOGICALLY UNSOUND, they are MORALLY WRONG. Wrongful Convictions DISTORT THE SOUL AND DAMAGE THE PERSONALITY.
"SOMETIMES A LAW IS JUST ON ITS FACE AND UNJUST IN ITS APPLICATION.".
Over the years, there were members of prosecution " WERE MORE DEVOTED TO "ORDER THAN TO JUSTICE. " Gatekeepers, WHO WERE MORE DEVOTED TO " etiquette " THAN TO JUSTICE; WHO PREFER A NEGATIVE PEACE WHICH IS THE ABSENCE OF TENSION TO A POSITIVE PEACE WHICH IS THE PRESENCE OF JUSTICE; WHO CONSTANTLY SAYS: " I AGREE WITH YOU IN THE GOAL YOU SEEK, BUT I CANNOT AGREE WITH YOUR METHODS OF DIRECT ACTION; WHO PATERNALISTICALLY BELIEVES THEY CAN SET THE TIMETABLE FOR ANOTHER INDIVIDUALS' FREEDOM; WHO LIVE BY A MYTHICAL CONCEPT OF TIME AND WHO CONSTANTLY ADVISE THE  wrongfully convicted to wait for a " MORE CONVENIENT SEASON "
The time is NOW!
SHALLOW UNDERSTANDINGS FROM PEOPLE OF GOOD WILL ARE MORE FRUSTRATING THAN ABSOLUTE MISUNDERSTANDING FROM PEOPLE OF ILL WILL. LUKEWARM ACCEPTANCE IS MUCH MORE BEWILDERING THAN OUTRIGHT REJECTION.
I HAD HOPED Conviction Integrity Units, Innocence Clinics and Projects would see the need to investigate more claims of innocence from women. I HAD HOPED that Exonerees would speak up on behalf of the many women overlooked. All while we're disconnected from family and society for decades IN WHICH THE wrongly convicted women PASSIVELY ACCEPTED THEIR UNJUST PLIGHT in the criminal justice system.
We are awakening from that slumber and reaching for our just due.
After years of inquiries about exonerations for women, I'd heard 2022 was our year.
" AS THE WEEKS AND MONTHS WENT BY, WE REALIZED THAT WE WERE THE VICTIMS OF A BROKEN PROMISE. AS IN SO MANY PAST EXPERIENCES, OUR HOPES HAD BEEN BLASTED, AND THE SHADOW OF DEEP DISAPPOINTMENT SETTLED UPON US."
" INJUSTICE MUST BE EXPOSED, WITH ALL THE TENSION ITS EXPOSURE CREATES, TO THE LIGHT OF CONSCIENCE AND THE AIR OF NATIONAL OPINION BEFORE IT CAN BE CURED. "
" IT IS WRONG TO URGE AN INDIVIDUAL TO CEASE THEIR EFFORTS TO GAIN THEIR BASIC CONSTITUTIONAL RIGHTS. "
We want Liberty, Justice, and Equitable treatment!
" WE REJECT THE MYTH CONCERNING TIME IN RELATION TO THE STRUGGLE FOR FREEDOM. " We want it NOW!
Society's relaxed ATTITUDE STEMS FROM A TRAGIC MISCONCEPTION OF TIME, THAT THE VERY FLOW OF TIME WILL INEVITABLY CURE ALL ILLS. ACTUALLY, TIME ITSELF IS NEUTRAL; IT CAN BE USED EITHER DESTRUCTIVELY OR CONSTRUCTIVELY. MORE AND MORE I FEEL THAT THE PEOPLE OF ILL WILL HAVE USED TIME MUCH MORE EFFECTIVELY THAN HAVE THE PEOPLE OF GOOD WILL.
Direct Action changes years into days. Effective legal representation for all classes of people lessens blatant injustices in the courts. We must rise up!
" LET JUSTICE ROLL DOWN LIKE WATERS AND RIGHTEOUSNESS LIKE AN EVER FLOWING STREAM "
Systematic injustices wouldn't continue to occur, "BUT FOR THE APPALLING SILENCE OF THE GOOD PEOPLE. HUMAN PROGRESS NEVER ROLLS IN ON WHEELS OF INEVITABILITY; IT COMES THROUGH THE TIRELESS EFFORTS OF THOSE WILLING TO BE CO WORKERS WITH GOD, AND WITHOUT THIS HARD WORK, TIME ITSELF BECOMES AN ALLY OF THE FORCES OF SOCIAL STAGNATION. WE MUST USE TIME CREATIVELY, IN THE KNOWLEDGE THAT THE TIME IS ALWAYS RIPE TO DO WHAT'S RIGHT.
NOW IS THE TIME TO LIFT OUR NATIONAL POLICY FROM THE QUICKSAND OF RACIAL INJUSTICE TO THE SOLID ROCK OF HUMAN DIGNITY." We are seeking those Co Workers with GOD. Walls fall down with the Mighty Harmony of GOD. No more procrastinating. Rise up!
OPPRESSED PEOPLE CANNOT REMAIN OPPRESSED FOREVER. THE YEARNING FOR FREEDOM EVENTUALLY MANIFESTS ITSELF, AND THAT IS WHAT HAPPENED TO THE wrongly convicted. SOMETHING WITHIN HAS REMINDED US OF OUR BIRTHRIGHT OF FREEDOM, AND SOMETHING WITHOUT HAS REMINDED US THAT IT CAN BE GAINED.
It's the goal of the women to " REACH MAJESTIC HEIGHTS OF UNDERSTANDING AND SISTERHOOD ". Uniting to bring awareness and DIRECT ACTION toward these injustices that individuals face in WHV.
I HAD HOPED THAT THE C.I.U's, Innocence Clinics, and Projects, WOULD SEE THIS NEED. PERHAPS I WAS TOO OPTIMISTIC; PERHAPS I EXPECTED TOO MUCH. I SUPPOSE I SHOULD HAVE REALIZED THAT FEW MEMBERS OF THE OPPRESSOR SYSTEM CAN UNDERSTAND THE DEEP GROANS AND PASSIONATE YEARNINGS OF THE wrongly convicted women, AND STILL FEWER HAVE THE VISION TO SEE THAT INJUSTICE MUST BE ROOTED OUT BY STRONG, PERSISTENT, AND DETERMINED ACTION. I AM THANKFUL, HOWEVER, THAT SOME OF OUR criminal justice reform allies, exonerees, and advocacy groups HAVE GRASPED THE MEANING OF THIS SOCIAL REVOLUTION AND COMMITTED THEMSELVES TO IT."
I FELT THAT exonerees WOULD BE OUR STRONGEST ALLIES. INSTEAD, SOME HAVE BEEN OUTRIGHT OPPONENTS, REFUSING TO UNDERSTAND THE FREEDOM MOVEMENT AND MISREPRESENTING the women's desire to be included. ALL TOO MANY OTHERS HAVE BEEN MORE CAUTIOUS THAN COURAGEOUS AND HAVE REMAINED SILENT BEHIND THE ANESTHETIZING SECURITY OF their own exoneration.
THEY ARE STILL ALL TOO FEW IN QUANTITY, BUT THEY ARE BIG IN QUALITY. SOME HAVE CARVED A TUNNEL OF HOPE THROUGH THE DARK MOUNTAIN OF DISAPPOINTMENT, UNLIKE SO MANY OF THEIR MODERATE BROTHERS AND SISTERS:
Anyone previously exonerated we hoped would include the women when you reach back for the continued fight for freedom. Negotiate for larger budgets in the C.I.U's, Innocence Clinics, and Projects, double the staff, and investigative teams. Over 2,900 people have been exonerated, 15 of those women from Michigan since 1989. Justice that was denied through the judicial process. Organizations had to investigate and relieve those innocent individuals from their miscarriages of justice.
Read Johnetta Carr's story at:
https://www.law.umich.edu/special/exoneration/Pages/casedetail.aspx?caseid=5693
SMALL IN NUMBER, however, THEY WERE BIG IN COMMITMENT.
THEY HAVE RECOGNIZED THE URGENCY OF THE MOMENT AND SENSED THE NEED FOR POWERFUL " ACTION " ANTIDOTES TO COMBAT THE DISEASE OF wrongful convictions.
LET ME TAKE NOTE OF MY OTHER MAJOR DISAPPOINTMENT. I HAVE BEEN SO GREATLY DISAPPOINTED WITH OTHERS. OF COURSE, THERE ARE SOME NOTABLE EXCEPTIONS. I AM NOT UNMINDFUL OF THE FACT THAT EACH OF YOU HAS TAKEN SOME SIGNIFICANT STANDS ON THIS ISSUE.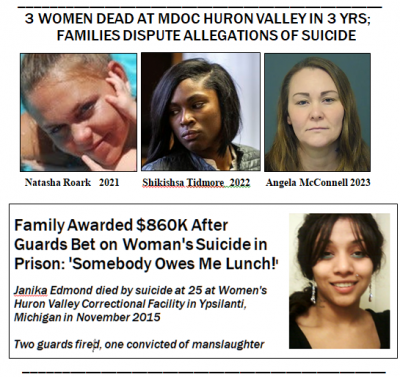 However, nothing known on behalf of Women's Huron Valley. The only women's facility in Michigan.
IN SPITE OF MY SHATTERED DREAMS, I CAME TO exonerees WITH HOPE THAT THE falsely accused COMMUNITY WOULD SEE THE JUSTICE OF OUR CAUSE AND, WITH DEEP MORAL CONCERN, WOULD SERVE AS THE CHANNEL THROUGH WHICH OUR JUST GRIEVANCES COULD REACH THE POWER STRUCTURE. I HAD HOPED THAT EACH OF YOU WOULD UNDERSTAND. BUT AGAIN I HAVE BEEN DISAPPOINTED.
" IN DEEP DISAPPOINTMENT I HAVE WEPT OVER THE LAXITY of Conviction Integrity Units, Innocence Clinics, and Projects to exonerate more women. BUT BE ASSURED THAT MY TEARS HAVE BEEN TEARS OF LOVE. THERE CAN BE NO DEEP DISAPPOINTMENT WHERE THERE IS NOT DEEP LOVE "
I have witnessed Wayne County C.I.U release more men in five years than I've ever seen in my lifetime. I believed in their ability to right these systematic wrongs. I prayed they'd rid the only women's prison in Michigan of the wrongfully convicted contained therein. We are ignored and only advised to " WAIT!"
Death by incarceration sentencing handed down on many cases where no fact finder could conclude guilt beyond a reasonable doubt. Women aged out of adequate functionality… waiting! Women held past the cycle of birthing years. Disconnected and lost to all that matters. And we wait.
Create space just for women. Etch out space to investigate the integrity of women's conviction experience in Michigan.
" WE WILL WIN OUR FREEDOM BECAUSE THE SACRED HERITAGE OF OUR NATION AND THE ETERNAL WILL OF GOD ARE EMBODIED IN OUR ECHOING DEMANDS."
" IF I HAVE SAID ANYTHING IN THIS LETTER THAT OVERSTATES THE TRUTH AND INDICATES AN UNREASONABLE IMPATIENCE, I BEG YOU FORGIVE ME. IF I HAVE SAID ANYTHING THAT UNDERSTATES THE TRUTH AND INDICATES MY HAVING A PATIENCE THAT ALLOWS ME TO SETTLE FOR ANYTHING LESS THAN sisterhood, I BEG GOD FORGIVE ME."
I HOPE THIS LETTER FINDS YOU ALL STRONG IN FAITH. I ALSO HOPE THAT CIRCUMSTANCES WILL SOON MAKE IT POSSIBLE FOR ME TO MEET EACH F YOU.
YOURS FOR THE CAUSE OF PEACE, FREEDOM, AND SISTERHOOOD,
Tamerra Washington 486364
Women's Huron Valley Correctional Facility                                3201 Bemis Rd, Ypsilanti, MI 48197
**********************************************************************************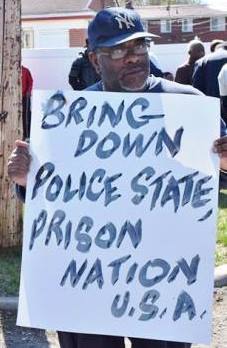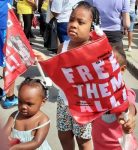 Voice of Detroit is a pro bono newspaper, now devoting itself entirely to stories related to our PRISON NATION and POLICE STATE. Funds needed now to pay quarterly web hosting fee of $460.00, due March 4, 2023. VOD will disappear from the web if fee not paid.
VOD's editors and reporters, most of whom live on fixed incomes or are incarcerated, are not paid for their work. Ongoing costs include quarterly web charges of $460.00, P.O. box fee of $180/yr. and other costs including utility and internet bills, costs for research including court records and internet fees, office supplies, gas, etc.
Please DONATE TO VOD at:
 Cash App at $MDianeBukowski (313) 825-6126
************************************************************************************
Related stories:
https://voiceofdetroit.net/2023/03/31/womens-history-month-battered-woman-nancy-seaman-speaks-truth-31-years-of-domestic-abuse/
'END MICHIGAN'S SECRET DEATH ROW'–HUNDREDS DEMAND END TO LWOP, OTHER REFORMS AT STATE CAPITOL | VOICE OF DETROIT: The city's independent newspaper, unbossed and unbought
VOD Editor Ricardo Ferrell sounded the alarm about the 2015 alleged suicide of Janika Edmond at WHV in 2015, focusing on the role of guards. He called for an investigation of such deaths, which has not yet taken place.
MDOC EXPERIENCING RISE IN SUICIDES AT TREATMENT PROGRAM; ARE CORRECTIONS OFFICERS RESPONSIBLE? | VOICE OF DETROIT: The city's independent newspaper, unbossed and unbought
Woman dies in third suicide at Michigan women's prison since 2021 (freep.com)
Shikisha Tidmore dies after apparent suicide at Michigan women's prison (freep.com)
Prisoner dies by apparent suicide at Michigan's women's prison (freep.com)
Judge overturns 2005 conviction of Farmington Hills teacher who killed husband with hatchet – mlive.com
Woman who killed husband: I cry every day for him (hometownlife.com)
Judge Accused Of Misconduct After Locking Up 3 Kids In Custody Case – CBS Detroit (cbsnews.com)