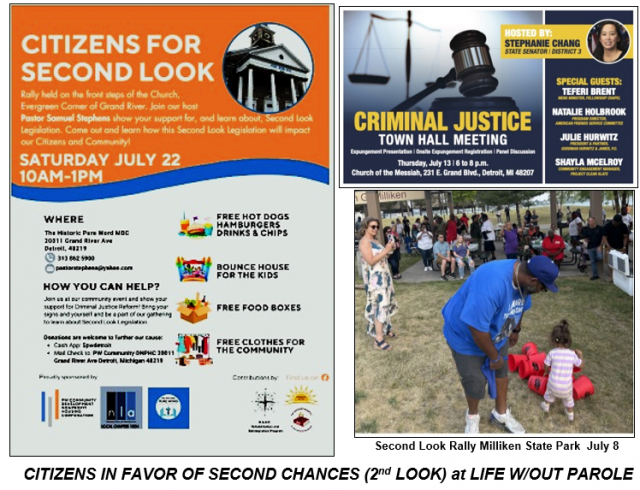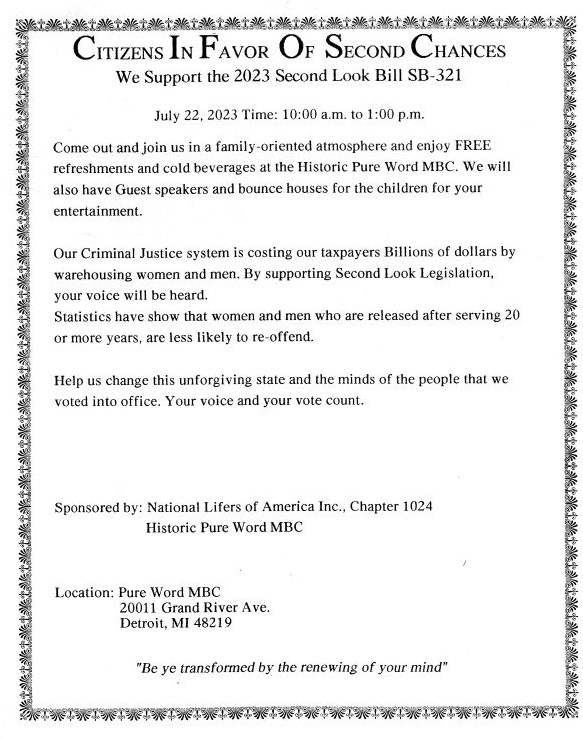 https://voiceofdetroit.net/2021/10/24/end-michigans-secret-death-row-hundreds-demand-end-to-lwop-other-reforms-at-state-capitol/
Legislation would allow judges to review the sentences of nonviolent incarcerated individuals who have already served at least 10 years of their sentence

 
 LANSING, Mich. (April 20, 2023) — Yesterday, Sen. Stephanie Chang (D-Detroit), Sen. Paul Wojno (D-Warren) and Rep. Jimmie Wilson (D-Ypsilanti) announced the Second Look Sentencing Act, legislation that would provide an opportunity for
incarcerated individuals to petition their sentencing judge for a reduction of their sentence after serving at least 10 years and if they are no longer a risk to the community. The bills were announced on the Capitol steps yesterday morning alongside advocates, former justice-involved residents and their families. The bills will be introduced in the coming week. 
"This is smart legislation. This policy will help reunite family members and provide a second chance for those who have served a significant amount of time in prison, changed themselves for the better, and have much to offer to our state," said Sen. Chang. "This legislation gives these individuals who have already served a long time in prison the opportunity to be resentenced so they can return to their communities as productive, valuable residents." 
Under this legislation, the incarcerated individual, their lawyer or the prosecutor would be able to petition the sentencing judge for a reduction of their sentence. The judge would consider factors such as the age of the person at the time of the crime and research on brain development, the person's history while incarcerated, the person's role in the offense compared to other co-defendants, relevant evidence about the person's mental or physical health now or at the time of the offense, whether the person was a victim of human trafficking, whether the person experienced domestic abuse, and other factors. 
"It's no secret that the cost to incarcerate someone is extremely high. Rather than allow this expense to continue to grow as costs rise and force families and friends to be away from each other for extreme periods of time, why not give these individuals the opportunity to have their sentences reviewed so they may return to their community," said Sen. Wojno. "Saving taxpayer dollars and giving deserving folks a second chance at positively contributing to their community is a win." 

"Living through a decade can change a lot of things—the way we think, how we talk, or how we act. Our brains change and grow, and the decisions we once made are not the decisions we would make now," said Rep. Wilson. "This legislation allows us to put that understanding into action by giving deserving folks the chance to have their sentence reduced so that they may return to their family, friends, and community."
*********************************************************************************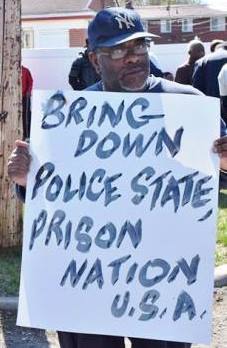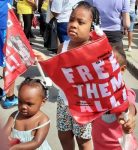 Voice of Detroit is a pro bono newspaper, now devoting itself entirely to stories related to our PRISON NATION and POLICE STATE. Funds needed now to pay quarterly web hosting fee of $460.00, due March 4, 2023. VOD will disappear from the web if fee not paid.
VOD's editors and reporters, most of whom live on fixed incomes or are incarcerated, are not paid for their work. Ongoing costs include quarterly web charges of $460.00, P.O. box fee of $180/yr. and other costs including utility and internet bills, costs for research including court records and internet fees, office supplies, gas, etc.
Please DONATE TO VOD at:
 Cash App at $MDianeBukowski (313) 825-6126
************************************************************************************