VOD: THIS ARTICLE HAS BEEN RE-POSTED FROM "METROPOLITAN HISTORY" at http://metropolitanhistory.wordpress.com/. It is authored by Michan Connor independently of Voice of Detroit; only the photographs and video have been added by VOD. VOD was particularly impressed with this article due to the author's sensitivity to the racial issues involved in the Detroit takeover. We recommend you visit this website for other articles. VOD has provided a link on the right to facilitate this.
March 17, 2013
Michigan Gov. Rick Snyder, flanked by Detroit Mayor Dave Bing (l) and new EFM Kevyn Orr (r), announces state takeover of Detroit.
 In a move that's been anticipated for months and was presaged by last week's release of a Michigan Treasury Department assessment  of Detroit's fiscal health and political willingness to pursue austerity measures, Governor Rick Snyder has used his controversial powers to appoint corporate bankruptcy attorney Kevyn D. Orr to oversee the governance of the state's largest city.
Two closely intertwined points are in order, the first relating to the racial impacts of emergency management and the second to the kind of austerity measures that such management inevitably takes as the ability to control local affairs is stripped from local electorates. The Detroit decision means that nearly half of all African Americans in Michigan now live in cities where their elected officials have been supplanted by emergency managers appointed by a conservative Republican governor. Half of all black Michigan residents are denied the opportunity to elect the people who make decisions about their communities.
In the majority-black city of Benton Harbor in western Michigan, an emergency manager's order effectively reduced elected officials in the city to figureheads, with the power to convene and adjourn meetings, but not to conduct any official business. In the Detroit suburb of Pontiac, Steven Yaccino and Monica Davey write in the NYT, a series of emergency managers who have controlled city government since 2009 have imposed similar constraints on elected officials, and undertaken an aggressive program of austerity (cutting the city budget from $57 to $36 million, a 37% reduction, and outsourcing city jobs to private contractors in the course of reducing the public payroll from 600 to 50 workers) and privatization (selling off the city's fire trucks, parking meters, wastewater treatment facilities, and the Pontiac Silverdome stadium). 
The symbolism of Black political power in Michigan is, to say the least, conflicted.
While many whites appear to accept the proposition that Black self-government is doomed to failure through its own profligacy (such comments generally ignoring the history of white disinvestment from cities in racial transition), the substitution of managers appointed by a white conservative governor for officials elected by Black voters is a serious provocation. As Pontiac councilman Donald Watkins argues,
"An emergency manager is like a man coming into your house…. He takes your checkbook, he takes your credit cards, he lives in your house and he sleeps in your bed with your wife." Mr. Watkins added, "He tells you it's still your house, but he doesn't clean up, sells off everything and then he packs his bag and leaves."
The appointment of Orr, an African American, to direct Detroit's financial restructuring, is a concession that is absolutely vital to securing even minimum legitimacy for the manager's decisions, which are likely to hurt.
The racially disproportionate impact of emergency management is also reflected in the way that the popular media addresses the roots of Detroit's problems. The conviction of former Mayor Kwame Kilpatrick on corruption charges supports an implicit argument made in the report advocating emergency management: that corrupt and incompetent leadership (particularly by Kilpatrick, the self-styled "hip hop mayor") took Detroit's problems from serious to terminal. There's no doubt that Kilpatrick had a hand in many of the decisions that exacerbated an already bad situation in Detroit. But what has been scarcely acknowledged is that Kilpatrick had some very powerful partners in crime that haven't been, and won't be, facing any criminal charges.
As Darrell Preston and Chris Christoff report in Bloomberg, the City of Detroit currently owes at least $474 million in fees to Wall Street banks that it incurred as a result of financial deals it entered into in the early 2000s.
The city started borrowing to plug budget holes in 2005 under former Mayor Kwame Kilpatrick, who was convicted this week on corruption charges. That year, it issued $1.4 billion in securities to fund pension payments. Last year, it added $129.5 million in debt, 9.3 percent of its general-fund budget, in part to repay loans taken to service other bonds.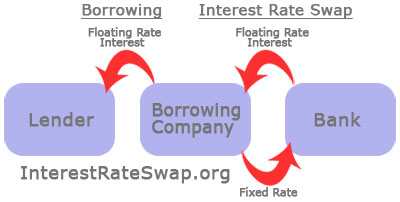 The loans were structured in an increasingly common form called an interest rate swap. As Andy Kroll writes in Mother Jones, these are contracts in which
[a city and a bank] will "swap" interest rates with each other: the city will pay the bank a fixed rate—3 to 5 percent, say—to borrow money, and the bank will in return pay the city cash based on a floating, variable interest rate. (This is determined by some underlying source, like the LIBOR rate for short-term lending.) The point of a swap deal is that, when the economy was booming, cities could borrow from banks on the cheap, because their fixed payment rate was on par with or better than the bank's floating rate.
In principle, this arrangement was intended to make borrowing cheaper for the city. What it did in practice, when interest rates fell after the crash, was create a new debt for the city when the floating interest payments it took from the banks fell far short of the fixed interest it owed back. The gap peaked at $439 million last spring, though rising interest rates have lowered it to "only" $350 million. In perspective, per Preston and Christoff, the burden of these swaps on Detroit in the form of
underwriting expenses, bond-insurance premiums and fees for wrong-way bets on swaps…. almost equals the city's 2013 budget for police and fire protection.
But wait! one might argue. The city borrowed from banks to pay its bills, and thought that a rate swap was a good way to do it on the cheap. It didn't work out, but them's the breaks. Matt Taibbi's report of similar swaps in Jefferson County, Alabama reflects not a good faith deal made between two informed parties, but
a billion-dollar predatory swap deal cooked up at the highest levels of America's biggest banks, across a vast fruited plain of bribes and felonies — "the price of doing business," as one JP Morgan banker says on tape — all the way down to Lisa Pack's sewer bill and the mass layoffs in Birmingham.
Although Taibbi uses a lot of naughty words and colorful metaphors and accuses powerful bankers of fraud and other felonies, he's still the best reporter covering this issue, and the one most willing to cut through the complex jargon of the financial sector so that the layman can grasp what's happening in these kinds of complex transactions. Please, read the whole report, and this other one about the rigging of interest rates on municipal bond offerings. Interest rate swaps have been a disaster for cash-strapped municipalities across the United States, a way for Wall Street to pick the bones of local governments already desperate for cash that frequently creates even worse obligations that have pushed local governments to bankruptcy.
As for Detroit? As Preston and Christoff report,
The city makes periodic swap payments from money generated by casinos.
If it weren't so horrifying it might be poetic.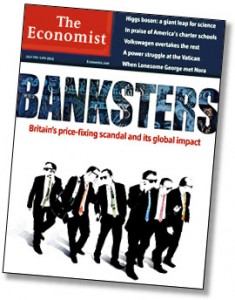 Detroit's problems aren't wholly attributable to interest rate swaps, of course; the city's finances have been in a conjoined decline with its industrial economy and population for decades. But the amount that Detroit owes its counterparties in these swaps purely as a result of the difference between the interest rates on money flows from the city to the banks and the banks back to the city exceeds the larges annual deficit that Detroit has run in the last 10 years. It's a theft from a city that needs every dime it can scrape up to fund its other obligations, and the failure to discuss interest rate swaps as a part of Detroit's problems borders on criminal. When the history of the economic crash and its effects on communities around the United States is written, interest rate swaps are going to rank with the automobile, the Federal Housing Administration, and urban renewal as forces that remade metropolitan America.
In the immediate future, will Orr's plan of attack include seeking legal authority to extricate Detroit from its predatory swap arrangements? Or will the residents of Detroit be forced again to bear the burden of decisions made by others?