Weekley trial testimony, days one and two: 
Mother, dad, and grandma forced to sit on bloody couch where she died
Scanty investigation before military raid in poor Black neighborhood
Videotape shows flash-bang, possibly multiple gunshots
Presence of children, toys in front yard, disregarded 
Day three: Aiyana's grandmother Mertilla Jones expected to testify
June 4, 2013 
By Diane Bukowski 
DETROIT – The first days of testimony in the trial of Detroit police officer Joseph Weekley for the killing of Aiyana Stanley-Jones, 7, three years ago, painted a chilling picture of the inhumane militarization of the Detroit Police Department for use in the poor, predominantly Black neighborhoods of the city. 
According to testimony, the raid involved "Special Response Team" officers in full black "battle dress uniform" (BDU),  including flak vests and helmets, bullet-proof shields in one hand and MP5 submachine guns in the other, entering the house after throwing an incendiary grenade through the front window. They had led a procession of police cars to the house in a "Bearcat" armored tank. Only seconds into the raid, Weekley shot Aiyana through the top of her head. 
Aiyana's mother Dominika Stanley and two officers testified that afterwards, police forced her, Aiyana's father Charles Jones, and grandmother Mertilla Jones to sit on the blood-soaked couch where Aiyana had been killed, "for hours."
"They sat me on the couch my baby was killed on," Stanley said. "They didn't allow me off the couch until they took me to the hospital. The doctors came and talked to me and told me my baby didn't make it, three hours later." 
As Stanley testified, the pink and purple Hannah Montana blanket Aiyana had been sleeping under lay on the floor in front of the witness stand after she identified it. 
At first weeping uncontrollably and covering her face, Stanley said she and Aiyana's father Charles Jones, with their toddler sons, were sleeping in a back room when she heard loud noises,  screaming, and Charles' mother Mertilla Jones crying, "They killed Aiyana." 
"I walked out after Charles did," Stanley testified. "I saw police. They had guns and flashlights all in my face. They didn't say anything to me. I dropped to the floor." 
Other testimony identified the loud noises as the sound of a "flash-bang" grenade thrown through the window over which Aiyana and Mertilla were sleeping on the couch, and the discharge of an MP5 submachine gun fired by Weekley. During the audio portion of videotapes taken by A & E's "First 48" TV crew, which were shown to the jury June 4, the grenade blast and two gunshots can be heard, followed shortly afterwards by what sounds like six more gunshots in rapid succession. 
The technician also testified that he later returned to the house to leave a copy of the search warrant, which had not been done earlier.
During Stanley's testimony, her father Jimmie Stanley, her uncle, and many others from her side of the family listened in sorrow, later expressing outrage at how she was treated during cross-examination. 
Weekley's attorney Steve Fishman grilled her about why she and her children had been staying at Mertilla Jones' home on Lillibridge, where the SRT raid happened. 
Fishman asked her if she knew Chauncey Owens, who lived in the upstairs flat with Aiyana's aunt LaKrystal Sanders, if she was told Owens killed Je'Rean Blake, 17, on May 14, and if she knew he had a criminal record. 
"Would you have let your children stay there if you knew that?" Fishman asked, essentially blaming her for her child's death.
He then grilled her about her earlier deposition in a civil suit brought by Charles Jones as personal representative of Aiyana, pointing out supposed discrepancies. Depositions of family members in the civil suit were taken by the City of Detroit before Prosecutor Moran intervened, preventing the depositions of officers involved and blocking any further progress on the suit.
After the May 3 hearing, in the hallway, Stanley's uncle cried out furiously, "Why did any of that matter?  They killed her baby!" 
The family reported that Moran did not go over their pending testimony with them until one and a half weeks prior to the beginning of the trial May 28. They said they had not spoken with anyone from the prosecutor's office during the years since Aiyana's death. Several months ago, family members went to the office to ask to speak with Moran, and were promptly thrown out of the building by police. 
Family members said no victim's advocate has ever been assigned to them, although many clearly still need grief counseling. 
Both Moran and Fishman, in their opening statements and later during testimony, focused extensively on the killing of Je'Rean Blake, as if Chauncey Owens had already been convicted. He is, however, still awaiting trial on first-degree murder charges in the case. 
Both depicted him as a vicious adult murderer with a criminal background who shot an innocent teen-ager to death just for looking at him. They showed a photo of Blake, a student at Southeastern High School, in his ROTC uniform. Fishman said he and his friends had gone to the Motor City Marketplace liquor store at St. Jean and Mack after school to get "candy and ice cream."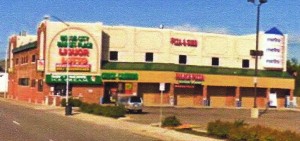 According to previous court records, however, independent witnesses said a large crowd of about 40 young people was in the parking lot of the store that day. Others from the neighborhood have said that the teens had a habit of challenging older men entering the store. One acquaintance of Blake's told VOD that he belonged to a gang, although she said that did not justify anyone's death. 
In his opening statement, Moran said Weekley was solely responsible for Aiyana's killing, but stressed that it was not deliberate. He said SRT officers are extensively trained in raid tactics, including "trigger discipline," and that Weekley's gun could not have fired unless he pulled its trigger, which is specially fashioned to require a strong pull. 
He did not give any motive for Weekley's firing the gun, leaving the floor open for Fishman to contend that Weekley should have been charged with first-degree murder if he deliberately pulled the trigger.  Fishman contended that Mertilla Jones knocked into Weekley's gun, and that she has given several different versions of how he killed Aiyana, essentially blaming her for Aiyana's death. 
"Officer Joe Weekley did not walk into that house and shoot Aiyana Stanley-Jones without somebody doing something to that gun," Fishman said. He said Weekley had just left his own six and eight-year-old daughters prior to engaging in the after midnight raid.'
Mertilla Jones is expected to testify June 5, and is likely to face a grueling cross-examination from Fishman. She has been in poor health, and is grieving for the loss of two of her sisters since Aiyana's death. She has also been suffering what is likely post-traumatic stress syndrome after watching her grandchild shot to death in front of her eyes. 
Detroit Police Homicide Sergeants LaTonya Brooks and  Robert  LaLone testified in detail June 4 about the military operation, which took place only one and a half days after Blake's death, following a hurried and apparently faulty investigation.  Their testimony was supplemented by portions of the videotape shot by A & E's "First 48" crew, which was shadowing the squads with the permission of "higher-ups" in the department, according to Brooks. 
The "First 48" had a Detroit crew which specifically targeted situations where homicide suspects are detained in the first 48 hours after the crime. Officer Weekley and other members of what was originally called "Detroit SWAT" are featured as stars on A&E's website. 
A prime topic of discussion during the testimony and during portions of the videotape was whether any children were present in the house.
Brooks already knew Mertilla Jones' family, having been the officer in charge of the earlier prosecution of Jones' son Norbert Jones, and likely knew that many children were part of the large extended Jones family. Jones has eight children, and 22 grandchildren, many of whom frequently visit her at her house. 
Brooks was asked, and discussion was held during a videotaped briefing just before the raid, about the presence of children. Brooks denied seeing any during a brief drive-by. 
However, she testified that when homicide and SRT arrived at the house for the raid, she was assigned to take charge of Mark Robinson, a grandson of Mertilla's sister JoAnn Robinson. 
An officer had thrown him to the ground while he was returning to the house from walking his dogs. Robinson said at a press conference held by Attorney Geoffrey Fieger shortly after Aiyana's death that he told the officers there were children in the house. 
When officers came out of the house with Aiyana in their arms, Brooks said Robinon told her, "They shot Aiyana." She told him that had not happened. She also said that a family member, who VOD has found was Aiyana's aunt, LaKrystal Sanders, came out and tapped her on the shoulder because she knew her from her brother Norbert Jones' case. Sanders asked if Aiyana was alright.
Brooks said she later discovered Aiyana had been killed, but could not remember who told her. 
During Lalone's testimony, other portions of the videotape were played including parts of the briefing.  An officer, likely SRT member Timothy Dollinger according to testimony, is asked whether there are any kids in the house. He fails to say yes or no. 
"We don't know," he said. "Our people went out there earlier. There was just a mess of people out there. That's a pretty hot neighborhood." 
Photos of the house taken during surveillance and shown to the jury showed a tricyle and other toys to the side of the front porch, but neither the prosecution nor the defense pointed out the toys during their exams of the witnesses. The toys were still there later that morning when this reporter went to the scene to interview the family. 
References are also heard on the videotapes to "baby's daddy," and other derogatory, racially-loaded terms about the family and neighborhood during the briefing. 
One officer says they have no arrest warrant yet for Owens, but plan to get it once he is "in custody." Another says a source says Owens has an AK-47, that the house is owned by the city due to non-payment of taxes (the house was rented), and that it "looks like narcotic activity" is taking place there. 
The officers joke that Owens was supposed to be going to the Motown "Hoedown" that evening, but apparently "ixnayed" that plan. They say he has an "extensive" criminal history, including violent assaults. 
"He had b and e's (breaking and entering), and contacts with narcotics," says one officer. There is a reference to "crack." 
According to court records, charges of assault with intent to kill and operating a chop shop against Owens were dismissed earlier, while other charges from 1998, 2003 and 2005 involve motor vehicle violations for which the defendant received sentences of probation. Owens never served time in the state prison system, as one officer implied, and has no drug charges or b and e's on his record according to the Third Judicial Circuit Court website. 
SRT officer Raymond Trammell testified that while assigned to direct surveillance of the home, he saw Owens and another man exit the premises and walk a half-block distance to E. Canfield. He said Owens, who was walking in the street, passed directly by his car. He said he did not arrest Owens because he was "not comfortable" since Owens was a murder suspect, and that the job was assigned to another "take-down" unit. 
Throughout the briefing, officers are heard saying "Fuck" this and that. Officer Brooks jokes that "I've got my heater in my car" and says "I know these folks." Another officer says they're conducting the raid at that hour because by 7 a.m., people like the Jones are "hung over and fucking sleeping." 
Brooks testified that it was the Homicide Division's common practice to use SRT as their "enforcers" in executing search warrants. She said that after two witnesses identified Owens as the shooter in the Blake case, activities proceeded with lightning speed. A search warrant was signed by 36th District Court Judge Sidney Barthwell at his home shortly before the May 16 raid. She and other officers said the search warrant was for both the upper and lower flats at 4054 and 4056 Lillibridge, since Chauncey Owens had been seen coming out of both entrances. 
According to the Brooks, a staging area was established at Wayne County Community College off I-94 and Conner, where both Homicide and SRT members were briefed.
On the videotapes, officers are heard being told at 12:26:19 a.m. May 16 where the nearest hospital, St. John's, is and how to get there. The raid takes place at 12:43 a.m.