Other officers, firearms expert contradict Weekley's testimony
No fingerprints, DNA from Aiyana's grandmother found on gun
Jury deliberating as of June 17, 2013
By Diane Bukowski
June 17, 2013
DETROIT – Detroit Special Response Team (SRT) Officer Joseph Weekley, who shot Aiyana Stanley-Jones, 7, to death on May 16, 2010 with an MP5 submachine gun, took the stand June 13 in his own defense against charges of involuntary manslaughter and reckless discharge of a firearm resulting in death. 
He rolled his eyes to the ceiling, and his tongue under his lower lip as if moistening it, as defense attorney Steve Fishman began questioning him. 
"You were here when you were accused by Mertilla Jones of intentionally murdering a seven-year-old," Fishman said. "You said you have two daughters, right. How old were they in May of 2010?"
Weekley, who lives in Grosse Pointe, responded that they were six and eight, and that he was at the park with them when he was recalled to the SRT base for the Jones home assault.  Other officers have testified they were recalled between nine and 10 p.m. 
"The first thing I see as I'm making entry is the room's empty," Weekley told Fishman. "There's a TV on, there's a couch to my immediate left with a bunch of laundry and blankets on the couch." 
Weekley referred to the couch where Aiyana and her grandmother Mertilla Jones were sleeping. Jones testified earlier that Aiyana's head was resting on the arm of the couch and was not covered by her blanket. She said her own robe, which she used to cover herself for warmth, had come half-way off. 
"As soon as the bang goes off, I hear a "haaaa" coming from up under underneath what I thought was laundry," Weekley said, referring to the "bang" of the incendiary grenade that had just been tossed through the window over the couch. 
"And so now I'm like there's someone hiding under here. As that's happening, Vincent Ellis is twisting to retreat back in the room, so I was on Ellis, and then "ahhh," I hear this noise and I see him [Ellis] going back. So I turned my attention to the blankets." 
Weekley referred to the man he and the second officer into the room, Shawn Stallard, saw standing in a bedroom door on the side of the living room, who was Aiyana's  uncle Vincent Ellis.   
"I couldn't just leave a person under there hiding," Weekley said. "As I swing my weapon towards the person, an unidentified woman hits my weapon down with such force that my finger must have come off the master grip." 
On cross-examination, Wayne County Assistant Prosecutor Robert Moran said, "Your testimony is that you didn't know you shot a gun, didn't hear it shoot, didn't feel it shoot at all. You testified you've already fired that gun a thousand times, but you didn't feel it shoot." 
Weekley said, "In a controlled situation at a range, you feel the vibration of the gun," and denied knowing his own gun had fired in the Jones home.
"So you're trained not to put your finger on the trigger until you want to pull the trigger, and yet your finger pulled the trigger on the gun. You pulled the trigger, you fired the gun," Moran said. 
"I guess I just don't like the way you're saying it," Weekley said. "I pulled the trigger on my gun and didn't even realize it at the time." 
Weekley testified about what happened after he heard the second "ahhh." 
"I couldn't just leave a person under there hiding," Weekley said. "As I swing my weapon towards the person, an unidentified woman hits my weapon down with such force that my finger must have come off the master grip." 
Other officers and a weapons expert testified earlier that an MP5 can't fire unless the trigger is pulled, and that they are trained in "trigger discipline," not to put their finger on the trigger unless they intend to shoot, even if someone tries to take the gun away. 
The weapons expert said it takes six to eight pounds of pressure to pull the trigger on the actual gun Weekley used. He said he tested the gun numerous times by dropping it, pounding on it, and other methods, but it did not fire. 
Moran continued with Weekley's cross-exam. 
"You did not try to control Mertilla Jones, you didn't arrest her, at that point you kept on." 
"Oh yeah," Weekley said emphatically. 
Moran asked him whether he saw the children's toys outside of the house when he and other SRT officers drove by earlier. They are clearly visible in an evidence technician's photograph shown numerous times during the trial.  Every officer who has testified has denied seeing the toys. Two said the presence of children in the house would not have changed their plans for the invasion, except to "be more careful." 
One officer said it is common for children to be in a "crack house." Several officers have characterized the Jones home as such, with no substantiation and no objection from Moran or from Judge Cynthia Gray Hathaway, who is hearing the case, regarding "facts not in evidence." 
"I did not see those toys, no I did not," Weekley said.  Moran told him, "You were able to see those numbers on the doors, but you did not see the toys." 
"No I did not," Weekley said.
Aiyana's grandmother Mertilla Jones, her mother Dominika Stanley, her cousin Mark Robinson, and her aunt LaKrystal Sanders have all testified that the child's grandmother was screaming repeatedly that the police shot Aiyana seconds after they entered the home. Jones and Stanley left the courtroom sobbing at one point during Weekley's testimony. SRT team members have also testified they heard "screaming," not "ahhhh."
Jones testified during the trial June 10, and during her videotaped statement to the police May 16, 2010,  that she did not grab Weekley or his gun. During that interrogation, she assented immediately to DNA and fingerprint tests. 
"You can have them, baby," she told the officers who were interrogating her. 
A technician testified that neither fingerprints nor DNA from Mertilla Jones were found on the gun used to kill Aiyana. 
Other members of the Special Response Team which raided the Jones home that day have given testimony which conflicts with Weekley's as well as each other's. 
SRT Officer Shawn Stallard was second into the house. He testified June 11 that Weekley paused for a few seconds on the threshold of the house, and that he [Stallard] heard a gunshot "a few seconds" afterwards. He said he did not see anyone else in the doorway, and that no one else was in the immediate vicinity, either standing or on the ground. He said he saw no one struggling with Weekley.
Stallard said that when he heard the gunshot, he thought someone was shooting at the officers. Testimony has shown that the only bullet and shell casing found in the room was from Weekley's gun, and that no civilian weapons were found in the house. 
Stallard said he looked to the left to see where the gunshot came from. He said he saw Aiyana's cousin Vincent Ellis standing in the bedroom doorway opening off the side of the living room a few feet from the couch.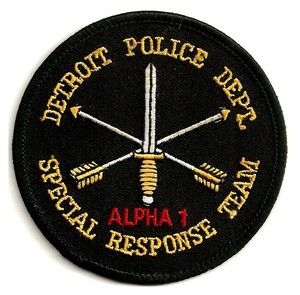 Stallard said Ellis retreated when he heard the grenade go off, but that he and Weekley continued towards Ellis. He said found no gun in Ellis' room, and that Ellis was dressed in a T-shirt and shorts, with no place to hide one. He said he handcuffed him and left him there while he went to search the other rooms to find the origin of the shot. 
Stallard said he never saw anyone try to take Weekley's gun away, and that he never saw handcuffs on any civilian in the living room. He said Weekley asked him around seven or eight a.m. that morning what he saw, and that he told him what he had just testified to.
"He was in a state of shock," Stallard read from his grand jury testimony  regarding Weekley's reaction. " . . .he just mentioned someone jumped up and grabbed my gun." 
Stallard testified he was also carrying an MP5 and a handgun. He said the MP5 "is a low recoiling weapon. . . [but] when you shoot an MP5 you know it's been shot." 
Sgt. John Collins, who had been on the SRT 18 years and with the DPD 26 years, said he was assigned to cover the left side door to the house, which led upstairs to the flat where Sanders and Chauncey Owens lived. 
He said he heard a gunshot fired directly after the "diversionary device" was tossed through the window in the lower flat. 
"My thought was that one of the guys had shot a canine, that a dog was being put down," he said. "There were dogs barking everywhere." 
He said he and another officer broke the second door down, but then his attention was diverted. 
Appearing quite emotional, he said, "I saw an SRT officer with a small child in his arms running towards the sidewalk. . . . Shortly afterwards, [Weekley] came out of the house while I was on the front porch. He was in a state of panic. I could tell he was under a lot of stress. He came at me and was saying 'she grabbed my gun, she grabbed my gun.' He was grabbing my MP5, which was hung over my right shoulder . . .He used both hands to grab at my gun."
Collins said Weekley told him he had accidentally shot the little girl before grabbing at Collins' gun. He said he tried to calm Weekley down. 
"I immediately made sure my MP5 was on safety," Collins said. "I was under major stress myself after seeing the little girl. I took him to the Bearcat [SRT armored vehicle], and removed his MP5 and sidearm from him." 
Collins said that was standard operating procedure in an officer-involved shooting. He said tried to calm Weekley down. 
"I knew I had to choose my words wisely," he said. "We have been trained not to say, 'Everything will be OK.' So I just told him, 'Tell the truth.'"
SRT Sgt. John "Bulldog" Widmer, who was the commanding officer at the scene, however, testified he told Weekley that everything WOULD be OK. He testified that the training SRT officers receive, referred to in other testimony as "640 hours," is actually called "Policing Terrorist Suspects." Widmer and Weekley are seen training officers in the "Detroit SWAT" video below, from the A & E website.
Much of his testimony conflicted with Collins' statements. Widmer, a diminutive man like Weekley,  appeared unemotional while on the stand. He testified he was with Collins at the door to the upper flat. He said he heard the stun grenade go off, then a gunshot "within three seconds." 
"I heard a lot of screaming and dogs barking," he said. "I believed the gunshot had been fired at a dog. Once the door [to the upper flat] was breached, I shouted up the stairway for anyone who was up there to come down with their hands up. A Black female came down, and I heard a lot of screaming, but no one else came down at the time. Then Officer Weekley tapped me on the shoulder and said, 'Hey as I made entry, a woman grabbed my gun, it went off and I hit a kid." 
Widmer calmly testified he said, "What?" 
"I was very nice to him on the front porch, and told him everything would be OK," Widmer continued. "I asked him what happened with the kid. I didn't see a child. I asked him where the kid was. He said it had already went to the hospital. I walked Officer Weekley down to the Bearcat, and made a notice on the radio channel that I needed additional supervisors to respond." 
Widmer began choking and coughing at that point on the stand. 
"Officer Collins was down there at the Bearcat, I don't recall for sure," he said. "I didn't take [Weekley's] weapon from him at that point."
He said after talking to DPD Lieutenant Don Johnson, who is in charge of several divisions including Homeland Security and SRT, he went back to Weekley. 
"He was in the Bearcat," he said. "He still had his MP5. Sgt. Collins took his MP5. I went down with him to homicide and stayed with him, but I don't remember having any other conversation." 
Later, he reiterated his testimony to the grand jury that Weekley was "frantic," and kept mumbling, repeating to himself, "Why did this happen? What will happen?" 
He told Fishman that Weekley had operated as a "point man" (first on the scene) over 100 times. Fishman elicited testimony from him that point men "put their lives on the line," and again that the situation was dangerous because the suspect "was alleged to have killed a 17-year-old with a handgun, and that he might have an AK47." 
Inspector Johnson also testified, indicating he had given specific orders to the team not to have the A & E camera crew present during the raid, and that even the homicide unit, which did not report to him, should have followed his orders as a superior officer.  Neither side asked Widmer why those alleged orders were disobeyed. 
Johnson said when he came to the scene, Weekley was in the Bearcat "throwing up, shaking and rocking back and forth." 
"There is an allegation that Weekley came up to the little girl, put a gun to her head, and shot her," Fishman said on cross-exam, referring to Mertilla Jones testimony. 
"You've got to be joking," Johnson said.
On June 12, A blood spatter expert testified that she found blood saturating a couch cushion on the south side of the couch where Aiyana's head was, and underneath the cushion as well. She said there were also some "small blood spatter stains" on the exterior of a nearby door, which appeared to be from blood dispersed through the air. 
Asked whether blood spatter can go forwards or backwards from the gun which caused it, she said, "There can be back-spatter where the blood comes back toward the gun, or forward spatter where the blood travels through the exit wound with the bullet and is deposited on surfaces in the direction of the bullet." 
She said elongated spatters she found meant they were "coming from a higher direction and hit on their way down." 
Judge, attorneys, jury and the media also attended a demonstration of the use of a stun grenade that afternoon.
(See video below.)
After closing statements Thursday, Judge Hathaway turned the case over to the jury. She told them the photographs from Mark Robinson's Facebook page allegedly showing him, his brother Markewell, and uncle Vincent Ellis with guns could be used to discredit the witness' testimony if they thought they were relevant. 
Robinson was never recalled to the stand by Fishman, as the attorney had threatened. Robinson did not testify during direct or cross about the presence of guns in the house, or the possession of guns by anyone in the photographs, and was not cross-examined about the photographs. 
Hathaway told the jury to deliberate Friday, June 14, although she had instructed them at the beginning of the trial that they would not be meeting on Fridays. When they did not reach a verdict that day, she directed them to return June 17 and deliberate until 3:30 p.m.