State Judge Aquilina barred attack on pensions
Major city creditor UBS announces record profits, settles mortgage fraud suit; Orr wants retirees to take 10 cents on dollar 
City creditor US Bank NA charged in Ponzi set-up; Judge Rhodes co-authored "The Ponzi Book: A Legal Resource for Unraveling Ponzi Schemes" 
Emails show bankruptcy planned as early as January, in advance of negotiations with pension funds, unions
By Diane Bukowski 
July 23, 2012
DETROIT – In the first hearing on Detroit's Chapter 9 filing July 24, U.S. Bankruptcy Judge Steven Rhodes will deal with Detroit Emergency Manager Kevyn Orr's request to block further proceedings in state lawsuits filed by the city's pension boards and two groups of retirees. Both Orr and Michigan Gov. Rick Snyder have openly said they are seeking to reduce pension benefits through the bankruptcy filing. 
The federal hearing is set for Wed. July 24 at 10 a.m. in Judge Rhodes' courtroom at 211 W. Fort, Suite 1800. 
Ingham County Circuit Court Judge Rosemarie Aquilina on July 19 enjoined Snyder and Orr from targeting pension benefits in violation of both the State Constitution and Emergency Manager Act PA 436.
"I don't think the constitution should be made to be Swiss cheese," Judge Aquilina said July 22, to a courtroom packed with journalists representing global media. "Once we erode it with one hole, there will be others."
She adjourned that hearing until July 29, 2013 at 9 a.m. at the request of the pension boards, not concurred in by defendants Orr and Snyder. She asked that numerous briefs be filed prior to the next hearing. Judge Aquilina's court is located in the Ingham County Veterans Memorial Courthouse in Lansing at 313 W. Kalamazoo, Lansing, Michigain.
Meanwhile, major Detroit creditor UBS AG, which holds at least $1.5 billion in Pension Obligation Certificate (POC) debt, just announced increased profits and a $919 million settlement with the Federal Housing Financing Authority on charges that it defrauded homeowners on mortgage loans prior to the 2008 global economic crash. 
UBS, one of the world's largest banks, embroiled in numerous criminal fraud scandals, has not agreed to cut city payments on the POC loan itself, although Orr has touted its agreement to take 75 cents on the dollar in a related $379 million swap deal. 
Also on July 22, union activist Robert Davis revealed a mass of emails obtained through a state lawsuit. He said the emails show members of the Jones Day law firm, Orr's former employer and now Detroit's "debt-restructuring consultant," conspired as early as January to plot a bankruptcy filing. 
The city's pension funds and unions have contended that Orr has not conducted good-faith negotiations with them prior to filing bankruptcy, a requisite for the judge's approval of the petition for bankruptcy. 
RETIREES' LAWSUITS 
The city's two pension funds, the Detroit General Retirement System (DGRS) and the Detroit Police and Fire Retirement System (DPFRS), joined two individual groups of retirees in filing for a temporary restraining order against any impairment of pension benefits on July 17, just prior to EM Orr's Chapter 9 bankruptcy filing July 18. 
The pension fund lawsuit says that Michigan Gov. Rick Snyder and Orr are violating both the Michigan Constitution and Emergency Manager Act PA 436 by demanding drastic reductions in pension pay-outs. It cites Chapter IX, Sec. 24 of the Michigan Constitution which says,    "[t]he accrued financial benefits of each pension plan of the state and its political subdivisions shall be a contractual obligation  thereof which shall not be diminished or impaired thereby." 
Attorney Jerome Goldberg of the Moratorium NOW! Coalition said Michigan has one of the strongest constitutional protections for pensions in the country. The city of Central Falls, Rhode Island, cut pension benefits after filing bankruptcy, but its state constitution has no such protections. 
In addition to the state constitutional issue, the pension funds' lawsuit challenges Orr's authority under PA 436 to attack pension benefits, since PA 436 specifically provides that such benefits will be paid. 
In their brief, the pension funds note, "It is clear that Michigan's legislators never intended that the governor or an emergency financial manager take action in violation of Art IX Sec. 24. Indeed MCL 141.1552(m)(ii) [in PA 436] expressly provides that "[t]he emergency manager shall fully comply with . . . . section 24 of article IX of the state constitution of 1963. And MCL 38.1683 provides that "[t]he right of a member or retirant of a retirement system to a retirement benefit shall not be subject to execution, garnishment, attachment, the operation of bankruptcy or insolvency laws, or other process of law and shall be unassignable." 
In other words, say the pension funds, "[t]he governor may authorize and the emergency financial manager may petition for a chapter 9 municipal bankruptcy only to the extent that such action does not impair or diminish accrued financial benefits." 
The pension funds are represented by Attorney Ron King and others from the law firm of Clark Hill. 
Snyder and Orr are represented by Miller Canfield. The Detroit City Council last year approved an extension of the city's contract with Miller Canfield, whose attorney Mike McGee helped draft Public Act 4, the predecessor to PA 436, as well as the April 4, 2012 PA4 "consent agreement" between the city and the state, passed by the City Council 5-4. Miller Canfield is also advising the city on the bankruptcy filing. 
UBS PROFITS UP DESPITE GLOBAL LITIGATION; SETTLES MORTGAGE FRAUD CASE WITH FHFA
Bloomberg Businessweek reported July 22,  "UBS rose in Zurich trading after posting net income of about 690 million Swiss francs ($734 million). Profit climbed from 524 million francs a year ago and beat the 586 million-franc mean estimate of four analysts surveyed this month by Bloomberg. UBS attracted about 12.8 billion francs in net new funds to its wealth management units and increased its capital buffer, the bank said.
"UBS is exceeding analysts' profit estimates for a second quarter in a row after Chief Executive Officer Sergio Ermotti announced 10,000 job cuts last year and a strategy to exit most debt-trading businesses at the investment bank to focus the firm on money management."
The UPI reported the same day, "The Swiss bank UBS said Monday it had struck a deal with U.S. authorities to settle charges that it misrepresented mortgage bonds issued in 2004 through 2007.
"UBS settled with the Federal Housing Finance Agency, which has accused 18 big banks of overstating the value of bundled mortgage securities in advance of the 2008 financial meltdown that was largely caused by overwhelming numbers of defaulting home loans.
"Details of the agreement were not disclosed but The New York Times reported UBS said it was accepting a one-time, pretax charge of $919 million related to the settlement.
"The FHFA filed the lawsuit in 2011, seeking billions of dollars in compensation from the banks. FHFA losses involving UBS loans totaled $900 million, the Times said."
In addition to those charges, UBS is involved in a criminal fraud lawsuit filed by the U.S. Department of Justice. It has agreed to a $1.5 billion fine while two UBS Japan traders are facing trial. UBS is one of the banks on the LIBOR (London Interbank-Offered Rate) panel which are facing charges globally for rigging interest rates to benefit themselves. LIBOR sets interest rates for practically every loan around the world.
LIBOR lawsuits have been filed by municipalities, states and other investors in the U.S. and globally.
US Bank NA is a city creditor that has been holding Detroit's casino tax revenue hostage to ensure payment of the UBS debt.
On June 5, 2013, the U.S. Commodities Futures Trading Commission sued US Bank NA, alleging that it knowingly allowed Russell Wasendorf Sr., founder of Peregrine Financial which has since imploded, to use customer money held at the bank to finance his lavish lifestyle. Wasendorf is currently serving a term 0f 50 years in prison for taking over $215 million in client funds.
Since U.S. Bankruptcy Judge Rhodes is a co-author of "The Ponzi Book: A Legal Resource for Unraveling Ponzi Schemes," he might want to look into US Bank NA's role in Detroit's debt situation.
EMAILS SHOW JONES DAY SOUGHT BANKRUPTCY AS EARLY AS JANUARY
Also on July 22, union activist Robert Davis and others held a press conference at the AFSCME Council 25 headquarters in downtown Detroit to reveal a slew of emails obtained through Davis' lawsuit against Snyder's appointment of Orr.
One email, sent by Jones Day attorney Dan Moss on Jan. 31, 2013 to Orr, already proposed to become Detroit's emergency manager,  says "It seems that the ideal scenario would be that Snyder and [Mayor Dave] Bing both agree that the best option is simply to go through an orderly Chapter 9. This avoids an unnecessary political fight over the scope/authority of any appointed emergency manager and, moreover, moves the ball forward on setting Detroit on the right track."
Davis said in published remarks, "It's an outright slap in the face to the citizens in the city of Detroit . . ."You already see what their agenda is. It clearly indicates from day one … the decision [to file for Chapter 9 bankruptcy] was already made."
Davis' contention is important because the U.S. Bankruptcy Code requires that good-faith negotiations with creditors be conducted prior to filing a petition for bankruptcy. Both the pension boards and the city's unions have said that Orr blind-sided them with his "Proposal for Creditors," which caused their representatives to "nearly jump out of their seats," June 14, according to AFSCME Local 207 Vice-President Mike Mulholland. 
Mulholland said Orr made it clear at that meeting that he intended to remove the elected pension boards which oversee the funds. At a press conference July 19, Orr said he will file a motion to appoint a representative for retirees instead. 
Orr held two meetings after June 14 with pension and union officials. Many exited the meetings in fury after Orr demanded that they sign confidentiality agreements about the discussions and would not back down on his original demands.
Related documents and articles:
Detroit pension fund brief 7 19 13
http://voiceofdetroit.net/2013/07/21/orr-jones-day-aim-bankruptcy-gun-at-detroit-retirees-let-wall-street-off-hearing-mon-july-22-9am/
http://voiceofdetroit.net/2013/07/06/orrs-phony-victory-on-casino-taxes-and u-s-bank-na/
http://voiceofdetroit.net/2013/07/03/sign-petition-to-request-us-doj-fraud-investigation-of-ubs-re-predatory-1-5-billion-detroit-loan/
http://voiceofdetroit.net/2013/07/01/while-detroit-em-orr-attacks-pension-board-travel-consultant-milliman-inc-luxuriates-in-dubai-at-worlds-most-expensive-hotel/
http://voiceofdetroit.net/2013/07/01/orr-milliman-attack-on-detroit-pensions-a-very-rough-preliminary-guesstimate/
http://voiceofdetroit.net/2013/06/20/em-orrs-plan-for-detroit-phony-debt-moratorium-theft-of-city-assets-including-water-belle-isle-pensions/
http://voiceofdetroit.net/2013/06/09/people-rise-up-against-em-kevyn-orr-and-bank-takeover-of-detroit/
http://voiceofdetroit.net/2013/05/16/detroit-em-orrs-report-envisions-a-nightmare-future/
A laid-off city worker sent the following announcement: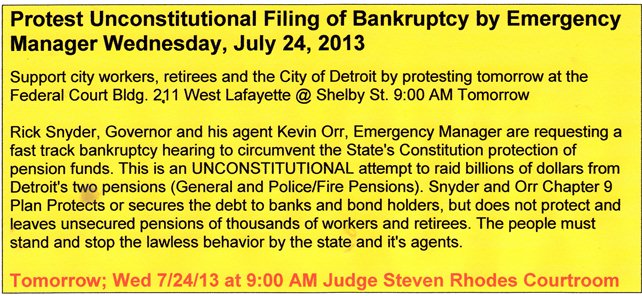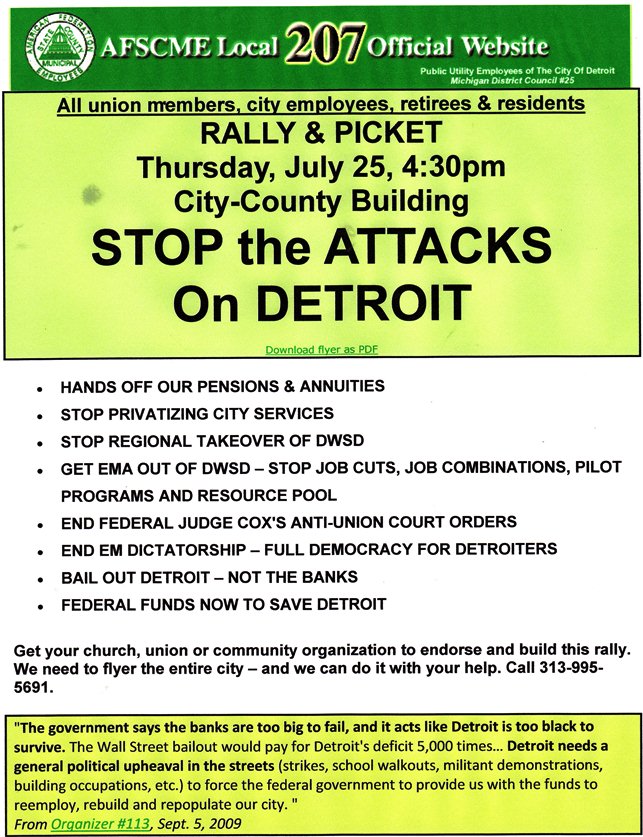 Download flier above from Local 207 website at http://www.afscme207.com/ 
 __________________________________________________________________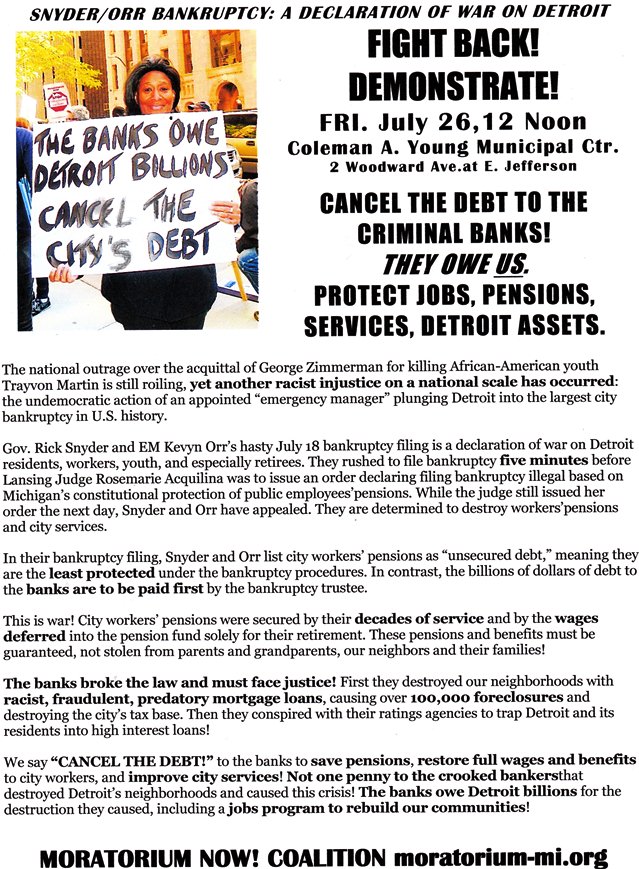 Download flier at Bankruptcy demo 7 26 12 flier