Visit NBCNews.com for breaking news, world news, and news about the economy
Above: Trayvon Martin's father Tracy Martin speaks at rally in Miami, Florida July 20, 2013
TRAYVON MARTIN KILLED TWICE
George Zimmerman innocent verdict in the death of Trayvon Martin creates a national protest, including a rally in downtown Detroit.
A No Struggle, No Development Production by Kenneth Snodgrass
July 20, 2013
DETROIT  — About four thousand Metro Detroit residents took to the street Saturday to call for justice for slain Fla. young man Trayvon Martin. JUSTICE FOR TRAYVON MARTIN!
Their message: We protest in the name of justice for the family of TRAYVON MARTIN, the Black Community in Detroit and all over the country. We are protesting against both institutional and violence in communities.. We are protesting against the conditions that breed crime and violence in Detroit and across the country, which is rooted in the economic powerlessness of our communities. We protest the disrespect of racist whites and foreign merchants and others, of us and our communities.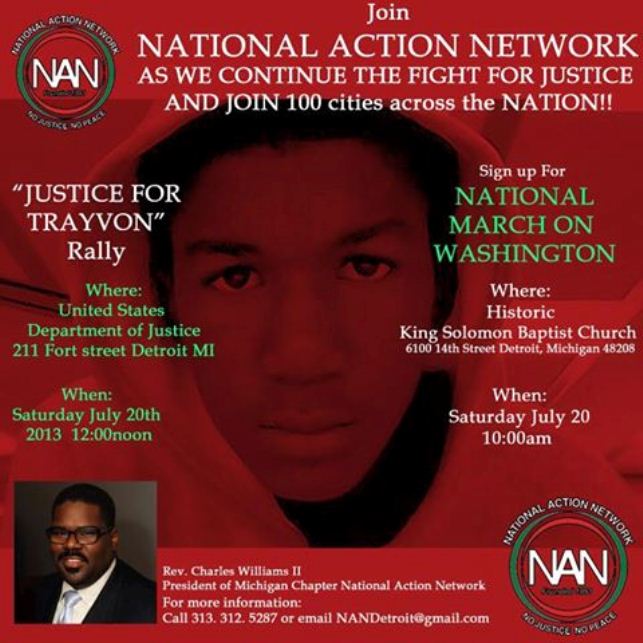 We feel violence and crime in our communities is rooted in our dependency on a racist economy, our mis-education, poor leadership, our economically depressed communities and families. Our peaceful protest demonstration is to show that a Black Man's life is worth more than some petty merchandise. We are venting our emotions while coming together to fight against this racist violence that has created so much senseless violence again our people. We declare "WE" will answer to the problems confronting our communities through collective unity, and from collective unity we can accomplish any goals we set to achieve.
Out Of Tragedies Can Come Triumphs, Join Us! – –
A No Struggle, No Development! Production By Kenny Snodgrass, Activist, Photographer, Videographer, Author of From Victimization To Empowerment… www.trafford.com/07-0913 – eBook available at www.ebookstore.sony.com YouTube – I have over 260 community videos, and over 84,000 hits on my YouTube channel at www.YouTube.com/KennySnod
DETROIT RALLY AT FEDERAL BLDG. DOWNTOWN
PART ONE
PART TWO
PART THREE
PART FOUR
PART FIVE