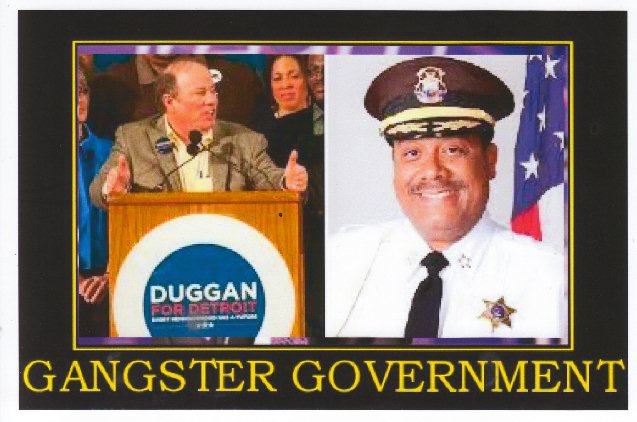 Elections draw people away from fighting bankruptcy takeover 
By Diane Bukowski — VOD Editorial 
August 5, 2013 
To date, VOD has not covered much of the city elections, other than our recent strong endorsement of Monica Lewis-Patrick for City Council at Large and Krystal Crittendon for Mayor. 
There is a reason—the real battle taking place right now is in the bankruptcy court, where both Detroit Emergency Manager Kevyn Orr and U.S. Bankruptcy Judge Steven Rhodes are pushing for a conclusion by the end of this year, before any new city candidates assume office. This would be recording-breaking time for any Chapter 9 filing, and a violation of federal law, which states such trials must be "JUST and speedy." 
Orr and the city's corporate creditors have aimed their guns squarely at the city's retirees, seeking to set a precedent for the 24 states that protect public pensions by busting not just retiree health benefits, but gutting pensions themselves. There is no protection under federal law for public pensions. 
But it's not only the pensions—it's the city's assets. 
CH 9 ALLOWS ATTACK ON PENSIONS AND ASSETS 
The U.S. Courts official website says "there is no provision in the [Chapter 9] law for liquidation of the assets of the municipality and distribution of the proceeds to the creditors. Such a liquidation or dissolution would undoubtedly violate the Tenth Amendment to the Constitution and the reservation to the states of sovereignty over their internal affairs." 
It says Chapter 9 "limits the power of the bankruptcy court to 'interfere with – (1) any of the political or governmental powers of the debtor; (2) any of the property or revenues of the debtor; or (3) the debtor's use or enjoyment of any income-producing property" unless the debtor consents or the plan so provides." 
Chapter 9 also explicitly recognizes the power of a state to control a municipality's affairs. 
"Similarly, 11 U.S.C. § 903 states that "chapter [9] does not limit or impair the power of a State to control, by legislation or otherwise, a municipality of or in such State in the exercise of the political or governmental powers of the municipality, including expenditures for such exercise," with two exceptions – a state law prescribing a method of composition of municipal debt does not bind any non-consenting creditor, nor does any judgment entered under such state law bind a non-consenting creditor." 
Michigan Gov. Rick Snyder and Orr have made it clear that Orr's "Proposal to Creditors" is to lay the groundwork for any "Plan for Adjustment of Debts." That proposal includes a drastic restructuring not only of Detroit's debts, with the primary focus on the pension plans, but of its assets as well. 
AN EMERGENCY OF THE GREATEST MAGNITUDE  
Another story will be up shortly, on the Aug. 2 bankruptcy hearing before Judge Rhodes, which VOD covered. But it is clear NOW that city retirees, workers and residents need to take to the streets en masse as are the people of countries across the world during this global economic crisis. 
It is ALSO clear that most our top union and community leaders are themselves bankrupt in their approach to this catastrophe. 
Instead of calling for a general strike or a boycott of Michigan over its abrogation of the voting rights of its Black residents, they are urging people to go to the polls to vote. They also want people to petition U.S. President Barack Obama to save Detroit. 
Pres. Obama, Atty. General Eric Holder, U.S. Secretary of the Treasury Jacob Lew, and the rest of the federal administration have repeatedly said since the dawn of Public Act 4 that they will DO NOTHING to intervene—no investigation of Voting Rights Act violations, no "bail-out" of Detroit as the feds bailed out the banks and the mortgage and auto companies, no intervention in the bankruptcy case.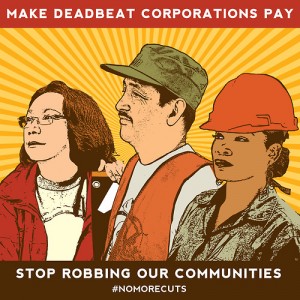 That's a matter between Detroit and the State of Michigan, they have said. They haven't even called on the corporations that owe Detroit $800 million, or the state which owes over $300 million, to pay up. 
To that degree, VOD believes electoral politics are massively diverting the people's energy away from the real battle that needs to be fought. 
That said, however, VOD wants to expose the criminal records of the two alleged front-runners for Mayor in this election, who have garnered the lion's share of corporate campaign contributions. 
NO TO NAPOLEON–NO MORE COPS IN CIVILIAN CITY GOVERNMENT
Since the UAW is sporting a big sign at its headquarters endorsing current Wayne County Sheriff Benny Napoleon for Mayor, we'll start with him, although clearly both he and Duggan need to be locked up for the crimes they have committed against Detroit. The UAW itself has betrayed Detroit, contributing not one red cent to the campaign to repeal Public Act 4. 
Napoleon is being touted as an alternative to Detroit's having a white mayor, which VOD agrees would be a disaster. 
But Napoleon is a cop, first and foremost. Take a look at the role two cops have played recently in Detroit politics—Councilman James Tate and former Council President Pro-Tem Gary Brown, currently the City's "Chief Compliance Officer," appointed by Orr. 
Both played primary roles in executing the disastrous Public Act 4 "Consent Agreement," which Orr says laid the groundwork for his plan for Detroit, and what will become his "Plan of Adjustment" in Bankruptcy Court. 
Tate (who says he was just a police press representative, but who held the title of Deputy Chief) accompanied disgraced former Council President Charles Pugh and Councilman Kenneth Cockrel, Jr. to Lansing to conspire directly with Snyder and State Treasurer Andy Dillon to come up with the consent agreement. This was admitted at the Council table. 
Brown got his reward from Orr after robbing the taxpayers of $8 million in a lawsuit for which his attorney was sanctioned. His attorney gave the fatal Kilpatrick text messages to the Detroit Free Press, which withheld publication until after the two got their paws on the money. 
U.S. District Court Judge Sean Cox later appointed Brown and Pugh to a "Roots Cause Committee" to make recommendations on governance of the city's largest asset, the $6 billion Detroit Water and Sewerage Department. They both signed a document recommending separation of the Department from city control, and also endorsed the notorious EMA plan to cut 81 percent of the DWSD workforce. 
UNDER NAPOLEON, DETROIT WAS 'MURDER-BY-COP' CAPITAL OF U.S. 
Napoleon's record as Detroit Police Chief belies that sweet baby-faced grin he relies on. 
His official bio says, "He joined the Detroit Police Department in 1975 as a trainee police officer and was admitted to the Detroit Police Academy in June 1975. He served the Detroit Police Department in many patrol, investigative, undercover and administrative capacities. He began his career walking a beat in the Second (Vernor) Precinct. He quickly rose through the ranks of the police department, being promoted to sergeant in 1983; to lieutenant in 1985; to inspector in 1987; to commander in 1993; to deputy chief in 1994; to assistant chief in 1995; and was appointed Chief of Police by the Honorable Mayor Dennis W. Archer in 1998. After more than 26 years of distinguished service, Chief Napoleon retired from the Detroit Police Department in 2001." 
So, Napoleon began walking the beat in the notorious Second Precinct, known for the  use of electric cattle rods on arrestees, resulting in at least one death. By 2000, Detroit was exposed as the "MURDER-BY-COP CAPITAL" of the nation, racking up more killings by police per capita than any other major city in the country. 
That exposure began in 1998, when the original Detroit Coalition against Police Brutality held a historic public hearing before City Council. It exposed for the first time since the abolition of STRESS the extent to which cops, both white and Black, had been getting away with murder. 
Coalition co-founders Arnetta Grable and Herman Vallery testified about the killing of their son Lamar Grable at the age of 20, shot eight times in the back and chest, by Detroit police officer Eugene Brown, The family of Rodrick Carrington reported Brown's killing of their loved one in 1995. Their warnings went unheeded—Brown went on to kill a third man, Darren Miller, in 1999.
The Coalition detailed dozens of other police killings at the hearing and in its literature. 
It was this reporter's ground-breaking story on Brown, "Serial Killer Kops?" published by the Michigan Citizen in March of 2000, that led to broader exposure in the daily media and across the country. That summer, Detroit police went on to kill a deaf man with a rake, Errol Shaw, Sr. and autoworker Dwight Turner, shooting at a vicious dog from his front porch to protect his community. 
The second killing led to a huge protest outside police headquarters by members of the UAW and hundreds of others. The protesters carried signs demanding the resignation of Mayor Dennis Archer and Chief Benny Napoleon. Both left office the following year. Arnetta Grable went to Washington D.C. to meet with former U.S. Attorney General Janet Reno, and later the Detroit Police Department subjected to a federal consent decree, which remains to this day. 
The "Serial Killer Kops" story had a kicker headline: "We train our officers to shoot to kill," a statement from Napoleon himself, made before the City Council. 
Another story by this reporter, published a month before, was headlined, "Rent-a-Cops." It included a photo of Chief Benny Napoleon and the entire Detroit police command wining and dining with merchants of Middle Eastern descent, at a lavish dinner sponsored by the Arab-American Chamber of Commerce.
The merchants were demanding police action against individuals allegedly victimizing their stores, which in turn victimized the people of Detroit by the sale of alcohol, cigarettes, unhealthy food, and even drugs and drug paraphernalia. 
During that dinner, I asked Napoleon about Brown's killing of three men in separate incidents. Napoleon said, "What would YOU do if someone pointed a gun at you?" In fact, none of the three men had guns. The Grable family battled for ten years before they won a $4 million jury verdict against Brown; the Miller family reached a settlement of $3.5 million. 
The public outcry about Brown's killings, and his shootings of nine others, forced Napoleon to commission a three-member panel led by Deputy Chief Walter Shoulders to investigate his actions, a report which Napoleon promptly quashed. This reporter and the Michigan Citizen filed a Freedom of Information Act (FOIA) request, which was denied. Wayne County Circuit Court Judge Wendy Baxter granted our request, but the city appealed all the way to the Supreme Court, as they appealed the Grable verdict (which resulted in it totaling $6 million with interest.) 
Eventually, we won a redacted version of the report which showed that Shoulders et. al. had recommended disciplinary action be taken against Brown in the killings. That was never done under Napoleon's command or since. Brown, whose cousin said he had bragged about being able to "kill people and get away with it," remained on the force, and was promoted to Sergeant. 
Napoleon went on to become Assistant Wayne County Executive and Wayne County Sheriff, stepping over the bodies of the three men Brown killed and the bodies of dozens more killed during his tenure in the Detroit police department. 
Not only did Napoleon refuse to act against Brown, he himself directed the virtual execution of Jimmi Ruth Ratliff in Dec. 1995, when he was Acting Police Chief. The 48-year-old professional Black woman lived at 1300 E. Lafayette and had worked at Blue Cross Blue Shield for 28 years. After the deaths of her mother and sister and the loss of her job, she became severely depressed and began packing to move in with another sister. 
The building management called police to report they had seen a "bullet hole" in her window. A Detroit Police SWAT team complete with helicopters, riot gear, and submachine guns rushed to the scene. Napoleon, irritated at being called away from a high school basketball game, showed up shortly afterwards to take command. 
Four and a half hours later, after police refused to let Ratliff's sister and other relatives up to talk with her, and after they fed tear gas under her door through a tube, the SWAT team stormed her apartment and shot her to death as she held her Bible and prayed. Police claimed she had fired a bullet through the wall which hit one of the cops in the leg. The family's lawsuit in federal court was settled for $1 million just before Napoleon was set to testify in front of a jury.
DUGGAN – MCNAMARA LACKEY; PARTICIPANT IN STATE DPS TAKEOVER, EAA; FOUNDED CORRUPT UHCP TO ADMINISTER FEDERAL HEALTH FUNDS; EXECUTOR OF DMC SALE TO FOR-PROFIT VANGUARD 
Mike Duggan is boasting on the airwaves that he will "work closely with Kevyn Orr," who during the Detroit bankruptcy proceedings. Orr was just lambasted by Detroit retirees for the following remarks he made in a Wall Street Journal interview:
"Much of Detroit's dysfunction is also due to simple complacency. 'For a long time the city was dumb, lazy, happy and rich,' (Orr) explains. 'Detroit has been the center of more change in the 20th century than I dare say virtually any other city, but that wealth allowed us to have a covenant if you had an eighth grade education, you'll get 30 years of a good job and a pension and great health care, but you don't have to worry about what's going to come.'"
In the video below, retirees angrily protested Orr's statement today. They tried to storm his office to confront him in person, but were blocked.
Ingham County Circuit Court Judge Rosemarie Aquilina earlier ruled that Orr's boss, Michigan Gov. Rick Snyder, had no authority to approve the bankruptcy filing under the State Constitution. Allegedly on behalf of the city, Orr's former law firm Jones Day, now the city's "debt restructuring consultant," is arguing the debtor side of the case. Jones Day is a megalithic, white-dominated firm with an ultraconservative, pro-corporate and racist record. 
Bad enough Detroit is being subjected to these phony plantation-style proceedings, but Duggan endorses them as well, right in line with his life-long record.
First and foremost, Duggan hails from Livonia, known as "the whitest city in America," where he lived for 45 years. The residents of Livonia even opted out of participation in the SMART bus system to keep Detroiters out. 
Duggan moved into Detroit too late to legally file to run. As a result, he is illegally running as a "write-in" candidate with the permission of  State Attorney General Bill Schuette, another right-wing racist, despite an appeals court ruling against the write-in won by mayoral candidate Tom Barrow. For the first time in Detroit's history, a write-in candidate has thus garnered the most corporate campaign contributions and is receiving mammoth attention from the media.
Duggan was Deputy Executive during the infamously corrupt Wayne County Executive Ed McNamara regime from 1986-2002, a fact he neglects to emphasize in his official website bio. The U.S. Department of Justice opened an investigation into blatant bid-rigging and contract kickbacks during the McNamara regime, resulting most famously in the conviction of McNamara's top aide Wilbourne Kelley II and his wife of extortion, bribery and conspiracy involving Wayne County Airport operations.
In an earlier VOD story, reporter Ron Seigel detailed Duggan's alleged role in the illegal eviction of long-time tenants from the Detroit YMCA in 1997, to make way for the construction of Mike Illitch's Compuware Stadium, which got hundreds of millions of dollars in city, county and state taxpayer funding. 
Duggan then colluded with former Governor John Engler and Detroit Mayor Dennis Archer in the first state take-over of the Detroit Public Schools in 1999. That summer, McNamara loaned Duggan out to become DPS Deputy CEO to run the Summer Repair Program. Michigan Citizen reporter, the late Jesse Long-Bey, ran a series of articles exposing corruption and waste by contractors Duggan selected for the program. 
Duggan lately picked up his role in profiting from the mis-education of Detroit's children as a member of the Educational Achievement (read Apartheid) Authority, appointed by Gov. Snyder to take over 13 Detroit public schools and privatize them as charters, with ill-trained teachers and insufficient books and supplies.
The peripatetic Duggan has been busy for years in the privatization of Detroiters' health care for profit, as well. 
While Wayne County Deputy Executive, Duggan helped found the non-profit Urban Hospital Care Plus (UHCP) in 1993, which handled hundreds of millions of dollars in federal "disproportionate share" funding for indigent care. The federal government earlier forbade state and local government-run hospitals from directly receiving the funds, essentially privatizing them. 
UHCP contracted with two for-profits, one of them Ultimed, whose CEO Harley Brown said it was the only Black-owned HMO in the country. Brown set up a hospital on the site of the former Southwest General Hospital, the amalgamation of several of Detroit's last Black-owned hospitals. Southwest shut down in 1991 due to competition from larger hospital chains. 
UHCP later refused to make further payments to Ultimed, complaining that Ultimed was not paying hefty county fees. Brown said the problem lay in the failure of private insurance companies to reimburse Ultimed for patient care, which he said was an attempt to drive Ultimed out of business. In 2003, the Detroit Medical Center sued Ultimed for payment of $5 million in allegedly outstanding bills. Eventually Ultimed won the suit, but it did go out of business. 
In 2004, after a brief stint as Wayne County Prosecutor, Duggan became CEO of the Detroit Medical Center, allegedly to save it from financial ruin after the ruin of Ultimed.
Duggan was hailed as the savior of the DMC for taking the jobs. Prior to that, huge service cutbacks and layoffs were going on. The DMC's CEO threatened to close Detroit Receiving Hospital, after hundreds of millions in city funds left over from its century as a public hospital disappeared. This reporter ran a series on the DMC's tax filings at the time, exposing the high salaries of its executives, its corporate dominated board, and money that was being siphoned off to accounts in the Cayman Islands. Duggan made many promises when he took over, but instead ended up  sellling the DMC to the for-profit Nashville, Tenn.-based Vanguard Health Systems. This reporter also did numerous stories detailing Vanguard's role across the U.S. in cutting back services and laying off workers at hospital chains it took over. While retaining a token role as CEO of the remaining DMC core funds, Duggan became a Vanguard Senior Vice President for an unknown salary. 
Vanguard, 70 percent owned by a Wall Street hedge fund, has since been sold to Tenet Health Care. Meanwhile, hundreds of little publicized lay-offs have taken place at the DMC, including the whole division headed by the Inner City Sub-Center's Paul Taylor, who also lost his job after supporting Duggan in the takeover.  MichUCan, a state-wide coalition for health care for the poor has claimed that since the sale, indigent patients are frequently being turned away from DMC's portals. 
Duggan makes a practice of running around with well-known Black "leaders" including Min. Malik Shabazz of the Detroit 300, an alleged "neighborhood protection" organization which is informally affiliated with the Detroit police and has been known to engage in its own thuggery. Another of Duggan's allies is the Rev. Jim Holley, a notorious privatizer who has run charter schools and taken over the city's Considine Recreation Center.
He clearly has deep pockets.
BUSINESS AS USUAL—THE PEOPLE MUST RISE!!!