People's attorney Leonard Eston and family members after Dr. Martin Luther King, Jr. Freedom Walk in Detroit June 22. 2013
 By Diane Bukowski
Sept. 18, 2013 
DETROIT – Leonard Eston, 66, a dedicated and militant people's attorney, passed away unexpectedly September 15, 2013 at Detroit Receiving Hospital. He had been hospitalized for a heart attack earlier at Henry Ford Hospital but was recuperating, said his friends. 
"Leonard truly fought for the people through thick and thin," said his associate and long-time friend Cornell Squires. "He was a criminal defense attorney who got calls from all over the U.S. because of the number of not-guilty verdicts he won while practicing law. His nickname was 'Rough-house Leonard,' because he learned to be aggressive in court, since meeker tactics didn't work. The 'Hanging Judge,' Geraldine Bledsoe Ford, would not try any cases where he represented the defendant, because he stood up to her. He was a high-caliber, passionate and kind attorney who loved the people he represented." 
Squires said Eston was instrumental in freeing many wrongfully convicted prisoners during his career, including one who was serving a life sentence and later went on to become a successful businessman. 
In recent years, Eston continued using his legal skills to help the people, despite losing his law license after a spate of grievances filed and upheld by mainly white legal professionals. The first grievance involved Eston helping a client secure his settlement check and file from a white attorney who was refusing to give it to him. U.S. District Court Judge Lawrence Zatkoff, the judge who gave killer cop Walter Budzyn a new trial for the murder of Malice Green, denied Eston's last attempt to regain his license in 1996. 
But, as legal counsel for the We the People for the People, and the Detroit People's Task Force, working closely with Squires and others, Eston continued fighting for the people as a paralegal, said those he helped. 
Linda Ingram of Port Huron and her son were among the many who benefited from Eston's dedication. 
"My son was on trial for murder," Ms. Ingram said. "I don't know what my family  would have done without Mr. Eston. He was a good man. He said my son's lawyer didn't represent him properly, and he helped him file appeals. He has a court hearing Monday where we will know if he will win a new trial. Mr. Eston didn't even know my son, and I was hoping that when he came home they could meet. I loved and appreciated him greatly." 
Eston and Squires, with We the People for the People, also interceded on behalf of families whose children were illegally being kidnapped by Child Protective Services and the Wayne County Juvenile Court, largely due to poverty and federal incentives that provide payments per head to foster care agencies for every child taken from his or her home. 
Among them were the family of Luis and Cecilia Espinoza, Mexican-Americans living on Detroit's southwest side.  CPS and the Court seized their five-year-old daughter Genoveva, and later tried to take their other four children. At one point, the court returned Genoveva but ordered the mother out, leaving the father, who worked, to take care of the children by himself. Squires said he and Eston filed a lawsuit which re-united the entire family. 
Ed Wilcox, who Eston also assisted in recent years, said, "He stepped in to do paperwork to keep my lawsuit alive. He was a genius. I've seen his work ethic. He was old school, up there with the big boys. He loved doing his work and was highly dedicated to his profession. He went all the way; he didn't do any half job. He went until you couldn't go anymore." 
Eston also helped a Chicago woman win back her home after her son was targeted by the police, said Squires. 
Eston made the news last year when he and others from We the People for the People fought to continue former Detroit Corporation Counsel Krystal Crittendon's lawsuit against Detroit's Public Act 4 "consent agreement." 
Ingham County Circuit Court Judge William Collette summarily threw out her case, refusing to recognize new City Charter language that allowed her to independently sue the state without the permission of the City's Mayor or City Council. Collette said during the hearing that he had his mind made up from the beginning, and that Crittendon did not have standing to sue. 
Crittendon contended that the city could not sign a contract with the state under city ordinances and state law because the state owed it more than $300 million in revenue-sharing payments and other fees. 
Eston, Squires, James Cole, Jr., Clifford Stafford, and Tyrone Travis filed to intervene on Crittendon's behalf in the case as taxpayers. 
Voice of Detroit covered their story, quoting from the lawsuit,  "On June 13, 2012, the Michigan Court of Claims by Judge William Collette erroneously dismissed this Civil Action by rendering an "arbitrary" "capricious" "unfounded" "harsh" "untenable" judicial decision that was inconsistent and clearly contrary with "Fundamental Fairness;" "Due Process of Law" and "Equal Protection of the Law." 
(Click on Crittendon-intervenor-filings Eston for entire lawsuit.)http://voiceofdetroit.net/2012/07/07/crittendon-intervenors-fight-dictatorship-of-banks/
The Detroit Free Press interviewed Eston about the case as follows.
"The lawsuit, filed on behalf of the residents and "We the People for the People," a Detroit constitutional and human rights organization, says the state is acting in an illegal manner and causing Detroiters substantial injuries by denying them municipal services such as police and fire department protection, street lighting and recreation opportunities for young people," says the Free Press article by Matt Helms. 
"The lawsuit says Collette's decision to dismiss Crittendon's challenge was arbitrary and harsh and erroneously ignored Detroit's taxpaying residents. 
"One of the men, Leonard Eston, 65, an attorney and west-side resident, said that he and the other men want Collette to decide whether they have the standing to proceed with Crittendon's lawsuit. "We have to protect our rights," Eston said. 
"Eston argued Collette's rebuff of Crittendon's challenge based on whether she has the legal standing to do so 'is a technical issue and illegal,' so we're asking the court to let us intervene and let the case move forward. 
"Judge Collette needs to answer to it," he said. "The state is choking us out of our money and trying to appoint an emergency manager." 
http://www.freep.com/article/20120705/NEWS01/120705061/finance-stability-agreement-krystal-crittendon-appeal 
Eston and Squites recently spoke passionately at the funeral of their friend Kevin Carey, another dedicated activist who died too young, on June 22, 2013. Carey was the Executive Director of the People's Task Force, for which Eston and Squires provided legal assistance. The Task Force focused on freeing wrongfully incarcerated prisoners. Carey passed at the age of 57. 
The same day, Eston, Squires, family members and friends marched earlier in the 5oth Anniversary "Freedom Walk" down Woodward Avenue, which commemorated Dr. Martin Luther King, Jr.'s on June 23, 1963, the day Dr. King first gave his "I Have A Dream" speech. 
Eston graduated from Wayne State University Law School in 1972, during a time when African-American law students mobilized against discrimination at the school as well as throughout Detroit and the country. His friends say he never lost the fighting spirit of those times. 
He is survived by his son Oscar Eston, a college student and accomplished basketball athlete who has been scouted by the Indiana Pacers, his mother, a daughter, and many other family members, along with countless numbers of people who benefited from his dedication over his illustrious lifetime. 
Squires said We the People for the People will hold a special memorial after the family hour and funeral, and that they plan to set up a fund in Eston's name to provide legal defense for the poor.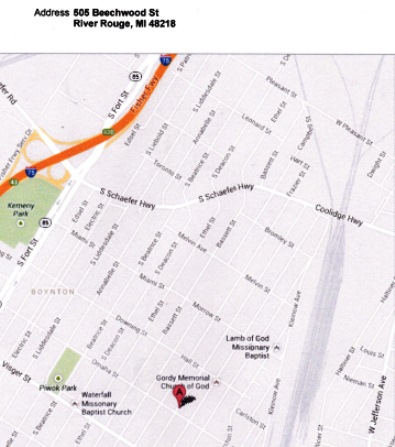 FUNERAL ARRANGEMENTS FOR LEONARD ESTON
SATURDAY, SEPT. 21, 2013 
FAMILY HOUR 10 A.M.
FUNERAL 11 A.M. 
ST. JOHN AME CHURCH
505 BEECHWOOD, 1 block n. of Visger
RIVER ROUGE, MICHIGAN
(Sept. 20: VOD has just received word that arrangements may have been changed to Pine Grove Church at 1833 Electric in River Rouge, so if the church above is the not the correct venue, map below shows PINE GROVE BAPTIST CHURCH location.)