Atjamino Simmons placed with white suburban couple at 2 months old
 Referee Mona Youssef further delays return of McGruder/Simmons children  
One child attempted suicide, claims sexual abuse in foster care
Children being forcibly medicated with psychotropic drugs 
By Diane Bukowski 
May 4, 2014 
DETROIT – Wayne County Family Court Referee Mona Youssef delayed the return of the six children of Tamikia McGruder and Arthur Simmons during a hearing April 28, despite evidence of severe harm they have experienced during the supervision of Child Protective Services (CPS), and of the literal CPS kidnapping of their baby Atjamino.
Youssef set a new hearing date for July 28, although the parents' attorneys called for the immediate return of the children, particularly baby Atjamino, or at the very least for an earlier hearing.
Atjamino Jakiaanti Simmons, born Dec. 22, 2013, was evidently illegally taken  from her paternal grandmother's home by CPS worker Willie Campbell on Feb. 25, 2014, according to court documents. An order by Referee Nicolas J. Bobak dated Feb. 6, 2014 placed the baby with her paternal grandmother, Doris Davis. (See order below.)
"Atjamino's grandmother told the worker she wanted the baby back," Ms. McGruder told VOD. "But Mr. Campbell told her it was too late in the process and it had already been done in the courts. There is no court order to take my baby and put her in foster care. She is with a white couple in Oakland County who have other foster children. When I have visited her at the Children's Center, I saw rashes on her chest and in her vaginal area, plus I saw cat hairs in her diaper bag."
She said she doesn't even have the couple's last name or address.Below is an affidavit signed by grandmother Doras Davis swearing that she had informed CPS she wants her grandchildren and that CPS removed baby Atjamino from her home on Feb. 25, 2014 without a court order. A message was left with CPS Investigor Willie Campbell May 6, 2014 for his response to these allegations, but he had not returned the call before press time.
Samantha Burks, referred to in the affidavit, is the family's CPS foster care worker, who also testified in court. She did not explain why Atjamino was taken.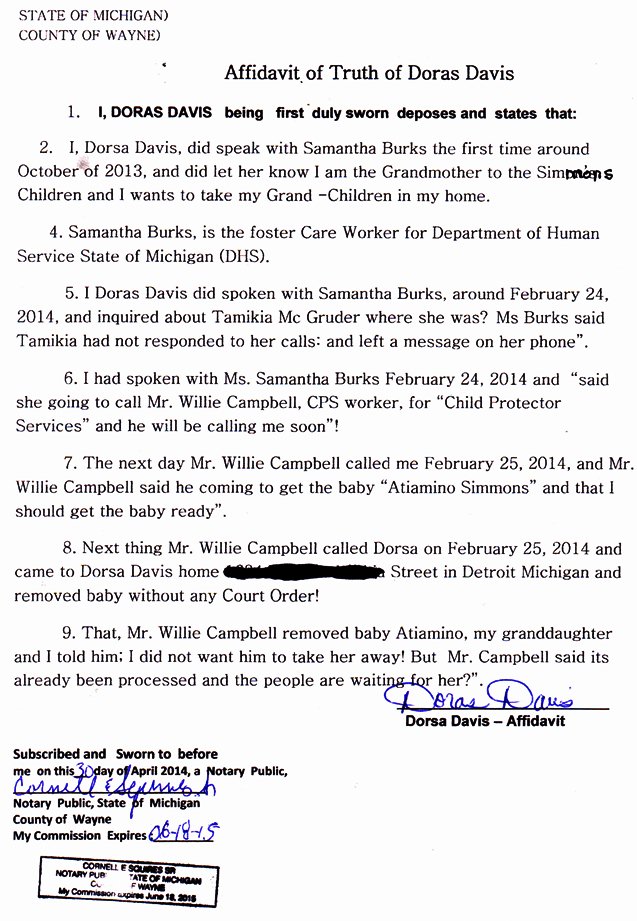 According to court documents, a referee ruled last year that Ms. McGruder and Mr. Simmons should be allowed unsupervised visits with their children, but CPS never complied. The couple has seen their children only at the offices of the DHS on Hamilton in Highland Park and the Children's Center, with CPS workers and foster parents always present.
Referee Youssef ruled that Ms. McGruder would have to wait four weeks before seeing her children in unsupervised visits, while Mr. Simmons would have to wait eight weeks. She conditioned the visits on orders that the couple undergo psychiatric evaluations. There is no medical documentation from qualified medical doctors or psychiatrists in CPS records that the parents have any psychiatric disorders.
Referee Youssef did admit a sworn statement from the parents, handwritten letters from Ms. McGruder, and photos of their newly-rented, immaculate three-bedroom ranch home into evidence at the request of Ms. McGruder's attorney Ray McDonald. Both parents testified on the stand for the first time since their children were taken May 30, 2013.
Despite Burks' depiction during her testimony of Arthur Simmons as belligerent and uncooperative, he was calm and forthright during his testimony.
Simmons said he is the biological father of four of the children and has helped care for and loves the others. He said he has told Burks several times that he is complying with CPS requirements to see a counselor.
"I did refuse to sign the treatment plan regarding medication for my children and myself," Simmons said. "I was in prison for a time during which they put me on 17 different medications [including Risperdal which caused severe enlargement of his breasts]. When I came home, I weaned myself off all the medications. I didn't want my children treated like that."
The couple's 12-year-old son was taking Risperdal, which can also cause depression and suicidal ideation, while under CPS supervision, until he tried to hang himself in October and was removed from foster father Timothy Searcy's home.
"I planned for Atjamino ever since 2006, when I named her," Simmons testified. "There is no valid reason why we don't have her now. This was the baby that was going to change my life."
Simmons said he was incarcerated in 2006 when he planned for Atjamino, but was looking forward to returning home to Ms. McGruder and continuing their family. He said he had not visited the baby since she was seized from his mother's home because he was told his visits might endanger the return of the infant.
"I have never been diagnosed with a mental illness by a professional doctor," Simmons testified. "But everyone at the DHS office thinks I need to be on medication. I told [CPS worker] Desiree Johnson that they TRIED to diagnose me at the prison with schizophrenia and bipolar disorder, but I have not yet had any doctor diagnose that."
The family's file is replete with references to "undiagnosed mental health illnesses" and NOS ("not otherwise specified") psychological disorders with respect to the parents. But the only documentation of these assessments is from CPS and foster care workers who are not licensed physicians or psychiatrists.
Ms. McGruder then took the stand, also calm and firm in her testimony. Despite some of its shocking character, which included one son's suicide attempts, allegations of sexual abuse by his foster father, and Ms. McGruder's temporary death during the Caesarian delivery of Atjamino, the many social workers lining the courtroom wall barely reacted.
Instead, during a break, several laughed and joked with each other. One was heard repeatedly saying during the parents' testimony under her breath,"That's a lie." Another jumped up from the audience and loudly objected to admission of the parents' written statement before Referee Youssef told her she was out of order and admitted the statement at the request of Attorney McDonald.
Ms. McGruder said she is opposed to the entire family being on psychotropic medications as implied in a recent treatment plan.
"If everybody in the family is on medications, who is going to take care of us?" she said.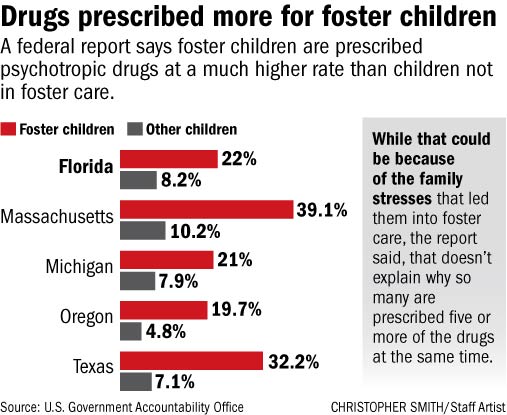 "When I was younger in foster care, they had me on medications but as an adult I have never been prescribed any psychotropic medications," Ms. McGruder said. She added that her placement on the CPS central registry caused her to lose her job as a home care worker with the responsibility of giving medications.
Ms. McGruder is described in some CPS records as "slow," so many who read her handwritten notes and letters sent to former Referee David Perkins and DHS Executive Director Maura Corrigan appeared surprised. All the letters are well-written and very expressive of her concerns for her children and her desire to have them returned.
Both Ms. McGruder and Mr. Simmons keep extensive documentation from the courts and CPS regarding their family's time with CPS.
"My children were never hospitalized for psychiatric reasons when they were with me, and they were never on medications," Ms. McGruder said. "I'm opposed to [two sons] being on medications. [One son's] arms look swollen like they are about to pop off his body. I need way more information about that medication. [Another son] was on Risperdal and I have seen many TV commercials about what that does to children, so I wouldn't give it to him when he was with me and they told me that constituted neglect."
After CPS removed the children that child was administered the drug by his new caregivers. [The older children's names are not being used in this story to avoid any detrimental effects in their social circles.]
Ms. McGruder continued, "[That son] never hung himself while he was in my care, but since then he has tried to hang himself four times. He accused his foster father of sexually inappropriate touching, and I told Ms. Burks but nothing was done." The family has since filed a police complaint regarding those allegations. The suicide attempts have been documented in hospital records.
Cornell Squires, a paralegal with the advocacy group We the People for the People, said Ms. McGruder's allegations during the hearing of sexual abuse of her son should have immediately occasioned investigative action by the court, but Ref. Youssef appeared non-responsive.
"Professionals are required to report such allegations to the police," Squires said, "or they can be held liable."
Ms. McGruder said she had signed a treatment plan at the beginning of the family's involvement with CPS and was told her children would be returned if she completed its requirements. She said she fully finished all the requirements including family counseling, parenting classes, and visits with her children.
In response to CPS worker Burks' allegations that she missed some visits, Ms. McGruder said that she had a Caesarian delivery of her baby in December and "died on the table." She said she had to be resuscitated. She said she sometimes missed appointments due to the extreme lateness of bus transportation, but that she loves her children, has bonded with Atjamino, and is ready for them to come home.
She testified that the family has rented a beautiful new three-bedroom home which just passed inspection by Ms. Burks and Sherry Howard. Photographs of the home were included in the package admitted into evidence.
Attorney McDonald said, "The record is clear that [Ms. McGruder] has completed all different components of the treatment plan. The presumption is that she benefited from these. She is not an abuser in this case. To lose custody of her newborn baby right after birth has left her very distraught and frustrated. It seems like the system comes up with something additional every time. It's never-ending. Ms. McGruder is desirous and willing to take her children home. It's detrimental for Atjamino to be away from her mother. I am asking the court to return the children, or at the very least the baby, and to order that meanwhile unsupervised visits including overnight take place."
His plea and that of Simmons' attorney, however, apparently fell on deaf ears for the time being. Meanwhile, Ms. McGruder and Mr. Simmons say they yearn every day for the return of their children to their loving arms.
(VOD: The McGruder/Simmons story typifies literally thousands of cases across the country and even the world, due to the financial connections among the state, juvenile courts, foster care agencies, foster parents, and drug companies, all of whom profit from federal funding for every child seized from his/her family.  
The defiant stand of Maryanne Godboldo against the police seizure of her daughter in 2011 brought much of this to light locally. Agencies and websites across the U.S. are increasingly coming forward to document similar criminal abuse of children by the system, particularly in poor communities and those of color. See story coming on the situation of Debbie Williams, shown in photo at top of this article.)
Related articles on Espinoza case handled by Referee Mona Yousseff:
http://voiceofdetroit.net/2011/08/24/referee-youssef-orders-mother-from-home-after-cps-claims-5-children-suffer/
http://voiceofdetroit.net/2011/10/09/%E2%80%9Ci-want-my-mother-to-come-home-espinoza-trial-continues-oct-14-10-a-m/
http://voiceofdetroit.net/2011/08/03/espinoza-family-fights-for-their-five-young-children/
http://voiceofdetroit.net/2011/07/26/amber-alert-save-espinoza-family-from-cps/
Previous articles on McGruder/Simmons family:
http://voiceofdetroit.net/2014/03/26/12-year-old-child-hangs-himself-after-rubber-stamped-cps-seizure-from-family-prescription-of-drug-risperdal/
http://voiceofdetroit.net/2014/04/14/mcgrudersimmons-family-wins-cps-court-adjournment-until-mon-april-28-files-sex-crimes-report-with-police/
VIDEO BELOW COURTESY OF DEBBIE WILLIAMS