UPDATE by tweet from Joel Currier, a freelancer for the St. Louis Post-Dispatch; opinions are his
Clarifying: Market mgr saying Myers had no gun in store is HIS opinion based on surveillance video. #shawshooting
Witnesses say teen only had a sandwich
Off-duty cop, in St. Louis police uniform, was  working for private firm, doing "pedestrian check"
St. Louis Police claim Myers had 9mm Ruger, fired at cop
October 8, 2014

By Adam Withnall — The Independent
October 9, 2014
St. Louis, MO — An off-duty police officer in St Louis has shot and killed a black teenager, prompting a repeat of the Ferguson protests that followed the death of Michael Brown two months ago today.
Police in the already conflict-ridden county of Missouri said that the officer involved was wearing his uniform but working a second job as a security guard when the incident occurred late on Wednesday night.
The officer, who is 32 years old and white, was unharmed in the incident.
Pictures from the scene on Shaw Boulevard in south St Louis showed people gathering to protest the shooting. KTVI News reported that the crowd was preparing to march on the St Louis police station, with many chanting "hands up don't shoot", a slogan that was used across the US after Ferguson.
As with the death of Michael Brown, there were conflicting initial reports on whether or not the victim, who has been named locally as 18-year-old Vonderrit Myers, was armed.
Teyonna Myers, 23, told the St. Louis Post-Dispatch newspaper that she was the cousin of the man and that he was unarmed when he was killed.
"He had a sandwich in his hand, and they thought it was a gun. It's like Michael Brown all over again," she told the paper.
St Louis Public Radio quoted chief of police Sam Dotson as saying that the officer fired "17 times", while alderman Antonio French, on the scene with protesters, tweeted: "At the scene of yet another young man's death. This happens too often in our city. It's a crisis that we should all be concerned about."
He later wrote: "The victim's mother was here. She fainted. An ambulance came to attend to her. There is nothing like a mother's pain at the loss of a child."
But a spokesperson for St Louis Police, Colonel Alfred Adkins, said the officer – who has not been named – approached Myers and three other men in the street and only "returned fire" after he was shot at himself.
 "As [the officer] exited the car, the gentlemen took off running. He was able to follow one of them before he lost him and then found him again as the guy jumped out of some bushes across the street," Adkins said.
"The officer approached, they got into a struggle, they ended up into a gangway, at which time the young man pulled a weapon and shots were fired. The officer returned fire and unfortunately the young man was killed."
TWEETS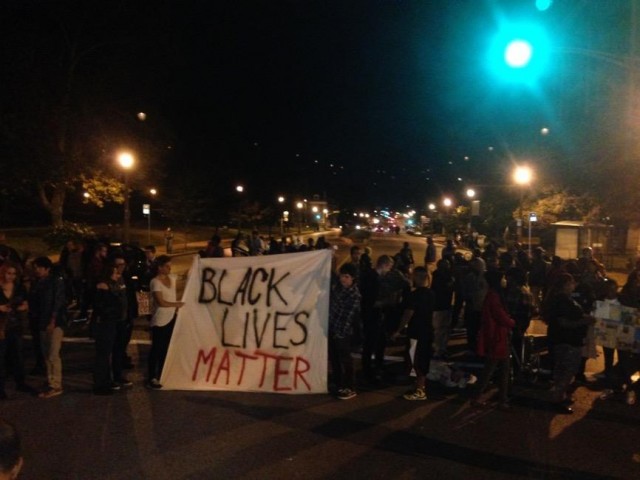 Wearing a hoodie, walking in the street, playing w/ toys & eating a sandwich are now Capital Offense. #ShawShooting #16Times #VonderritMyers
 RT @Patricialicious: They just broke out the back window of a police truck.
1:41 AM – 9 Oct 2014St Louis, MO, United States
Suspect's aunt cries: "they shot my Drew 16 times. All he had was a sandwich" ; fatal police shooting Klemm&Shaw So StL @FOX2now
Threats at police hurled from crowd at shooting scene at Shaw&Klemm in SoSTL; officer wrkng 2dary security shot,killed suspect @FOX2now
Crowd is breaking windows on an @SLMPD car.
Matthew Wyczalkowski@MaciekStL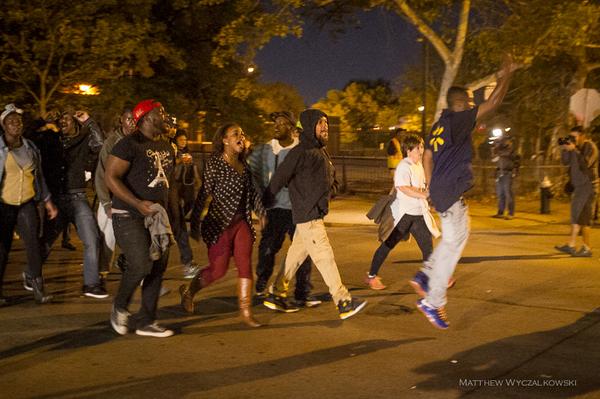 Chanting "Our Streets!" and walking down #Shaw avenue. #shawshooting #STL
Mariah Randi Stewart@MzzzMariah
Intersection of grand and gravois shut down #shawshooting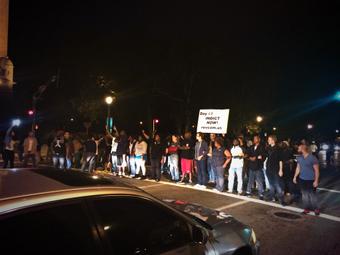 #ShawShooting area NOW #16times #16shots
2ND NIGHT OF PROTESTS OVER ST. LOUIS COP KILLING OF BLACK TEEN
UPDATE FROM AP
October 10, 2014
ST. LOUIS — Protesters angered by the fatal shooting of a black 18-year-old by police faced off with officers in south St. Louis for a second night as accusations of racial profiling prompted calls for a federal investigation ahead of a weekend of planned rallies and civil disobedience.
State and city leaders have urged the Justice Department to investigate the death of Vonderrit D. Myers in the Shaw neighborhood Wednesday night, fearing he was targeted because he was black. Police say the white officer who killed Myers was returning fire, but Myers' parents say he was unarmed.
"This here was racial profiling turned deadly," state Sen. Jamilah Nasheed, a St. Louis Democrat, said at a news conference Thursday.
Myers' death comes two months after the Aug. 9 fatal shooting of Michael Brown, a black unarmed 18-year-old, by a white police officer in nearby Ferguson. Brown's killing sparked dozens of often violent protests in the St. Louis suburb. A state grand jury is deciding whether Officer Darren Wilson will face charges in his death.
Late Thursday night following a quiet candlelight prayer vigil for Myers, hundreds of people joined a more rowdy gathering in Shaw to protest his death.
Police in riot gear lined up on a high street, flanked by brand name stores and restaurants. Protesters yelled abuse and profanities to taunt the officers, who silently stood their ground. Police helicopters buzzed above the neighborhood. Officers used pepper spray to force the crowd back.
Some protesters burned the American flag, while others banged on drums and shouted "This is what democracy looks like!" Some slammed the sides of police vans. Broken glass littered the street.
Eventually the protesters backed off, moving a couple of blocks away. Riot police remained in the area.
Organizers say thousands of activists and protesters from around the country are expected to come to the St. Louis area for four days of rallies, marches and civil disobedience to protest the Ferguson shooting, racial profiling and police violence. The events, which start Friday and include a march Saturday in downtown St. Louis, have taken on added urgency in the wake of Myers' death.
"This is a racial powder keg," said Jerryl Christmas, a St. Louis attorney who was among more than 20 black leaders who joined Nasheed at a news conference Thursday outside police headquarters. "All this is going to do is escalate the situation."
Police say Myers was both armed and aggressive, using a stolen 9 mm gun to shoot at the officer.
Syreeta Myers said her son was holding a sandwich, not a gun. "Police lie. They lied about Michael Brown, too," she told The Associated Press by phone Thursday.
St. Louis Police Chief Sam Dotson said the officer spotted Myers and two other males around 7:30 p.m. Wednesday while working a security job and patrolling a neighborhood near the Missouri Botanical Gardens. Dotson said the officer, who was off-duty but wearing his uniform, became suspicious when one of them started to run.
He chased them, first in his car and then on foot, Dotson said.
During the chase, he got into a physical altercation with Myers, who ran up a hill, turned and fired at the officer, the chief said. The officer, who wasn't hurt, shot back.
Ballistic evidence shows Myers fired three shots before his gun jammed, Dotson said. Police said they recovered the 9 mm gun, which was reported stolen on Sept. 26.
The officer fired off 17 rounds. Preliminary autopsy results show a shot to the head killed Myers, according to medical examiner Dr. Michael Graham.
The St. Louis Post-Dispatch reported that Graham said Myers was shot six or seven times in the lower extremities and the fatal shot entered his right cheek.
Authorities have not released the name of the six-year veteran of the St. Louis Police Department. The 32-year-old officer is on paid administrative leave pending an investigation.
An attorney for the officer told the newspaper that his client served with the U.S. Marines in Iraq and was "shaken up" by the incident. He called claims that Myers was carrying a sandwich not a gun "ridiculous."
Online court documents show Myers was free on bond when he was killed. He had been charged with unlawful use of a weapon, a felony, and misdemeanor resisting arrest in June.
Myers' was the third fatal shooting of a black male by St. Louis-area police since Brown's death.
"It's imperative that we began to heal this community," Nasheed said. "This community has been broken down. We have too many deaths at the hands of police officers."