"Everywhere is war" – Bob Marley  
VOD UPDATE: As news breaks that two police officers in Los Angeles have also been shot (see http://www.latimes.com/local/lanow/la-me-ln-search-continues-gunmen-lapd-officers-20150316-story.html),  Ferguson police announced charges March 15, brought against Jeffrey Williams in the shootings of two cops there. Report from Reuters, at http://www.msn.com/en-us/news/crime/suspect-charged-in-shooting-of-ferguson-missouri-police-officers/ar-AA9NB5K indicates that some local activists have celebrated his arrest, saying now they can get back to the business of protests.
Peaceful protests have not stopped police executions of nearly 200 people across the U.S. since 2015 began. There have been no charges against the killer cops either at the local or national levels. Those who choose to fight back to defend their communities from these killer cops, by WHATEVER MEANS NECESSARY, deserve our support, not our condemnation. Additionally, our court system presumably is based on the principle of "innocent until proven guilty." For anyone to presume that Williams is NOT innocent at this stage is an absolute travesty.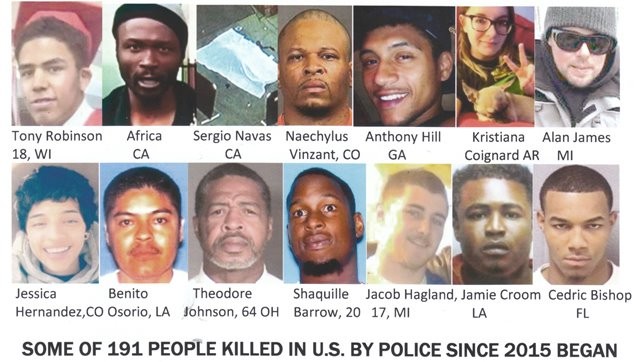 Photos with accompanying articles are available on http://killedbypolice.net/,
Intro by Andre' Gabriel Esparza – DontComply.com
Just a little over two months into 2015, there have been at least 191 individuals killed by police in the United States since the year began. That's 191 people divided by 65 Days which equals 2.93. This averages out to three people killed by police each day or 1 life taken every eight hours by Law Enforcement Officers.
Killedbypolice.net has spearheaded the responsibility to track these statistics, which includes dates, full names, and press releases of the killings. Have 'We the People' turned into targets . . . 
"In Canada, all of last year they only reported 14 citizens killed by police, around 78 times fewer people killed than here in our country. The United Kingdom only had 1 person killed by a police officer in 2014 with 0 the year before. Germany between 2013-2014 their police didn't kill anyone. China had 12 of their people killed by police in 2014 and their population is over four times our population. From 2010 through 2014, there were only 4 police shooting deaths in England a country of about 50 million. The country of Iceland since its inception have only had to take one man's life and that was after hours and hours of deploying other strategies to remove him from his house that he had blocked off from entry."
http://www.dontcomply.com/so-far-in-2015-police-have-killed-three-people-a-day/#sthash.JBMhTdPS.dpuf%20
 By Diane Bukowski
Editorial March 12, 2015
DETROIT – Last night, two cops were shot and wounded, not fatally, outside the Ferguson police department, as a rally demanding more than the resignation of Ferguson Police Chief Thomas Jackson was breaking up.
Jackson resigned in the wake of a USDOJ report slamming the vile racism characterizing the department, amid unmet community demands that the entire department be disbanded.
Read USDOJ report at USDOJ ferguson_findings_3-4-15.
Police in riot gear had already brutally attacked the protest, arresting three, prior to the shootings, according to news reports.
U.S. Atty. General Eric Holder, Rev. Al Sharpton, and numerous so-called "civil rights" leaders condemned the shootings, with Sharpton particularly demanding that police not be targeted.
"Such senseless acts of violence threaten the very reforms that nonviolent protesters in Ferguson and around the country have been working towards for the past several months," Holder said. "We wish these injured officers a full and speedy recovery. We stand ready to offer any possible aid to an investigation into this incident, including the department's full range of investigative resources. And we will continue to stand unequivocally against all acts of violence against cops whenever and wherever they occur."
VOD ASKS WHAT REFORMS, AS POLICE ACROSS THE U.S. CONTINUE THEIR SLAUGHTER?
What about the FBI's killing of Imam Luqman Abdullah, leader of a mosque on Detroit's poor west side, in 2009, sanctioned by Holder? Imam Abdullah, an ally of Imam Jamil Al-Amin, formerly known as H. Rap Brown of the Black Panthers,  was shot 21 times in an ambush.
Both Imams were carrying on the tradition of the 1960's by peacefully organizing youth and neighborhoods for their very survival. HOLDER HOLDS COPS, BUT NOT RELIGIOUS LEADERS, SACRED?
Now the Ferguson police are conducting a dragnet for the shooters, raiding one home after news media, traitors that they are, claimed it was the source of the gunshots. This dragnet is just a continuation of the one that has taken place since the Ferguson rebellions after Michael Brown's death. Police have charged protesters shown on video raiding local non-Black-owned stores during the rebellion, and even those who spoke out at rallies, including one who met with President Barack Obama as part of a task force.
There is no question this will grow into a manhunt similar to that which engulfed Detroit after Hayward Brown, John Percy Boyd, and Mark Clyde Bethune killed one cop among others who were protecting a drug house.
The city's notorious S.T.R.E.S.S. killer cop unit (Stop the Robberies, Enjoy Safe Streets), had been busy killing dozens of Black men. Mass rallies across Detroit protested home invasions by the gangster cops.
Eventually Boyd and Bethune were killed by police in New York City and Atlanta. Hundreds attended their funerals. Hayward Brown was acquitted at trial, represented by the people's attorney Kenneth Cockrel, Sr., but later died under suspicious circumstances when he returned to his hometown.
THIS IS WAR, AND THE PEOPLE DID NOT START IT.

Grand juries across the U.S. have refused to indict dozens of killer cops across the U.S. for slaughtering predominantly Black, Latin and other poor people over the years. Holder and the U.S. Justice Department refused to file civil rights charges against Darren Wilson for killing of 18-year-old Michael Brown.
Here in Detroit, Wayne County Judge Cynthia Gray Hathaway and Prosecutor Kym Worthy dismissed all charges against Detroit cop Joseph Weekley for blasting his MP5 submachine gun into 7-year-old Aiyana Jones' head in 2010, as she lay sleeping, during a vicious SWAT-style raid of her home. There was supposed to be a federal investigation of that little girl's killing, but it never happened. Holder holds the lives of cops, but not little girls, sacred?
What else is to be done? In 2009, protesters in Oakland, CA marched to support Lovelle Mixon, 27, after he was stopped by Oakland cops March 21, 2009 and opened fire on them, killing four. Oscar Grant had been brutally gunned down by a BART transit cop just days before. The video below gives the political background for the protesters' support.
People of color and poor people have an absolute right to defend their lives from killer cops. It is not the people who have begun this war.
It is a war that has been waged from the days of the African Holocaust, the kidnapping, killing, and enslavement of hundreds of thousands that ensued, the lynchings carried out after the Civil War into the modern day, the genocide of Native Americans and Latinos, the "mass incarceration in the days of color-blindness," as Michelle Alexander termed the fate of 2.5 million people in U.S. prisons.
The U.S. has five percent of the world's population, but 25 percent of its incarcerated populated, most of them people of color.
Activists in Ferguson and across the U.S. must not presume that those who shot the two cops in Ferguson were "agent provocateurs." They must not condemn their form of rebellion, calling instead for "peaceful" protests. They must not INFORM on the shooters by giving details to the police who are the enemy, the real terrorists in the U.S. The origins of police in the U.S. are mired in the history of slavecatchers.
"I hate that it happened," Michael Makin, 19, of Ferguson, told the Guardian.  "It could just make us all look bad. But no matter what happens, we have got to keep the movement going, keep it positive and make changes for the better. We can't let youth go to waste."
The Guardian also said, "Rev Starsky Wilson, who is a co-chairman of the Ferguson Commission established by Governor Jay Nixon to work out how to heal the St Louis suburb, delivered a biblical-style attack on the unidentified gunman. 'We come to curse all of those who would stand in the midst of peaceful protest and cast forth shots that bring violence,' he said.
WHO HAS BROUGHT THE VIOLENCE?
How are the powers in charge going to "heal" people in Ferguson and Detroit since Darren Miller and Joseph Weekley walk scott-free?
Support for the police only divides a movement which began in Ferguson and has continued most recently in Madison, Wisconsin, with young people taking over the state capitol and pouring into the streets every day since.
Some people claim that such actions will only increase the police war on the people, but if that is the case, it is not the fault of the shooters in Ferguson. How much more can the war on the people be increased before people stand up and fight back?