DETROIT ACTIVE AND RETIRED EMPLOYEE ASSOCIATION
TOWN HALL MEETING
August 05, 2015 @ 5:30PM
ST. MATTHEW'S/ ST. JOSEPH'S CHURCH
8850 WOODWARD – DETROIT, MICHIGAN  48202 
If you believed Detroit's bankruptcy was necessary you need to hear Professor Peter J. Hammer's presentation on Connecting the Dots- Detroit's Bankruptcy at DAREA's Town Hall Meeting.  This bankruptcy was not necessary! Using retirees to reduce Detroit's debt was unnecessary and unconscionable, retirees were used as a scapegoat!
Wake Up Detroit, Wake Up Retirees!
SPECIAL PRESENTATION:  DETROIT'S BANKRUPTCY, CONNECTING THE DOTS!
Professor Peter J. Hammer
Professor of Law & Director, Damon J. Keith Center for Civil Rights, WSU Law School
"…any legitimate analysis of the Detroit Bankruptcy and the City's Plan of Adjustment must be situated in the context of the Three R's Race, Regionalism and Reconciliation. These are the root causes of Detroit's current financial crisis and yet they are completely absent from the report." 

Quote from Peter J. Hammer's letter to Judge Stephen W. Rhodes on the Evaluation of the "Expert Report of Martha E.M. Kopacz Regarding the Feasibility of the City of Detroit Plan of Adjustment, September 1, 2014."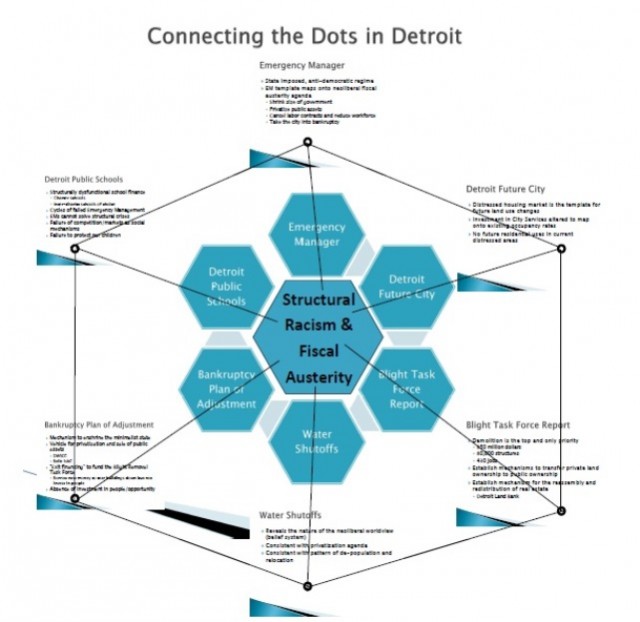 Peter J. Hammer, Director of the Damon J.  Keith Center of Civil Rights is dedicated to promoting the educational, economic and political empowerment of under-represented communities in urban areas and to ensuring that the phrase equal justice under law applies to all members of society. Professor Hammer was instrumental in editing and compiling Judge Damon J. Keith's new biography, Crusader for Justice: Federal Judge Damon J. Keith (2013). Professor Hammer has become a leading voice on the economic and social issues impacting the city of Detroit, and has added new courses to the law school curriculum on Race, Law and Social Change in Southeast Michigan and Re-Imagining Development in Detroit: Institutions, Law& Society.
 Additional Information @  Detroit2700plus@gmail.com  313-649-7018
FACEBOOK: https://www.facebook.com/StopTheGrandTheftofDetroitsPension