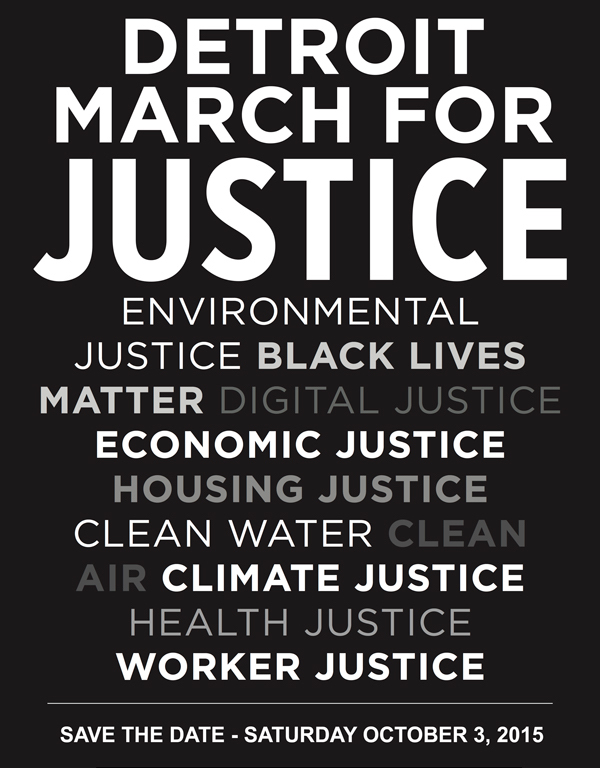 WHAT: March for Justice
WHERE: Roosevelt Park, Vernor Hwy, Detroit, MI 48216
WHEN: October 3, 2015 12:00PM
Detroit didn't just put the world on wheels.
The Motor City created a living wage and made social justice a reality for workers across America. And in a Wall Street economy where justice too often takes a back seat to profit, Detroit is still fighting for a living wage — and for clean air, access to drinking water, and freedom from pollution that is disrupting our climate and threatening our lives.
It's a fight that touches all of us, every day, but it's a fight some of our leaders want to ignore.
Here's something our leaders can't ignore: thousands of workers, families, doctors, children, teachers, faith leaders, and activists from all walks of life — all marching in the streets of Detroit.
Join the March for Justice and bring the fight for justice to the streets. Sign up now!
Join us on October 3 to march in Detroit and tell the world that we need real leadership to help move us forward. We need complete justice. That means housing justice, water justice, environmental justice, worker justice, food justice, social justice, and much more.
To become a partner, receive updates, or organize a group to attend the march, contact andrew.sarpolis@sierraclub.org or rhonda.anderson@sierraclub.org.