Lewis motion:  rulings vacating convictions where partial court files were lost or corrupted must be applied in his case, where entire record is missing
APA Jason Williams wants life without parole; "defense" atty. Valerie Newman wants 40-60 years, under juvenile lifer statutes
Judge Lillard, Gov. Rick Snyder appointed, celebrates his new appointee to 3rd Circuit Court; Mich. has strongly opposed JLWOP changes
 Angry family demands Lewis' release, condemns Newman's stance
Court Register of Actions shows next Lewis hearing set for Nov. 23, 2016
Next Detroit juvenile lifer hearings for Timothy Kincaid Nov. 4, Edward Sanders and David Walton Nov. 29
Hearing on ACLU motion in Hill v. Snyder challenging state statutes Nov. 17
By Diane Bukowski
 October 31, 2016
Updated Nov. 7, 2016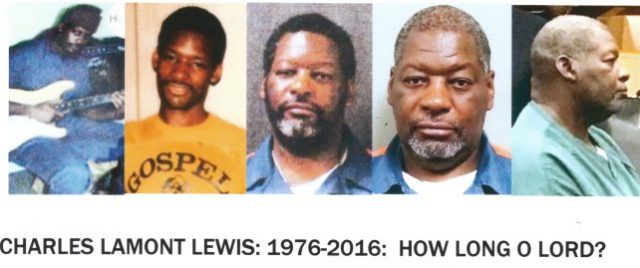 DETROIT – Should Charles Lewis, 58, in prison for 41 years, have his conviction and sentence of life without parole vacated due to the loss of his entire official court file, as he has asked in his court motion, which cites U.S. Supreme Court and Michigan court precedents with that outcome?
The motion also says Wayne County Circuit Court Judge Edward Ewell was the last judge to actually read Lewis' file before ruling on Oct. 17, 2012 that he should be re-sentenced. This was before controversial state statutes on re-sentencing were passed in 2014.  Lewis contends that any further proceedings should go before Judge Ewell. (Link to motion below story.)
"All these cases have the same remedy—to vacate the sentence," Lewis told Wayne County Circuit Court Judge Qiana Lillard Oct. 28 regarding the precedents in his motion. "I am asking you as judge to follow established law. You have to evaluate both sides and decide."
The Detroit News' Oralandar Brand-Williams reported Nov. 6, "Wayne State University Law School professor Peter Henning, who is also a former federal prosecutor, says a lost file could have serious consequences.
"In the absence of documentation it could make it impossible to impose a life sentence again," Henning said. "There is no basis to impose it if (the court file) is missing. What is the appropriate sentence? How does the judge make a decision in the dark? The court is really hamstrung on whatever sentence it can impose."
Or should Lewis be re-sentenced as Asst. Prosecutor Jason Williams and State Appellate Defender's Office Attorney Valerie Newman contend, under draconic state statutes, concocted in the wake of the USSC's 2012 Miller v. Alabama ruling that juvenile life without parole is unconstitutional?
The statutes are currently being challenged as unconstitutional in federal court in the ACLU's Hill v. Snyder case, and negotiations are going forward regarding alterations. The next hearing on that case is November 17 in front of U.S. District Court Judge John Corbett O'Meara.
Lillard said at the conclusion of the Lewis hearing she would issue a ruling within 14 days. She wants to conduct ex parte consultations with Chief Criminal Court Judge Timothy Kenny and Chief Judge Robert Colombo, and meet with Assistant Prosecutor Jason Williams and court-appointed Attorney Valerie Newman, to go over copies of the records they claim to have. She did not indicate that Lewis, himself a party in the case with his own motions on the record, would be present.
"You see what I have here," Lillard said, holding up a slim file. "I need what you have."
Lillard signaled to a Deputy Sheriff to remove Lewis from the hearing before discussing those meetings, as can be seen in the video above, where Lewis is missing. He objected because proceedings were continuing. Newman did not object to his removal.
The Court's Register of Actions (ROA) now shows a hearing on Lewis' case will be held Nov. 23 at 9 a.m.
Lillard's impartiality in this case has been in question because she is an appointee of Michigan Gov. Rick Snyder. Snyder and other Republican state officials have strongly opposed any changes in laws on juvenile life without parole, as has Wayne County Prosecutor Kym Worthy.
Judge Kenny earlier removed Lillard from the case involving Theodore Wafer's second-degree murder of Black Detroit teen Renisha McBride due to her ties with members of the Prosecutor's Office on Facebook.
Lillard just posted on Facebook,
So excited to learn that Governor Snyder has appointed another Domer to the 3rdcc bench!! Congratulations to my dear friend Paul Cusick #GoIrish #NDFamily http://www.michigan.gov/…/0,4668,7-277-57577_57657-396322–…

 Snyder – Cusick named to 3rd Circuit Court, Wayne County
The State Court Administrator's Office has not returned a call from VOD asking whether records retained by others than the County Clerk can be considered part of a court file. State law mandates that the County Clerk supervise and protect all court records.
Lewis' family and friends packed the courtroom, calling afterwards for his immediate release and condemning his court-appointed defense attorney Valerie Newman's betrayal of his wishes, even calling for her disbarment. His family calls him by his middle name "Lamont."
(l to r) Mother Rosie Lewis, sister Wendy Lewis, brother Mark Lewis
Lewis along with numerous eyewitnesses, including the partner of Detroit police officer Gerald Swypitowski, have maintained his innocence of killing the officer on July 31, 1976 during two trials held in 1977, the first of which was mysteriously concluded before sending it to the jury. The testimony of his alibi witnesses was never taken. Transcripts of those hearings should be in his missing court file.
Not only is Lewis' official court file missing, but his computerized Register of Actions has been savaged. It falsely says he was convicted on April 3, 2000 in front of Judge Gershwin Drain and lists only actions after that date. Lewis has been in prison since 1977.
Wayne County Deputy Clerk David Baxter testified during the hearing about the loss of the physical court files themselves. Asked earlier by VOD how 23 years of the computerized Register of Actions was also lost, Baxter excused that. He said the Court's computer system had been converted. VOD, however, has not noted such egregious deletions in numerous other criminal cases.
"A register of actions is a chronological list of events in the life of a case and is required for all cases, except district court civil infractions," the Michigan State Court Administrator's Office says in its General Records Retention and Disposal Schedule #16.
"Courts may keep these records permanently, but if they do not want to maintain them and the records still exist on the approval date of this schedule, the records must be transferred to Archives of Michigan. The records may not be destroyed."
The schedule specifies that transfer to the archives can only take place 50 years after completion of a case. Similarly, according to the State of Michigan's General Retention Schedule #19, files in capital cases (any crime with a life sentence) must be retained "until final disposition of the case plus 50 years, or the felon dies, whichever is sooner."
Also testifying was Lisa Denise Peterson of the Clerk's office, who denied any knowledge of Lewis' case. Lewis told VOD afterwards, "I talked to her at least 20 times, and my attorneys from Foley & Lardner did so as well. She told me she had the files and records in her hands as we spoke."
Assistant Prosecutor Jason Williams and Attorney Valerie Newman of the State Appellate Defenders Office, Lewis' court-appointed defense attorney, both argued for Lewis' re-sentencing under the contested juvenile lifer state statutes, against his wishes.
Williams wants to keep Lewis in prison until death, while Newman said she wants a term of 40-60 years, despite Lewis' age and poor health.
Both said they have some portions of Lewis' court files.
Williams is proceeding on the original motion filed by Wayne County Prosecutor Kym Worthy July 21, which says only, "Defendant's crime in the current case was not the result of unfortunate yet transient immaturity, but, rather, evinced irreparable corruption that requires a Life without Parole sentence."
It gives no specifics regarding the alleged "irreparable corruption." Worthy has also asked that 62 other Wayne County juvenile lifers die in prison, the highest actual number in the state. Ninety-eight percent of the county's 147 juvenile lifers are Black.
The U.S. Supreme Court said in Miller and Montgomery that "only the rarest" juvenile should be sentenced to die in prison.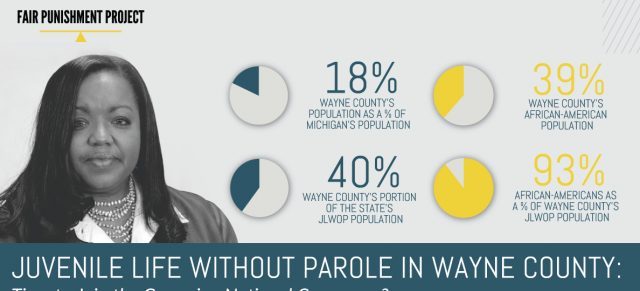 "Regarding case law on missing transcripts or records, there is no authority that I am aware of," Williams said during the hearing. "Miller factors concern the offense and I do have transcripts of Mr. Lewis' trial in this case that resulted in conviction, the original Detroit Police Department homicide file, and Mr. Lewis' institutional record from the Michigan Department of Corrections. Any pleadings subsequent to conviction are not an appropriate consideration."
However, a relevant Pearson evidentiary hearing was held on Lewis' case Jan. 16-20, 1981, with representation by defense attorney Gerald Evelyn.
Five additional Detroit police officers at the scene after the killing contradicted the testimony of Detroit officer Lorraine Williams at Lewis' original trial in 1977.  Williams had claimed that the partner of the officer killed was too intoxicated to have identified the real killer, after copying down his license plate number.
At the time, state law held that the prosecution must produce all res gestae witnesses relevant to the charges, whether favorable to the prosecution or the defense, within a certain time limit. Lewis' Pearson hearing was held long after the limit. He had contended that required dismissal of the case under then existing law.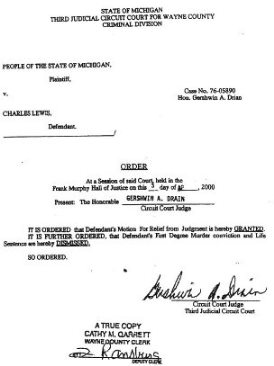 Lewis has a copy of a court order signed by then Wayne County Circuit Court Judge Gershwin Drain dismissing his case on April 3, 2000, which an MDOC worker gave him ten years after it was issued.
Lewis filed for enactment of the order after he saw it, but Drain denied issuing it in 2012. In a letter rubber-stamped (not signed) with Drain's name, he claimed that his signature on the order had been forged and also that Lewis had somehow altered court computer records.
There is no way to determine the truth of THAT situation without access to ALL of Lewis' court files and the complete Register of Actions.
Newman filed a motion almost identical to the one Lewis filed, citing the same three court precedents he used, along with another one from the Seventh Circuit Court of Appeals. In contrast to the remedies applied in those cases, she asked that Lewis be re-sentenced to 40-60 years, under the separate juvenile lifer laws.
After the hearing, Lewis' uncle Lorenzo told VOD that he overheard Newman ask Lewis why he would ask for another attorney, in what he interpreted as a "threat." He called for her disbarment. Lewis said he did not think her statement was an actual threat.
Newman announced for the first time that she has possession of FIVE boxes of court files on Lewis' case, which she said can be used during a "Miller" hearing to re-sentence her unwilling client.
Where those files came from, whether she has read them, or may even have tampered with them is open to question. Newman said only that three of Lewis' younger co-defendants testified at his original trial, against him.
She failed to mention the testimony of eyewitnesses including police officer Dennis Van Fletering (Swypitowski's partner), William Eichman, an employee at Oty's Saloon outside of which the shooting took place, and of Jay Smith, Gloria Ratachek, Kim Divine and Donald DeMarc, who happened to be on Harper at the scene.
Those witnesses all testified that gunfire from a white Lincoln Mark IV, later determined to be owned by Leslie Nathanial, caused Swypitowski's death. Several also said they saw no other cars in the narrow width of Harper Avenue at the time. That contradicted the testimony of the juveniles, who claimed they and Lewis drove a yellow Ford Gran Torino to the scene, and Lewis got out of  it to rob and kill Swypitowski. The three juveniles were not charged in exchange for their testimony.
Newman also failed to mention the testimony of police officers Joseph Grayer, Michael Kudle, Andrew Kuklock, Michael Yanklin, and Gerald O'Connor contradicting officer Lorraine Williams' testimony at the Pearson hearing in 1981.
VOD has copies of those transcripts which were attached to several U.S. Sixth Circuit Court of Appeals rulings in Lewis' case. However, they would not be considered part of the official court file, which is maintained only under the direct supervision of the Wayne County Clerk.
VOD also submitted a Freedom of Information Act request to the City of Detroit Law Department Police Division for records of witness interviews and forensic matters Sept. 19, but has not yet received a response.
Lewis told VOD he has given copies of crime scene photos from the trial and the names of his alibi witnesses to Newman, but she has refused to raise them in proceedings.
Still upcoming are re-sentencing hearings on Detroit juvenile lifers Timothy Kincaid this Friday, Nov. 4 at 9 a.m. in front of Judge James Callahan, and on Edward Sanders and David Walton in front of Judge James Chylinski on Tues. Nov. 29 at 9 a.m. Kincaid was 16 at the time of his offense, Sanders and Walton were 17.
According to the office of U.S. District Court Judge John Corbett O'Meara, a hearing in the Hill v. Snyder case, whose amended plaintiffs' motion challenges Michigan's juvenile lifer statutes, has been adjourned until Thurs. Nov. 17 at 10:15 a.m.in Ann Arbor. O'Meara ruled in 2013 that ALL Michigan juvenile lifers are eligible for parole after 10 years.
The Sixth Circuit Court of Appeals upheld that ruling, but remanded the case back to O'Meara for the parties to update the motions they filed. The state has taken that opportunity to try to wipe out the entire case including O'Meara's 2013 ruling, while the ACLU is trying to negotiate changes to the state statutes including the restoration of "good time" in juvenile lifer re-sentencings. The state statutes discriminatorily bar that only for juvenile lifer defendants.
Related documents:
http://voiceofdetroit.net/wp-content/uploads/CLmotion-4.pdf
http://voiceofdetroit.net/wp-content/uploads/CLprosmotion.pdf
SADO (Valerie Newman) motion at:
http://voiceofdetroit.net/wp-content/uploads/CLsadomotion.pdf
VOD FOIA request for Lewis' DPD files with eyewitness statements, forensic matters
http://voiceofdetroit.net/wp-content/uploads/FOIA-Charles-Lewis-DPD-9-13-16.pdf 
USSC Chessman v Teets 1957 ruling:
http://voiceofdetroit.net/wp-content/uploads/USSC-Chessman-v-Teets-1957-3.pdf
Related stories:
http://www.detroitnews.com/story/news/local/wayne-county/2016/11/05/missing-court-files-juvenile-lifer-sentence/93371542/
http://voiceofdetroit.net/2016/10/26/free-charles-lewis-mich-juvenile-lifers-re-sentenced-to-die-in-prison-rally-fri-oct-28/
http://voiceofdetroit.net/2016/10/13/support-for-charles-lewis-mich-juvenile-lifers-strong-at-hearing-oct-11-bring-them-home-now/
http://voiceofdetroit.net/2016/10/07/stop-new-death-penalty-for-mich-juvenile-lifers-rally-tues-oct-11-for-charles-lewis-others/
http://voiceofdetroit.net/2016/09/10/new-hope-for-michigan-juvenile-lifer-charles-lewis-as-others-await-long-delayed-justice/
http://voiceofdetroit.net/2016/09/04/free-charles-lewis-wayne-co-juvenile-lifers-dying-in-prison-rally-at-hearing-tues-sept-6/
http://voiceofdetroit.net/2016/08/18/genocide-state-s-a-d-o-subject-michigan-juvenile-lifers-to-more-cruel-and-unusual-punishment/
http://voiceofdetroit.net/2016/08/02/michigan-files-for-jlwop-for-80-of-juvenile-lifers-fed-court-wants-all-parole-eligible/
 http://voiceofdetroit.net/2016/07/26/worthy-others-want-large-portion-of-juvenile-lifers-to-die-in-prison-despite-ussc-rulings/
http://voiceofdetroit.net/2016/06/02/stop-torturing-michigans-juvenile-lifers-with-state-delays-freedom-now/
http://voiceofdetroit.net/2016/05/24/free-charles-lewis-innocent-juvenile-lifer-who-has-spent-41-years-in-state-prisons/
http://voiceofdetroit.net/2016/05/18/michigan-juvenile-lifers-score-6th-circuit-appeals-court-victory-in-hill-v-snyder/
http://voiceofdetroit.net/2016/04/30/why-is-juvenile-lifer-charles-lewis-still-in-prison-16-yrs-after-his-case-was-dismissed/
http://voiceofdetroit.net/2016/04/12/dying-in-prison-michigan-juvenile-lifers-get-new-hope-under-montgomery-still-face-obstacles/
http://voiceofdetroit.net/2013/02/12/u-s-judge-rules-all-michigan-juvenile-lifers-eligible-for-parole/
http://voiceofdetroit.net/2012/10/28/michigans-juvenile-lifers-want-state-to-comply-with-u-s-supreme-court-ruling/
http://voiceofdetroit.net/2012/08/16/michigan-challenges-u-s-supreme-court-ruling-on-juvenile-life-without-parole/
http://voiceofdetroit.net/2012/07/02/us-supreme-courts-juvenile-lifer-decision-brings-hope-to-thousands/
http://voiceofdetroit.net/2012/07/02/nations-high-court-ends-mandatory-life-without-parole-sentences-for-youth/
#FreeCharlesLewisNOW, #FreeTimothyKincaid, #FreeEdwardSanders, #FreeDavidWalton, #FreeMichiganJuvenileLifers, #SaveOurYouth,   #FreeMichiganParolableLifers, #StopCourtCorruption, #PrisonNation,   #PoliceState, #Beatbackthebullies, #Breakdownthewalls, #BlackLivesMatter