U.S. Commission on Civil Rights Denounces Force vs. Protesters
Class Action Lawsuit Filed
December 1, 2016
More than 2,000 US military veterans have formed Veterans Stand for Standing Rock and plan to act as a human shield around protesters demonstrating against the Dakotas Access Pipeline.
Over 2,000 members of Veterans Stand for Standing Rock are planning to travel to a campsite near Cannon Ball, North Dakota, to create a human barrier between protesters and law enforcement this weekend. The news comes just a day following the US Commission on Civil Rights accusing law enforcement of using "military-style equipment and excessive force" against Native American protesters.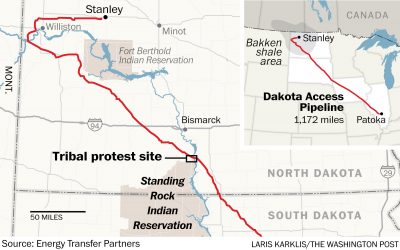 Errick Lizandro Marroquin, one of the Veterans Standing for Standing Rock members, told RT America's Ed Schultz that they acknowledge the risks of coming into conflict with law enforcement or other authorities that have been accused of excessive force.
"When we get there, we're not just Latinos, blacks or whites, we are veterans,"  Marroquin stated. "So, they will be shooting or threatening the uniform of the United States military. But it doesn't have to get to this point."
The veterans are not only hoping to offer some protection to the protesters, but also a respite from demonstrating.
"We want to give them a moment of peace so we can take a little bit of pressure off," Ashleigh Jennifer Parker, a Coast Guard veteran and spokeswoman for Veterans Stand for Standing Rock, told USA Today.
The veterans will be going to the Oceti Sakowin campsite, which has been the target of a number of recent orders from the government. This weekend will be a critical time for the camp, as the US Army Corps of Engineers announced that it would close the protest camp on Saturday. While authorities say they do not plan to forcibly remove protesters, all remaining persons would be subject to prosecution and arrest.
On Monday, Governor Jack Dalrymple (R) ordered an emergency evacuation of the camp, citing harsh weather conditions. In addition, local law enforcement announced plans to block supplies from entering the campsite but walked back on that, claiming they would only check vehicles for prohibited supplies and issue fines of as much as $1,000 for violating the governor's order.View image on Twitter
However, that did little to deter Veterans Stand for Standing Rock, who appear motivated to support the cause.
"I figured this was more important than anything else I could be doing," Guy Dull Knife, 69, a Vietnam War Army veteran, told Reuters.
Dull Knife has been at the campsite for months and will soon by joined by many more veterans, including Rep. Tulsi Gabbard (D-Hawaii) and a major in the Hawaii Army National Guard.
Parker explained to USA Today that she and the other veterans are not concerned about violent treatment, because it would only bring more attention to the cause.
"We're hoping if we stand together in formation and look the aggressors in their face… if they can treat us the same way [as protesters] then that should showcase to the American people what's going on up there," Parker said.
'Excessive military-style force' used against DAPL protesters, says US Commission on Civil Rights 
December 1, 2016
The US Commission on Civil Rights has suspected "disproportionate" use of excessive force and "military-style" equipment by police against the Dakota Access Pipeline protests. The activists have also filed a lawsuit, alleging illegal use of "highly dangerous weaponry."
The Commission has also called for officials to deescalate tensions and guarantee safety of protesters exercising their First Amendment Rights.
Those demonstrating against the pipeline's proposed route under a river less than a mile from the Standing Rock Reservation in North Dakota have been attacked by dogs, seriously injured by rubber bullets and exposed to water cannons in freezing temperatures by law enforcement.
The Commission's statement begins with a reminder that November is Native American Heritage Month and that the protest "have highlighted the intersection of numerous issues the Commission has investigated recently, including the excessive use of force by police, the civil and sovereign rights of Native Americans, and environmental justice."
The Commission expressed concern over reports of "military-style equipment and excessive force" being used against Native American protesters, "who are more likely than any other racial group to be killed by police."
"Protesters have a constitutional right to peacefully assemble and lawfully express their concerns about the environmental and cultural impacts of the pipeline," it said. "We call upon federal, state, and local officials and law enforcement to work together to deescalate the situation and guarantee the safety of protesters to exercise their First Amendment rights."
On Monday, several protesters filed a class action lawsuit against Morton County and law enforcement agencies, who they accuse of "illegal use of force," including "highly dangerous weaponry," on the night of November 20 and early morning of November 21.
Protesters behind the lawsuit are seeking "an immediate court order to prohibit the unlawful use of excessive force."
Nine activists, including five Native Americans, have also filed a mass-action complaint, in which they are seeking "compensatory, general and special damages" after sustaining injuries.
One of the activists, Vanessa Dundon of the Navajo Nation, was hit in the eye with a tear gas canister, shot by police. Another water protector, Jade Kalikolehuaokakalani Wool, had her face burned after two grenades blew up near her head. He had to be hospitalized. Crystal Wilson was shot with a water cannon, tear gassed and shot with a munition. An activist who was filming police was hit from a water cannon and then in the hand with a munition, which resulted in several bone fractures.
"No orders to disperse, or warnings were given before deployment of these high levels of force against the unarmed water protectors. On this night, over 200 water protectors, including Plaintiffs, were injured by excessive police force, some of them very seriously," the group said.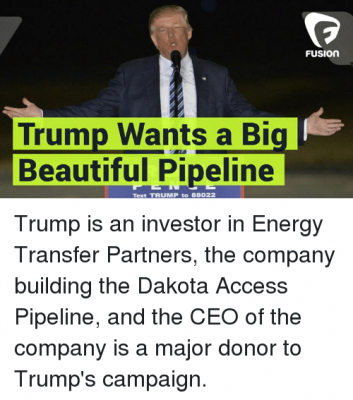 Demonstrators are concerned the pipeline would threaten the water source of the Standing Rock Sioux tribe. The company behind the oil pipeline, Energy Transfer Partner, has seen its pipelines leak at least 18,845 barrels of oil since 2005 and has been fined over $22 million by the US government for environmental and other violations since 2010.
It highlighted a preliminary Environmental Assessment of the pipeline by US Army Corps of Engineers which determined a pipeline route near Bismarck, which the Commission points out is a largely white area, was not viable because of its "proximity to municipal water supply lines.""The pipeline also poses a threat to the water supply of the Standing Rock Sioux, which raises issues of environmental justice and the lack of power of marginalized communities to have a say in the environmental health of their communities," the statement continued.