Jury took one hour to acquit James Eberheart, Jr. (Scrill) of two counts of "assaulting, resisting and obstructing" Detroit cops
Jury discredited conflicting testimony of 4 officers, efforts of prosecutor
Officers testified they would have shot Scrill
Many generations, including members of Call 'em Out, packed court
By Diane Bukowski
January 28, 2017
Note correction: Attorney Victoria Burton-Harris was incorrectly identified in portions of an earlier version of this story as Atty. Victoria Burton-Hill.
DETROIT – "It's just an honor to have a jury of my peers come out and show their true power, to find me not guilty, to see everything that really transpired instead of the allegations that the officers who perjured themselves made," James Eberheart, Jr. (Scrill) told VOD Jan. 27, as jubilant supporters gathered around.
"Just because they are in the uniform of power does not mean they have the power," he continued. "All of my positive energy will now go out to the people across the nation, and I will continue to be of service to the community. It feels great to walk away without two felonies on my record, which would have stopped my growth in life and my work for Detroit's children."
After only one hour of deliberation, a jury with seven Blacks, one Arab-American, and four whites had just found Scrill "not guilty" of two felony counts of "assaulting, resisting and obstructing" Detroit police officers Katrina Duplessis and James Cook. The charges arose from a New Era Detroit (NED) community event on Detroit's northwest side Aug. 6, 2016.
A conviction could have meant four years in prison and an end to Scrill's work mentoring Detroit youth in the schools, among other consequences. New Era Detroit has claimed ongoing police harassment and intimidation, directed at the growing group of young Detroit activists mobilizing for political, economic and social justice at the grass roots level.
According to the Register of Actions, a warrant for Scrill's arrest on the charges was not issued until Sept. 27, 2017, long after he was released after his arrest Aug. 6, 2016, when he was ticketed for blocking the street.
Scrill told VOD earlier, "I work with NED for the concerns of the civilian community, dealing with the right to vote, freedom of speech, the right to assemble, and the Second Amendment, the right to defend ourselves. We do school tours, mentoring youth and getting them more involved in the community. I spearheaded the 'Black to Reality' program, and also the 'Building Young Kings' program at Pershing High School. I have a passion for dealing with special needs children."
Attorney Victoria Burton-Harris, who represented Scrill, assisted by her law clerk/husband Robert Burton-Harris, told VOD after the acquittal, "It's a relief that when officers lie and are caught in their lies, they don't get away with it. They are responsible to their community."
She stressed during the trial that Scrill had only been exercising his right to defend himself against unlawful police conduct, as the Michigan Supreme Court ruled in People v. Moreno (2012). (See http://voiceofdetroit.net/wp-content/uploads/People-v-Moreno-MSC-opinion.pdf.)
Testimony in Scrill's trial lasted two days in front of Wayne County Circuit Court Judge Qiana Lillard.
Assistant Prosecutor Veronique Tu claimed in her opening statement that Duplessis and Cook followed members of New Era Detroit during a street march that began on Joy Road and turned onto Greenview Avenue Aug. 6.
"At some point, they noticed the defendant appeared to have a gun in his waistband," Tu told the jury. "The defendant ignored their command to get out of the street and the officers moved in to get his gun. The defendant didn't say he had a Concealed Pistol License [CPL], and he was charged with resisting and obstructing. That doesn't have to mean physical violence, just a knowing failure to comply with the law."
Attorney Burton-Harris presented the video below, taken by New Era Detroit members, at the beginning of her opening statement to the jury.
"These were young people engaged in going door-to-door to register people to vote," Burton-Harris said. "Some had children with them. Every single week, they went through the neighborhoods to engage the residents. This time, the sidewalks were obstructed by construction, so they went into the street. The cops just waded through the group to where James Eberheart was walking. They didn't say anything. A female officer shoved her hand down the front of his pants from behind him. The gun was inside a holster very close to his genitals. It was loaded, with a hot rod in the chamber, ready to go off at any moment. She got it and then dropped it on the pavement."
She said the officers then grabbed Eberheart as he explained that he had back problems and asked them not to handcuff him too tightly. She said they never spoke to him prior to seizing his gun and him, then belatedly investigated, found he had a CPL, and released him.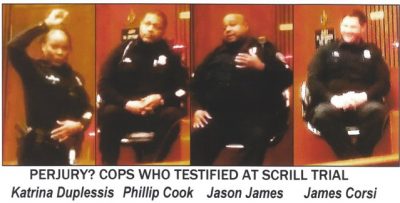 Tu presented testimony by four Detroit cops involved in the incident, who often contradicted each other. They claimed they had given Eberheart several face-to-face orders to get out of the street, but that he ignored them.
Officer Katrina Duplessis testified she and her partner Phillip Cook activated their police car's sirens and emergency lights after observing a crowd of 25-30 people. She said she got out and approached Scrill from five feet away, ordering him to clear the road, but that he ignored her, stood with his fist in the air, and kept on going. She said she observed "the handle of a weapon" in his waistband when his shirt rode up, and advised Cook that he had a gun when she got back in the car.
Duplessis stood and demonstrated Eberheart's alleged stance at the time, pointing to where she claimed his gun was. She said he continued to ignore subsequent commands, and that they then waited for back-up.
"Then I walked up to him and apprehended him," Duplessis said. "My partner grabbed his left arm. I tried to grab his right arm but he pulled it down, placed his forearm over my arm and asked 'What's going on?' I retrieved his weapon, made it safe, and placed it in the scout car."
She said she took the gun because she suspected Eberheart of committing the crime of carrying a concealed weapon. In a video presented by the prosecution, Duplessis could clearly be seen putting her arm abruptly and tightly around Scrill's waist from behind.
On cross-exam by Atty. Burton-Harris, Duplessis admitted that Scrill did not threaten the officers with his fist, or draw and brandish his gun at them. She said she did not recall that Scrill's gun was in a holster, never read him his Miranda rights, and denied that she dropped the gun on the ground after removing it. She said she did not ask him if he had a license to carry the gun, and that he "screamed" he didn't have a gun.
Burton-Harris asked her, "Is attempting to disarm a man, threatening the subject by unsuspectingly grabbing his waistband from behind, meant to keep the officer and the public safe?" Burton-Hill asked. Duplessis responded, "Yes."
Officer Phillip Cook testified that HE was the one who got out of the scout car and approached Eberheart to tell him to get out of the street. He said he was three feet from him, "directly in his face." He reiterated Duplessis' testimony that Eberheart ignored him and put his fist in the air, and that it was then that Cook saw a gun in his waistband.
He said he and Duplessis then followed Eberheart through the crowd, as he was running away, being "evasive." He said Eberheart struggled with him for "three to five minutes" as he tried to grab his left arm while Duplessis was removing his gun, and that Eberheart also struggled with her over the weapon, as a crowd converged around them.
He said Eberheart was in danger of being shot by the police at that point. Burton-Hill asked him on cross, "Your testimony is that he could have lost his life?"
With the jury out of the courtroom, Judge Lillard denied Atty. Burton-Harris' request to admit the firearms statute governing concealed pistol licenses into evidence. That statute specifies that an individual with a CPL must show his driver's license and CPL to an officer "upon request," or upon "being stopped." (See http://voiceofdetroit.net/wp-content/uploads/Concealed-pistol-requirements-mcl-28-425f.pdf.)
Burton-Harris contended that police never made a request to Eberheart, and that he was illegally "stopped." Burton-Harris asked Cook on cross-exam if the CPL disclosure requirement meant that someone passing an officer on the street should say "Good morning to you, top of the morning to you, I'm carrying a concealed pistol."
Cook responded, "Yes."
Cook said he never told Officers Jason James and James Corsi, who had arrived in the back-up unit and followed him and Duplessis into the group, that he suspected Eberheart had a gun.
Burton-Harris also asked him whether he and his partner seized Eberheart because he was leading the group at the front of it, not running away. Cook did not respond.
Officer Jason James of the back-up unit testified that he and his partner James Corsi exited their vehicle shortly after Duplessis and Cook had, and saw them walking up to Eberheart and speaking to him.
"He [Eberheart] turned away and dropped his right arm at his waistband," James said. "She [Duplessis] reached around on his right side. At that time I saw what appeared to be the butt of a gun. Officer Cook grabbed his other arm. A crowd gathered and I attempted to move them away but they would not leave. Then I looked over and saw them [Duplessis and Eberheart] struggling over the gun. I grabbed the defendant's right hand off the gun and put him in an 'arm bar.'"
He said he ordered Eberheart to drop the gun, and put him in an "arm bar." He said he and Cook escorted Eberheart to the police car and detained him for "not following a lawful order."
Judge Lillard refused a defense request to allow James' police report into evidence. On cross-exam, he said his original statement in the report that he observed Officer Cook asking Eberheart for his CDL and paperwork was incorrect.
The defense introduced an expletive-laced police car audiotape in which James and his partner Corsi extensively discussed the first officers' version of the incident prior to exiting their car. Corsi, a two-year veteran, decried the incident, saying such cases were "pushing him more and more out of law enforcement." He said that the first officers needed "to do a better job of communication." He said he saw Duplessis' hand inside the defendant's pants.
Corsi testified on cross that he did not see any interaction between Eberheart and the first two officers, except that he might have heard someone say "Stop." He said three officers, his partner James, Duplessis and Cook, went toward Eberheart and grabbed him.
Judge Lillard denied a defense motion for a directed verdict after the prosecution rested.
The defense opened with the testimony of Regina Walker, who said she was part of the New Era Detroit group that day.
"We were talking to people in the neighborhood as part of our Hood to Hood campaign," which we did monthly, Walker testified. "We gave information on light and gas bills and safety." She said the group frequently went door-to-door during such campaigns.
She said she saw the first police car pull up at Joy Rd. and Greenview, with no lights or siren on. She thought they were going to go away, but then they came back, and Duplessis opened her door, while Cook kept his shut.
"Eberheart was all the way up front," Walker testified. "The police car was in the very back. All of a sudden a bunch of police cars came up. I asked the officers, 'Are you going to shoot'?"
Walker said Duplessis had her hand on her gun and Cook had his on his taser.
"They burst through the crowd and grabbed Eberheart from the back," Walker testified. "The female officer was reaching for his weapon, and when she took it out of the holster she dropped it on the ground."
Walker specified on cross exam that three officers grabbed Eberheart, and four were involved in apprehending him.
She said Eberheart appeared "confused." At that point, Judge Lillard interrupted Walker's testimony with no objection from the prosecution, as she did several times during her testimony. She had the jury leave the room and ordered Atty. Burton-Harris to take Walker outside to instruct her that she could not testify to another person's state of mind.
When Walker returned, she said she was about 15 feet away from the officers and Eberheart. She repeated that the officers had grabbed Eberheart from the back, spun him one way, then tried to turn him the other way, and put one arm behind his back. She said he struggled at first and then stopped once he realized that it was police who had grabbed him. She said she did not hear any of the officers say anything to Eberheart. She said she heard Eberheart telling the officers he had a back injury and not to be rough with him.
"I never heard them give a command to Eberheart," Walker said. "They never approached him before, only when they grabbed him. The other officers jumped out of their cars telling us to disperse. I asked a neighbor if I could sit on her porch to observe. I was not afraid for me, I was afraid for the people on the side where the officer took out his gun and it fell on the ground. It could have gone off. We did have children with us."
She said police had harassed every Hood to Hood event she had participated in. Judge Lillard sustained the prosecutor's objection to that testimony. On cross, Walker said she was only afraid for the people, not for the officers, a point which the prosecution tried to belabor.
Scrill then took the stand himself to testify.
"I was protecting myself," he said. "I was in fear for my life. Someone coming from behind caught me off guard." On cross, he said he did not see who grabbed him. He said he removed his left wrist at first, then looked behind and saw that they were officers and ceased resisting.
He said he had a valid CPL and driver's license, which he showed Cook after he was handcuffed. Scrill said Cook told him he was trying to get his attention previously.
"I asked him what did he say?" Scrill said. "He told me he said 'Excuse me, sir.' I told him there were a lot of 'sirs' out there."
The defense replayed the prosecution's audiotape of the event, during which Cook can be heard demanding that Scrill acknowledge him "as a man" during their conversation at the scout car. On cross, Scrill denied any contact with the police or hearing any orders from them prior to their grabbing him from behind.
After Judge Lillard gave the jury instructions, they retired to the jury room to deliberate for about 15 minutes. When she had the court officer knock and tell them the day was over, they could be heard loudly saying, "Oh, no!" It appeared that they wanted to render their not guilty verdict that day.
Supporters said several jury members congratulated Scrill and his supporters as they left the court Jan. 27.
Contact information for New Era Detroit:
Website http://neweradetroit.com/
Facebook: https://www.facebook.com/NewEraDetroit/
Legal defense GOFUNDME page at https://www.gofundme.com/NewEraDetroit.
CALL 'EM OUT DINNER-NED FUNDRAISER
Call'em Out's Sambo Awards Dinner!
Monday, February 27, 2017 6-10 pm
International Institute
111 Kirby west of Woodward Detroit (west of DIA)
Tickets $10: Proceeds to support New Era Detroit's Mission
Call 313-874-2792 for tickets and further info