"Boil water alerts," floods, sewage backups in Detroit, elsewhere, along with the lead poisoning of Flint signal GLWA is self-destructing
Dismantling of Detroit Water and Sewerage Dept. was an unprecedented act of domestic terrorism for profit
DUMP THE GLWA!
DONATE TO VOICE OF DETROIT PLEASE! IN DESPERATE NEED OF FUNDS! CLICK ON https://www.gofundme.com/VOD-readers-up. THANK YOU!!
By Diane Bukowski
March 6, 2017
DETROIT – The regional Great Lakes Water Authority (GLWA) lifted a "boil water advisory" for a vast swath of Detroit from McNichols south to the riverfront and Linwood east to Conner, as well as the cities of Highland Park and Hamtramck Fri. March 3. The Michigan Department of Environmental Quality (MDEQ) gave their blessings.
"The second round of test results taken by the Great Lakes Water Authority (GLWA) related to the February 28, 2017 boil water advisory have come back clear," the GLWA said in a terse statement. "Given that both sets of test results have proven that there was nothing wrong with the water, GLWA has made the recommendation to the impacted communities that the boil water advisory can be lifted."
Shades of Flint, where three boil water advisories were lifted before nearly 100,000 residents discovered that they had been severely poisoned beginning in 2014, by lead and other contaminants in their water, with dire life-long consequences.
The GLWA did not specify WHO performed the tests in question on the water in Detroit, Highland Park, and Hamtramck. It released no actual test results. Their staff at treatment plants like Water Works Park, where water pressure dropped for two hours Feb. 28, allowing possible bacterial contamination, is made up of "operators," not chemists or other qualified experts.
Nine operators were recently sent to remedial mathematics classes "developed for operators struggling with math or those who needed to review basic math before moving on to more advanced computations required for drinking water operators." according to GLWA CEO Sue McCormick's February report, which she presented at the GLWA's Public Budget hearing March 1, 2017. (See http://voiceofdetroit.net/wp-content/uploads/GLWA-CEO-Report-February-2017.pdf.)
In response to an initial question from VOD at the beginning of the meeting, McCormick blamed the failure of the Water Works Park system on an operator. There was no other presentation on the boil water alert. (See a transcription of McCormick's brief remarks at http://voiceofdetroit.net/wp-content/uploads/GLWA-CEO-Sue-McCormick-comments-March-1-2017.pdf.)
DWSD Director Gary Brown was present, but offered no commentary himself. He spent part of the meeting laughing in asides with a GLWA director next to him. He allegedly had not known of the boil water alert until that morning.
McCormick said the formal monthly meeting of the GLWA Board will take place at a date and time "to be determined" (TBD).
Prior to the formation of the GLWA, McCormick, who previously headed the DWSD for a brief period, boasted that she had eliminated 41 percent of the staff in that department. Detroit's Wastewater Treatment Plant is now run by the Toronto-based EMA, which has eliminated nearly all the experienced DWSD staff there, including chemists and engineers. EMA recommended earlier that DWSD lay off 81 percent of its workforce.
______________________________________________________________ DWSD Chemist Saulius Simiolaunias after GLWA 3/1/17 meeting
"It is terrible," Saulius Simiolaunias, an internationally renowned retired Senior Chemist from the Detroit Water and Sewerage Department, told VOD. "They have people who are not chemists, just operators. They don't do the right tests. They need people who know mathematics, to know how much chlorine or other chemicals to add to the water supply. The MDEQ is always covering for them. They are just interested in getting their money. I have challenged them many times. Sue McCormick is just making double-speak. Her reports at the GLWA meetings are long but nonsensical."

Simiolaunias said he will be giving a presentation at the International Association for Great Lakes Research 60th annual conference, to be held in Detroit from May 15 through 19, 2017. See http://iaglr.org/iaglr2017/ .
During the meeting, Carolyn Doherty, a nurse from Royal Oak, commented on the "poor condition" of water provided by the GLWA.
"Water rates and shut-offs are excessive," Doherty said. "We are surrounded by water. The price should be less. You are serving corporations instead of concentrating on long-term prevention [of crises]."
Representatives from other suburbs similarly complained about water rates and condition.
McCormick did not give an updated report on what is happening with water shut-offs in Detroit, as she used to in her executive reports for the DWSD. But the DWSD website for Feb. 15, 2017 showed the figures to the right on various such issues.
The Feb. 28 "boil water alert" was not the first emergency for the GLWA for Detroit since its formation in 2015 although it was by far the most extensive in DWSD history.
In mid-January this year, according to the publication Great Lakes Now, ". . . .more than 100 complaints came in from residents in Allen Park, Ecorse, Southgate, Lincoln Park and other downriver communities in the Detroit area . . . Some residents reported feeling ill from drinking the sulphur-smelling water, and some said their pets got sick, too. They complained about discoloration, smell and taste."
In a press conference, GLWA officials said the problem was due to the twice-yearly clean-up of catch basins at the Southwest Water Treatment Facility, which stirred up sediment.
"Great Lakes Now" (GLN) said McCormick called the problem an "aesthetics issue" caused by turbidity, or cloudiness or haziness in water.
"We don't want taste, odor or color in our drinking water but they are not a health issue," McCormick said according to GLN. She said all test results performed by GLWA met EPA standards. "The water has been safe to drink one hundred percent of the time," she claimed.
The GLN added, "GLWA's Chief Operating Officer of Water and Field Services, Cheryl Porter, says the system is tested for safety 24 hours a day, 7 days a week. She says, 'We are still doing our investigation. This was an unusual situation with an unusual amount of solids.'"
In July, 2016, another boil water alert was issued for Detroit's southwest side. Issues involved there have not yet been resolved.
"Detroit Water and Sewerage Department (DWSD) customers who are in the area between West Jefferson to the south, Vernor Highway to the north, Miller Road to the west, and Livernois to the east are advised to boil their drinking water until further notice," the DWSD said in its alert. "Some customers in the area have reported low pressure which was caused by a 42-inch water transmission line break occurring this morning."
As part of her February CEO report, McCormick described the progress of the replacement of the 42-inch main with a 30-inch main.
"Construction of the 30-inch water main under the Rouge River started on January 19, 2017," McCormick. "The final tie-ins on both sides of the river was delayed due to leaky gate valves and higher river water levels coming through the existing main. The final tie-ins of the new 30-inch main was completed on February 18th, and disinfection of the main is underway. The main will be in service by Friday, March 3rd, contingent upon water quality results."
After storms in July and August, 2016, sewer back-ups contaminated the basements of homes in the Jefferson-Chalmers and Cornerstone Village neighborhoods on Detroit's east side, causing an outcry from residents there.
DWSD boasted that it took "historically unprecedented steps to ensure homes in the area impacted by recent storm activity are professionally cleaned and sanitized." That region is one of those slated for ongoing gentrification efforts, unlike the southwest side, which got no such professional clean-up and sanitation efforts. Yesterday, DWSD Director Brown announced that the city would pay more than $11 million in claims from homeowners affected by the flooding.
Later, on Sept. 29, 2016, flash flooding affected freeways, streets and building basements across Metropolitan Detroit, including the Lodge Freeway underneath Cobo Hall. Gushing water and sewage backups were part of the scenario. Flash flooding recently affected Detroit's southeastern suburbs as well.
The DWSD said the flooding on the Lodge in Sept. 2016 was the responsibility of the Michigan Department of Transportation. It blamed street flooding on clogged sewer catch basins.
"Today's flash flooding is a reminder that residents and businesses can minimize street flooding by ensuring leaves, twigs, grass clippings and other debris are cleared from the street and in front of their property," the DWSD told residents then. "Left remaining on the street, these items will clog the catch basins that cause flooding. DWSD encourages residents and businesses to use rakes, shovels and brooms to remove the debris and place in a proper refuse bag."
However, retired Wastewater Treatment Plant (WWTP) workers blamed the similar although more massive metro Detroit floods of August, 2014 on EMA's elimination of workers at the WWTP, putting an end to 24/7 supervision of sewage pumps there. They said three of the major pumps there were down, causing sewage-filled flooding when the area experienced heavy storms. The GLWA had not been constituted yet but was in the wings. In preparation, under the direction of U.S. District Judge Sean Cox, massive lay-offs were already occurring in the Detroit Water and Sewerage Department.
See http://voiceofdetroit.net/2014/08/21/near-catastrophic-failure-of-detroit-sewage-pumps-caused-detroit-floods-toledo-water-crisis-city-retirees-say/
More recently, VOD reporters the late Cornell Squires and Diane Bukowski interviewed laid-off workers from DWSD, on Nov. 1, 2015. They told VOD, "If people think things are bad in Flint, wait until they see what's going to happen with THEIR water!"
The workers, Edward Collins, Jr., Dean E. Fox Sr., and Sammy Barber showed lay-off notices with "elimination of job title," not "lack of work," listed as the reason for termination, or no reason at all. Their layoffs were part of hundreds McCormick had just enacted, ignoring seniority and with it, levels of experience.
They referred VOD to one Wastewater Treatment Plant worker still on the job, in the four-floor facility, who VOD did not identify by name to protect his job.
He told VOD, "There are sometimes only two workers on a floor, sometimes one, and sometimes none at all. I can hardly leave the job because they've laid off about 70 people, or transferred them, or switched them around to other jobs. They were already short 300 workers. One worker recently had a major heart attack. The people running this place [EMA] are totally incompetent. They're dumping sewage sludge back in the river, and they just got fined for that. They're piling up other sewage sludge outside the new [NEFCO] sludge-drying plant across from us, because they haven't been able to get it working yet."
See http://voiceofdetroit.net/2015/11/08/layoffs-flood-detroit-water-dept-risk-public-health-rising-debt-higher-rates-more-shut-offs/.
FLINT HIT WITH DIRE CONSEQUENCES FIRST; MAYOR REPORTS CITY NOT READY TO TREAT ITS OWN WATER UNTIL AUGUST, 2019
The lead poisoning of the entire city of Flint, a cold-blooded act of domestic terrorism against another majority-Black city, first revealed the consequences of a decades-long drive by out-state forces to dismantle DWSD. Flint's nearly 100,000 residents and their children will suffer dire lifetime physical and mental health consequences.
Flint Mayor Karen Weaver recently announced that Flint will not be able to begin processing its own water from Lake Huron through the Karegnondi Water Authority's new pipeline until at least August, 2019.
"The previously submitted 'Flint Water Treatment Plant Improvement Plan' includes a schedule for the design, permitting and construction of the proposed improvements," Weaver wrote in a letter to the U.S. Environmental Protection Agency Feb. 28. "To expedite completion of the project and minimize cost, a design/build project delivery method is proposed. Based on this approach, an August, 2019 completion date is anticipated for the treatment plant improvements."
Meanwhile, the city government is still recommending that Flint residents used bottled or filtered water, not the water currently coming from the Great Lakes Water Authority.
The most shocking thing about Weaver's announcement is that Flint should never have had to treat its own water in the first place. Since 1967, it received its water from DWSD, water that had been treated well enough to keep lead contamination below state and federally-approved levels. The city's water treatment plant existed only to provide a two-week emergency back-up supply.
VIDEO: Bond Buyer of the Year Award to Karegnondi Water Authority; poisoning Flint for the profits of the banks
The push to get out of the DWSD system, allegedly to get customer costs lowered, was motivated by pure political and corporate greed. Genesee County Drain Commissioner Jeff Wright and his campaign contributors initiated a project to build a pipeline from Lake Huron that duplicated DWSD's water supply pipeline, in 2012. The pipeline, built and run by the Karegnondi Water Authority, was supposed to be up and running by 2015, but has not yet gone into operation.
What Wright and his contractor cronies did not advertise was the fact that Karegnondi never had any plans to treat water from Lake Huron, leaving it up to individual communities that bought into the system to provide their own treatment facilities at greater cost to their residents. The Flint water crisis was not a result of using Flint River water as opposed to Lake Huron water. DWSD was already supplying water from Lake Huron to Flint and the surrounding area.
VOD previously quoted DWSD spokesman Bill Johnson regarding a state-commissioned study that showed DWSD remained the cheapest and most effective way for Flint residents to get clean water.
"The Flint City Council's approval of the Genesee County Drain Commission-backed idea to link Flint and a proposed multi-county connector effectively launched the greatest water war in Michigan's history," Johnson said in a press release. "The action ignores a credible state-sponsored study that came out against the ill-advised Karegnondi Water Authority (KWA) project. And the vote makes no connection to Flint's fiscal reality. All things considered, the City of Flint is best served by the Detroit Water and Sewerage Department (DWSD)." (See full release at http://voiceofdetroit.net/wp-content/uploads/water_war_undermines_flint-dwsd_relations-2013-14.pdf.)
VOD wrote, "The study concluded that the cheapest and safest option out of eight through 2042 for Flint's water supply was to provide it directly through an adaptation of DWSD's Imlay City pumping station, which is closer to Flint. DWSD has always provided water for the area through its Lake Huron Water Treatment Plant at Ft. Gratiot, Michigan, which sends it to the Imlay City station to go to Flint. Flint then supplies it to other regional customers."
See VOD story at http://voiceofdetroit.net/2016/02/15/bi-partisan-deal-led-to-flint-water-poisoning-for-profit-the-karegnondi-water-authority-kwa/.
REVOKE CONTRACT WITH GLWA!
In forming the regional GLWA under the Detroit bankruptcy declaration, Wall Street greed has thus devastated the previously world-class Detroit Water & Sewerage Department (DWSD) and the people it served, 40 percent of Michigan's population.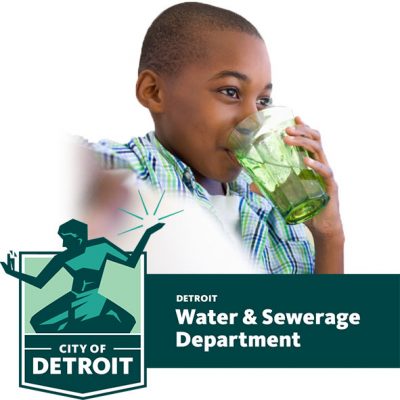 That utility, built and owned by the people of Detroit, had provided clean water at reasonable rates since its founding in 1836. Eventually, it included seven counties and 126 municipalities. It was the third largest such department in the U.S. Its Wastewater Treatment Plant was the largest in the world.
DWSD was the crown jewel of the assets belonging to the people of the nation's largest Black-majority city. Now, under the GLWA, it presents a constant threat to the health and well-being of its customers.
The current City of Detroit charter says,
"The people have a right to expect aggressive action by the City's officers in seeking to advance, conserve, maintain and protect the integrity of the human, physical and natural resources of this city from encroachment and/or dismantlement.

"The people have a right to expect city government to provide for its residents, decent housing; job opportunities; reliable, convenient and comfortable transportation; recreational facilities and activities; cultural enrichment, including libraries and art and historical museums; clean air and waterways, safe drinking water and a sanitary, environmentally sound city.
It also mandates a vote of the majority of Detroit's residents prior to selling or leasing either the Detroit Water and Sewerage Department or the Department of Transportation, or any of their constituent parts. That Charter is still in effect, despite denials by Detroit's former Emergency Manager Kevyn Orr and his boss, Michigan Gov. Rick Snyder. The GLWA has not provided "clean air and waterways, safe drinking water and a sanitary, environmentally sound city," as mandated by the people of Detroit, who voted on this Charter in 2012.

It is time for Detroit to revisit the terms of its contract with the GLWA and revoke it by any means necessary.
DUMP THE GLWA NOW!
DONATE TO VOICE OF DETROIT
To our readers: Voice of Detroit is published pro bono. You don't have to pay to access our stories. But there are substantial out-of pocket costs associated with its publication, including our recent purchase of a new computer after the old one crashed. Any donation amount is much appreciated. You can donate by clicking https://www.gofundme.com/VOD-readers-up
Also, visit our new Facebook page, https://www.facebook.com/voiceofdetroit.net/where all new stories are linked to publicize them. It's a convenient way to access Voice of Detroit. The linked stories will take you to our actual website. Please be sure to hit the home page for each story posted on Facebook to see the full range of recent articles, and click on those that interest you.
SOME RECENT RELATED STORIES:
http://voiceofdetroit.net/2017/03/01/boil-water-alert-the-glwa-doesnt-care-about-detroit-hamtramck-and-highland-park/
http://voiceofdetroit.net/2014/09/10/detroit-bankruptcy-great-lakes-water-authority-to-steal-largest-asset-of-largest-u-s-black-city-4/
http://voiceofdetroit.net/2015/06/16/authority-approves-bankruptcy-theft-of-detroits-water-system-retirees-begin-referendum-campaign/
http://voiceofdetroit.net/2016/02/15/bi-partisan-deal-led-to-flint-water-poisoning-for-profit-the-karegnondi-water-authority
http://voiceofdetroit.net/2015/11/08/layoffs-flood-detroit-water-dept-risk-public-health-rising-debt-higher-rates-more-shut-offs/
http://voiceofdetroit.net/2015/10/13/will-regional-takeover-of-detroit-water-make-residents-of-6-counties-drink-flint-water/
http://voiceofdetroit.net/2015/07/10/regional-water-czars-plan-permanent-shut-offs-to-large-parts-of-detroit-while-increasing-rates/
http://voiceofdetroit.net/2014/08/21/near-catastrophic-failure-of-detroit-sewage-pumps-caused-detroit-floods-toledo-water-crisis-city-retirees-say/
#GLWA, #DWSD, #Layoffs, #Bonddebt, #Watershutoffs, #WaterisLife, @WeThePeopleDet, #OurWaterOurVote, #DetroitWater, #Right2Water, #Detroit2Flint, @PeoplesWaterDet, ‪#‎neweradetroit, ‪#‎stopthewatershutoffs, #Beatbackthebullies