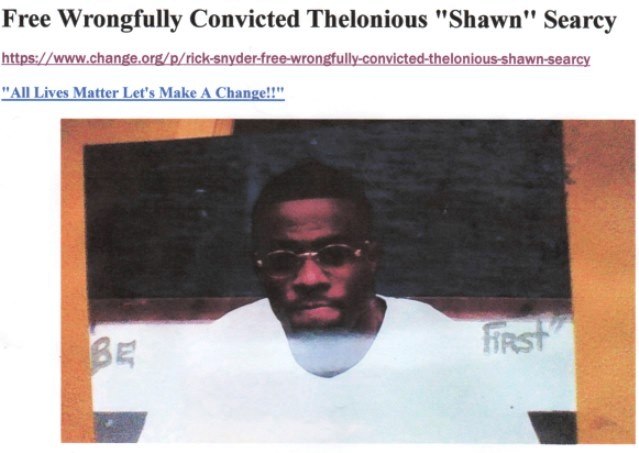 See petition above at https://www.change.org/p/rick-snyder-free-wrongfully-convicted-thelonious-shawn-searcy.
Smothers signed affidavits provided to police and media, gave taped interview to Scott Lewis on Segars killing
 Earlier Smothers helped free Davontae Sanford, convicted of 4 murders committed in 2007 by Smothers and accomplice
 Same players from Detroit Police, Wayne County Prosecutor, involved in Searcy, Sanford frame-ups  
Mainstream media has ignored Smothers' confession to Segars murder since 2015 
By Diane Bukowski 
June 8, 2017, updated June 12, 2017 
Update April 20, 2021: DeAnthony Witcher, referenced in story below, stated in a phone call to VOD Editor Diane Bukowski that he is NOT a police  informant and denies all allegations made against him in this and subsequent stories on the Thelonious Searcy case.
DETROIT – Admitted hitman Vincent Smothers, who helped free Davontae Sanford,  wrongfully convicted of four murders that occurred when he was 14, is also campaigning to free another man, Thelonious Searcy. Detroiter Searcy, now 37, known by the nickname "Skinny Man," has been serving a life sentence for the murder of Jamal Segars since 2005.
But Smothers says he and a partner, now deceased, killed Segars and wounded Brian Minner Sept. 6, 2004 near City Airport in Detroit. He attested to the killing in a letter and notarized affidavit supplied to Searcy in 2015.
Wayne Co. Assistant Prosecutor Patrick Muscat and Detroit Police Homicide Investigator Dale Collins played leading roles in both the Sanders and Searcy cases.
Searcy's grandmother Edna Richardson hired private investigator and former Channel 7 reporter Scott Lewis, who conducted a taped interview with Smothers. In the interview, Smothers confirmed he had authored both documents and sent the affidavit to the mainstream media and the Detroit Police Department (DPD).
Above is Scott Lewis' taped interview with Vincent Smothers on the Segars' killing. (The photo is from a New Yorker article, "The Hitman's Tale.") Lewis provided a copy of the phone interview to VOD with the consent of  Searcy's grandmother Edna Richardson.
Below is the letter Smothers says he provided to Searcy through an intermediary when they were locked up in the same prison. In the letter, he refers to ongoing proceedings in the case of Davontae Sanford, wrongfully convicted in a frame-up by the Detroit Police Department and the Wayne County Prosecutor in 2008.
Sanford, 14 at the time of the so-called "Runyon Street" murders in 2007, was finally freed after nine years in the Michigan Department of Corrections subsequent to Smothers' confession to the slayings, a Michigan State Police investigation, and the intervention of two Innocence Clinics.
To date, Wayne County Prosecutor Kym Worthy has not charged Smothers or his accomplice with the Runyon Street killings. Her office and Sanford's attorney Valerie Newman negotiated an agreement to dismiss the charges against Sanford "without prejudice," meaning they can be brought back again. Sanford was therefore not fully exonerated.
Smothers is currently serving a sentence of 50-100 years at the Ionia Correctional Facility for a total of eight other murders to which he confessed.
Below is the letter he gave to Searcy through an intermediary while they were incarcerated at the same prison. Shortly afterwards, Searcy says, he was transferred to the Chippewa Correctional Facility in the Upper Peninsula, where he remains.
"I'm coming forward with this information about the murder of JAMAL SEGARS, because I heard it's a innocent man sentenced, for this crime," Smothers says in his notarized affidavit, dated Dec. 27, 2015. "I want to tell the truth about every vile murder I committed in the city of Detroit. I want to give all my victims family closure for their loved one's death." (See full affidavit at http://voiceofdetroit.net/wp-content/uploads/VSaffidavitSegars.compressed-1.pdf.)
Smothers continued, "On September 6, 2004, approximately around 9 p.m., me and my man JEFFERY DANIELS approached a silver 2 door 2004 Corvette. The driver was this man name JAMAL SEGARS, on the street, we called him 'Q.' He was a certified 'Dope Boy' from the Buffalo Projects off of Nevada."
He then recounted how Segars was stranded in traffic on Conner at the corner of Whithorn near Gratiot, during a crowded "Black Party" the day after Labor Day. He says Minners got in the car before the killing.
"'Q' looked back at me," said Smothers. "Without any hesitation I fire three shot's, from my chrome and black HK 40 into 'Q's back. Soon as I fired, Jeffery fired into the air. When he fired into the air, the passenger ducked down as if he was grabbing something from the floor. I proceeded to fire (3) more times into the left side of 'Q' from the driver side, then I fired a fatal shot towards his head. As I stood over him, I snatched $300 from his left hand, then I fled back to JEFFEREY'S car."
He said Daniels had an HK .45 handgun.
Smothers said two Detroit cops witnessed the murder and assault. He said a black Detroit police squad car crashed into another car at a Shell gas station on Conner, in pursuit of his accomplice's car. He said the passenger cop, "a Caucasian male wearing a gray hood and black pants," got out firing shots at Daniels, but he eluded the cops in a subsequent pursuit.
Smothers said he told Daniels to get rid of the HK .45  gun he had with him, although Daniels wanted to keep it. Two weeks later, Smothers said, Daniels was killed on Sept. 21, 2004, allegedly in a drug deal gone bad.
"A few months after Jefferey was killed they arrested a guy that looked like JEFFERY for "Q' murder, that shit fucked me up. I needed to come forward with this murder as I done in previous case."
Searcy told VOD in a letter dated May 22, 2017, "The People v. Thelonious Searcy is a case filled with corrupt practices from the Detroit homicide section, the Prosecutor's office, the chief Judge of Frank Murphy Hall of Justice, and my defense attorney Robert Mitchell.
"This is a shame that prosecutors and judges are allowed to break the law freely in Detroit. [I] have been sitting in prison because OUR judicial system failed to properly investigate [my] case. Relying on lying witnesses and informants is common in Detroit."
Searcy was married in 2001 and said he is "the proud father of two daughters." He was divorced in 2015.
Searcy has no previous criminal record. He graduated with honors from Denby High School in 1999, along with a certificate of achievement in journalism. Afterwards, he said he worked at Home Depot as a hi-lo driver and at CVS as a stock employee.
He added, "Since my incarceration, I have still maintained employment, and I have taken over 14 self-help classes. Out of the 14 classes, I've facilitated four. I've also taken classes through the University of Michigan-Dearborn, through the Inside Out program. "
He also sent recommendations from supervisors of various jobs he has held while at MDOC.
Searcy is currently serving concurrent sentences oflife without parole for first-degree murder, 15 to 30 years for assault with intent to murder, and two years for "felony firearms."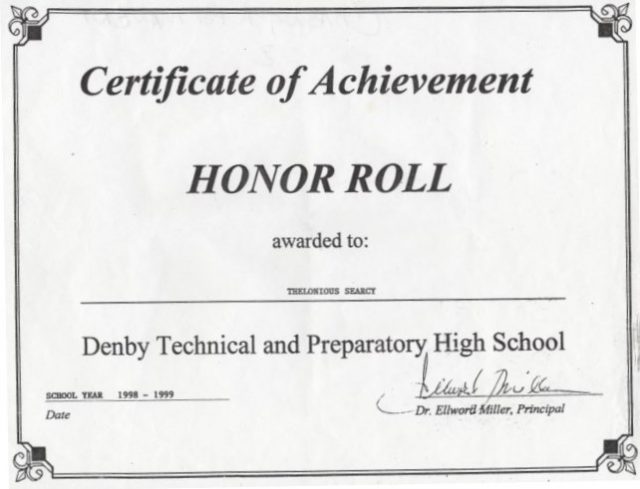 VOD has twice requested copies of the court file on this case from the Wayne County Clerk's office. According to a note on the second request, the file was removed by  "Lee" on March 20, 2017. To date, the identity of "Lee" is a mystery. VOD consulted the Court Administrator's office on the whereabouts of the file, who referred it to David Baxter, Deputy Clerk.
Baxter has been unable for over a year to find the original copy of the criminal court file for juvenile lifer Charles Lewis, incarcerated since 1977 in MDOC. He also cannot explain why Lewis' entire Register of Actions prior to 2000 has been obliterated from the court's computer records.
Lewis is currently appealing Wayne County Circuit Court Judge Qiana Lillard's order to "re-construct" the file, citing legal precedents showing his case should be dismissed. He has retained the office of noted defense attorney Gregory Rohl to represent him.
Fortunately, Searcy's grandmother Edna Richardson retained copies of most of his trial transcripts and documents from his Detroit Police Department homicide file, which she loaned to VOD for review.
They corroborate Searcy's allegations of multiple corrupt practices by public officials. These include Wayne County Assistant Prosecutor Patrick Muscat and DPD Investigative Officer Dale Collins, the Officer in Charge at Searcy's trial, as well as Wayne County Criminal Court Chief Judge Timothy Kenny, who presided over Searcy's case.
The Register of Actions for the murder case indicates a warrant for Searcy's arrest was issued Sept. 10, 2004. He was tried and convicted by a jury in front of Judge Kenny from May 2 through May 9, 2005, and sentenced by Kenny on May 23, 2005.
After several unsuccessful appeals to higher courts, Kenny dismissed a motion for relief from judgment after a post-conviction hearing on July 2, 2015.  (See http://voiceofdetroit.net/wp-content/uploads/Thelonious-Searcy-Register-of-Actions-04-012890-01-FC-Homicide.)
Searcy says he filed a motion related to "newly discovered evidence " in Judge Kenny's court on July 22, 2016 which has not yet been heard. It is not included in his register of actions. He currently has no legal representation.
According to Searcy's trial transcripts, the defense produced eight eyewitnesses who said Searcy was at a family holiday barbecue on Balfour in Detroit at the time of the crime.
But Assistant Prosecutor Patrick Muscat's theory of the case was that Searcy killed Segars in a case of mistaken identity at the "Black Party" near City Airport. DPD Homicide Investigator Dale Collins, the Officer in Charge, recruited most of the witnesses to back up that theory. Muscat was also the prosecutor for  many years in the Davontae Sanford frame-up, while Dale Collins helped obtain a false confession from Sanford and is notorious for his use of jail-house informants in other cases.
Muscat claimed that Searcy mistook Segars' silver Corvette for a silver Corvette that DeAnthony Witcher was driving nearby during the "Black Party." Muscat and Collins recruited Witcher as the star prosecution witness despite Witcher's stated reluctance to be a "snitch."
Judge Kenny, however, forced Witcher to testify by giving him "use immunity" allegedly based on police having discovered Witcher in 2003 with a small amount of marijuana.
Witcher testified he was at the scene near the Corvette occupied by Segars, also driving a silver Corvette. He said he received numerous calls regarding whether he had been shot.
He also testified that Searcy shot him inside Witcher's home on Nov. 16, 2003 over a money dispute, and later continued to threaten to kill him. The DPD never brought any charges against Searcy for this alleged incident. But they claimed to have found marijuana in the house at the time, the pretext Kenny claimed he used to force Witcher to testify.
At the trial, Witcher was allowed to testify under a state court rule regarding "Similar Acts" (MCR 404b) about this incident despite the fact that it was never adjudicated. Judge Kenny allowed him to stand up, lift his shirt, and show the wounds from the shooting allegedly done by Searcy. Searcy says that caused "extreme prejudice" against him with the jury.
Muscat and Collins additionally recruited two women, Latasha Boatright, Witcher's half-sister according to her cousin's sworn affidavit, and Kimberly Jefferies, a friend of Witcher's. They positively identified Searcy as the killer despite numerous discrepancies in their accounts, during the trial, which caused defense attorney Mitchell to ask Jefferies at one point if she was even at the scene during the murder.
One other "eyewitness" had not participated even in a photo line-up prior to the trial, to identify Searcy as the shooter. Another said he could identify Searcy if he saw him in the same clothes the shooter wore, but not by face alone.
Searcy told VOD in a letter that Investigator Collins picked DeAnthony Witcher up prior to the issuance of his arrest warrant, allegedly to make a statement on the Nov. 2003 incident. At that time, he believes, Witcher implicated him in the City Airport "Black Party" murder of Segars.
Searcy also discovered a copy of a DPD report  on the arrest of Witcher on Nov. 18, 2004, driving a BLUE Corvette, in illegal possession of a 9 mm handgun, one week before Searcy's arrest on Nov. 30, 2004.
Police never charged Witcher in that case, although they impounded the blue Corvette.
The report was in the DPD homicide file all along. Searcy's grandmother obtained the file through a Freedom of Information Act request.  This report, which would have undermined the prosecution's "mistaken identity" theory, was never produced at Searcy's trial by the prosecution.
Searcy's appeals attorneys from the State Appellate Defender's Office as well as Gerald Lorence, also insisted in letters to him that they could not find any evidence of this incident.
According to court records, Witcher was charged with second-degree murder, assault with intent to murder, and felony firearms in May, 2000, but eventually acquitted, with a twist.
Witcher was bound over and remanded to the Wayne County Jail. However, the late retired Third Judicial Circuit Court Judge Mary Waterstone, originally assigned to his case, reduced his bond. Waterstone left the bench in 2005 after a scandal involving her private agreement with Asst. Wayne County Prosecutor Karen Plants to allow Inkster police and a paid informant, Chad Povish, to lie about his status during a trial involving a 103-lb. cocaine bust.
Plants was fired, and perjury-related charges were brought against her and Waterstone. Plants served a six-month jail term, while Waterstone's charges were dismissed.
The Register of Actions in Witcher's second-degree murder case  shows it was transferred to Judge Robert Colombo from Waterstone. Colombo conducted a bench trial and acquitted Witcher of all charges in June, 2001. See http://voiceofdetroit.net/wp-content/uploads/DeAnthony-Witcher-Register-of-Actions-Murder-Acquittal-2000.pdf
Searcy said his trial attorney Robert Mitchell, who died in December, 2016, refused to call DeAnthony Witcher's uncle Harvey Witcher to the stand. Witcher wrote the affidavit below, stating that he overheard DeAnthony Witcher making arrangements to pay off Kimberly Jefferies to testify falsely against Searcy.
The letter is difficult to read, but VOD heightened the contrast and discerned the following:
"About the Skinnyman case. Him and my nephew had a misunderstanding over some drugs. Things had got out of hand to the point where people's lives was getting played on and lied on. Like for instance, that girls name "Kim & Tasha" I think that's they names I'm isn't for sure. But Kim I'm for sure about her name because I was listening when Lil Dee [DeAnthony Witcher] said he had to go on and pay her off, to lie on Skinnyman. Yours truly, Mr. H. Witcher #149304"
The DPD and Prosecutor intended to use a separate assault with intent to murder case against Searcy during his trial, under MCR 404b," but Kenny ruled against its admission after hearing testimony on the case in a separate evidentiary hearing. Ironically, Harvey Witcher was the victim in that 2003 case. But Judge Kenny was forced to dismiss those charges on May 23, 2005, "in the interests of justice," the day he sentenced Searcy for the Segars killing.
Witcher testified that he had told police a "skinny guy" shot him, and specified that he was NOT referring to "Skinny Man." He said Searcy, who was in the courtroom, was definitely NOT the perpetrator of that assault.
Police officers at the scene in the car that crashed testified that the man they pursued was six feet tall and 200 lbs., while Searcy is 160 lbs. Brian Minner, who was shot, testified he could not identify Searcy.
The DPD arrested Searcy for the Segars killing at the home of his grandmother, Edna Richardson, in Clinton Township, on Nov. 18, 2004. DPD officer Robert Bulgarelli testified at the trial that he forced entry into Mrs. Richardson's home, claiming he had an arrest warrant.  He said he found a handgun in the bedroom dresser, which later was used as evidence at trial.
Mrs. Richardson told VOD that Bulgarelli showed  neither an arrest warrant or a search warrant. Searcy's defense attorney Mitchell never challenged the incident as an illegal search and seizure.
Mrs. Richardson told VOD that Jeffery Daniels, a cousin of Rodney Daniels, the father of her granddaughter's child, left the gun at her house after giving her a ride home.
She and Searcy's mother both testified at trial that the gun did not belong to Searcy and that he was not living there at the time of his arrest. Daniels was the man identified by Smothers as his accomplice during the Segars shooting, who was killed two weeks later in a drug-related incident.
According to Searcy's trial transcripts, no fingerprint evidence was produced related to the handgun, an HK .45 caliber, to show that he had handled it. Mitchell did not object to this, although he objected to the late production of ballistics evidence, which was not given to him until the day before the trial.
Officer Velma Tutt, an evidence technician, testified to collecting numerous casings from both .40 caliber and .45 caliber bullets at the scene of Segars' murder, in keeping with Smothers' account of the crime.
Belated ballistics testing of the casings allegedly showed that the .45 caliber casings came from the gun found in Mrs. Richardson's home. But the actual firearms examiner who performed the testing was not available at the trial for medical reasons.
Judge Kenny nonetheless qualified Detroit police officer Kevin Reed as an expert and allowed him to testify to his supervisor's reports, although the transcript shows he had only worked as a firearms examiner for one year.
Searcy says that was a violation of his "Brady" rights to confront his accuser. Additionally, Reed's faulty ballistics results in the case of Jarrhod Williams later led to the closing of the Detroit crime lab in 2008 after numerous other errors were found.
A task force formed by prisoners, their families and supporters conducted numerous protests then, but few prisoners convicted on likely faulty forensic evidence have ever seen freedom since. One of the Task Force's main objectives was to establish a national crime lab independent of police and prosecutors, who they claimed deliberately falsified evidence. That never happened.
DPD Homicide Investigator Dale Collins has a long record of using jailhouse informants and other questionable practices while employed with the DPD.
According to the Michigan State Police report on the Davontae Sanford case, and to a motion for relief from judgment filed by two Innocence Clinics,  Sgt. Collins assisted DPD Investigator Sgt. Michael Russell in eliciting a false confession from Sanford despite clear direct eyewitness statements taken by Detroit police the day after the "Runyon Street" killings which indicated that the killer was taller and older than Sanford.
The MSP investigative report cites Collins' report that he, Russell and Commander James Tolbert drove Sanford around the neighborhood of the Runyon Street house for several hours, contradicting their court testimony that Sanford was first interviewed at DPD headquarters. It was there that Tolbert drew the diagram of the Runyon Street house which Sanford filled in after the cops showed him pictures of the crime scene.
The motion for relief from judgment says Collins told Sanford that his "uncle," Police Commander Bill Rice, was "my motherfucking man, you need to help the police" and "[y]ou better tell us what you know.". . . After this exchange, Collins and Russell, joined by Commander James Tolbert, took Davontae first to Osborn High School, then on a drive around the neighborhood. They eventually brought Davontae to the crime scene where, at 3:13 a.m., a technician swabbed Davontae's hands and face for gunshot primer residue – a test that later came back negative. The police then took him to the homicide bureau at 1300 Beaubien."
Collins has also been linked to the use of "jail-house snitches" in numerous  publicized cases, where the informants got their sentences reduced and received special treatment at the Wayne County Jail. Collins is featured in a 2015 article in Truth Out, "Ring of Snitches–How Detroit Police Slapped False Murder Convictions on Young Black Men." 
The article includes a "suppressed" (secret) transcript of a 1994 hearing in Recorders Court Judge John Shamo's chambers on a motion for relief from judgment filed by MDOC prisoner and alleged jailhouse snitch Joe Twilley. In it, Collins testified on Twilley's behalf for a reduced sentence, primarily to protect him from retaliation from other prisoners. In the transcript, Collins admitted using Twilley in at least 20 cases to get convictions. Recorders Court Judge Shamo dismissed the case against Twilley, according to on-line Third Judicial Court records. The transcript can be read at http://voiceofdetroit.net/wp-content/uploads/Twilley.Resentencing.pdf.
Also included in the article is memo from Deputy Chief Robert Agacinski alerting the prosecutor's office to the practice of rewarding "jail-house snitches" for false testimony. It refers to Dale Collins as well.  Read memo at http://voiceofdetroit.net/wp-content/uploads/Agacinski-Memo-on-jailhouse-informants.pdf
At his sentencing, Searcy made a dramatic statement predicting that he would eventually be found innocent and freed.
"I'm not guilty of these charges brought against me. I didn't kill Jamal Segars," Searcy said in part. "I didn't shoot Brian Minner. In this situation I thought justice would [prevail]. But still as a young Black man in the system today, I didn't have a chance . . .
"Now you tell me this is justice? It ain't no justice. Do I care about going upstate? Yes, I care, because I got kids too. Yes, I'm married too. Yes, I'm sorry that that guy got killed, but it wasn't on my behalf. I got picked for this case. I got charged for this case. I ain't been able to say nothing during this case. Don't nobody know half the crooked stuff they did with this case.
". . .If it's up to them to believe me, I don't care because I'm against the State. I'm in the system for something I didn't do, and I bet the truth going to come out." (See Searcy's full statement, which also excoriates attorney Mitchell and Inv. Collins, at http://voiceofdetroit.net/wp-content/uploads/TS-sentencing-remarks.compressed.pdf.
VOD thanks Scott Lewis for his work on this case, and for the provision of his interview with Vincent Smothers to VOD, as well as his ongoing, dedicated work on behalf of unjustly convicted prisoners across the state. VOD also salutes Michigan's prisoners and their families for their endurance through unimaginable injustice and suffering.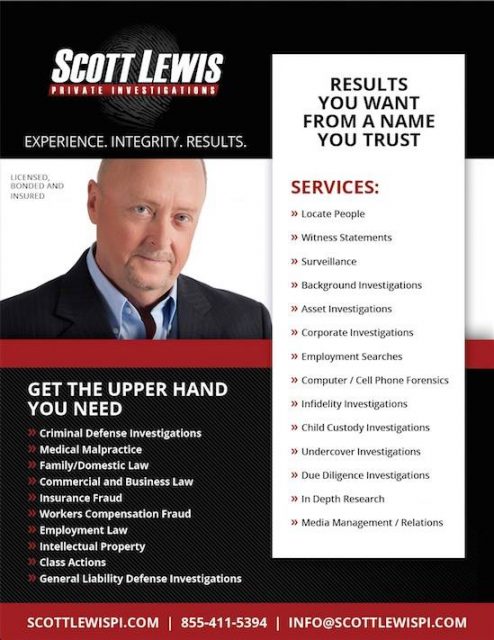 Related articles:
http://www.truth-out.org/news/item/29950-ring-of-snitches-how-detroit-police-slapped-false-murder-convictions-on-young-black-men
http://voiceofdetroit.net/2016/06/23/msp-wayne-co-pros-kym-worthy-knew-davontae-sanford-was-innocent-for-8-years-not-8-mos/
http://voiceofdetroit.net/2016/07/21/davontae-sanford-formally-freed-time-for-charges-vs-kym-worthy-cops-in-frame-up/
http://voiceofdetroit.net/2011/07/15/people%e2%80%99s-task-force-continues-battle-to-expose-crime-lab-crimes-in-protests-at-fed-bldg-city-council/
http://www.newyorker.com/magazine/2012/10/15/the-hit-mans-tale
#FreeTheloniousSearcy, #JailCrookedCopsProsecutorsJudges, #FreeCharlesLewis, #FreeAllWrongfullyConvictedPrisoners