In 2009, 36th District Court Judge Craig Strong sentenced Vincent Smothers to 50-100 years for eight of 12 murders he confessed to.  Strong told Smothers that while he could not bring back the lives of those he killed, he could help others wrongfully convicted for the other crimes. Smothers later helped free Davontae Sanford, convicted for the 2007 killings of four people on Runyon. In 2015, Smothers further confessed to the 2004 murder of Jamal Segars, for which Thelonious "Shawn" Searcy is serving a life sentence.
Judge Timothy Kenny issues June 8 order for prosecution's response to Searcy's motion based on Smothers confession, filed July 22, 2016
Is Kenny sabotaging Searcy's motion for new trial by calling it "Motion for Relief from Judgment for Re-Sentencing?"
Searcy motion includes "newly-discovered evidence,"  innocence claim: Vincent Smothers' affidavit confessing to 2004 Segars murder; demands evidentiary hearing,  reversal of conviction
Kenny's order not sent to Searcy or put on public Register of Actions in violation of court rules: another cover-up as Searcy's family awaits justice? 
"I feel elated . . . He doesn't deserve this at all. He's such a great father."—Searcy's daughter LaShyra Thomas, 19 
By Diane Bukowski 
July 4, 2017/Updated July 11, 2017
Update April 20, 2021: DeAnthony Witcher, referenced in stories on Thelonious Searcy case, stated in a phone call to VOD Editor Diane Bukowski that he is NOT a police  informant and denies all allegations made against him in this and subsequent stories on the Thelonious Searcy case.
Editor: due to the need for continued clarification, this story may be again updated, with new photos, but it will still be accessible under the original http address.
DETROIT – Will Thelonious "Shawn" Searcy, 37, be freed after nearly 14 years in prison for a murder t0 which well-known Detroit hit man Vincent Smothers has confessed?
Or will the courts continue a likely criminal cover-up in Searcy's case?
On June 8, Wayne County's Chief Criminal Court Judge Timothy Kenny, Searcy's trial judge, belatedly ordered the prosecution to respond to a motion Searcy filed July 22, 2016, according to court records reviewed by VOD June 28.
Searcy's motion, which is labeled "Motion for a New Trial Pursuant to MCL 770.1/MCR 6.52 (G)(2),"  includes a detailed affidavit from Vincent Smothers confessing to the murder of Jamal Segars in 2004, the crime for which Searcy has spent nearly 14 years in prison. The motion is in Searcy's court file directly behind the order.
However, Kenny's order is titled as below, "Order for Prosecution's Response to Defendant's Motion for Relief from Judgment for Re-Sentencing," incorrectly describing Searcy's motion.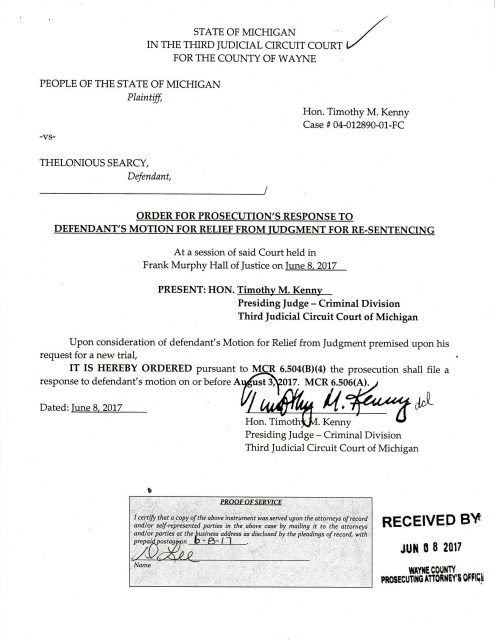 Is this an indication that Kenny may be conspiring with Wayne County Prosecutor Kym Worthy to leave Searcy rotting in prison despite the confession of Vincent Smothers, whose confessions to 12 other murders have been recognized in Michigan courts?
In particular, Smothers' confession to the 2007 murders of four people on Runyon Street was instrumental in freeing Davontae Sanford, who had been charged with committing those killings at the age of 14.
But, although a Michigan State Police investigative report showed that the Detroit Police Department had evidence from day one that Sanford could not have been the murderer, it took nine years to free him.
"I feel good and hope they make a good decision and give him a chance to come home to his family, because he's been in there a long time, almost 14 years, and I just hope and pray that everything turns out OK," Searcy's grandmother Edna Richardson told Voice of Detroit.
It was Mrs. Richardson who hired Private Investigator and former long-time Channel 7 reporter Scott Lewis to conduct a taped interview Smothers about the Segars murder, featured in VOD's earlier story on the case, linked below this story.
That story also contains allegations of judicial and prosecutorial misconduct during Searcy's trial in 2005.
See http://voiceofdetroit.net/2017/06/10/false-detroit-conviction-vincent-smothers-says-he-not-thelonious-searcy-killed-jamal-segars-in-2004/.
Searcy's daughters say they are excited about the possibility that their father may soon come home to them.
"I feel elated," his 19-year-old daughter LaShyra Thomas, a dance teacher in Mt. Clemens, told VOD. "It's been such a long time. I think I was seven years old. Seeing him leave the way he did really had a big impact on my life. I go and visit him, but we're not even able to hug or touch, so it's been really hard. On Father's Day I have to send cards, I can't take him out to eat. He doesn't deserve this at all. He's such a great father. He's kept encouraging me all this time and it's kept me going."
His younger daughter, 18, who is attending Macomb Community College, said, "It was devastating for me. It affected the way I was brought up, because I didn't have a father figure in my life to teach me what fathers teach their daughters.  But it's never too late to make our relationship stronger. For the past year, we've been talking almost every day."
Searcy told VOD that he has a very close relationship with both his daughters. He said both daughters stayed with him and his wife before he was arrested, although his younger daughter is from a different relationship.
"I taught them how to read and write, and how to ride their bikes, " Searcy said. "I made sure they took their education seriously. I counseled them to pursue their own goals in life and not be dependent on any man. I'm proud that they've accomplished what they have and haven't gone off and got pregnant yet like many young women. Even while I've been incarcerated, I've tried to be a good father to them."
Searcy said that since his incarceration, his marriage has ended, and he has lost his older brother, his great-grandparents and a grandfather, as well as aunts and uncles.
Searcy's "Motion for a New Trial Pursuant to MCL  770.1/MCR 6.52 (G)(2)" asks Judge Kenny to  "a) order the prosecution to answer the allegations in this Motion and Brief Support; 2) conduct an evidentiary hearing; 3) reverse Defendant's conviction and order a new trial. . . Just as the Prosecution claimed at trial the Defendant Searcy killed the victim by mistake, the State of Michigan has convicted the wrong man."
Searcy says later, "Moreover, the non-hearsay confession of Vincent Smothers dovetails with the eight alibi witnesses who testified for the defense that Defendant Searcy was attending a family barbecue at the time of the shooting. . . Had the jury heard this damning confession from Vincent Smothers, it is more likely than not, no juror would find him [Searcy] guilty beyond a reasonable doubt."
Smothers said in his affidavit that he would definitely testify on behalf of Searcy. (See copy of affidavit from court file including map of the crime scene signed by Smothers at http://voiceofdetroit.net/wp-content/uploads/Smothers-affidavit-with-map.compressed.pdf). Lewis backed up the affidavit with his taped interview of Smothers.
Searcy says he specifically chose the law and court rule he cites in his motion and brief to give firm grounds for his proposed remedies: "to  a) order the prosecution to answer the allegations in this Motion and Brief Support; 2) conduct an evidentiary hearing; 3) reverse Defendant's conviction and order a new trial."
Searcy argues that Smothers' confession is "newly discovered evidence" of "actual innocence" and is grounds to hold an evidentiary hearing and a new trial, not a "re-sentencing." He cites numerous legal precedents in his brief (see in particular pp. 13-18 of second part of brief as linked below story). The brief cites two key U.S. Supreme Court rulings, House v. Bell 547 US 518 (2006) and Schlup v. Delo, 513 US 298 (1995), among numerous other relevant precedents.
To clarify the conflict between Searcy's motion and brief filed July 22, 2016 and Judge Kenny's order filed July 8, 2015, consider the statutory language applicable to each:
MCL 770.1, Motion for New Trial for Defendant," says,
The judge of a court in which the trial of an offense is held may grant a new trial to the defendant, for any cause for which by law a new trial may be granted, or when it appears to the court that justice has not been done, and on the terms or conditions as the court directs.
MCR 6.502(G)(2) says,
A defendant may file a second or subsequent motion based on a retroactive change in law that occurred after the first motion for relief from judgment or a claim of new evidence that was not discovered before the first such motion. The clerk shall refer a successive motion that asserts that one of these exceptions is applicable to the judge to whom the case is assigned for a determination whether the motion is within one of the exceptions.
Kenny's order is labeled "An Order for Prosecution's Response to Defendant's Motion for Relief from Judgment for Re-sentencing." Kenny says, "It is hereby ordered pursuant to MCR 6.504(B)(4) that the prosecution shall file a response to defendant's motion on or before Aug. 3, 2017."
MCR 6.504(B)(4) says,
"(4) If the entire motion is not dismissed under subrule (B)(2), the court shall order the prosecuting attorney to file a response as provided in MCR 6.506, and shall conduct further proceedings as provided in MCR 6.505-6.508."
So Judge Kenny has not outright dismissed Searcy's motion. But provisions of MCR 6.505-6.508 give him latitude to determine whether an evidentiary hearing will be held. See http://voiceofdetroit.net/wp-content/uploads/MCR-6505-TO-6508.pdf
Searcy told VOD by phone, "I have never received a copy of this order from Judge Kenny," after VOD attached a scanned copy of the order to a JPay (prisoner email) sent to Searcy. He pointed out that the order and remedy are inaccurately labeled as if his motion is n0thing more than a successive motion for relief from judgment, under MCR 6.500, which are generally barred unless valid "newly discovered evidence" is presented.
He also said he has filed a motion under MCR 6.505 asking for appointment of counsel.
VOD contacted Judge Kenny's office to ask for a correction or comment on whether this is an attempt to get Searcy's motion thrown out because Kenny earlier denied two 6.500 motions filed by Searcy.
Richard Lynch, General Counsel for the 3rd Judicial Circuit Court, replied in an email: "Please be advised that the Court cannot comment on pending litigation.  Therefore, no response is offered to the three questions posed in your July 7, 2017 email.  However, as a general matter, a motion for new trial filed after the time to appeal has passed is treated as a motion for relief from judgment.  MCR 6.431(A)(4)."
That section says, "If the defendant is no longer entitled to appeal by right or by leave, the defendant may seek relief pursuant to the procedure set forth in subchapter 6.500."
Searcy's motion is also filed under MCR 6.502(G)(2), part of MCR 6.500, which allows a "claim of new evidence" to be raised regardless of previous 6.500 motions filed. Searcy contends Smothers' confession is indeed a "claim of new evidence."
But Searcy stresses that MCL 770.1 is applicable because he is making a claim of "actual innocence." Additionally, MCL 770.2(4) says, "If the applicable period of time prescribed in subsection (1) or (2) has expired, a court of record may grant a motion for a new trial for good cause shown." Lynch did not address the mischaracterization of Searcy's motion as a motion for re-sentencing instead of a new trial.
In his interview with Scott Lewis, Smothers says he sent copies of his confession to various mainstream media outlets as well as Detroit police without response. His confession is backed up by affidavits executed by other prisoners including Marzell Black, Smothers' co-defendant in another case. Black wrote that Smothers told him the details of the Segars murder.
One reporter, Gus Burns, now reporting for MLive.com,  told VOD that he suspects Searcy and Smothers might have "cooked up" the confession together.
Searcy says Burns earlier had him recruit dozens of prisoners for a blog called "Prisoner Talk" that Burns was editing, to write about various topics. Burns later wrote an article calling it  ironic that Searcy had written the heart-breaking Michigan Chronicle column above but then went on to be convicted of first-degree murder. Searcy says Burns did not question Searcy's conviction despite voluminous materials Searcy sent him challenging it.
Searcy told VOD that he and Smothers have never met face to face. His grandmother Edna Richardson also told VOD that the family never knew Smothers.
"I don't know that guy from a can of paint," Searcy said. "I was rode off the streets [into prison] on November 30, 2004. He [Smothers] didn't write me until Aug. 22, 2015 the first time. I never heard of him before."
After Smothers sent Searcy his Aug. 22, 2015 letter, through an intermediary, and executed affidavits, Searcy said Smothers was transferred to the same housing unit at Macomb Correctional Facility that he was in.
He said he avoided any personal contact with Smothers.
"When I found out, I felt like I was being set up and I told my C.O.," Searcy said. "I was transferred out of Macomb shortly afterwards." Searcy is now incarcerated at Chippewa Correctional Facility in the Upper Peninsula, while Smothers is at Ionia Correctional Facility in mid-Michigan.
Searcy says with regard to other issues he contested in his earlier motions for relief from judgment, "Defendant is sure that the prosecution position as it pertains to the alibi evidence and the highly questionable identification evidence would be that Defendant's jury has already heard this evidence, this it is not "new reliable evidence" under Schlup v. Dalo, 513 US 298 316 (1995).
But he cites House v. Bell, 547 US 518(2006)   which clarifies Schlup:
"Schlup makes plain that the habeas court must consider all the evidence, old and new, incriminating and exculpatory . . ."
He goes on, "Thus the question reverts back to whether Defendant Searcy's new evidence, coupled with the evidence presented at trial, establishes "that it is more likely than not that no reasonable juror would have found him guilty beyond a reasonable doubt." Schlup at 327. In Defendant Searcy's view, this new evidence does just that, and this honorable Court should accordingly grant him a new trial . . ."
Among other issues, Searcy has objected to orders from Kenny relating to a $10,800 charge Kenny  assessed to Searcy to reimburse Farm Bureau Insurance for the loss of Segars' Corvette, and then rescinded. These also are not recorded on the ROA.  (See details at http://voiceofdetroit.net/wp-  content/uploads/Searcy-objection-to-car-insurance-deduction-and-court-orders.compressed-1.pdf.)
Searcy says that Judge Kenny abused his "due process" rights by not issuing writs to bring him from prison to be present at two hearings, the first in 2005 where Kenny assessed the additional amount, and the second in 2016 when Kenny ordered the prison to cease deducting the funds involved, but did not order them to restore $8,656.25 he had already paid.
Kenny finally issued an order Feb. 10, 2016 ordering the restitution of the funds, according to court documents.
There is no record that Farm Bureau Insurance ever appeared in court to justify their claim against Searcy.
Searcy says he later received a copy of another order by Judge Kenny on March 22, 2107 rescinding the previous orders at the instigation of an individual, Jim Marsheer, in the the Clerk's office.
Searcy's current motion and brief were  filed on a pro per basis after previous lawyers including his defense attorney Robert Mitchell, and appeals attorneys including Gerald Lorence and Randy Davidson of the State Appellate Defender's Office failed to address key issues during and after his trial.
These included Searcy's newly-discovered evidence involving the arrest of the prosecution's chief witness, DeAndre Witcher for a concealed weapons violation in Nov. 2004, just before Searcy's arrest Nov. 30, 2oo4. The report says Witcher  was driving a BLUE Corvette, not the SILVER Corvette that he claimed to be driving on the day of Segars' murder, "a twin" to Segars' silver Corvette.  DeWitcher was never charged in the case.
The record of Witcher's arrest was never turned over to the defense, causing Searcy to file a "Brady" motion,  a defendant's request for evidence concerning a material witness which could exonerate the accused, and/or impeach the government witness' credibility.
Davidson wrote Searcy that he was not able to locate any such record in his "closed file."
However, Searcy located it in his homicide file after his grandmother filed a Freedom of Information Act request for the DPD file.
Searcy's homicide file also includes an investigative subpoena issued to Witcher by the Prosecutor's Office. Such a subpoena compels an individual to testify in a secret session without an attorney present on his behalf. See http://voiceofdetroit.net/wp-content/uploads/DW-investigative-subpoena.compressed.pdf.
DPD Investigator Dale Collins, known for his long-term use of "jail-house snitches" paid off for their false testimony,  and Lt. Christopher Vintevoghel then interviewed Witcher Sept. 9, 2004. Witcher alleged he had on "ongoing feud" with Searcy, to support AP Patrick Muscat's theory that Searcy shot Segars in a case of mistaken identity. Muscat was also the prosecutor in the Davontae Sanford case, while Collins helped solicit a false confession from the 14-year-old to the 2007 killings on Runyon Street in Detroit.
Witcher says that on Nov. 16, 2004, he went into to a rental house he owned unarmed although others warned him that Searcy was inside waiting to shoot him.
He alleges , "Then he [Searcy] started firing and I pushed up out of there, out of the house and as I'm running across the street he shot at me like 30 times. He hit me in the back and the bullet exited out of my heart. I'm a living miracle right to this day, doctors, everybody know it."
Police never arrested or brought charges against Searcy for this virtually unbelievable incident, according to the Michigan State Police on-line ICHAT report on Searcy. See full report at http://voiceofdetroit.net/wp-content/uploads/Thelonious-Searcy-ICHAT-report-7-4-17.pdf.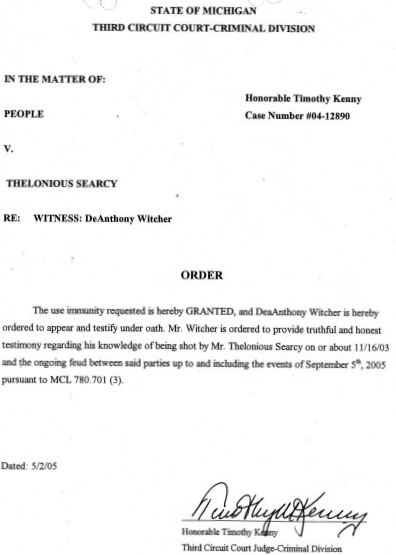 Subsequently, Kenny granted  "use immunity" to Witcher to force him to testify about the feud. Witcher said that he was at the "Black Party" Sept. 5, 2004 driving a SILVER Corvette like that driven by Segars, which caused Searcy to kill Segars in a case of mistaken identity.
Kenny should have known about Investigator Collins' reputation for using false testimony from jail-house snitches, since it had been well-publicized earlier.
Retired Judge Mary Waterstone was ousted from the bench after knowingly allowing a "jail-house snitch" to testify in a case without informing the defense of the nature of that witness.  Asst. Prosecutor Karen Plants was fired and spent six months in prison for perjury in the same case.
Searcy says this one of of many times Mitchell grossly misrepresented him. He says Mitchell refused to call Witcher's uncle Harvey Witcher to testify that he heard his nephew talking about paying off eyewitnesses in his case. Collins also sought to have Harvey Witcher testify that Searcy had shot him as well, but Harvey Witcher refused to do so.
Additionally, court records show that Mitchell insisted that Judge Kenny instruct the jury to find Searcy guilty of first-degree murder or "not guilty," without allowing alternatives for lesser offenses.
Searcy calls the identification testimony by alleged eyewitnesses presented by the prosecution at his trial "highly questionable" for many reasons, including conflicting descriptions of events and of the shooter(s) involved, and the fact that not all eyewitnesses were subjected to a photo line-up. In one case where an eyewitness WAS subjected to a photo line-up, she chose one man first, numbered 2, crossed that out, and then identified Searcy, numbered 5.
Two eyewitnesses were closely associated as friends with DeAnthony Witcher. One was actually his half-sister according to an affidavit obtained by Searcy.
Searcy has also contested the forensics evidence in his case. Detroit Police Officer Kevin Reed, whose errors in the case of Jarrhod Williams led to the the closing and demolition of the Detroit Crime Lab in 2008, testified to the evidence at Searcy's trial.
He was not a qualified forensics examiner and testified to reports done by his supervisor Detroit Police Officer David Pauch. Despite that, Judge Kenny qualified Reed as an expert witness.
Court and DPD documents show errors and possible deliberate falsification of evidence that indicate the .45 NPA gun police found in Searcy's  grandmother Edna Richardson's house may not have been related to the Segars killing at all.
According to trial transcripts, Judge Kenny said during Reed's testimony, "Fingerprints are not an issue in this particular case. It is not relevant to any issue that this jury has to decide. This jury does not have to decide anything about any fingerprint evidence."
So no evidence was presented regarding fingerpints on the .45 gun to show who may have handled it. Likewise, no evidence was given regarding what type of bullets killed and wounded Segars and Minner.
Reed testified and records show that DPD had the forensics evidence regarding casings and bullets found at the scene of the shooting in their custody since Sept. 16, 2004, but reports show Fauch and his assistant Lloyd Allen did not test fire the gun in question  compare it to two casings found at the scene until May 2, 2005, the first day of Searcy's trial. Reed claimed the two casings matched the gun seized from the Richardson home.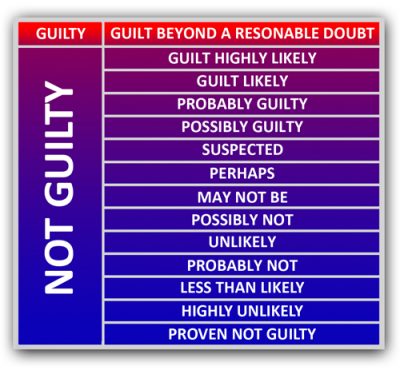 However, the evidence technician report of Sept. 16, 2004 shows that seven shell casings from a .45 automatic, eight casings from an S&W.40 automatic, and one 9 mm shell casing were found at the scene.
It also says that six whole "slugs" or "bullets" were recovered, along with 14 bullet fragments. A laboratory analysis report by Pauch and Allen dated Jan. 27, 2005 shows that the evidence tag for the 9 mm shell CASING, #EO7191604, was falsely assigned to a ".40 caliber, metal jacket BULLET, class 6 right."
"An ever present peril for the criminal justice system is the conviction of an innocent person," Searcy says in his motion and brief. "Under our judicial system, two propositions are clear: Justice is the search for truth and the judicial system is staffed by fallible human beings who inevitably err. As a consequence of these two conflicting propositions some means must exist to exonerate those legally guilty but actually innocent—balancing the interests in finality and efficient with the interest in fundamental fairness."
THELONIOUS SEARCY'S FAMILY ASKS THAT HIS SUPPORTERS SIGN THE FOLLOWING PETITION: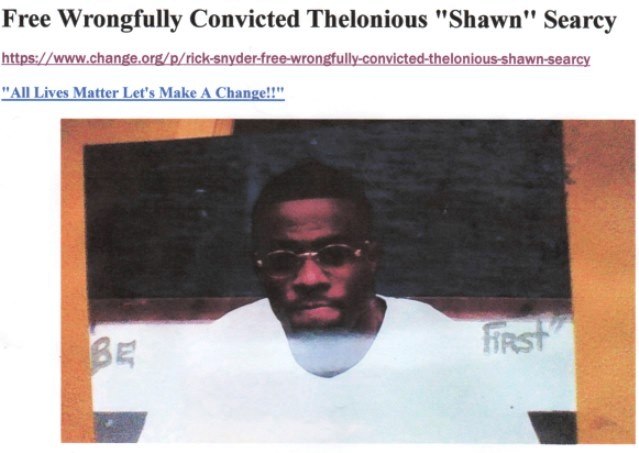 Related documents:
Searcy's motion for a new trial:
http://voiceofdetroit.net/wp-content/uploads/TS-motion-for-new-trial-7-22-16.compressed.pdf
Searcy's brief with motion for a new trial:
Part One: http://voiceofdetroit.net/wp-content/uploads/TS-brief-7-22-16-part-one.compressed.pdf
Part Two: http://voiceofdetroit.net/wp-content/uploads/TS-brief-7-22-16-part-two.compressed.pdf
Related stories:
http://voiceofdetroit.net/2017/06/10/false-detroit-conviction-vincent-smothers-says-he-not-thelonious-searcy-killed-jamal-segars-in-2004/
http://www.truth-out.org/news/item/29950-ring-of-snitches-how-detroit-police-slapped-false-murder-convictions-on-young-black-men
http://voiceofdetroit.net/2016/06/23/msp-wayne-co-pros-kym-worthy-knew-davontae-sanford-was-innocent-for-8-years-not-8-mos/
http://voiceofdetroit.net/2016/07/21/davontae-sanford-formally-freed-time-for-charges-vs-kym-worthy-cops-in-frame-up/
CHARLES LEWIS MUST BE FREED DUE TO LOSS OF COURT FILE, INNOCENCE; SADO WITHDRAWS FROM CASE
http://voiceofdetroit.net/2011/07/15/people%e2%80%99s-task-force-continues-battle-to-expose-crime-lab-crimes-in-protests-at-fed-bldg-city-council/
http://www.newyorker.com/magazine/2012/10/15/the-hit-mans-tale
#FreeTheloniousSearcy, #JailCrookedCopsProsecutorsJudges, #FreeCharlesLewis, #FreeAllWrongfullyConvictedPrisoners