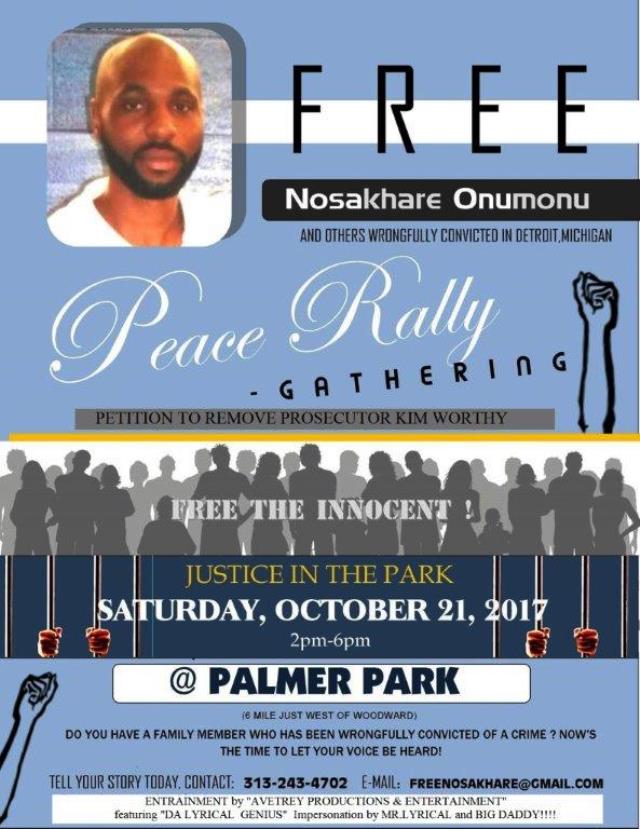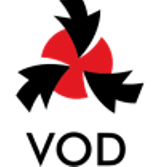 It is conservatively estimated that at least 10 percent of those in Michigan's prisons have been wrongfully convicted, by police, prosecutors and others who are part of the so-called "criminal justice" system.
Among those whose stories Voice of Detroit has covered are Charles Lewis, Thelonious Searcy, Davontae Sanford, Jason Gibson, Michael Harris, Kelly Nobles, Darrell Ewing, Derrico Searcy, and more. Join this movement to stop wrongful convictions and to oust Prosecutor Kym Worthy, who with her staff has been responsible for many of these atrocities, despite her recent self-serving announcement that she is establishing a "wrongful convictions" unit.
See article below by Thelonious Searcy, who has so far served 14 years of a life without parole sentence for murder. Vincent Smothers, the admitted murderer in the Sanford case, has submitted detailed affidavits and conducted a taped interview with private investigator Scott Lewis, published in VOD, admitting to the 2004 murder for which Searcy is doing time. Searcy filed his own motion for a new trial in 2016; his trial judge Timothy Kenny finally ordered the prosecution to respond in Aug. 2017. The prosecution responded affirming they would cooperate with a retrial, but nothing has happened since.
IS DETROIT ABOVE THE CONSTITUTION?
By Thelonious Searcy
September 27, 2017
Ever since the 1980's, Prosecutors and Detroit Police officials have been involved in multiple high-profile scandals, from police brutality, evidence being removed from the evidence room, faulty ballistic equipment and falsifying ballistics results.
In 2008, the Detroit Crime Lab was closed down after defense attorney Marvin Barnett hired an independent Firearms Examiner to retest ballistics evidence, in his client Jarrhod Williams' case. After retesting the evidence in the Williams case, this expert discovered that Detroit Firearms Expert Police Officer Kevin Reed lied on laboratory results.
Not only was Reed lying about conducting accurate ballistics testings, authorities discovered that the firearms equipment was faulty. Former Detroit Police Chief Ella Bully-Cummings shut down the Detroit Crime Lab. The corrupt practices of Kevin Reed gained national attention, which ultimately led to Reed getting fired from the Detroit Police Department. This officer's deceptive actions affected 147 criminal cases.
Lead Prosecutor Kym Worthy requested $800,000 from the Detroit City Council so she could get the Michigan State Police to retest all of the evidence that Kevin Reed examined.
[Only three of the men were re-tried. Jarrhod Williams was re-tried using the SAME FALSIFIED BALLISTICS EVIDENCE by Kym Worthy and staff, convicted again, and is serving a life sentence.]
Later in the case of Desmond Ricks, firearms test results revealed that two Firearms Examiners framed him for a 1992 homicide. An analysis of two bullets taken from the victim in his case revealed they didn't match the suspected murder weapon presented at his trial.
The two officers involved in this scandal were David Pauch and Donald Stawiasz. Mr. Ricks served 25 years in the Michigan Department of Corrections behind these officers' corrupt practices.
No criminal charges were brought against these officers for perjury, misconduct in public office, or conspiracy. Nor were these officers fired from their positions within the Department.
(Below is Detroit Free Press interview with Desmond Ricks, his daughter, and attorney Wolfgang Mueller, who filed a $125 million lawsuit in the case. Full story at: http://www.freep.com/story/news/local/michigan/wayne/2017/08/24/desmond-ricks-detroit-police-exoneration/594785001/ )
Detroit Police and Prosecutors act like they are above the constitution. Every scandal that comes to light gets swept under a rug of silence. Nothing happened to Kevin Reed for aiding the prosecutors' office in falsely sealing 147 cases.
In 2012, officials discovered that a Drug Lab chemist in Massachusetts was tampering with drug samples and falsifying results. The analyst was response for testing drugs in 40,000 cases from 2003-2013. Prosecutors in Massachusetts dropped 2,000 cases there on their own initiative.
In January, 2017, the Massachusetts Supreme Judicial Court gave the District Attorney 80 days to produce a list of cases that could not hold up without tainted evidence. In April, 2017, Prosecutors produced a list of 20,000 cases that would be thrown out.
Here in Michigan, we have an Attorney General that refuses to correct the wrongdoings of his Prosecutor's office in Wayne County. Not only is the wrongdoing being ignored by the Attorney General Bill Schuette, it's also being ignored by the FBI.
WHY IS DETROIT ABOVE THE U.S CONSTITUTION?