"I stand with nearly 250 juvenile lifers behind me"—Charles Lewis
"I have to admit there are some things unusual about the way Mr. Lewis was convicted. I am very aware that a mistrial was declared [in his first trial] and no record was made as to why that judge declared a mistrial."—Judge Qiana Lillard
AP Dawson cites Lewis "misconducts" for being "out of place" in the law library, where he works, condemns him for declaring innocence for 41 yrs.
By Diane Bukowski
October 16, 2017
DETROIT – "I stand with nearly 250 juvenile lifers behind me," said Charles Lewis, 58, after being denied bond Oct. 13, while he awaits re-sentencing in line with two U.S. Supreme Court decisions outlawing juvenile life without parole (JLWOP). "I have become the poster child for Michigan's juvenile lifers. What benefits me will benefit all of us."
Lewis said the bond decision had not discouraged him, and that he is determined to win his release in the end.
Lewis referred to the 247 people in Michigan, out of 363 sentenced to die in prison when they were children, who have seen NO action on their unconstitutional sentences, despite the USSC's most recent decision in Jan. 2016 (Montgomery v. Louisiana.)
They are the juvenile lifers for whom county prosecutors recommended renewed JLWOP sentences instead of term of years sentences.
Third Judicial Circuit Court Judge Qiana Lillard denied Lewis' request for bond despite his attorney Victoria Burton-Harris' contention that he had been without a sentence since Judge Edward Ewell granted him re-sentencing in 2012 and presented no danger to society. She declared that Lewis has always maintained his innocence of killing an off-duty Detroit police officer in 1976.
Judge Lillard said Lewis' conviction of first-degree murder had not been vacated, and even those awaiting trial in such cases are remanded to prison by law.
But she also noted, "I have to admit there are some things unusual about the way Mr. Lewis was convicted. I am very aware that a mistrial was declared [in his first trial] and no record was made as to why that judge declared a mistrial, and then all of a sudden he gets convicted of murder in a new trial. For all I know, the judge was becoming aware that Mr. Lewis was about to be acquitted, and that's why he dismissed the jury. But let me be quiet before I say some things I shouldn't say."
Above: Atty. Victoria Burton-Harris argues for bond; AP Tom Dawson (l).
Over the past two years, witnesses in front of Judge Lillard have testified that Lewis' official court file and trial transcripts were lost. Lewis has repeatedly argued under Michigan and U.S. Supreme Court precedents that his conviction should therefore have been dismissed and a new trial granted. Instead, Judge Lillard ordered the record "re-constructed." Hearings on that matter will continue March 5, 2018.
Before the records went missing, however, Third Judicial Circuit Court Judge Deborah Thomas corroborated Judge Lillard's suspicion and Rosie Lewis' eyewitness statement in the video at the top of this story. In a 2006 opinion, Judge Thomas said she had "thoroughly read" Lewis' first trial transcript and that she could find no "reasonable or logical reason" for Judge Joseph Maher to dismiss the jury. (See http://voiceofdetroit.net/wp-content/uploads/DThomasOpinion-2.pdf.)
"Thus this Court can only conclude from a silent record that Judge Joseph Maher dismissed the jury sua sponte," Thomas wrote.
"Thus this Court concludes that the unconstitutional discharge of the first jury in this matter was the equivalent of an acquittal."
She noted that "double jeopardy" applied, and Lewis should not have been tried again. Asst. Prosecutor Tom Dawson cited a quote from a 2002 ruling by Judge Thomas on Lewis' case. However, in 2006, she granted a motion for reconsideration of that ruling because she had mistakenly used the wrong issues in the 2002 ruling.
Recorders Court Judge Joseph Maher unsuccessfully charged the late attorney Kenneth Cockrel, Sr. with contempt in 1974 for calling Maher a racist and bigot in remarks outside the court, during the trial of Alfred Hibbitt, Jr., one of four defendants in a police raid on a Black church.

Maher also denied prosecutors' attempts to block psychiatric assessments of STRESS (Stop the Robberies Enjoy Safe Streets) officer Raymond Peterson during his trial for one of nine killings of unarmed Black men that he committed.
The psychiatrists argued that Peterson was under abnormal stress due to negative publicity regarding the killings. Peterson walked free. Although he was later fired, he won a life-time pension.
During the Lewis hearing, AP Dawson relied primarily on Lewis' conviction for killing Detroit police officer Gerald Sypitkowski.
He claimed Lewis had not been rehabilitated because he has always declared his innocence. Numerous eyewitnesses, including the officer's partner, testified at both his trials that the fatal gunfire came from a white Lincoln Mark IV not driven by Lewis.
In an Aug. 1, 1976 Detroit Free Press article written directly after the killing, those eyewitnesses said the same thing.
Dawson cited Michigan Department of Corrections records asserting that Lewis had "attitude problems, morally justified his criminal behavior, blamed the victim, and suffered from idleness, boredom, aimlessness and compulsive decision making."
He also cited misconducts for "being out of place," mainly in the law library. Lewis currently WORKS in the law library at Lakeland Correctional Facility and earlier scored highest among applicants for a job at Jackson Prison's law library, which he also held.
Prosecutors claim the delay in re-sentencing 247 of Michigan's juvenile lifers is that they are awaiting the outcome of Michigan Supreme Court rulings in People v. Skinner and People v. Hyatt. Oral arguments were held in the cases Oct. 24.
The high court will decide whether or not to uphold appeals court rulings in the cases that a jury, not a judge, should hear arguments mandated by Miller regarding a child's culpability and potential for rehabilitation.
In Hyatt, attorneys for defendant Kenya Ali Hyatt of Flint, who was first sentenced AFTER the USSC Miller and Montgomery rulings, criticized prosecutors from Saginaw, Macomb, Genesee, and Wayne Counties, noting the high numbers for whom they had recommended renewed JLWOP.
"The . . . .statistics flip Miller on its head with prosecutors advocating that it is only the rare juvenile lifer that should NOT receive a sentence of life without parole," said Hyatt's Attorney Karen Hanson in her brief.
"It is hardly rare when the above prosecutors are advocating 62% of juvenile lifers to remain in prison until death."
Michigan has the second highest number of juvenile lifers in the nation, at least 70 percent of whom are Black. In Wayne County, 98 percent of its juvenile lifers are Black. Prosecutor Kym Worthy has recommended renewed JLWOP sentences for 67 of them, the highest number in the state.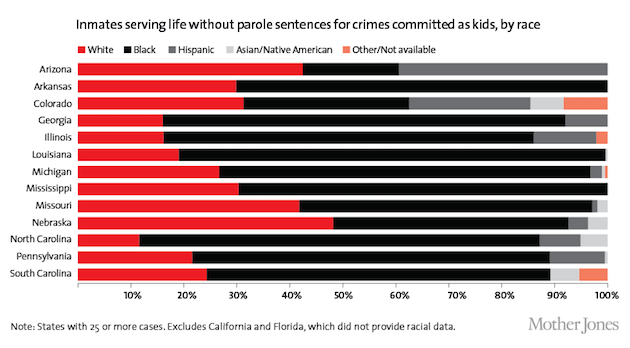 Although neither Hyatt nor Skinner are from Wayne County, Prosecutor Kym Worthy, with her subordinates, AP's Jason Williams (Lewis' former prosecutor) and Timothy Baughman, authored an amicus brief in Hyatt opposing the jury option on behalf of the Prosecuting Attorney Association of Michigan (PAAM). See
Advocates such as Michigan Attorney Deborah LaBelle have argued that sentencing a child to die in prison is akin to imposing the death penalty, which is normally decided by a jury. An earlier U.S. Supreme Court decision outlawed the death penalty for juveniles.
LaBelle and attorneys are also awaiting a Sixth Circuit Court of Appeals decision in Hill v. Snyder, while attorneys for Sarah Marie Johnson of Idaho have filed a writ of certiorari to the U.S. Supreme Court.
Both cases argue that juvenile life without parole must be abolished with no strings attached. Among those strings in Michigan are state statutes barring the use of good time credits for juvenile lifers who are paroled, and setting absolute sentencing minimums of 25 to 40 and maximums of 40-60 years.
Former Gov. William Milliken, Former Wayne County Prosecutor John O'Hair, and others have said the sentencing mandates are equivalent to another life sentence for many, who have already served over 40 years in prison.
Johnson's attorneys state, "A substantial majority of states have abandoned JLWOP in law and practice, and others have acted to narrow its application. Today, the use of JLWOP is carried on by a handful of prosecutors in a shrinking number of counties and states. … [S]entencing children to die in prison is cruel and unusual [which violates the Eighth Amendment of the U.S. Constitution]."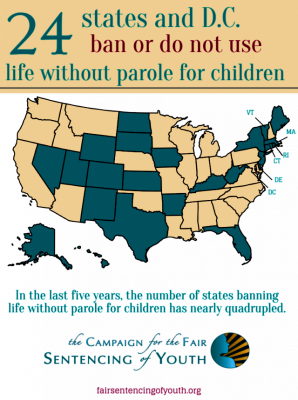 They specifically characterized Michigan and Louisiana as being among "a handful of extreme outliers that are flouting the [U.S. Supreme] Court's dictate to limit JLWOP to the rare juvenile offender."
In other related news, Third Judicial Circuit Court Judge David Skutt ordered the prosecution in the case of juvenile lifer Renard Sharp to submit an additional "bill of particulars" to justify their motion to re-sentence him to life without parole. He gave them a deadline of October 25 to add details regarding Sharp's alleged incorrigibility.
Attorney Nefertiti Alexander of the New York law firm of Cleary, Gottlieb, Steen & Hamilton argued that the boiler plate motion used by Prosecutor Kym Worthy in all of the 67 Wayne County cases recommending renewed JLWOP is insufficient and asked for its dismissal.
The motions state only that the juvenile lifers are incorrigible and incapable of rehabilitation, but give no further details.
Attorney Adlyn Addis of the law firm of Deborah LaBelle, the attorney of record on the case, told VOD that Sharp "is not a rare or uncommon irreparably corrupt youth." In fact, she said, the prosecution originally offered him a plea deal for 10-20 years on second-degree murder charges, but being a youth inexperienced in legal matters, he turned it down.
Addis said Sharp was traumatized by his father's abandonment of the family, and the death of his grandparents and a close friend who was killed by gunfire. She said at the age of 14, he was tortured by drug dealers involved with his older brother.
"He attended Redford High School, and since he's been in prison he's taken 21 post-GED classes and is now in Tier One of the Chance for Life program," Addis added. "He has read over 500 books."
In their brief, Sharp's attorneys argue that current state statutes governing JLWOP re-sentencing mandate that prosecutors must "specify the grounds on which the prosecuting attorney is requesting the court to impose a sentence of imprisonment for life without the possibility of parole," in part to satisfy constitutional due process requirements. They also say prosecutors are including such details only for those juvenile lifers who were sentenced before Miller, violating "The Canon of Statutory Construction of Avoiding Unreasonable Results."
The attorneys also say that prosecutors have calculated the time frame for filing these motions incorrectly, and that in fact Sharp's brief was untimely filed.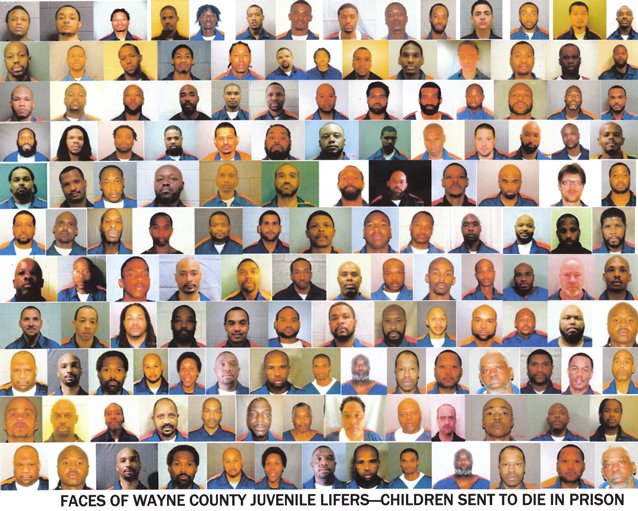 RELATED STORIES:
http://voiceofdetroit.net/2017/10/12/pack-charles-lewis-bond-hearing-fri-oct-13-in-prison-41-yrs-innocent-no-sentence-no-court-file/
http://voiceofdetroit.net/2017/10/08/charles-lewis-innocent-detroit-lifer-with-lost-court-file-could-go-free-after-41-yrs-hearing-1013/
http://www.detroitnews.com/story/news/local/detroit-city/2017/10/06/juvenile-lifer-seeks-release-years/106375972/
#TAKETHEKNEE! FRI. OCT. 6; FREE CHARLES LEWIS, INNOCENT, IN PRISON 41 YEARS; COURT FILES DESTROYED
CASES SEEK ABSOLUTE BAN ON LIFE WITHOUT PAROLE SENTENCES FOR YOUTH FROM U.S. SUPREME COURT
http://voiceofdetroit.net/2017/06/23/juvenile-lifers-ex-offenders-advocates-begin-new-chapter-in-battle-for-justice-june-18/
http://voiceofdetroit.net/2017/08/08/juvenile-lifer-re-sentencings-drag-on-in-michigan-nation-as-states-snub-u-s-supreme-court/
http://voiceofdetroit.net/2017/07/15/the-troubled-resentencing-of-americas-juvenile-lifers-the-nation/
http://voiceofdetroit.net/2017/02/20/charles-lewis-must-be-freed-due-to-loss-of-court-file-innocence-sado-withdraws-from-case/
http://voiceofdetroit.net/2017/02/12/rogue-justice-free-another-innocent-detroiter-charles-lewis-now-hearing-wed-feb-15-9-am/
'ROGUE JUSTICE!' FREE ANOTHER INNOCENT DETROITER, CHARLES LEWIS, NOW! HEARING WED. FEB. 15 @ 9 AM.
http://voiceofdetroit.net/2017/01/20/judge-deborah-thomas-charles-lewis-should-have-been-acquitted-sentence-vacated-in-1976-murder/
http://voiceofdetroit.net/2017/01/12/wayne-co-juvenile-lifers-lives-at-stake-only-two-paroled-charles-lewis-hearing-thurs-feb-9-2017/
http://voiceofdetroit.net/2016/10/26/free-charles-lewis-mich-juvenile-lifers-re-sentenced-to-die-in-prison-rally-fri-oct-28/
http://voiceofdetroit.net/2016/10/13/support-for-charles-lewis-mich-juvenile-lifers-strong-at-hearing-oct-11-bring-them-home-now/
http://voiceofdetroit.net/2016/10/07/stop-new-death-penalty-for-mich-juvenile-lifers-rally-tues-oct-11-for-charles-lewis-others/
http://voiceofdetroit.net/2016/09/10/new-hope-for-michigan-juvenile-lifer-charles-lewis-as-others-await-long-delayed-justice/
http://voiceofdetroit.net/2016/09/04/free-charles-lewis-wayne-co-juvenile-lifers-dying-in-prison-rally-at-hearing-tues-sept-6/
http://voiceofdetroit.net/2016/08/02/michigan-files-for-jlwop-for-80-of-juvenile-lifers-fed-court-wants-all-parole-eligible/
http://voiceofdetroit.net/2016/07/26/worthy-others-want-large-portion-of-juvenile-lifers-to-die-in-prison-despite-ussc-rulings/
http://voiceofdetroit.net/2016/05/24/free-charles-lewis-innocent-juvenile-lifer-who-has-spent-41-years-in-state-prisons/
http://voiceofdetroit.net/2016/04/30/why-is-juvenile-lifer-charles-lewis-still-in-prison-16-yrs-after-his-case-was-dismissed/
http://voiceofdetroit.net/2012/10/28/michigans-juvenile-lifers-want-state-to-comply-with-u-s-supreme-court-ruling/
http://voiceofdetroit.net/2012/08/16/michigan-challenges-u-s-supreme-court-ruling-on-juvenile-life-without-parole/
http://voiceofdetroit.net/2012/07/02/us-supreme-courts-juvenile-lifer-decision-brings-hope-to-thousands/
http://voiceofdetroit.net/2012/07/02/nations-high-court-ends-mandatory-life-without-parole-sentences-for-youth/
#FREECHARLESLEWISNOW, #FREEMICHIGANJUVENILELIFERSNOW, #ENDMASSINCARCERATION, #TAKETHEKNEE