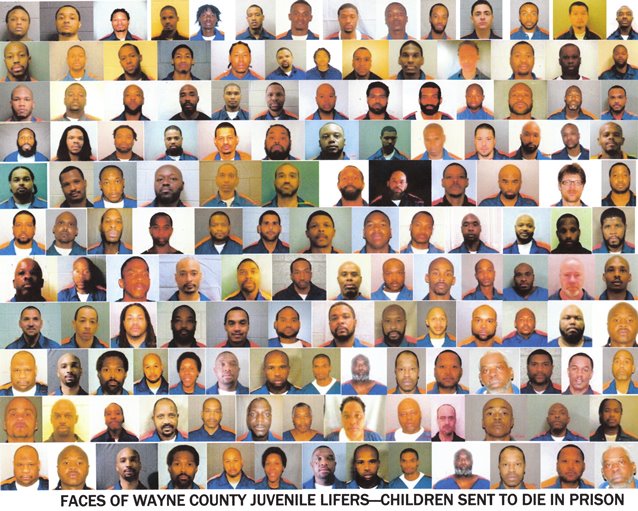 U.S. District Court Judge Mark Goldsmith rules good time/disciplinary credits must be applied to re-sentenced youthful offenders
50 who have already been re-sentenced eligible to see parole board in 14 days, state has 7 days to calculate credits for others after re-sentencings
Judge certifies all 363 juvenile lifers as a class, appoints Atty. Deborah LaBelle as class representative; state had asked to eliminate 247 for whom prosecutors are recommending renewed JLWOP
Judge orders further discovery re: deprivation of rehabilitative trainin
By Diane Bukowski
April 10, 2018
DETROIT – U.S. District Court Judge Mark Goldsmith ruled April 9 that Michigan juvenile lifers are eligible to have good time and/or disciplinary credits earned since day one of their unconstitutional sentences applied when they are re-sentenced. He gave the Michigan Department of Corrections 14 days to calculate those credits for those currently in prison.
This means that some individuals currently serving time after re-sentencing will be immediately eligible to see the parole board, while others will have their wait time shortened.
His ruling is part of ongoing proceedings in the federal case Hill v. Snyder, brought by lead attorney Deborah LaBelle and the Michigan American Civil Liberties Union over seven years ago.
"The United States Supreme Court has ruled that juveniles convicted of first-degree murder cannot be subject to mandatory life sentences without parole," Goldsmith said in a remarkably rigorous ruling. "Because of their lesser culpability and greater capacity to change, they must be sentenced under a process that gives them an individualized opportunity to present mitigating circumstances to avert such a harsh sentence."
Goldsmith then referred to a statute passed by the Michigan Legislature in 2014, MCL 796.25a(6), which said that re-sentenced juvenile lifers would not be allowed to use their credits, despite the fact that ALL other prisoners are allowed to do so.
Calling the sentences "illegally imposed," Goldsmith said, "In that respect, the legislative response ran afoul of our Constitution's ban on ex post facto laws – the constitutional guarantee that laws may not retroactively criminalize conduct or enhance the punishment for criminal acts already perpetrated. For this reason, the Court must declare that provision of the statute unconstitutional and order that the youth offenders receive the credit that they have previously earned."
Judge Goldsmith turned down the state's request for a 14-day stay to allow it to pursue an appeal.
"Today's ruling is a tremendous victory for fairness in our criminal justice system," Dan Korobkin, ACLU of Michigan Deputy Legal Director, who argued the case alongside Attorney LaBelle, said in a statement. "Hundreds of youth who were serving unconstitutional life sentences will now benefit from good-time credits they earned in prison for good behavior, credits that were taken away from them by mean-spirited retroactive legislation in 2014."
See complete opinion at http://voiceofdetroit.net/wp-content/uploads/203-Opinion-and-Order3876.pdf.
Cortez Davis, a staff writer for the Voice of Detroit, is one juvenile lifer who may go free shortly as a result of Judge Goldsmith's ruling, after serving nearly 24 years in prison. His attorney Clinton Hubbell had asked that he be re-sentenced to the 10-40 years his trial judge Vera Massey Jones had imposed in 1994.
Eighteen years before the U.S. Supreme Court ruled in Miller v. Alabama that mandatory juvenile life without parole was unconstitutional, Judge Vera Massey-Jones called JLWOP "cruel and unusual punishment."
But Judge Shannon Walker re-sentenced Davis to the 25-60 year sentence arbitrarily mandated by Michigan's legislature in MCL 769.25a. He says application of his good-time credits should allow him to see the parole board immediately.
"Personally, I am humbled and grateful for the Court's decision and wisdom re: this issue of disciplinary credits and good time for those of us who have earned them for decades," Davis told VOD by phone today.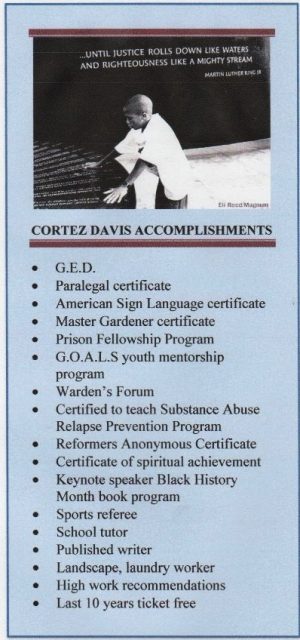 "I'm not looking at this as a win for just those who are doing time. It is also a win for Michigan citizens, the taxpayers, because the money that will be saved can be better put to use on our crumbling educational system, our healthcare system, and services for elderly. A lot of men and woman inside these institutions are ready, willing and able to contribute positively to the growth of society, especially within our communities. People say prisons are where you pay your debt to society, but I believe prison only prepares you to pay that debt. You cannot fully pay it until your release and the work that you do to improve society then."
Davis has a stellar prison record and has been involved in numerous activities organizing other prisoners in positive endeavors. (See box and VOD stories by Davis listed below.) He is an excellent writer and legal researcher. At the youthful age of 41, he will no doubt be a valuable contributor to society.
Another juvenile lifer who badly needs to have her good time credits restored is Jennifer Pruitt, now 42, of Pontiac, Michigan. She was resentenced to 30 to 60 years on March 2, 2017. Her earliest release date is Aug. 30, 2022.
"Jennifer Pruitt can hardly remember a time when she felt safe," says an article published in Al Jazeera. "She says her father beat her until her eyes were blackened. He beat her mother and brothers. He drank and crashed their family cars, she says, and then he came home and beat them some more. And starting when she was about 10, Jennifer says, Denny Pruitt would arrange some alone time with her in a bedroom. When she told her mother about the abuse, her father called Jennifer a bitch and a liar."
Since Pruitt's incarceration at the age of 15, the abuse has continued in prison. Pruitt was raped by a prison guard, but the state expects her to remain in that chamber of horrors for another four years.
In his ruling, Judge Goldsmith quoted from the plaintiffs' brief, ". . .there are 363 offenders who are subject to the resentencing provisions of Section 769.25a. Michigan prosecutors have filed motions seeking the re-imposition of sentences of life without parole for 236 of these individuals. To date, none of these resentencings has taken place. . . . .However, resentencing hearings are proceeding for those individuals who were not the subject of motions for re-imposition of life-without-parole sentences. Approximately one hundred individuals have been resentenced to a term of years; of these, over thirty have been paroled and the remaining are parole eligible. Twenty-two individuals are still awaiting resentencing for a term-of-years sentence."
He added later regarding state arguments that the federal courts have no jurisdiction over the matter for various reasons, ". . .it would be inequitable to require Plaintiffs – some of whom, if they prevail, would be immediately eligible for parole consideration – to wait even longer to seek resolution of their claims, particularly where the interpretation of the good time and disciplinary credits statute is clear."
Goldsmith also certified the state's 363 juvenile lifers as a class for legal purposes, rejecting the state's argument that two-thirds of them, 247, should not be included because county prosecutors have recommended renewed LWOP sentences for them. Judge Goldsmith appointed attorney Deborah LaBelle, who has campaigned vigorously for juvenile lifers and other prisoners for decades, as the class representative.
He delayed a ruling on the restoration of rehabilitative programming for juvenile lifers, pending further discovery.
Charles Lewis, a juvenile lifer who has spent 42 years in prison, and is facing a recommendation of LWOP again, said the appointment of Attorney LaBelle as representative of the class could have positive implications for the Michigan 247.
"This ruling is definitely a start," Lewis, a skilled jailhouse lawyer, noted. "A lot of these guys [already re-sentenced] should discharge, they should take them right on parole. They said they couldn't really deal with the issue of those re-recommended for LWOP, because nobody has been resentenced yet. But the appointment of Deborah LaBelle as a representative of the class should give her the opportunity to impact the state's dealings with the 247. The question becomes, what is her plan for the 247? She can create an agenda for the attorneys representing them, for instance, what is required in mitigation hearings, including the provision of expert witnesses, private investigators, child psychologists, and forensic examiners, to start with."
Lewis will represent himself at a hearing Thurs. May 24 at 9 a.m. in front of Judge Qiana Lillard, to address three motions he has filed. Story on those is forthcoming. They are motions:
asking for release due to actual innocence,
a withdrawal of the prosecution's ex post facto motion to re-sentence him to LWOP because Judge Edward Ewell ordered his re-sentencing under Miller in October, 2012, before the 2014 state statutes were enacted
a motion for bond pending appeal.
Michigan and Louisiana (up south and down south) are considered the two worst states in the nation regarding their treatment of juvenile lifers, with Michigan having the highest number of juvenile lifers in the world. Wayne County Prosecutor Kym Worthy wants 67 of the county's 146 juvenile lifers to die in prison, the highest actual number of any county in the state.
She has refused to backtrack on these recommendations.
Last week, she falsely claimed credit for the release of Richard D. Phillips, an innocent man imprisoned since 1971, saying that her revived "Conviction Integrity Unit" headed by former defense attorney Valerie Newman, investigated the case.
In fact, the Michigan Innocence Clinic began work on Phillips' case in 2014, which led to Judge Michael Cox's ruling releasing him last December. He was released on his own recognizance, but required to wear a tether. He noted at the time that his situation was not over because he faced re-trial, set by Kym Worthy for Feb. 5, 2018.
Worthy held a press conference last week to announce (finally!) that she would not re-try him. How she could re-try a man 45 years later, anyway, boggles the imagination.
The U.S. is the ONLY country in the world that sentences children to die in prison, as in fact many of Michigan's juvenile lifers are doing. Most have spent 20, 30, 40 and more years in prison serving sentences that are now considered unconstitutional from day one. Some are actually innocent of the crimes for which their lives have been sacrificed. But Michigan has fought against justice for juvenile lifers every inch of the way.
Isn't it time for federal troops to be sent to Michigan to enforce Miller and Montgomery?
Related Stories: (mainly on or by Cortez Davis-El; for stories on Charles Lewis and juvenile lifers in general, put each term in the search engine)
http://voiceofdetroit.net/2017/05/09/cruel-unusual-juvenile-sentences-continue-cortez-davis-gets-25-60-not-legal-10-40-yrs/
http://voiceofdetroit.net/2017/04/26/free-mich-juvenile-lifer-cortez-davis-now-let-justice-roll-down-like-water-hearing-april-27/
http://america.aljazeera.com/features/2014/1/sentenced-young-thestoryoflifewithoutparoleforjuvenileoffenders.html
http://voiceofdetroit.net/2013/01/10/michigan-juvenile-lifers-justice-delayed-is-justice-denied-re-sentencing-in-key-detroit-case-cortez-davis-jan-25/
http://voiceofdetroit.net/2018/01/02/super-stars-and-angels-walk-among-us-spreading-love-and-happiness-in-the-new-year/
http://voiceofdetroit.net/2017/11/29/prisoners-push-for-success-while-reforming-themselves-and-others-at-thumb-cf/
http://voiceofdetroit.net/2017/07/07/real-men-help-children-overcome-recklessness-and-other-problems/
http://www.mlive.com/news/detroit/index.ssf/2017/12/prisoner_of_45_years_released.html