TRUMP DECLARES 'HOLY CITY' OF JERUSALEM, CLAIMED BY ALL RELIGIONS, NOT TEL AVIV, CAPITAL OF ISRAEL
Declaration comes one day before 70th anniversary of occupation of Palestine by Israel, supported by U.S., U.K., western nations
PressTV
Published on May 14, 2018
At least 52 Palestinians have been killed by Israeli forces in the Gaza Strip as anger rages on over the relocation of the US embassy to Jerusalem al-Quds. There were six teenagers aged 15 and 16 among those killed. More than 2400 protesters were wounded, 900 of them with live rounds fired by Israeli soldiers.
Clashes have been underway on Monday, the day the US embassy was relocated to Jerusalem al-Quds. The Palestinian Authority has accused Israel of massacring the protesters in Gaza. It says moving US embassy to al-Quds would fuel instability and incitement in the region. The Palestinian Liberation Organization has called for a general strike. There have been confrontations between Palestinian protesters and the Israeli army and settlers in Bethlehem and East Jerusalem al-Quds. Watch Live: http://www.presstv.com/live.html
GAZA PROTEST DEATH TOLL RISES TO 58 AS US EMBASSY OPENS IN JERUSALEM
Related: Israeli violence in Gaza sparks international condemnation

Israeli troops killed at least 58 Palestinians along the Gaza border on Monday, health ministry officials said, as demonstrators streamed to the frontier as the United States opens its embassy in Jerusalem.
Amid deadly clashes, President Donald Trump's top aides and supporters are celebrating the opening of the new US embassy in Jerusalem as a campaign promised fulfilled.
Trump's daughter Ivanka and son-in-law Jared Kushner, along with US Treasury Secretary Steve Mnuchin were leading the ceremonies.
Turkish Foreign Ministry called US actions null and void in an official statement.
"We strongly condemn the decision of the US Administration to move its embassy from Tel Aviv to Jerusalem violating international law and all relevant UN Resolutions," Ankara said.
Protests intensified on the 70th anniversary of Israel's founding, with loudspeakers on Gaza mosques urging Palestinians to join a "Great March of Return". Black smoke from tires burned by demonstrators rose into the air at the border.
"Today is the big day when we will cross the fence and tell Israel and the world we will not accept being occupied forever," said Gaza science teacher Ali, who declined to give his last name.
"Many may get martyred today, so many, but the world will hear our message. Occupation must end," he said.
Israeli troops killed 55 Palestinians on Monday, including a 12-year-old boy and a man in a wheelchair, and over 2,000 protesters were injured. The man in the wheelchair had been pictured on social media using a slingshot.
The killings have drawn international criticism, but the United States, which has angered the Palestinians and Arab powers by relocating its embassy to Jerusalem from Tel Aviv, has echoed Israel in accusing Gaza's ruling Hamas movement of instigating violence, an allegation it denies.
"What a moving day for the people of Israel and the State of Israel," Israeli Prime Minister Benjamin Netanyahu said.
Jason Greenblatt, Trump's Middle East peace envoy, said on Twitter that "taking the long-overdue step of moving our Embassy is not a departure from our strong commitment to facilitate a lasting peace deal. Rather, it is a necessary condition for it."
But Palestinian Prime Minister Rami Hamdallah said Trump's recognition of Jerusalem as Israel's capital in December and the relocation of the embassy were "blatant violations of international law"
The Palestinians, who want their own future state with its capital in East Jerusalem, have been outraged by Trump's shift from previous administrations' preference for keeping the US Embassy in Tel Aviv pending progress in peace efforts.
Those talks have been frozen since 2014. Other international powers worry that the US move could also inflame Palestinian unrest in the occupied West Bank, which Israel captured along with East Jerusalem in the 1967 Middle East war.
Israel's military dropped leaflets into the enclave early on Monday, warning Palestinians "not to serve as a tool of Hamas" or approach or damage Israel's frontier fence.
But thousands of Palestinians massed at five locations along the line. Of the 35 people wounded by Israeli gunfire, four were journalists, the officials said.
The Israeli military says its troops are defending the border and firing in accordance with the rules of engagement.
"We are prepared to face the Hamas threats to disrupt the (embassy) festivities," Israeli Defence Minister Avigdor Lieberman tweeted.
"My recommendation to the residents of Gaza: Don't be blinded by (Hamas's Gaza leader, Yehya Al-) Sinwar, who is sending your children to sacrifice their lives without any utility. We will defend our citizens with all measures and will not allow the fence to be crossed."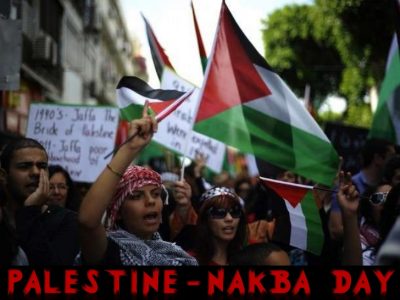 The protests are scheduled to culminate on Tuesday, the day Palestinians mourn as the "Nakba" or "Catastrophe" when, in 1948, hundreds of thousands of them were driven out of their homes or fled the fighting around Israel's creation.
Palestinian demonstrator with a slingshot looks on during a protest against U.S. embassy move to Jerusalem and ahead of the 70th anniversary of Nakba, at the Israel-Gaza border. (Reuters)
"Choosing a tragic day in Palestinian history (to open the Jerusalem embassy) shows great insensibility and disrespect for the core principles of the peace process," Hamdallah wrote.
Most countries say the status of Jerusalem – a sacred city to Jews, Muslims and Christians – should be determined in a final peace settlement and that moving their embassies now would prejudge any such deal.
But Guatemala, which received support from Israel in its counter-insurgency campaigns in the 1980s, plans to open an embassy in Jerusalem on Wednesday. Its ambassador visited the new site, in an office building in the western part of the city, on Monday. Paraguay is to follow suit later this month,
In London, the British government said it had no plans to move its Israel embassy from Tel Aviv to Jerusalem, and said it disagreed with the US decision to do so. The Russian government said it feared the embassy move would increase tensions across the Middle East.
AS US BLAMES HAMAS FOR GAZA DEATHS, WORLD CONDEMNS ISRAEL
(Excerpt) White House iterates support for Israel in wake of Gaza Strip riots, says 'no justification for Hamas recklessness, cynicism'; South Africa recalls ambassador after condemning Israel's 'violent aggression on Gaza border'; UN Security Council to convene to discuss riots, deaths of 52 Palestinians.

Itamar Eichner
Ynet News
May 14, 2018
The White House blamed Hamas leaders Monday evening for the deadly violence in Gaza earlier in the day—in which 52 Palestinians were killed and more than 1,200 wounded—and said Israel has a right to defend itself.
"There is no justification for the recklessness and cynicism Hamas has shown in urging people to engage in violence that exposes them to terrible risk. As the Secretary of State has said, Israel has a right to defend itself," a White House official, speaking on condition of anonymity, said in a statement.
The official further maintained a solution needed to be found to the "serious humanitarian challenges facing Palestinians" in Gaza.
Conversely, the South African government has decided to recall its ambassador to Israel after issuing a harsh condemnation of "Israeli armed forces' violent aggression on the Gaza border."
The Foreign Affairs Ministry confirmed that the ambassador has indeed been called back, and will fly back to the African country Monday night.
The South African Department of International Relations and Cooperation said that the Gazan casualties were "taking part in a peaceful protest against the provocative inauguration of the US Embassy in Jerusalem."
"Given the indiscriminate and grave manner of the latest Israeli attack," the department's statement continued, "the South African government has taken a decision to recall Ambassador Sisa Ngombane with immediate effect until further notice."
The statement further called on Israel to "withdraw from the Gaza Strip and bring to an end the violent and destructive incursions into Palestinian territories", adding that the violence in the strip may scuttle the rebuilding of Palestinian institutions and infrastructures alike.
"The routine actions of Israeli forces present yet another obstacle to a permanent resolution to the conflict," South Africa alleged, "which must come in the form of two states—Palestine and Israel—existing side by side in peace."
"Like other members of the international community, South Africa is disturbed by the latest deadly aggression and reiterates calls for an independent inquiry into the killings, with a view to holding to account those who are responsible," the statement concluded.
Fifty-two Palestinians, eight children among them, were killed Monday after coming close to the Gaza border fence. Some 40,000 people demonstrated in the area, and 1,204 were wounded, according to Gaza medical sources—marking the highest Palestinian single-day death toll since Operation Protective Edge.
The IDF attacked a series of Hamas and Palestinian Islamic Jihad targets using aircraft and tanks, in retaliation to Palestinians shooting and lobbing explosives at IDF forces earlier.
The Palestinian Authority has declared three national days of mourning starting Tuesday, and a general strike on Tuesday itself.