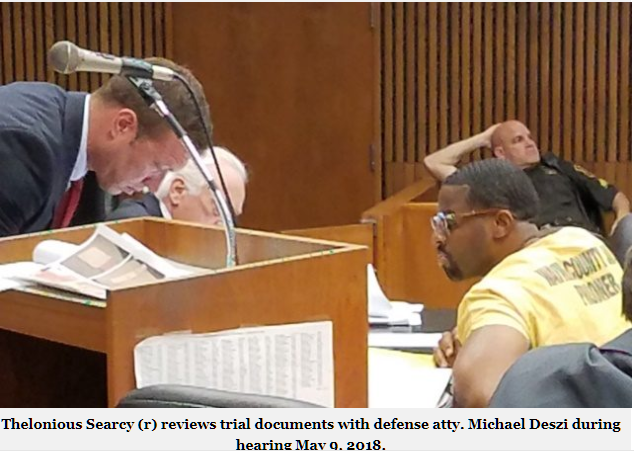 Ballistics expert says ET picked up 9 mm. casing at scene of Jamal Segars Sept. 4, 2004 murder; casing listed with same ET number as .40 caliber slug 
Smothers  testified earlier cops fired guns after Segars killing, but that he and accomplice had only .40 and .45 caliber guns
AP Muscat, who prosecuted Searcy and Davontae Sanford, testifies without written corroboration
Note from city FOIA attorney cites second fatality at scene of Segars killing, in "burgundy Marauder" which cops' car crashed into while pursuing Smothers accomplice judge orders further investigation
Michael Witcher likely a police plant in bullpen with Searcy May 9; is uncle of chief pros. trial witness, but not scheduled for hearing that day
 By Diane Bukowski
 May 10, 2018/UPDATED May 11, 2018
Update April 20, 2021: DeAnthony Witcher, referenced in stories on Thelonious Searcy case, stated in a phone call to VOD Editor Diane Bukowski that he is NOT a police  informant and denies all allegations made against him in this and subsequent stories on the Thelonious Searcy case.
Correction from earlier version of this story: the photo shown of DeAnthony Witcher was not the correct photo. it has been replaced with the photo VOD has used all along, which is a photo of DeAnthony Witcher from a police line-up. VOD apologizes for this error and any confusion it may have caused.
DETROIT – Independent forensics expert David Balash testified May 9 at the Thelonious Searcy evidentiary hearing that matching evidence tag numbers for a 40 caliber slug and a 9 mm. bullet casing related to the murder of Jamal Segars Sept. 4, 2004 showed at least that an evidence technician picked up and listed the 9 mm. casing at the scene of the murder.
Self-confessed hitman Vincent Smothers had testified March 19 that he committed the Segars murder, for which Searcy is serving a life sentence, and also that police fired their guns at the scene. Police had denied doing so. Smothers said he used a .40 caliber gun to kill Segars, while Daniels had a .45 caliber gun, which he fired into the air once.
During a second hearing March 28, Wayne County Circuit Court Judge Timothy Kenny ordered the contents of a sealed envelope from the now-closed Detroit crime lab, presented at the hearing, to be examined at the Michigan State Police crime lab. Balash testified that the envelope contained a full metal-jacketed 4o caliber bullet, red-tagged with the number ET #E07191604.
However, a 9 mm. shell casing is listed with the same number in a report of items from the crime scene, dated 9/16/2004.  The Detroit crime lab closed in 2008 due to its excessive error record, which resulted in false convictions for hundreds of prisoners. Searcy himself discovered the conflict while examining records from his case.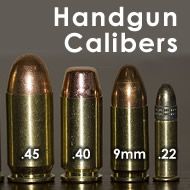 "Confusing a 9 mm casing and 40 caliber slug is like confusing a cherry and a watermelon," Balash said. "One is a casing, which you normally find at the scene where the gun was fired. A bullet is normally removed from an object or person after the shooting."
The 40 caliber slug allegedly fell out of Segars' body at the medical examiner's office. But the medical examiner's report said that the three "bullet fragments" recovered from Segars' body were too deformed to be classified.
Smothers testified March 19 that he approached Segars' silver Corvette from behind during a bumper-to-bumper "Black Party" outside Detroit City Airport and fired numerous bullets into him, after stalking him for several months. He said he and his accomplice Jeffery Daniels fled the scene as a Detroit police car began pursuing Daniels on his way back to the car he had come in, but the police car crashed into a burgundy-colored Marauder coming out of a store parking lot on Conner.  He said the passenger in the police car got out and began firing at them.
Defense attorney Dezsi next called Asst. Prosecutor Patrick Muscat to the stand. Muscat prosecuted Segars during his trial in 2005, and also prosecuted Davontae Sanford, 14, in 2008 for four killings Smothers also confessed to, leading to Sanford's release after nine years in prison. A Michigan State Police investigation of the so-called "Runyon Street murders" turned up DPD reports from the night of the 2007 killings which quoted two eyewitnesses who described the killer as "taller and older" than Sanford, among other DPD reports that never should have led to Sanford's arrest.
Muscat skirted a question about whether Searcy knew Segars, replying instead that it was a case of "transferred intent," where Searcy thought the driver of the silver Corvette was DeAnthony Witcher, the chief prosecution witness at his trial.
Muscat denied knowing anything about why the prosecutor's file in the Segars case is missing, but then proceeded to testify without any written corroboration of his allegations. He said the file had been re-examined while he was in charge of Pros. Kym Worthy's initial "Conviction Integrity Unit" established to investigate the DPD crime lab errors, but disappeared after that.
Muscat claimed he disclosed at Searcy's trial that Segars had a federal drug conviction in 1993, for which he spent five years in prison. Smothers said earlier in his confession to the Segars murder that Segars played a major role in the Detroit drug scene. Dezsi unsuccessfully asked him for written confirmation that he turned the evidence of that conviction over to then defense attorney Robert Mitchell, now deceased. Smothers normally targeted people in the drug trade.
Muscat testified that Searcy and DeAnthony Witcher had an ongoing feud, and that Witcher was driving a silver Corvette that was a "twin" to Segars' car during the Black Party. However, Dezsi presented a copy of an extensive DPD arrest report of Witcher dated Nov. 18, 2004 that showed he was stopped and arrested by DPD officers for carrying a concealed weapon in a BLUE Corvette, a black and silver 9 mm. Smith and Wesson.
(See full defense motion at http://voiceofdetroit.net/wp-content/uploads/Searcy.Mtn_.Compel-1.pdf )
"On Nov. 30, 2004, the same day that Mr. Searcy was arrested for the murder of Jamal Segars, the CCW case against Witcher was 'closed' with a notation that "P.A. . .warrant denied," Dezsi wrote in a "Defendant's Motion to Compel Production of Documents Directed to Wayne County Prosecutor," dated April 19, 2017.
Deszi questioned whether "the prosecution or law enforcement offered Witcher some sort of leniency in exchange for his cooperation and testimony in this matter . . .Apart from Smothers' confession (which will be briefed and argued separately from this instant motion), the Court should have serious doubts about whether Defendant has been subject to a grave miscarriage of justice sufficient to grant relief under MCR 6.502."
He asked Judge Kenny to "draw a negative inference from the prosecutor's failure to produce such files."
Muscat claimed he had turned over all documents including a record of Witcher's CCW arrest to the defense, again with no corroboration since the prosecutor's file is missing and the defense attorney Robert Mitchell has passed.
At one point during his testimony, Muscat said that the gun which killed Segars was found in Searcy's home. In fact, DPD took possession of a .45 caliber gun that belonged to Smother's accessory Jeffery Robinson when they charged into Searcy's grandmother's home without a warrant to arrest Searcy. Smothers said he killed Segars with a .40 caliber gun.
During the DPD invasion of Edna Richardson's home, officers mistreated and terrified Searcy's young wife and two toddler daughters. Both his wife and daughters have come to his ongoing evidentiary hearings to support him.
Muscat also admitted that DeAnthony Witcher was reluctant to testify against Searcy, because he did not want to be known as a "snitch." He was subjected to a prosecutor's investigative subpoena, under which testimony is taken without the presence of a defense attorney. When he still did not agree to testify, Judge Kenny issued an order of "use immunity" that would bar his testimony from being used against him in other matters.
In a bizarre turn of events, Dezsi also introduced a letter from a former Detroit Law Department attorney, Kathy Christian  addressed to Sgt. William Anderson, the Officer in Charge of Searcy's prosecution, indicating that a second fatality had been reported at the scene. (See below.) Dezsi said the attorney was a classmate and colleague of his who died under unclear circumstances later. Judge Kenny ordered Sgt. Anderson to appear at another hearing May 15 at 2 p.m., to address that matter, along with evidence technician Patricia Little.
In the letter, Christian writes,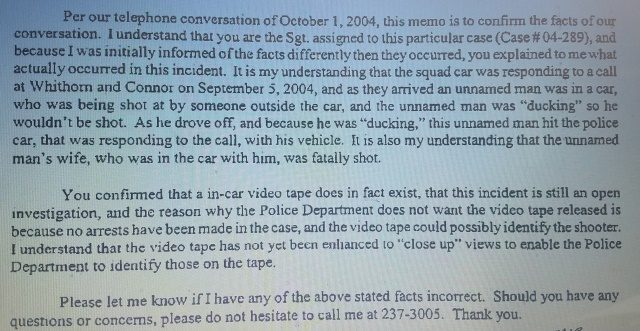 In another bizarre turn of events, deputy sheriffs took Searcy back to the bullpen which originally contained three other prisoners, during a break, but a fourth prisoner had been added.
That prisoner turned out to be Michael Witcher, an uncle of DeAnthony Witcher who was not known to Searcy. Searcy says Witcher started to question him about the case and continued with a full discussion in front of the other inmates, until Searcy asked the deputies to get his attorney. Virtual chaos ensued.
Dezsi says he told the deputies that Searcy and Witcher should not be in the same bullpen, and that they agreed to separate them. Jail and court records show that Witcher was arrested April 23, 2018 for "assault with intent to commit murder," and was not scheduled for a hearing on the charges until May 15, 2018, so he should not have been in the bullpen at all.
Searcy said he earlier heard a Deputy Sheriff named "Outlaw" call several times to find out when Witcher was being sent to the bullpen, and that he told Sheriff Outlaw that DeAnthony Witcher was the chief prosecution witness in his case.
The Wayne County Jail has been notorious for its system of recruiting "snitches" to testify against defendants in exchange for leniency and other favors in the jail. (See article on "Ring of Snitches" listed below.) Searcy said he is well aware of this and is extremely careful about talking to anyone about his case.
Scott Lewis, the private investigator hired by Searcy's grandmother to interview Vincent Smothers and others in this case, told VOD he believes that state legislation must be passed to regulate the use of such "snitches."
Judge Kenny set Searcy's next, and hopefully final, hearing for Tues. May 15 at 2 p.m. He may need to reschedule Michael Witcher's hearing, also scheduled on that date as listed above, to avoid any further problems.
RELATED STORIES:
http://www.truth-out.org/news/item/29950-ring-of-snitches-how-detroit-police-slapped-false-murder-convictions-on-young-black-men
http://voiceofdetroit.net/2017/06/10/false-detroit-conviction-vincent-smothers-says-he-not-thelonious-searcy-killed-jamal-segars-in-2004/
http://voiceofdetroit.net/2017/07/05/is-exoneration-near-for-thelonious-searcy-serving-life-for-murder-vincent-smothers-confessed-to/
http://voiceofdetroit.net/2017/08/14/searcy-wins-evidentiary-hearing-smothers-expected-to-testify-he-was-the-killer-in-2004-case/
http://voiceofdetroit.net/2018/03/13/pack-court-to-stop-wrongful-conviction-of-thelonious-searcy-mon-march-19-9-am-judge-kenny/
http://voiceofdetroit.net/2018/03/23/vincent-smothers-takes-stand-to-exonerate-thelonious-searcy-in-2004-detroit-murder/
http://voiceofdetroit.net/2018/03/27/smothers-co-defendant-marzell-black-backs-confession-to-segars-murder-at-searcy-hearing/
https://www.prisonlegalnews.org/news/2017/jan/10/michigans-wayne-county-jails-plagued-inhumane-conditions/
TESTIMONY AT 2 MARCH HEARINGS SHOWED SEARCY LIKELY INNOCENT; NEXT HEARING DELAYED TO MAY 9