Plans to reach out to other groups to form a united front
Judge Deborah Thomas keynotes T.I.M.E. forum
D.T.P.F. President Marilyn Jordan regenerating group formed 9 yrs. ago
By Diane Bukowski
May 6, 2018
DETROIT – The Detroit People's Task Force, Inc., C.D.C., founded in 2009 by prisoners and their families to advocate for their needs after the shutdown of the corrupt Detroit crime lab, is rejuvenating itself.
Its president Marilyn Jordan and officers say they also want to reach out to similar groups to build a united front in the face of increased mass incarceration particularly of Black youth, and desperate conditions in the community.
On Sat. April 28, the Task Force sponsored a forum "Teaching Inmate Mothers Empowerment" (T.I.M.E.), meant to build a support team for women with loved ones in prison, and discuss plans for the future. It was interspersed with apiritually directed musical and dance performances,
The keynote speaker was Third Judicial Circuit Court Judge Deborah Thomas, who has been on the bench since 1994, over 25 years. Judge Thomas ran twice as a Democratic candidate for Michigan Supreme Court, and earlier led a broad community-based battle to increase the number of Black jurors in Third Circuit Court.
"There was a time—when we were doing a lot of things that we're not doing now," Judge Thomas said. "We thought we had overcome, so we quit doing it. But our condition hasn't really changed. As the slaves were freed and the laws were changed and those things that were once misdemeanors or ordinance violations became felonies, our men were picked up for just walking down the road and shipped off to prison in large numbers."
Judge Thomas spoke on behalf of Black youths in particular, who come before her bench in court. She said when they come there accused of stealing cars, she sends them to school instead. She said many youth have lost any hope for the future.
"When they come, many of them are approaching a point where they are about to go into the 11th or 12th grade, and they have no idea of what opportunities are available," Judge Thomas said. "Just because you see three colored boys on a corner doesn't mean that's a gang. . . They need employment opportunities. We need to enlarge the scope of their world, let them know that there's more than basketball, boxing and football."
She said that where once laws prohibited Blacks from certain housing, employment and schools, and the civil rights movement changed some of that, "all they did was take out 'colored' and put in 'felon.'" She said former President Bill Clinton got legislation passed allowing states to deny food stamps to people with felonies, especially drug-related offenses. Now, she said, there is a push in Michigan to establish similar penalties for people with misdemeanors.
She called on the members of the Detroit People's Task Force to reach out and establish chapters all over the state.
"We've got to have the folks in the suburbs, too," she said. "There's heroin there too. People everywhere are self-medicating with heroin, cocaine, and meth. Take the hand of another mother of another color who's feeling the same pain."
ABOVE: DPTF PRESIDENT MARILYN JORDAN SPEAKS AT FORUM
The DPTF fought for freedom for years for hundreds of prisoners falsely convicted by corrupted forensic and ballistics evidence from the Detroit Police Crime Lab. The lab was found to have a 10 percent error rate in test results, and a 40 percent error rate in compliance with national forensics examination standards and was permanently shut down in 2009.
The DTPF demanded the creation of a scientific lab independent of law enforcement, excluding Prosecutor Kym Worthy and the Detroit Police Department, which were found to be complicit in producing faulty results, since many employed at the lab were also police personnel.
However, Worthy campaigned with the City Council for more and more funding for the prosecutor's office to conduct the crime lab review. In the end, partnering with the State Appellate Defender's Office, she limited cases to be reviewed to convictions between 2003 and 2008, and of those, found only four with questionable lab results. Marilyn Jordan's own son Kelly Nobles, one of the DPTF founders, did not have his case reviewed since it was a 2002 conviction. He is serving a term of life without parole.
In a total travesty, Worthy recommended that all four prisoners be re-tried and they were sent back to prison.
One of the most ardent prisoner founders of the DPTF was Michael Harris, who has been serving five life terms and a 60-90 year sentence for the rape-murders of elderly women in the Lansing and central Michigan areas. Two years ago, the Detroit Free Press and TruthinForensics.org exposed the fact that the Michigan State Police Crime Lab had falsely identified DNA in one case, which was in fact linked to another man. Investigations of the other cases are ongoing, but Harris has been incarcerated since 1982 for the crimes. The man whose actual DNA was discovered in the one case has never been arrested.
The DPTF, whose mothers and families have yet to find justice for their wrongfully convicted loved ones, pledged at the forum April 28 to continue the battle, broadening its fronts. In addition to functioning as a support group for those with loved ones in prison, they have also formulated a broad-ranging mission:
DETROIT PEOPLES TASK FORCE MISSION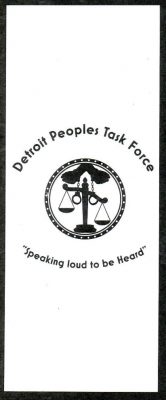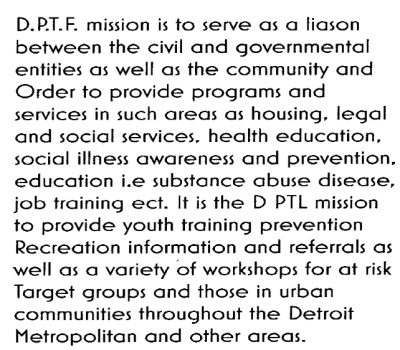 Read their entire program inside the brochure above at http://voiceofdetroit.net/wp-content/uploads/Detroit-Peoples-Task-Force-program.pdf
CONTACT THE DETROIT PEOPLE'S TASK FORCE, INC.
Phone: 313-784-4021 Fax: 248-443-4979 detroitpeoplestaskforceinc@aol.com
FACEBOOK: https://www.facebook.com/DPTFInc/
Related stories:
https://www.freep.com/story/news/local/michigan/2016/10/18/dna-murder-case-michael-harris/92347892/
http://truthinjustice.org/michael-harris.htm
http://voiceofdetroit.net/2011/06/15/dpd-msp-and-worthy-guilty-in-crime-lab-cases-says-peoples-task-force/
http://voiceofdetroit.net/2011/06/23/families-demand-worthy-must-go-free-prisoners-convicted-on-falsified-crime-lab-evidence/
http://voiceofdetroit.net/2011/07/15/people's-task-force-continues-battle-to-expose-crime-lab-crimes-in-protests-at-fed-bldg-city-council/
http://voiceofdetroit.net/2011/09/04/internet-rally-sept-6-12-noon-for-investigation-of-crime-labs/
http://voiceofdetroit.net/2013/07/05/stirring-tributes-for-freedom-fighter-kevin-carey-at-homegoing-ceremony-june-22/