MICHIGAN SUPREME COURT OVERTURNS REV. PINKNEY CONVICTION
DEMONSTRATE IN BENTON HARBOR MAY 26, 2018, 11 A.M.
FREE MICHIGAN'S JUVENILE LIFERS!
By the People's Tribune Editorial Board
May, 2018
Below: Glen Ford of the Black Agenda Report interviews Rev. Pinkney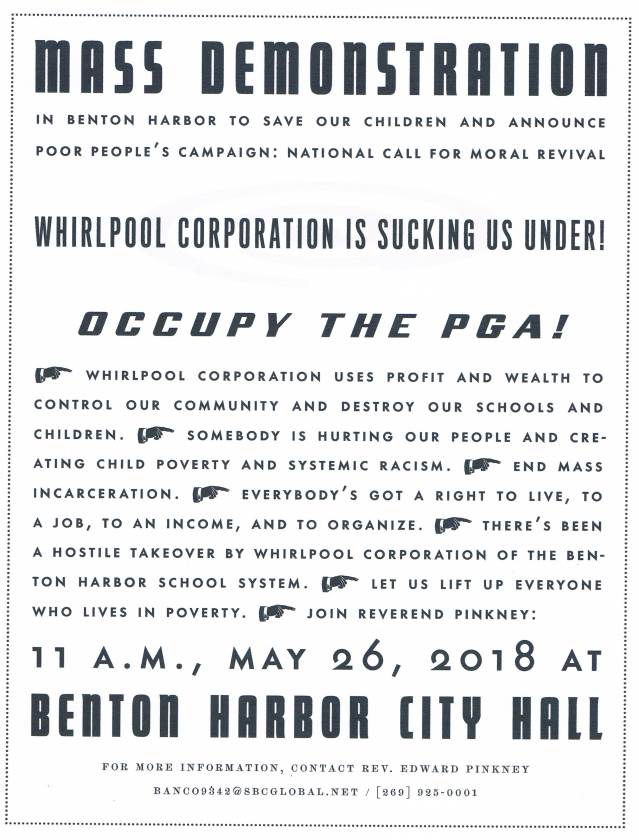 In a victory for the people in the fight against naked corporate power and defending democracy, the Michigan Supreme Court has ruled 6-0 that Rev. Edward Pinkney of Benton Harbor, Michigan, was improperly charged with five felony counts of election forgery in 2014 by the Berrien County prosecutor, that he was improperly tried and sentenced by the Berrien County Circuit Court, and improperly served 30 months in prison as a result.
(See complete MSC ruling at http://voiceofdetroit.net/wp-content/uploads/Pinkney-supreme-court-victory.pdf. It remands Pinkney's case to the trial court in Berrien County to comply with its orders to exonerate and free Rev. Pinkney. Rev. Pinkney said the trial court had 21 days to comply.)
In overturning Pinkney's conviction, the Michigan Supreme Court ruled that the statute he was sentenced for supposedly violating did not create any substantive criminal offense at all, but was merely a sentencing provision for other election forgery offenses which Rev. Pinkney was not charged with. The state Supreme Court ruling marked a rebuke of the Michigan Court of Appeals, which had ruled against Pinkney.
The People's Tribune congratulates Rev. Pinkney, the people of Benton Harbor and his supporters across the country on this victory. Rev. Pinkney has been a leader of the struggle against the corporate dictatorship in Benton Harbor and Michigan for many years.
The Whirlpool Corporation dominates Benton Harbor, and Pinkney has been in the forefront of the fight against Whirlpool's efforts to take over the Lake Michigan beachfront property and public parks in Benton Harbor for private profit.
He has also defended democracy in the fight against the dictatorial emergency manager system imposed by the state in Benton Harbor and elsewhere in Michigan. The emergency manager system opens up cherished public assets such as land and even water to be handed over to the corporations. Rev. Pinkney continues to fight police repression in Benton Harbor, and he helps local people have their rights respected in court.
The assault on democracy in Benton Harbor
When Rev. Pinkney stood up for Benton Harbor, corporate power used the race card to try and shut him up and to destroy democracy in the town. Benton Harbor, a poor Black community, could be easily isolated. An all-white jury from affluent towns was selected to judge Pinkney; jurists had not lived under the oppression of emergency management where corporate officials replace elected officials.
During the trial, the prosecution admitted there was no physical evidence linking Rev. Pinkney to the crime they were charging him with. And yet the prosecution repeatedly introduced examples of Rev. Pinkney exercising his First Amendment right to free speech, political activities and community activism as evidence he committed the crime.
The corporations thus set the stage to destroy democracy in all of Michigan, and then throughout the United States. The race question has historically been used by the powerful in America to divide and conquer the working class. Today, racial division is one of the main weapons being used to impose fascism on all of us. To win this war we must take this historic weapon of race away from the enemy, and fight for the political as well as economic rights of all Americans.
The attack on democracy and Rev. Pinkney's conviction symbolizes an entire process under way in America. The once stable working class community of Benton Harbor has been devastated by automation and globalization. Today, the former industrial workers have become the marginally or permanently unemployed, and the open rule of corporate power is arising to oppose their struggle. The governing bodies that once controlled us by buying up the people's leaders now turn to intimidation and brute force. The corporate attack launched on Benton Harbor is now being repeated in one form or another across Michigan and the country.
Benton Harbor shows that the corporations have continued to escalate their control over the government. That is the foundation of American fascism. They see the little democracy that still remains in our country as an obstacle to their rule. They are determined to destroy it before the deteriorating economic conditions kick the people awake.
A major battle has been won, but the war is not over. Fascism consolidates down below—by gaining victory after small victory until it has the base for the "important" struggles. This is why it is so important that the revolutionary and democratic forces learn to confront fascist, corporate power at every turn.
From time to time an attack against democracy is so blatant that it symbolizes the entire process. This is the importance of the victory in Benton Harbor. The only way we're going to ultimately achieve democracy is if the people control the necessities of life. True democracy is the rule of the people. People can't rule if they're living in the streets or working two jobs just to survive. If you control the necessaries of life, you are a free person. There's only one solution. We have to build a huge movement to take over the corporations and run them in the interest of humanity.
The defense of our leaders is critical to building such a movement. The case of Rev. Pinkney and Benton Harbor shows the importance of the American people taking a stand before it is too late. People rallied in support of Rev. Pinkney because of the injustice and also because he exhibited the characteristics of a new kind of leader, one that cannot be bought off or side tracked from a consistent fight for the needs of the people. When leaders like Rev. Pinkney come under attack, we must defend them. A movement that does not defend its leaders cannot grow.
The People's Tribune has covered this fight from the beginning. We urge our readers to take this newspaper out and help awaken America. Learn more about the history of the Benton Harbor struggle by ordering copies of the People's Tribune pamphlet Benton Harbor, MI: Fighting the Corporate Dictatorship in America's Rust Belt. To order, email info@peoplestribune.org or call 800-691-6888. A $4 donation is suggested for each pamphlet.
Rev. Pinkney is available to speak. To schedule him as a speaker, contact: Speakers for a New America at 800-691-6888 or email info@speakersforanewamerica.com/
We encourage reproduction of this article so long as you credit the source.
Copyright © 2018 People's Tribune. Visit us at http://peoplestribune.org
---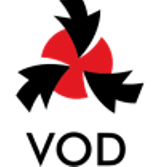 VOD: We spoke briefly with Rev. Pinkney May 21, asking him about 40,000 Michigan prisoners still left behind in the state's concentration camps. Experts say at least 30 percent are innocent, as in the case of Charles Lewis, and another 50 percent did not get fair trials. At least 70 percent are people of color.
Still languishing in prison are 247 Michigan juvenile lifers, out of 363, in violation of two U.S. Supreme Court decisions in Miller v. Alabama (2012) and Montgomery v. Louisiana (2016). These rulings held that juvenile life without parole is unconstitutional, "cruel and unusual" punishment, and that "only the rarest" child should be sentenced to die in prison.
Among them is Efren Paredes, Jr., one of Berrien County's 100 juvenile lifers. Berrien County Prosecutor Eric Sepic, who also prosecuted Pinkney, has recommended that all 100 of the County's juvenile lifers be re-sentenced to die in prison.
Federal troops must be sent to Michigan to enforce the U.S. Supreme Court decisions and liberate Michigan's child lifers, just as they were sent to Southern schools to enforce Brown v. the Board of Education.
Sign the petition for Efren Paredes, Jr. at https://www.change.org/p/efrenuncaged-gmail-com-efren-paredes-jr-resentencing-hearing-support-letter
Previous VOD stories:
A VISIT WITH MICHIGAN POLITICAL PRISONER REV. EDWARD PINKNEY
FIGHT TO FREE REV. EDWARD PINKNEY FROM PRISON, CONVICTED BY ALL-WHITE JURY WITH NO EVIDENCE
REV PINKNEY NOW IN MARQUETTE PRISON; TRIAL MOTIONS HEARING TUES. FEB. 24, 1 PM, ST. JOSEPH, MI
REV. PINKNEY DEFENSE CAMPAIGN BUILDS; WIFE SAYS THEY REMAIN STRONG DESPITE RACIST IMPRISONMENT
REV. PINKNEY GETS 2.5-10 YRS. AS COPS WILSON, PANTALEO WALK ON MIKE BROWN, ERIC GARNER MURDERS
REV. PINKNEY: LYNCH MOB MENTALITY IN ST. JOSEPH AS HE AWAITS SENTENCING DEC. 15
ALL WHITE JURY CONVICTS REV. PINKNEY OF 5 FELONY COUNTS–PROSECUTOR WANTS LIFE SENTENCE
FREE REV. PINKNEY! BENTON HARBOR FRAME-UP TRIAL TARGETS NATIONALLY-KNOWN FREEDOM FIGHTER!
DROP THE CHARGES AGAINST REV. EDWARD PINKNEY OF BENTON HARBOR; TRIAL SET FOR JULY 21
BENTON HARBOR: REV. PINKNEY TO FACE TRIAL ON FELONY CHARGES JULY 21 DESPITE NO EVIDENCE
DISMISS ALL CHARGES AGAINST REV. PINKNEY; COURT FRI. MAY 30! SAVE BENTON HARBOR! BOYCOTT WHIRLPOOL!
REV. EDWARD PINKNEY, MARCUS MUHAMMAD BATTLE WHIRLPOOL FOR BENTON HARBOR; PINKNEY COURT HEARING MAY 30
FREE REV. EDWARD PINKNEY! RECALL WHIRLPOOL STOOGE, BENTON HARBOR MAYOR JAMES HIGHTOWER