DPD reports it is "investigating" portions of 16 criminal case files including physical evidence found in the home of retired Sgt. Olie Millian, Jr. Feb. 7
Says it is also investigating other cases from 1997 to 2008; nothing said about other decades of missing files, including juvenile lifers
DBOPC called for a meeting to decide discipline of officers re: Snapchat video of young Black woman ticketed, evicted from car in freezing temp
Snapchat officer Steele later fired, implicated in racial animosity in 6th Pct.
By Diane Bukowski
March 22, 2019
DETROIT – The Voice of Detroit has filed a Freedom of Information Act request related to the discovery of official Detroit police homicide files and evidence in the home of retired DPD Detective Olie McMillian, Jr. on Feb. 7. The items were discovered by individuals hired by the landlord to clean out the place, during an eviction proceeding.
VOD is asking for "a detailed list of each case involved, with copies of all files and their contents including case numbers and defendants' names, and photographs of all physical evidence discovered." For full request, see http://voiceofdetroit.net/wp-content/uploads/FOIA-Law-Dept-Police-evidence-2.pdf
Chris Graveline, Director of Professional Standards and Constitutional Policing, described what was found during a Feb. 14 community meeting of the Detroit Board of Police Commissioners. He did not provide names of the defendants or case numbers. He reported that materials police officials took out of a dumpster and the residence included:
Portions of case files and evidence relating to 16 criminal cases from 1997 to approximately 2008, when McMillian worked in the DPD homicide division.
Physical evidence including clothing, cell phones, and a handgun.
He said the DPD is sorting through the files and evidence to determine whether the cases are still open or closed, or have gone to trial, among other matters, then will turn them over to the Wayne County Prosecutor.
"I fail to reconcile first of all why department evidence related to a crime would be in the personal possession of any officer," Atty. David A. Robinson told VOD earlier. "That breaks the chain of custody and compromises the case of whoever is being investigated. You have to question the officer's motive. It goes beyond sloppiness since officers certainly are trained in the significance of the integrity of evidence. And it begs the question of motive. There have been many cases where Brady violations have occurred where officers have hidden evidence in favor of a suspect's claim of innocence."
Robinson said if VOD's FOIA request is denied, he will pursue a lawsuit in court.
During the Feb. 14 meeting, District 7 Police Commissioner William Davis asked, "As it relates to officers in the past having access and taking custody of evidence, is there an investigation to make sure there's not lots of other evidence out there that could adversely affect our citizens?"
Deputy Police Chief Todd Bettison responded, "We have procedures in place right now that Chief [James] Craig started that it's a checklist that before a member retires, we get to find out what [cases] he's on, they have to turn that evidence in.
"It's not about taking [it] home period or anything like that—that's completely a violation of department policy," Bettison continued. "In regards to every possible thing that could have happened in the past, because we're not aware of this, we are looking at it. Since Chief [James] Craig has been there, we are confident that it hasn't happened. With this being a new development, we're going to look at all avenues to make sure that there weren't any other members during that time that participated in that crisis."
Former Detroit Emergency Manager Kevyn Orr appointed Craig to that position July 1, 2013, while the city was under "emergency management" by the State of Michigan. Craig previously spent 28 years with the Los Angeles PD and served on an internal panel that whitewashed crimes committed by LAPD cops in the "Ramparts" Precinct.
Deputy Chief Bettison's version of the investigation leaves out any cases other than those from 1997 to 2008. It is now more than 11 years afterwards, not to mention the years prior to 1997, during which many defendants have been serving decades in the MDOC.
Numerous Michigan Department of Corrections prisoners are asking about their own case files in the wake of this news. Private investigator Scott Lewis earlier told VOD that he estimates at least 30 percent of Michigan prisoners are innocent.
Exposes of hidden evidence and missing criminal case files have come to light periodically, most notably in the "miscellaneous files" travesty of 1996. Atty. Sarah E. Hunter exposed police practices of keeping files, records and evidence favoring the defendant hidden from both prosecution and defense. Hunter, a long-time advocate for prisoners, died in 2017.
Read her stunning affidavit at http://voiceofdetroit.net/wp-content/uploads/Sarah.Hunter.Affidavit-re-miscellaneous-files-1.pdf
As Michigan juvenile lifers face extremely tardy re-sentencings pursuant to two U.S. Supreme Court rulings in 2012 and 2016, many attorneys have told VOD that they have discovered that at least portions of court files and other records required for mitigation hearings are missing. Many of these juvenile lifers have spent decades in prison
For example. Charles Lewis, now 59, who has been incarcerated since 1977, has heard three years of testimony by Wayne County Clerk's office representatives that five boxes of physical files in his case went missing sometime before his case started re-sentencing hearings in front of Wayne County Circuit Court Judge Qiana Lillard in 2016. Additionally, entries on his Register of Actions, the official record of the case, are completely missing from 1997 to 2000.
According to U.S. and Michigan Supreme Court precedents, Lewis' case should have been promptly dismissed. Wayne County Circuit Court Judge Qiana Lillard heard testimony about the loss of the files in 2016, but has insisted on holding a mitigation hearing without actual records of jury convictions in his case.
She claimed an April 3, 2000 order in which former Wayne County Circuit Court Judge Gershwin Drain dismissed the case and conviction, which was discovered lost in another file, was forged by Lewis. No proof of such a forgery or charges were ever brought.
Lewis gave a detailed statement in court regarding the discovery of the document by court clerk personnel, the case was not further investigated. Instead, all Lewis' physical case files from 1977 through 1999 went missing, and his Register of Actions for the same period was wiped out.
In 2007, this writer and the now defunct Michigan Citizen won a ruling from the Michigan Supreme Court in the case of Diane Bukowski v. The City of Detroit, which forced the Detroit Police Department to disclose the factual findings in the Shoulders Report, an internal investigation into the killings of three individuals and shootings of six others by Detroit police officer Eugene Brown, in separate incidents over five years. The DPD had repeatedly refused to do so.
The case of Eugene Brown roused hundreds of people in the City of Detroit to protest against police brutality and killings for many years afterwards, beginning in 2000, with the Detroit Coalition Against Police Brutality in the forefront. Also killed by Detroit police in 2000 without cause were a deaf man with a rack, who could not hear officers' orders to put the rake down, and an autoworker firing at a dangerous dog from his front porch.
The high court remanded the Brown case back to the trial court of Judge Wendy Baxter for an opinion consistent with their ruling. Baxter released the Report, with some redactions. It rrecommended among other matters that Brown should have been charged and/or disciplined in those cases. See MSC ruling at http://voiceofdetroit.net/wp-content/uploads/BUKOWSKI-v-CITY-OF-DETROIT-MSC.pdf.
The MSC wrote, "It is the public policy of this state that all persons, except those persons incarcerated in state or local correctional facilities, are entitled to full and complete information regarding the affairs of government and the official acts of those who represent them as public officials and public employees, consistent with this act.  The people shall be informed so that they may fully participate in the democratic process."
The families and friends of Brown's victims, including the late Arnetta Grable, Herman Vallery, Cornell Squires, and others massed outside the Frank Murphy Hall as Grable and others went to the office of Prosecutor Kym Worthy to demand action against Brown on murder charges, which have no statute of limitations. They were told Worthy had always had this report and had no plans to act on it.
Brown was instead promoted to Sergeant and continued working in the Detroit Police Department until his retirement.
CRAIG: DPD HAS 'STRONG RELATIONSHIP WITH CITIZENS:"–REALLY?
In 2016, Chief Craig told CNN, "In my tenure . . .rarely do you hear [an] outcry if it's a black officer that's involved in a shooting and the suspect is black. It's always the reverse."
He said later, "I made the statement (on CNN) because it's true from a national perspective. In Detroit, we've had police-involved shootings by both black and white officers and there's been no outcry.
That's because we have a strong relationship with our citizens. . . . Eugene Brown predates me, and I can't speak to that."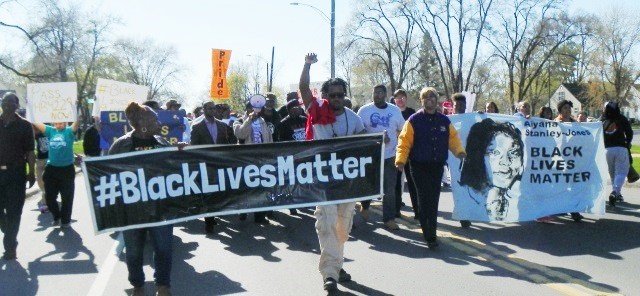 March on April 28, 2015 for Terrance Kellom, 19, killed by police April 19. Uprisings in Baltimore against the police murder of Freddie Gray were taking place at same time.
In fact, during Craig's tenure, police murders of young father Terrance Kellom, 18, on April 19, 2015 and Kevin Matthews, 35, who was autistic, occasioned mass marches in Detroit and Dearborn.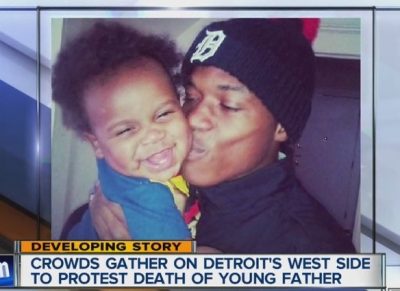 TERRANCE KELLOM, 18 and a young father expecting his second child, was shot multiple times and killed after a seven-member multi-jurisdictional, multi-racial Detroit Fugitive Apprehension Task Force (D-FAT) invaded his father Kevin Kellom's home with an armed robbery arrest warrant, but no search warrant.
Police identified the shooter as Immigration and Customs Enforcement (I.C.E.) agent MITCHELL QUINN, a former Detroit police officer with a record of previous shootings. They said he fired because Kellom threatened him with a hammer, statements contradicted by family eyewitnesses. During a press conference, Worthy admitted there were no fingerprints on the hammer, which police alleged Kellom had used to chop a hole in an upstairs closet and drop to the first floor. She never brought charges.
DECEMBER 23, 2015: KEVIN MATTHEWS, 35, who suffered from mental illness but was nonviolent, was shot multiple times and killed by a white Dearborn cop, still unidentified by Wayne County Prosecutor Kym Worthy, who has had the case on her desk since January, 2016 without taking action. The cop chased on foot out of range of his car's dashcam video, to a backyard in Detroit, where he shot him multiple times as a neighbor heard him begging, "Don't shoot." No action was taken by Detroit police or the prosecutor re: this invasion of Detroit's borderline.
APRIL 2, 2013: MATTHEW JOSEPH, 23, killed by a multi-agency task force at the corner of Linwood and Hooker after a short chase, shot at least 50 times. Detroit police officer Patrick Hill later died of wounds police admitted were "friendly fire," first blaming Joseph. Neighborhood witnesses said Joseph had never moved out of the driver's st of his car and never fired on police as they alleged.
March 30, 2015: ANTHONY CLARK REED, 24, died during a traffic stop by Detroit police on the city's southwest side.
"They said they pulled him over because it looked like he was doing something under his seat," his father Pastor Anthony-Reed Clark said. "I asked, don't you realize he was probably looking for his inhaler because he has asthma? The first thing he said was 'I can't breathe.' They yanked him out of the car, shortened his breath more, and increased his heart rate. That's why he died." Pastor Clark said there were at least six police cars at the scene afterwards. The medical examiner found no drugs, alleged by police, in his stomach.
June 25, 2015: MAKIAH and MICHAELANGELO JACKSON, 3 and 6 YEARS old, killed during Reckless chase of Lorenzo Harris by Detroit Special Ops officers Steven Feltz, Richard Billingslea, and Hakeem Patterson. The children were killed on Nottingham near Frankfort, N. of E. Warren.
"The police tried to ram the car at the corner of Nottingham and Brunswick [one block north of Mack] and nearly hit my kids, 14 and 11," a resident living near that location said. "He [Harris] almost jumped that curb over there where there were other little kids. You'd think the police would have backed off the chase at that point, but they were going 80 to 90 mph right on his bumper. If he would have tapped his brake, they would have hit him."
January 27, 2016: Detroiter JANET WILSON, 31, was shot to death by Dearborn and Detroit cops after leaving Fairlane Mall Jan. 27, 2016 after a verbal dispute with store employees. Police jammed her car into a roadblock. They claimed she had tried to run them down, then fired multiple rounds into her car, killing her.
December 7, 2016: Unidentified Detroit cop fatally struck a bicyclist on the street in Highland Park.
DPD COP STEELE FIRED FOR RACIST SNAPCHAT POST
The Detroit Board of Police Commissioners noted that they have the power to carry out disciplinary actions during their Feb. 14 meeting. On Feb. 28, Officer Gary Steele was allegedly 'fired' by Chief James Craig for his racist "Snapchat" post about a young Black woman he and his partner ticketed for expired plates, and then forced to walk home in freezing weather. Two members of the DBOPC, who are elected, spoke at Craig's press conference on the matter.
https://www.facebook.com/detroitpolice/videos/611499142608809/
http://voiceofdetroit.net/wp-content/uploads/DETROITERS-KILLED-BY-POLICE-SINCE-1992-edited.pdf