Video above courtesy of #DetroitWillBreathe showing events (1) June 2 Gratiot/Conner (2) downtown Detroit (3) photos from various marches 
Public Tribunal, held June 20 by #DetroitWillBreathe, tried DPD Chief James Craig, Mayor Mike Duggan
Protesters say battalions of  Detroit police in riot gear with armored vehicles confronted peaceful demos with brute force May 28 — June 19, 2020
Allege DPD used rubber bullets leading to grave injuries, tear gas, pepper spray, brutal beatings, noise torture, sexual abuse
Detroit City Council to discuss, vote on resolution to drop all charges against protesters Mon. June 28 and Tues. June 29 
During tribunal, DPD  announced suspension of one officer, 11 formal incident investigations for excessive force 
Duggan, Craig previously denied all allegations, blamed outside agitators
By Diane Bukowski
June 26, 2020
Hundreds massed in downtown Detroit's Hart Plaza June 20 to try Detroit Mayor Mike Duggan and Police Chief James Craig for orchestrating the brutal abuse of #BlackLivesMatter protesters over the previous 23 days. The protests, held  in downtown Detroit and throughout its neighborhoods, were part of a global uprising after Minneapolis police murdered #GeorgeFloyd May 25 this year.
The tribunal was called by #DetroitWillBreathe, a coalition led by long-time activists and new arrivals, many of them youthful. #DWB has emerged as the driving force in the local movement against the police state.
"What they did to us was on a perfect example of what we were protesting against," Dwayne, a daily marcher, said. "They showed up in military gear to stop our voices, but our voices are powerful—power is in the movement. We are family, brothers and sisters."
Speakers said the DPD attacked their peaceful protests beginning with the first day, on May 28 in downtown Detroit.
Duggan and Craig massed battalions of hundreds of police in riot gear aided by armored vehicles, which deployed tear gas as they approached marchers, then waded into them and carried out arrests without provocation.
Many said they were brutally beaten, pepper sprayed, tortured with loud siren noise and verbal and sexual abuse, and painfully handcuffed with zip ties that cut off their circulation. They were held en masse with no outside contact in the basement of Little Caesar's Arena on the hot night of June 2, after challenging a curfew imposed by Duggan in Detroit's east-side Gratiot/Conner neighborhood.
Charges were brought against hundreds of them, with #DWB organizer Tristan Taylor sustaining felony charges of "inciting to riot." The Detroit City Council is to discuss and vote on a resolution to drop all charges against the protesters Mon. June 29, and Tues. June 30.
Protesters included Ellie, a young mother and well-known hip-hop artist, who said, "It was a war going on in my own city."
Ellie referred to the reaction of Detroit City Council members, who condemned the protesters for marching at their residences June 15 against the body's proposed renewal of  a contract with Data Works Plus, which provides facial recognition technology used in DPD's "Green Light'" program. Farmington Hills resident Robert Williams, represented by the Michigan chapter of the American Civil Liberties Union, sued the DPD June 24 for false arrest illegally using a "Green Light" video capture.
See https://voiceofdetroit.net/2020/06/25/detroit-police-challenged-over-face-recognition-flaws-bias-in-case-of-robert-williams/.
Many protesters testified that the DPD  brutally beat them repeatedly, not to arrest them  for violating a temporary curfew imposed by Mayor Duggan, but to punish them and scare them off. But they added  that the attacks only further strengthened their will to fight.
#DWB co-chair Nakia Wallace countered Duggan and Craig's depiction of protesters as "outside agitators" not residing in Detroit, and mainly white. (In fact, 60 percent of Detroit's police force lives outside the city.)
`
Duggan and Craig claimed the protesters were not welcome in Detroit's neighborhoods, but Metro Times reporter Steve Neavling said earlier in a story that residents in the 12th and Clairmount neighborhood on Detroit's west side, where the 1967 rebellion against police brutality began, enthusiastically welcomed them on the third day of marches (below).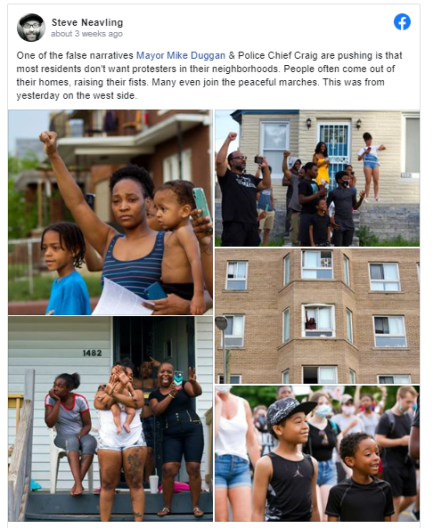 Photos: Steve Neavling
Below, Jae Bass vividly described his awakening during the protests.
"They sent an army of hundreds of officers dressed in riot gear, shields and tanks against non-violent protesters," Bass said.
Dwayne, a resident of southwest Detroit.  backed up Bass' description of the events June 2 when protesters marched on Detroit's eastside in the Gratiot/Conner neighborhood. He said that he was just beginning to come to terms with what had happened to him and others, after marching every day for the last weeks without a break.
He said the DPD brutally beat him and other protesters without provocation. (See #DWB video at top of article.)
(Quote below is liberally taken from Detroit Free Press live stream video at bottom of story; VOD's camera had run out of power.)
"They basically cut us off and trapped us in," Dwayne recalled. "But we weren't going anywhere, the curfew was simply to target us. They lined up in front of us, looking for a fight.  They had batons, riot gear, armored trucks, they didn't give us a choice. Hundreds of police officers ran in with batons swinging—not trying to grab nobody—just hitting.  I was slammed on the ground, lost a shoe. One took my mask off and sprayed me again and again, then sprayed water on me for a photo op. We got on the police bus and they turned on the heat with all the windows up, like being in a fire. People in there had tear gas and pepper spray in their eyes. They literally could not breathe at all.
"We were on the bus for about 45 minutes. I demanded that they cut my zip ties off, because I couldn't feel my fingers, they were discolored, there was blood all over my seat from my hands. They really tried everything in their power to break us, but people on the buses kept up high spirits, kept chanting, we could not stop. When we got to Little Caesars, we saw our brothers laid out there and chanted loudly, 'No justice, no peace!' How is that any kind of a justice system at all? They didn't think we were going to come back harder the next days, but they showed us what we were down there for, and we did. We went from 127 arrested to thousands of us. For all those that said it couldn't  happen in Detroit, it did."
Kate, another marcher arrested during the Gratiot/Conner protest June 2, recounted Detroit police officers repeatedly calling her a B—h while beating her to the ground, slamming her head on a curb, before zip-tying her hands behind her and loading her onto the DPD bus.
Stephen, a resident of Detroit's Woodbridge neigborhood, also observed abuse of women during those arrests. He said he saw a woman protester come off the police bus at Little Caesar's Arena "with one shoe, and no pants." recounted the DPD's use of a siren-like device which they aimed directly at the protesters, reminiscent of tortures used by the CIA during interrogations.
"They started blasting us with this long-range device," Stephen said. "You worry you're going to lose your hearing and you're just  experiencing nothing but pain. It's a fear tactic and it works. I was terrified. They were standing around ten feet away, banging on their shields looking at us intimidating us.  We were gradually surrounded.  I kept my arms at my side—hopefully to get out of there without being beaten, but an officer grabbed me on my shoulders, and kneed me in the balls. Several more officers began beating me including in my lower back. lower back. We were loaded into a van and taken to Little Caesars. I was among the first at Little Caesar's, and one of the things that I saw was a young woman being taken off the bus with one shoe and no pants."
Stephen said he regrets not saying something at the time, but that he and others are hoping to bring her plight forward now.
The DPD used rubber bullets that severely injured at least one protester, fracturing her skull from behind, #DWB leader Tristan Taylor said. He also countered Duggan and Craig's claims that protesters were not from Detroit, noting that they said one protester had Tennessee license plates.  Taylor said she was Black and living in Detroit at the time, but that many newly-arrived young people have found the need to continue using records that save them from paying Detroit's exorbitant car insurance rates.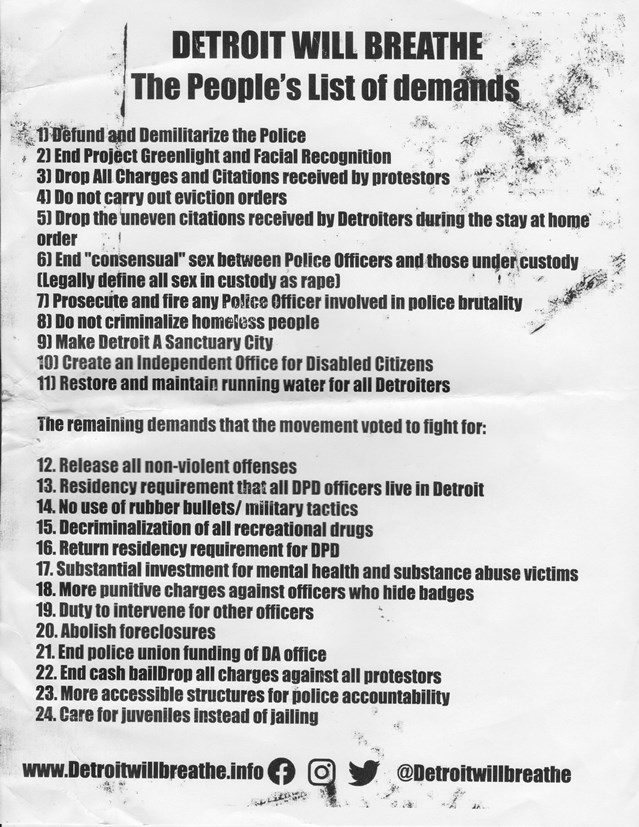 Below is the Free Press' livestream video of part one of the June 20 tribunal.
UPCOMING EVENTS:
DETROIT CITY COUNCIL TO VOTE ON RESOLUTION TO DROP ALL CHARGES AGAINST PROTESTERS: SESSIONS JUNE 28 AND JUNE 29; watch online, send online letters of support to Council members (info below)
Over 400 nonviolent protesters were arrested by DPD for exercising their constitutional rights to protest. Many more were subjected to police brutality, torture and excessive use of force.
Most protesters were given tickets for "loitering" in violation of Mayor Duggan's unjust 8PM curfew between May 29th and June 2nd. Mayor Duggan is not our daddy and does not have the right to give us a curfew.
Without the curfew DPD would have had no grounds to arrest protesters. There have been almost no incidents of property damage by protesters, in contrast to protests in other cities.
The City of Detroit has the power to drop all the charges NOW. City Council must pass this resolution as the first step to making that happen.
Watch online by using https://detroitmi.gov/government/city-council and clicking on Channel 10.
 To attend online: https://cityofdetroit.zoom.us/j/330332554
To send letters to Council members:
https://actionnetwork.org/letters/drop-the-charges-against-protesters?fbclid=IwAR2vimn9Ks578EYGiWNXpnVHtByQwwWg8HVwdH6gOH2iwkmME5EbW8pXjJg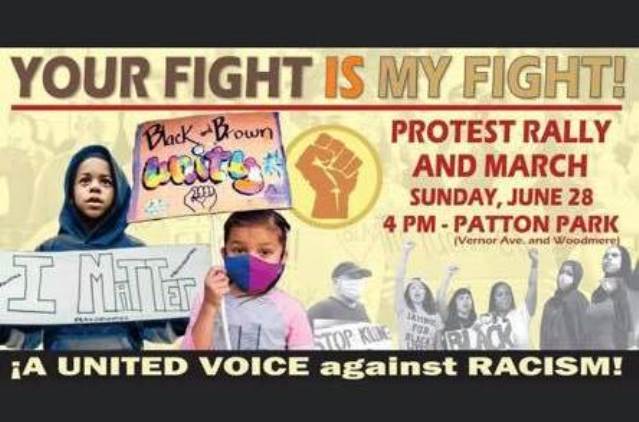 RELATED STORIES:
"Marches, Assemblies and a Public Tribunal: How Detroit Activists are building power," from Left Voice, a national newspaper at  https://www.leftvoice.org/.
Marches, Assemblies, and a Public Tribunal: How Detroit Activists Are Building Power
https://www.metrotimes.com/news-hits/archives/2020/06/06/plenty-of-detroiters-welcome-outside-agitators-in-black-lives-matter-march
VOICE OF DETROIT has published countless stories recounting the actions of Detroit's police state under Chief Craig, which counter the mainstream media's current love affair with him. Its recent story on DPD's suffocation death of Anthony Clark-Reed in 2015 lists many cases of apparent DPD murders and other brutality that have occurred since Craig took office in 2013. Below are VOD's other recent related stories.
https://voiceofdetroit.net/2020/06/07/anthony-clark-reed-i-cant-breathe-detroits-george-floyd-suffocated-by-cops-in-2015/
https://voiceofdetroit.net/2020/06/25/detroit-police-challenged-over-face-recognition-flaws-bias-in-case-of-robert-williams/
https://voiceofdetroit.net/2020/06/19/blm-detroit-will-breathe-to-try-duggan-craig-june-20-historic-gains-in-u-s-as-police-retaliate/
********************************************************************************

Donations for the Voice of Detroit are urgently needed to keep this paper, which is published pro bono, going. Among ongoing expenses are quarterly HostLab web charges of $360, costs for court documents, internet fees, office supplies, gas, etc. The editor and reporters are not paid for their dedicated work, and many live on fixed incomes or are incarcerated. Please, if you can:
DONATE TO VOD at
*********************************************************************************