Mid-way through day AFTER primary, unnamed individual showed up with 3,000 absentee ballots, nearly all for Mary Cavanagh
Hill had been declared the winner after all precincts counted, supporters say Jim Crow played role in reversal
District 10 includes large swath of Detroit, is 80 percent Black
Wayne County Board of Canvassers Meeting Tues. Aug. 18 at 1 p.m., conducted virtually through Zoom at https://zoom.us/j/6130655137
REDFORD TWP. MICH–Brenda Hill, candidate for the 10th District Michigan House of Representatives in the Aug. 4 primary, and dozens of cheering supporters said at a press conference Aug. 12 that they will not be "Jim Crow'ed" by what they said was the theft of the election.
The 10th District is nearly 80 percent Black, with a large portion inside the City of Detroit. Suburban Redford Township comprises the rest and is 50 percent white.
"I won this election," Hill told supporters.  "What happened to me affected every voter in this state. Everybody should be standing with me whether they voted for me or not."
Despite Hill's commanding lead through election day Aug. 4 and most of the next day, Aug. 5.  Mary Cavanagh was declared the winner. An unnamed individual brought in 3,000 absentee ballots from Redford Township  just before the final count at 3 p.m. Aug. 5.
Hill's supporters say an individual was earlier seen emptying ballots from the absentee ballot box in front of Redford Township city hall prior to that, and they want the identity of both individuals.
Hill and her campaign manager Nicole Small, who is an elected Detroit Charter Commissioner, said there was clear evidence of fraud. They have called for an investigation by Michigan Secretary of State Jocelyn Benson and said they plan to formerly challenge the results after the Wayne County Board of Canvassers certifies the election at its meeting Aug. 18 at 1:00 p.m. The meeting is to be conducted online through Zoom.
Tom Barrow, leader of Citizens for Detroit's future, which published a slate of Detroit-based candidates in the elections including Hill, focused on her roots in Detroit in a slate press release.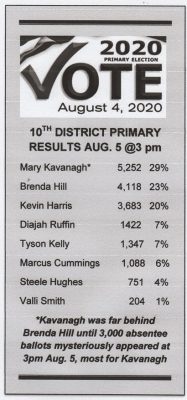 "Hill is a true eastside Detroiter having graduated from Detroit's Southeastern High School and long active in the community. She enjoys a special place because she has been on the ground in many of the Citizens for Detroit's Future battles and has participated in our Election reform initiative, Charter Amendments battle, and recounts and has been a solid supporter of a number of community activities."
The slate also ran long-time Detroit city leader and community activist Beverly Kindle-Walker for Wayne County Treasurer, but incumbent Eric Sabree allegedly won the race.
Mary Cavanagh's father Phil Cavanagh is currently Asst. Deputy Wayne County Treasurer under Sabree, over the Forfeitures and Foreclosures division. He was formerly State Rep. in the 10th District. Her mother is  Redford Township Treasurer Lily Cavanagh.
Phil Cavanagh is also the son of the late Detroit Mayor Jerome Cavanagh, remembered largely because the 1967 Detroit rebellion occurred during his time in office. He currently supports Detroit Mayor Mike Duggan and opposes an absolute moratorium on foreclosures in Wayne County.
Such a moratorium halting all mortgage foreclosure sales was declared by former Wayne County Sheriff Warren Evans to much acclaim after he took office in 2014.
Mary Cavanagh touted her roots in Redford Township in the Channel 4 interview above, only belatedly referring to the entire District 10. The strange shape of that district shows that it was likely gerrymandered by the Michigan State Legislature in 2011. She said said her campaign focused on the absentee ballot vote. (See map below story.)
The 10th District boundaries include a large part of northwest Detroit adjacent to Redford Township as follows:
Wayne County (part) Detroit city (part) That portion of the city beginning at Five Pts. and W. 8 Mile Rd., east on W. 8 Mile Rd. to Mendota, south on Mendota to Chippewa, west on Chippewa to Pinehurst, south on Pinehurst to W. 7 Mile Rd., west on W. 7 Mile Rd. to Vaughan, north on Vaughan to St. Martins, west on St. Martins to Fielding, south on Fielding to W. 7 Mile Rd., west on W. 7 Mile Rd. to Pierson, south on Pierson to Pickford, west on Pickford to Lahser, north on Lahser to W. 7 Mile Rd., west on W. 7 Mile Rd. to Telegraph, south on Telegraph to Grand River, northwest on Grand River to Five Pts., north on Five Pts. to W. 8 Mile Rd., the point of beginning. Redford Township.
Hill said she worked the streets of District 10 hard during her campaign, going door-to-door every day to get out the vote.
She alleged that Kavanagh was absent from public view during the campaign as well as the vote count, moving up from a distant third place to a final lead that would not have been possible without the belated appearance of the 3,000 absentee ballot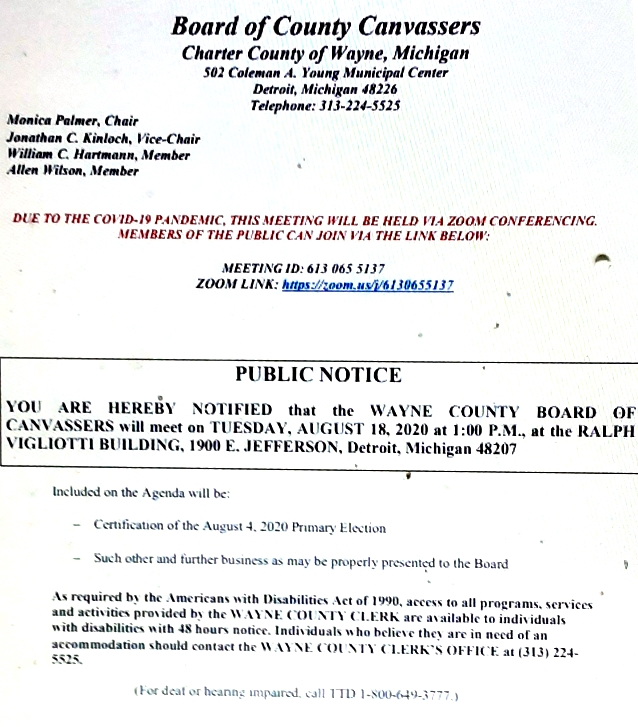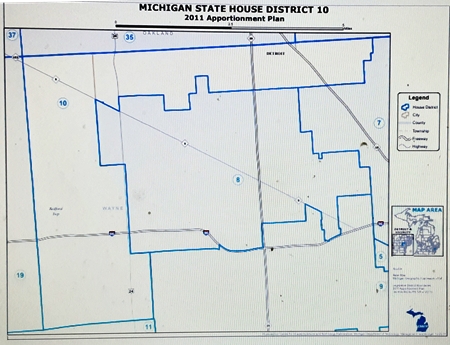 ***********************************************************************************

Donations for the Voice of Detroit are urgently needed to keep this paper, which is published pro bono, going. Among ongoing expenses are quarterly HostPap web charges of $380, costs for research including court records, internet fees, office supplies, gas, etc. The editor and reporters are not paid for their work, and many live on fixed incomes or are incarcerated. Please, if you can:
DONATE TO VOD at
***********************************************************************************