JACOB BLAKE, 29, shot 8 times in back, paralyzed by white cops as he entered his car with his 2 young children inside; massive protests erupt
642 people killed by police in U.S. as of 8/22/2020, majority people of color
Detroit cops arrest 42 in #DetroitWillBreathe protest Aug. 22, injure many 
Craig claims police have right to use force when arrest is resisted; Michigan Supreme Court affirmed 'right to resist' unlawful arrests in 2012
https://voiceofdetroit.net/2012/05/18/michigan-supreme-court-upholds-right-to-resist-police-misconduct/
By Diane Bukowski
August 25, 2010
Detroit — Cops in Kenosha, WI and Detroit, MI joined an ongoing national escalation of police violence against people of color and protesters this weekend.
The shooting of Jacob Blake Aug. 22 in Kenosha cast a different light on Detroit Police Chief James Craig's justification of the police violence the day after Detroit cops arrested 44 protesters on downtown streets, also on Aug. 22, beating many.
The protesters were demanding the removal of federal agents sent to Detroit by U.S. Attorney General William Barr, an appointee of U.S. President Donald Trump, allegedly to "fight crime." During the Republican National Convention Aug. 25, Trump's supporters tried to justify the shocking shooting of Blake with reports of his arrest record.
Contradicting a 2012 Michigan Supreme Court ruling in People v. Moreno, Craig claimed that police can use force against anyone who resists arrest, even if the arrest involves police misconduct and brutality. Craig said even members of the media and legal observers must leave to avoid arrest, once police demand that protesters disperse.
In Moreno, the Michigan Supreme Court upheld the "common-law" right to resist unlawful arrests, warrantless home invasions, and other unlawful conduct by the police.
Craig Haehnel, attorney for the defendant, Angel Moreno, Jr., told VOD at the time. "I think it [the MSC ruling] puts curbs on the police. The Court of Appeals had ruled that you essentially have no right to self-defense against police officers. You just can't have a free society where you cannot resist illegal conduct by the police. It takes you to nothing but a police state."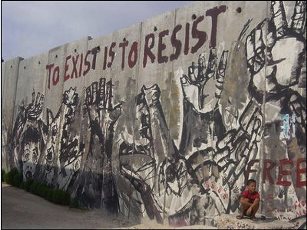 Moreno was charged with violating a long-standing state statute banning resisting and obstructing police performing their duties. He had physically blocked cops in Grand Rapids, where he lived, from breaking into his home without a warrant. The police said they had the right to maintain the premises until they got one.
Then Chief Justice Diane Hathaway wrote in the 5-2 opinion, "To resolve this issue, we must address whether MCL 750.81d abrogates the common-law right to resist illegal police conduct, including unlawful arrests and unlawful entries into constitutionally protected areas. We conclude that the statute did not abrogate this right."
See full opinion at http://voiceofdetroit.net/wp-content/uploads/People-v-Moreno-MSC-opinion2.pdf.
JACOB BLAKE, 29, father of 3, shot 8 times in back, permanently paralyzed by Kenosha cops Aug. 22
Thousands of protesters took to the streets of Kenosha, Wisconsin for two nights, burning municipal vehicles outside the courthouse downtown and attacking businesses, outraged over the police shooting of Jacob Blake, 29.  A graphic video showed white cops shooting Blake eight times in the back at point blank range, as he was getting into his car on Aug. 22. Two of his three young sons watched in horror from the back seat as their mother screamed for her babies outside the car, jumping up and down in agony.
Blake's father, also called Jacob Blake. told reporters that his son is now paralyzed from the waist down, a diagnosis that was later confirmed as permanent because his spinal cord  was severed.  He said his son had called him that morning because he and his children's mother were celebrating the eighth birthday of their oldest son. Blake's other sons are five and three years old.
Blake had just intervened to calm fighting neighbors down, according to witnesses. Police claimed the run involved a "domestic disturbance." Relatives of Blake's said he comes from a politically active family. Blake is currently hospitalized.
GoFundMe Page for Jacob Blake
His family announced it is collecting funds for his medical expenses on GoFundMe at https://gf.me/u/yt4btn.
Video of the shooting elicited outrage worldwide once again, calling to mind the visceral reaction people had to the May 25 video of the police murder of George Floyd in Minneapolis, Minnesota.
"This wasn't bad police work, this felt like some sort of vendetta being taken out on a member of our community."

Wisconsin Lt. Gov. Mandela Barnes responds to last night's police shooting of Jacob Blake, a Black man in Kenosha, Wisconsin. https://t.co/T5b3P3Uqyb pic.twitter.com/nxXXfP2Uu6

 — ABC News (@ABC) August 24, 2020

NBA Superstar Lebron James condemned the shooting of Blake during a press conference Aug. 25, saying "Quite frankly it's just f**ked up in our community. And I said it, I know people get tired of hearing me say it but we are scared as a Black people in America. Black en, Black women, Black kids, we are terrified. You don't know, you have no idea how that cop that day left the house . . .maybe he just left the house that day saying this is going to be the end for one of those Black people."
On Aug. 25, the Detroit Lions' entire NFL football team canceled that day's practice to protest the shooting of Jacob Blake, saying "The World Can't Go On" in its wake.
Chairing the walk-out, Lions safety Duron Harmon said, "Today when we came in the building, there were a lot of heavy hearts. We're at a point in time where a lot of tragic events continue to keep happening to Black people, people of color. On Sunday evening, Jacob Blake, an unarmed Black man, was tragically shot in his back seven times in front of his girlfriend and in front of his three children.  So as we came in today, as a team, we looked each other in the eye and realized that football is not important today."
Protesters meanwhile are storming the streets nationally to call for "Justice for Jacob Blake," including in Minneapolis, Minnesota, where police killed George Floyd, and Portland, Oregon, where police attacked and tear gassed the Portland protesters.
https://www.independent.co.uk/voices/jacob-blake-crimes-donald-trump-jr-andy-ngo-republican-convention-black-lives-matter-a9686566.html
DETROIT–Cops attack "Operation Legend" Protest Aug. 22, arresting 42, seriously injuring many
After more than 65 consecutive days of Black Lives Matter protests since the police murder of George Floyd, the local grassroots group #DetroitWillBreathe took to the streets of downtown Detroit once again on a Saturday night Aug. 22 to protest U.S. Attorney General William Barr's earlier introduction of over 50 federal agents and ancillary staff into the city, with the blessing of DPD Chief James Craig. The joint task force they are leading reported recently that 22 arrests have been made on weapons charge and other matters, allegedly to fight a wave of gun crimes in the city.
Detroiter Hakim Littleton, 20 was executed by Detroit gang squad police working with federal agents July 10. Darnell Sylvester, the youth under arrest when Littleton came on the scene, allegedly had a federal drug-related warrant from North Dakota out for him.
According to court records, Sylvester was released by a Detroit federal judge on a negligible bond several days after his arrest, and ordered to report to the North Dakota courthouse. That left questions as to why a large contingent of  gang squad cops were at the scene prior to his arrest.
In police videos, Littleton is seen belatedly sighting the gang of armed cops before turning to run away while producing a gun for self-defense. An activist video analysis showed that one of the cops directed the 10th shot heard in the videos at Littleton's head at point blank range, as Littleton lay on the ground, disarmed, restrained and already wounded.
Protesters had announced they would occupy an area on Woodward Avenue near Campus Martius, and would not leave until federal agents left Detroit. Since the days of "Occupy Wall Street," going back to the civil rights movement, activists have used the tactics of peaceful civil disobedience across the U.S. to win their demands for justice.
But DPD Chief James Craig said during a press conference that he took the group's declaration to mean they would NEVER physically leave the spot, claiming that this justified the use of force.
Among the "activists" Craig said he sent the declaration to was Rev. W.J. Rideout III, who according to state voter records does not live in Detroit, but in Grosse Pointe Woods. Craig has claimed some of the Detroit Will Breathe protesters live outside of Detroit, although 60 percent of Detroit police are not Detroit residents.
The Detroit News quoted Rideout saying, "Detroit Will Breathe does not represent us. The way they protest, throwing things at the police and fighting with them, does not represent how the people in Detroit feel. He added. "This is not a city where the police are going around shooting people of color," a factually inaccurate statement. See: http://voiceofdetroit.net/wp-content/uploads/DETROITERS-KILLED-BY-POLICE-SINCE-1992-1-merged.pdf.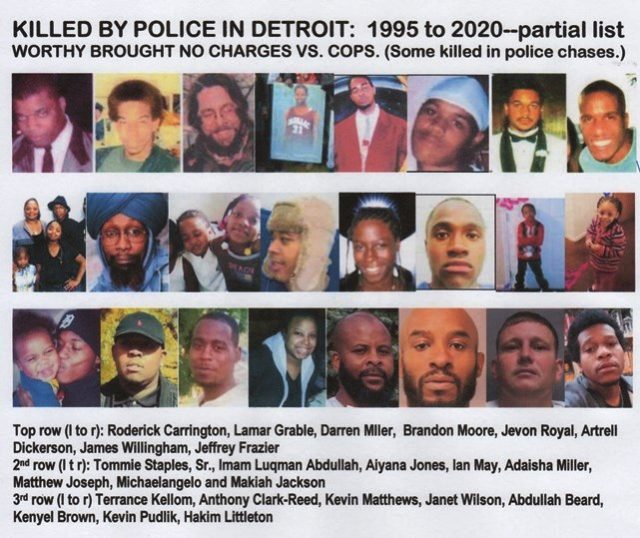 Actions by Detroit police,  supported by their chief and Detroit Mayor Mike Duggan, unleashed on these protesters fighting for the very lives of people of color recalled the actions of arch-racist Mayor Bull Connor in Birmingham, Alabama during the civil rights movement. Connor ordered police to use fire hoses and dogs to disperse demonstrators  demanding equality and basic human rights.
Published videos and photos of the Detroit police attack, which included flagrant beatings, pepper-spraying, and arrests show their actions were  unjustified, despite Craig's contentions to the contrary at his press conference Aug. 24.
The Detroit News reported Craig's allegations, many factually unsubstantiated, that protesters had lasers they aimed at helicopters overhead, received "projectiles" from a roving "red truck," and had their own supplies of tear gas they directed at police, at length Aug. 25. He claimed some tried to rescue other protesters being held under arrest by Detroit police.
https://www.detroitnews.com/story/news/local/detroit-city/2020/08/24/chief-detroit-police-prevented-seattle-zone-lawlessness/5624097002/
But the city's Metro Times published a stunning series of photos of the events which contradicted many of Craig's claims. The photo gallery was captioned as follows:
On Saturday night, Detroit police attacked and arrested peaceful protesters, including a legal observer and a photographer, for blocking Woodward Avenue near John R in downtown Detroit. The protesters were demanding the end of "Operation Legend," a federal law enforcement initiative launched by President Trump's Justice Department. Detroit is among eight cities where dozens of ATF, DEA, and FBI agents have been deployed. Photographer Adam J. Dewey said protesters were peaceful when police attacked, using tear gas, pepper spray, shields, and batons. Some protesters were bleeding. He said an officer pointed an assault weapon at him. 
Click on the photo shown below to be taken to the Metro Times website, where all the photos can be viewed.
Detroit police clash with peaceful protesters over 'Operation Legend'
#DetroitWillBreathe's 9-minute video of depicting the police attack, which happened as protesters chanted, "We don't see no riot here, why are you in riot gear," is at the following link; https://www.facebook.com/watch/?v=715524548995720 ,
It was not possible to embed it onto this site because Facebook has evidently barred that.
POLICE TARGETED VOLUNTEER MEDICS, A "WAR CRIME;" GoFundMe page for RM Park
Not only did police target reporters and legal observers, they also went after volunteer medics, who said such attacks are considered "war crimes." #DetroitWillBreathe published the following appeal for RM Park, a volunteer medic at the protest.
On a GoFundMe page, his friend Don Summers said, "While standing on the sidewalk as the police had ordered, they were staffing the rear triage when they were attacked by the police. Targeting medics is a war crime. They were tear gassed, body slammed, pinned to the cement, and violently dragged by the arm 20′ or so feet. The injuries they sustained include a hairline fracture on their clavicle, torn shoulder muscle, a cracked rib, bruised neck muscle, bruised wrists from zip tie handcuffs, additional leg and hip damage from a previous police brutality incident in Detroit, and inflamed lungs from inhaling tear gas after the police ripped the mask off of their face. They were arrested and were not provided any medical treatment, despite clearly needing it and went home to rest after getting released from custody. Early this morning, they collapsed from the pain and are now recovering in the hospital." GoFundMe page is at: https://www.gofundme.com/f/help-street-medic-rm-park-pay-their-medical-bills?fbclid=IwAR2dvH2UntDjpDkRrS7nJDl5PZxtyU2o5NIlzYbYEKIATUeYwADxrPZPlmA.
RELATED STORIES:
*********************************************************************************

This month. August 2020, marks the 10th anniversary of the Voice of Detroit. It has been a struggle financially to keep VOD  going, but we feel it is vital for those WITHOUT a voice. We do not charge for access to our articles, as do the News and Free Press, but appreciate whatever readers can donate.  Our ongoing expenses include quarterly HostPapa web charges of $380, and costs for research including court records, internet fees, office supplies, gas, etc. The editor and reporters are not paid and many live on fixed incomes or are incarcerated. 
Please DONATE TO VOD at
*********************************************************************************