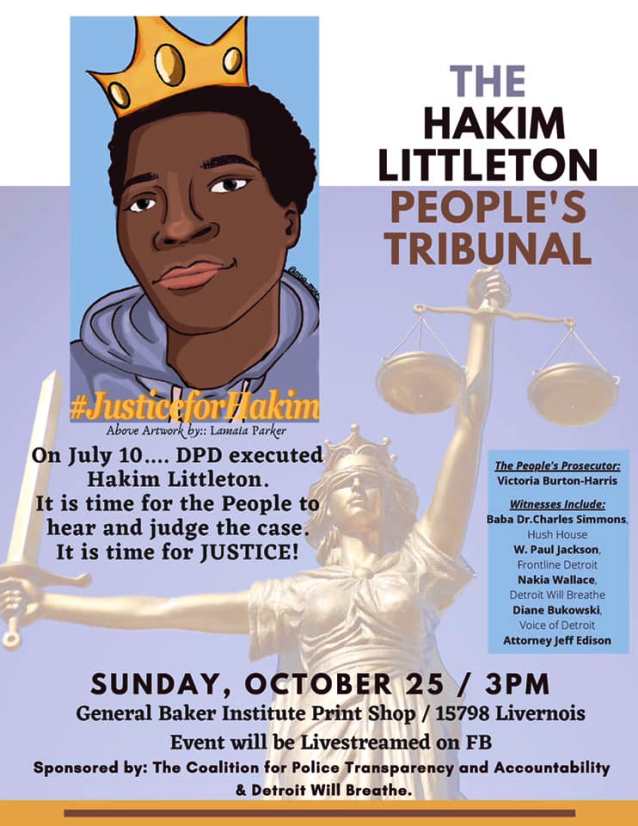 https://www.facebook.com/DetCoalitionforPoliceTransparencyandAccountability/
The Detroit Coalition for Police Transparency and Accountability analyzed Detroit Police Chief James Craig's version of the July 10 police murder of Hakim Littleton, 20, as below.
It clearly shows that a Detroit Police "SWAT" team executed the young man with a point-blank shot to the back of his head as he lay on the ground, already wounded and restrained by an officer sitting on top of him. Detroit Will Breathe has called for the release of the names of the cops involved and all other evidence pertinent to Hakim's brutal death.
To date, however, neither Craig nor Wayne County Prosecutor Kym Worthy, who had the case on her desk for investigation, has released the requested information. Littleton's family, friends, neighborhoods, and all Detroiters subject to the actions of the Detroit police have a constitutional right to this information.
In the two weeks following Hakim's death, two more men were shot to death by Detroit police. Craig has not released the names of the men killed or the officers involved.
WHO ARE THE OFFICERS INVOLVED IN THE DEATHS OF HAKIM AND THE OTHER TWO MEN?  DO THEY HAVE A RECORD OF SIMILAR ACTIONS? ARE THEY A CONTINUING DANGER TO THE COMMUNITY?  
Related:   Community statement on Hakim  Littleton's killing:  https://www.aclumich.org/en/press-releases/community-statement-killing-hakim-littleton
Previous related stories:
**********************************************************************************

Donations for the Voice of Detroit are urgently needed to keep this paper, which is published pro bono, going. Ongoing expenses are steep and the editor and writers are on limited incomes or incarcerated.  Please if you can:
DONATE TO VOD at
***********************************************************************************