AGNES HITCHCOCK HAS NEVER FAILED THE PEOPLE OF DETROIT: FIGHTING BACK AGAINST ALL ODDS!

By VOD Editor Diane Bukowski   
November 21, 2020
Call 'em Out members and supporters flocked out to Agnes Hitchcock's storied home on E. Philadelphia for a "Thank You" 75th Birthday party honoring this indefatigable Detroit hero, steward of the vanguard grassroots organization Call 'em Out.  Her daughter Kirsten Hitchcock organized the party as a "THANK YOU" to everyone who fought for a "NO" Vote on Proposal N in the Nov. 4 election. VOD pays tribute to this life-time Detroit hero with a photo array covering many of the battles she and Call 'em Out members fought over the years. Recent property tax battle photos are first, then the array detours to early years beginning with Agnes throwing the "Grapes of Wrath" to protest massive school closings at the DPS board meeting in 2007.
Call 'em vs. foreclosure devastation of Detroit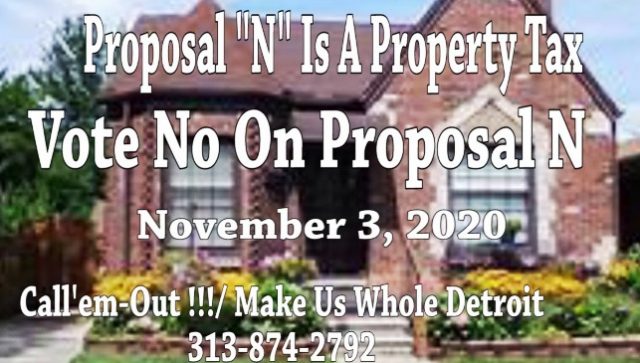 Agnes Hitchcock led protest vs, $600M Property Tax swindle Feb. 28 2020
VOTE NO!! ON DETROIT PROPOSAL N–NOV. 3–TAX THE RICH, NO BONDS FOR BANK PROFIT | VOICE OF DETROIT: The city's independent newspaper, unbossed and unbought
Agnes Hitchcock: Detroit's Fiery Black Activist Urges 'No' Vote On Proposal N – THE PuLSE INSTITUTE
ARIZONA VAUGHN: HOW CAN THEY TAKE MY HOME? FIGHTS WEALTHY DETROIT ELITE, TREASURER, UCHC | VOICE OF DETROIT: The city's independent newspaper, unbossed and unbought
Fighting to save Detroit Public Schools
CANCEL DPS DEBT TO THE BANKS! QUALITY EDUCATION FOR DETROIT CHILDREN; TUNE IN WHPR SAT. 2/27@10:30 AM | VOICE OF DETROIT: The city's independent newspaper, unbossed and unbought
Chaos, arrests and sour grapes at Detroit school board meeting (wistv.com)
STATE WAR ON DETROIT PUBLIC SCHOOLS CONTINUES, "SELLING BLACK CHILDREN TO THE HIGHEST BIDDER" | VOICE OF DETROIT: The city's independent newspaper, unbossed and unbought
RHODES' RULE OVER DETROIT SCHOOLS OMINOUS; AS BANKRUPTCY JUDGE, HE DISMANTLED CITY OF DETROIT | VOICE OF DETROIT: The city's independent newspaper, unbossed and unbought
Battling massive water shut-offs
CALL 'EM OUT GOES BACK TO WAR! DIRECT ACTION TO STOP WATER SHUT-OFFS! | VOICE OF DETROIT: The city's independent newspaper, unbossed and unbought
PASTORS, COMMUNITY LEADERS ARRESTED BLOCKING HOMRICH GATES TO STOP DETROIT WATER SHUT-OFFS | VOICE OF DETROIT: The city's independent newspaper, unbossed and unbought
DETROIT SHUTS WATER OFF AGAIN, VIOLATING UN DECLARATION; WHEN WILL CITY RISE UP? | VOICE OF DETROIT: The city's independent newspaper, unbossed and unbought
Fight vs. politicians, corporate grab of city assets

 
 Call 'em Out's Annual Sambo Award Dinners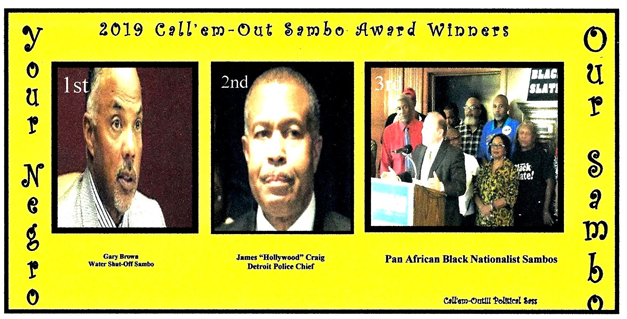 DEADLINE DETROIT | GRAPE-THROWING ACTIVIST GIVES 'SAMBO AWARDS' TO DETROIT POLICE, WATER CHIEFS
DETROIT ACTIVISTS NOT BACKING DOWN IN 'SAMBO AWARDS' CONTROVERSY (FOX2DETROIT.COM)
Call 'em Out Stands Up to Detroit Police