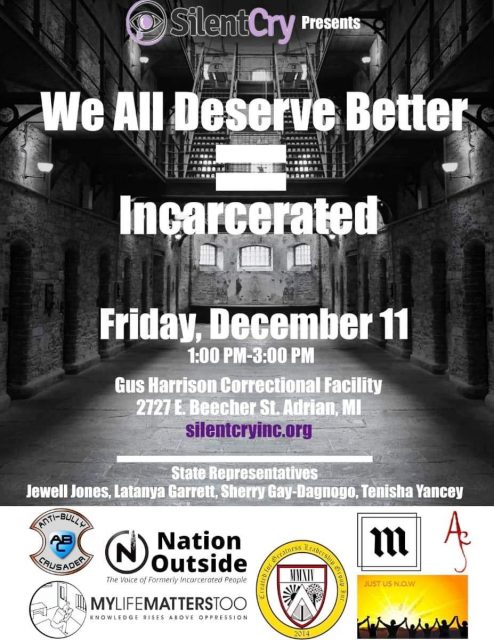 Men at Gus Harrison Correctional Facility Report New Wave of COVID-19
Recent mass testing at GHFC shows virus migrated from Unit 2 to Unit 1, where there were previously no positive tests
GHFC prisoners denied request for N95 masks, recommended by CDC
Now 95 deaths state-wide in the MDOC
RALLY BY 'SILENT CRY,' NATION OUTSIDE SET FOR FRI. DEC. 10 outside GHCF in Adrian; Shawanna Vaughn/Silent Cry: "Because I have Black sons"
By Ricardo Ferrell
VOD Field Editor
December 8, 2020
Not since 1918 has a pandemic like COVID-19 had such a devastating impact around the globe. During the 1918 Spanish Flu tens of millions of lives were impacted and millions died from the deadly disease. Now here we are 100 years later facing, arguably, an even deadlier virus that knows no boundaries. No one is safe and the most vulnerable like elderly patients in nursing homes have been ravished with illness and taken out by the coronavirus.
Another vulnerable population is within prisons across the U.S., where states including California, Texas, New York, Louisiana, Ohio –to name a few, have seen spikes in the virus where thousands of inmates have succumbed to the disease and many have died.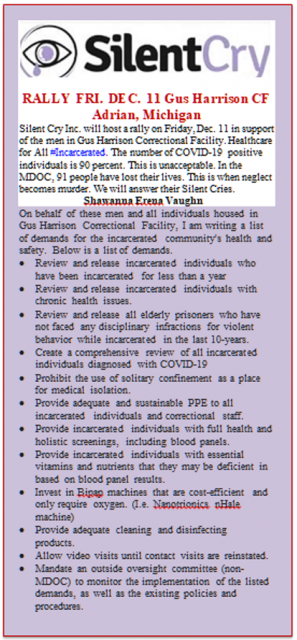 Here in Michigan a reported 47 percent of the inmate population has tested positive and contracted the virus. As of today, there have been 91 inmates who have died as a result of COVID complications. How is  that even possible when inmates are confined behind highly secured walls, fences, bars, and doors? In other words, if inmates are secured within the perimeters of secure prisons, then how are thousands still being infected? It's no secret that employees are the main cause of how the virus is seeping into prisons in Michigan. Here are some indisputable facts:
The pandemic has hit the U.S. hard and the prison system has been impacted severely. We have been put at-risk by gross negligence on the part of the MDOC. There is no way an incarcerated individual can go out into society by day and contract the virus and come back at night and spread it.
Here is how things unfolded at the Gus Harrison Correctional Facility located in Madison Township, just outside of Adrian.
In early April we didn't have any cases on either side of the facility (level I, Level II or level IV). Then suddenly inmates on the Southside (level I) were testing positive right after the reopening of Unit 6, outside the perimeter of Gus Harrison. Unit 6 was being used as one of the first step-down units for those at other facilities who were recovering after they tested positive. Many of us assumed that inmates on the Southside who worked outside the gate near Unit 6 must have contracted the virus and carried it back to their housing units. Before long, more than half of the inmates housed in the level I (pollbarn) open dormitory style setting had tested positive, over 700 inmates. The administration responded by separating both sides of the facility, which we all hoped would keep the virus from spreading to the level II & level IV units.
Although we couldn't pin point how the virus still made it over to our side of the facility, many staff started testing positive, and due to staff shortages and requested overtime, some of those same staff members were assigned to work in housing units and other areas of the facility. Up until that time, there weren't any inmates who had tested positive on the Northside,  just a handful of close contacts from being near infected staff.
Fast forward to now.  After almost eight months without any of the +/-  1,000 prisoners on the Northside testing positive, the housing unit I reside in, has had some 20 positive cases since Friday the 13th. We are tested every Friday with a nasal swab. Last week Monday, healthcare began checking everyone's temperature and other vitals. When someone has a high fever, they are given an instant test. And there have been at least seven instant tests to show positives. So, as a result of the outbreak, the entire housing unit is on 'quarantine status' and have daily outside yard times isolated from the other housing units. All three meals are being delivered from food service. Health care (nurses) come to the units to dispense medications and insulin. Everyone is on edge, because since last week's testing, it's believed others may also be infected and could unknowingly be spreading the virus.
The results from mass testing held on Nov. 20th, came back three days later) with over 100 positives in this housing unit alone and 20 or so in another unit. I wonder how this unit got hit like this. Two prisoners tested positive on Nov. 13,  there were other positives the morning of Nov. 15, and the number continued to rise until Nov. 29th, where it is now 240 positives in unit one. Each housing unit holds 240 prisoners, so everyone is positive.
There wasn't a single positive case in this unit until a corrections officer tested positive that's regularly assigned to work in our unit. Records should show this officer working a double-shift (morning and afternoon) on Nov. 5th, in housing unit one.
A hard fact is, we can't go out to the free world, contract COVID-19, then come back to the facility and spread it among prisoners and staff. Everyone knows the only way for us prisoners to get infected, is from a staff member. There should be video footage of this particular staff member improperly wearing a mask, and coughing for hours. In fact, coping with COVID.
The MDOC should've been more proactive in containing this virus and more measures taken to assure the safety of everyone. I believe each staff member's temperature is checked and he/she is asked if they're experiencing any symptoms, before they're allowed into the facility. So, if a staff member comes into a correctional facility and states NO to the question of having symptoms, in an effort to avoid being sent home and quarantined, then they are intentionally undermining the COVID protocol to prevent spread. The bottom line is, many of us have now been infected and could be in jeopardy of losing our lives to the coronavirus?  The MDOC now has nearly 16,000 prisoners who have tested positive for COVID.
This is how COVID is affecting those of us in housing unit one. We just learned that at least three units on the Southside are also under 'quarantine status' due to outbreaks in those units. It's really a sad affair, this virus is spreading and we're like sitting ducks. As of December 1st, housing unit two has been placed on 'quarantine status' as well due to over 100 positive cases in that unit, which brings the total on the Northside of the facility to roughly 400 cases.
The prison administration at Gus Harrison dropped the ball in handling this outbreak, it seems that they would've learned from the approximately 700 inmates and several staff members on the Southside of the facility who contracted the virus, on how best to separate the positives, negatives, close contacts, and PUI's, but again they were grossly negligent. Mixing positives, negatives and close contacts in the same units and dayrooms contributed to many inmates getting infected.
Among the 91 prisoner deaths across the MDOC so far, was William Garrison, a Detroit man who had been convicted as a juvenile of First Degree Murder and sentenced to Life Without Parole. He served 44 years before being resentenced under the landmark decision in Miller v. Alabama, where the U.S. Supreme Court ruled it unconstitutional to give juvenile offenders LWOP sentences. He was scheduled to be released from the Macomb Correctional Facility near New Haven, MI. Less than two weeks before his release date he contracted COVID-19 and died before he could walk out the door a free man.
There are many men and women that have caught the virus and no longer are with us. Curtis Watkins had served 47 years before he contracted COVID and later died after being placed on a ventilator. His case was being looked at by the Michigan Law Clinic at the University of Michigan due to being locked up on the abolished Felony Murder statute. Garrison and Watkins would likely still be with us had they not been exposed to the Coronavirus.
Honeysuckle Magazine reported, "More recently on December 2, 2020, [an individual] known as DJ, was found dead in his cell in the Gus Harrison Correctional Facility in Adrian, Michigan, from complications of coronavirus. Just three weeks earlier, DJ had returned to the facility after undergoing open heart surgery, a result of his battle with multiple sclerosis (MS). He had survived an initial contraction of the virus in April."
VOD editor: The MDOC does not publish the names of prisoners who have died from COVID, but it is recently publishing numbers per facility. See: http://voiceofdetroit.net/wp-content/uploads/REMEMBERING-PRISONERS-WHO-HAVE-PASSED-MDOC.pdf
Although prison officials put in place some measures early on when the pandemic first hit the Michigan Department of Corrections, e.g., suspended visits, stopped transfers between facilities and gave each prisoner poor quality cloth masks, made at factories inside correctional facilities, it wasn't enough to prevent the spread of the virus. Social distancing is virtually impossible inside a prison, especially in close quarters like pole barn settings, where inmates are forced to live cramped up in small cubicles with eight  people, or in 8×10 cells double-bunked with a cellmate. While we have had to wear the poor quality cloth masks, majority of the staff have the luxury of sporting the more effective N95's.
During a recent Warden's Forum meeting, Unit Representatives proposed that the prisoner population be allowed to have the same N95 masks, but that was quickly shot down, despite the suggestion that the Prisoner Benefit Fund could pay for them.
We are given updates on JPay which are questionable at best. The following is what was reported to us in November: On Nov. 13th, there were a reported 1,006 positive cases in the MDOC, on Nov. 18th there were 751 cases, on Nov. 19th there were 699, on Nov. 23rd there were 199 cases, on Nov. 24th there were 75 cases, and on Nov. 30th there were 87 cases. Already on the first day of December, there were 63 cases, and on Dec. 3rd there were 1,362 cases. This facility has had five prisoner deaths due to the coronavirus including at least one staff member. To find out more information and data related to COVID in the MDOC go to Email: askmdoc@michigan.gov with questions, or see MDOC Response and Information on coronavirus (COVID-19) | by MI Dept. of Corrections | Medium
In summation, since this pandemic began we have constantly been at-risk, especially the elderly prison population who are the most vulnerable with underlying health conditions. Today's positive cases in the State of Michigan were reported at 7,146 where 22 percent, or the 1,362 the MDOC reported on December 3. If more isn't done to prevent the spread of COVID inside the prison system, we are going to see higher numbers in positive cases, and unfortunately even more deaths. What's stopping the virus from infecting the entire prison population? We are already at 47 percent of the 34,000 or so that's in our prisons. The other 53 percent are like what I said earlier, sitting ducks.
Michigan's governor, along with the MDOC's director Heidi Washington have a chance to really do something about this out-of-control spread of COVID-19 in Michigan prisons. At least separate every prisoner by placing them in single occupancy rooms until the virus is brought under control by one of the vaccines (Pfizer or Moderna) sometime next year. If not, we are going to see this virus continue to languish in every prison in our state. And sadly, it's going to keep killing vulnerable prisoners and staff.
Early this spring, when the pandemic first hit jails and the MDOC, Governor Whitmer talked about releasing upwards of 5,000 nonviolent, low risk offenders, and those who were either past their earliest release dates, or already parole eligible. How about looking at releasing 10,000 more prisoners that fall in that same category of the 5,000? They can be paroled or released and placed on home confinement like the Federal Bureau of Prisons did with thousands of inmates who they let out under compassionate releases.
Stakeholders in Lansing could convene a special group of: Lawmakers, Prison Officials, Michigan Parole Board, Advocacy Organizations, and Michigan Citizens to figure out how to safely release those who no longer pose a risk to public safety.
TO CONTACT SHAWANNA VAUGHN OF "SILENT CRY" SEE HER FACEBOOK PAGE AT:  Shawanna Erena Vaughn | Facebook
Related: 
Michigan Department of Corrections Under Fire for Failing to Take Appropriate Measures to Combat Covid-19 – Honeysuckle Magazine
VOD HAS PUBLISHED MORE THAN 30 ARTICLES BY RICARDO FERRELL: PUT HIS NAME IN OUR SEARCH ENGINE TO READ THEM.