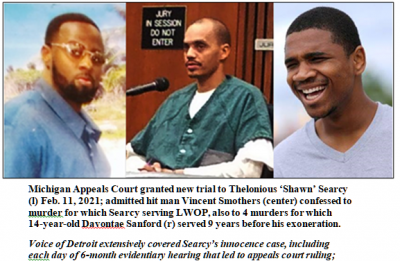 '

On March 4, VOD will have to pay our quarterly web hosting fee of $380 in order to keep the paper online. This will be a struggle this month. VOD operates on a skeleton budget provided by editors and reporters that live on fixed incomes outside and inside the walls and we sincerely appreciate any donations our readers can afford to keep us going into our 11th year.
We have focused lately on stories related to mass incarceration, the ongoing reincarnation of slavery in the U.S. which disproportionately devastates Black and other communities of color and currently is subjecting millions to virtual COVID-19 execution.
Our many stories on the case of Thelonious 'Shawn' Searcy hopefully contributed to his recent appellate victory, We look forward joyfully to his eventual release. Stories on the innocence cases of Temujin Kensu, Larry Smith and Kenneth Nixon are in the works, along with our continuing coverage of the cases of Ricky Rimmer, Carl Hubbard, and Darrell Ewing and Derrico Searcy.
STOP WRONGFUL CONVICTIONS!
END DEATH BY INCARCERATION!
STOP EXECUTION BY COVID-19!
Recent VOD stories relating to mass incarceration: