I want to hold those in power accountable for my wrongful conviction, and those of others: Searcy; 19,000 have signed Change. Org petition for his freedom at Petition · Michigan Attorney General: FREE WRONGFULLY CONVICTED THELONIOUS SEARCY!!!! · Change.org.
 "It's hard enough when you're guilty, it's twice as hard when you're innocent."—Vincent Smothers' testimony exonerating Thelonious Searcy
'The bullets don't lie." Defense Attorney Michael Dezsi
AP Patrick Muscat, DPD Sgt. Dale Collins played key roles in the convictions of both Searcy and Davontae Sanford
Appeals Court hearing Thurs. Feb. 4, 10 am, Panel 4, on Zoom

National Registry of Exonerations Report: 54 percent of wrongful convictions involved misconduct by prosecutors, police
By Diane Bukowski
January 23, 2021 
DETROIT—The Michigan Court of Appeals will finally consider shocking evidence from a 2018 evidentiary hearing in a high-profile murder case, 15 years after the conviction of Detroiter Thelonious "Shawn" Searcy, now 40, for the crime. Searcy has maintained his innocence from the start.
"As an Asiatic Black man," Searcy told VOD, my purpose for fighting my case so hard is to speak truth to power and hold accountable those responsible for my wrongful conviction, as well as the convictions of others who've been wronged by the corrupt judicial system in the City of Detroit."
Well-known hitman Vincent Smothers confessed to the murder of Jamal Segars outside City Airport on Conner in great detail at the 2018 hearing. It was held in front of Searcy's trial judge Timothy Kenny just before he became Chief Judge of the Wayne Co. Third Circuit Court.
Ballistics testimony showed that Wayne County Prosecutor Patrick Muscat, aided by  Kenny, lied to the jury about the gun and the bullets which killed the victim.
Muscat and Detroit Police Detective Dale Collins, a key witness at Searcy's trial, also helped frame 14-year-old Davontae Sanford for the "Runyon Street killings" of four people in 2007. Smothers' confession to those murders, which was concealed by prosecutors and ,police  led in part to the dismissal of Sanford's case eight years later.
Collins has been instrumental in numerous other frame-ups, including those involving the notorious "Ring of Snitches" in the 1990's, which led to multiple exonerations.
The Appeals Court hearing on Searcy's case is set for Thurs. Feb. 4 in front of Judges Mark J. Cavanagh, Deborah A. Servitto and Thomas C. Cameron, JJ. (Panel 4). It will be held via Zoom. Searcy's attorney Michael Dezsi is asking the Court to allow public livestreaming of the event.
Judge Kenny, who became Chief Judge for the Wayne County Third District in Jan. 2019, denied Searcy's motion for a new trial six months after the evidentiary hearing, in Dec. 2018.
He said did he not think Smothers' confession was  "credible," based in part on Smother's initial recantation to Michigan State police investigators after lawyers for Davontae Sanford told him it could delay Sanford's release. Legal experts say that determination should be up to a jury.
Kenny also claimed bullets found around Segars' car were .45 caliber, not .40 caliber as clearly shown in exhibits at Searcy's trial in 2005, and at the 2018 evidentiary hearing.  In his confession on the stand in 2018, Smothers said he used .40 caliber bullets, corroborating a police report from the scene.
Searcy filed an application for leave to appeal, but the Michigan Court of Appeals at the time gruffly denied the application, "because defendant has failed to establish that the trial court erred in denying the motion for relief from judgment." The Michigan Supreme Court later remanded the case back to the Appeals Court, saying, "in lieu of granting leave to appeal, we REMAND this case to the Court of Appeals for consideration as on leave granted." This meant the COA must address the substance of Searcy's claims.
During this appeal process, Searcy has twice suffered severe bouts with the COVID-19 virus which has decimated Michigan prisons. The virus threatened to make his "life without parole" sentence a summary death sentence, but Searcy, the father of twodaughters, has never ceased to fight for his life, his family, and his freedom.
Searcy is incarcerated at the Thumb Correctional Facility, where 60 percent of the prisoners have tested positive for COVID-19. After he tested positive a second time, he was shipped to the Macomb Correctional Facility for two weeks, where one-third of the prisoners have tested positive.
Since his incarceration, Searcy has devoted his time to studying the law, recently gaining grades of all A's in criminal law paralegal courses conducted by the Blackstone Career Institute.
He has combed through tens of thousands of pages of his trial transcripts and  his Detroit Police Department homicide file, while staying abreast of the latest court rulings in other cases. Assisted by another "jail-house lawyer,"  he wrote the 2016 pro se motion for a new trial which won his evidentiary hearing in 2018. That motion was based not only on the discovery of new evidence, but also filed under MCR 770.1, which addresses issues of likely innocence.
Searcy is looking forward to re-uniting with his two daughters, present as toddlers when police stormed into his grandmother Edna Richardson's home in 2004 to arrest the newly-married Searcy.
His daughters have visited him throughout his incarceration and supported him at his court hearings since. Mrs. Richardson hired private investigator Scott Lewis for Searcy's case, paid for Searcy to obtain his homicide file, and maintained a voluminous trove of other case documents at her home for review by reporters.
Searcy's supporters have garnered nearly 19,000 signatures on a Change.Org petition for his freedom, at  Petition · Michigan Attorney General: FREE WRONGFULLY CONVICTED THELONIOUS SEARCY!!!! · Change.org.
Additionally, Searcy's case is featured on Thelonious Searcy | Actual Innocent Prisoners.
54% of Wrongful Convictions Nationally involved Police, Prosecutorial Misconduct–Report by National Registry of Exonerations
In September, 2020, the National Registry of Exonerations released a study, "Government Misconduct and Convicting the Innocent," which showed that misconduct by prosecutors and police contributed to the false criminal convictions of more than half — 54 percent— of innocent people who were later exonerated.
Reviewers called it the  "by far the most thorough study ever of official misconduct by police, prosecutors and others in criminal cases in the United States. It is the only such study based on a comprehensive database of cases of wrongly convicted defendants: the first 2,400 exonerations recorded in the vational Registry of Exonerations." Read the full report at comprehensive report.
OFFICIAL MISCONDUCT IN THELONIOUS 'SHAWN' SEARCY CASE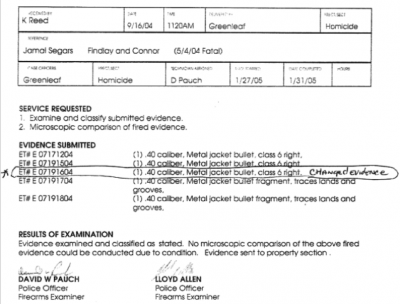 In Searcy's case, Vincent Smothers testified that he repeatedly told numerous police, court and media representatives, in affidavits and letters over three years, that he had committed the Segars murder, but to no avail.
He took the stand at Searcy's evidentiary hearing over the advice of his own lawyer, to describe the murder first-hand in great detail, as described in Deszi's brief below: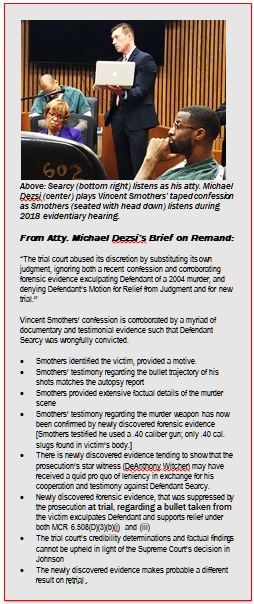 AP Muscat presented a .45 caliber gun at Searcy's trial, alleging it was the murder weapon without any fingerprint or other ballistics evidence.
However, he also presented Peoples Exhibit #23 at trial (at left above), in which Detroit Police Officer David Pauch identified the bullets found in Segars' body at the morgue as .40 caliber. At Searcy's 2018 evidentiary hearing, independent firearms expert David Balash confirmed Pauch's report, and testified the bullets were found in Segars' body.
Additionally, a .40 caliber bullet that the DPD crime lab initially identified as a 9mm shell casing was produced for analysis. The original designation was corrected by Detroit Police Officer Patricia Little of the Conviction Integrity Unit during the evidentiary hearing. The bullet is ET#07191604, shown on the report.
Also during the evidentiary hearing, the testimony of the prosecution's reluctant key witness DeAnthony Witcher was challenged with newly discovered evidence showing that the DPD had covered up a concealed weapons arrest of Witcher just prior to Searcy's arrest.
AP Muscat forced Witcher to submit to an investigative subpoena hearing without counsel, and Judge Kenny forced Witcher to testify by giving him "use immunity."
Below is Private Investigator Scott Lewis' audiotape of Vincent Smothers' confession to the Jamal Segars murder, obtained in 2017.
RELATED DOCUMENTS:
Thelonious Searcy Atty. Grievance against Patrick Muscat
http://voiceofdetroit.net/wp-content/uploads/TSearcy-grievance-PMuscat.pdf
Atty. Michael Dezsi's Brief on Remand to Court of Appeals:
http://voiceofdetroit.net/wp-content/uploads/TSSearcy.COA_.3.27.2020.pdf
Michigan Supreme Court's remand of Searcy case to Court of Appeals:
http://voiceofdetroit.net/wp-content/uploads/Thelonious-Searcy-MSC-remand-to-COA-3-18-20.pdf
Michigan Court of Appeals denial of Searcy application for leave to appeal:
http://voiceofdetroit.net/wp-content/uploads/TSearcy-COA-denial.pdf
Judge Timothy Kenny's order denying Searcy motion for relief from judgment Dec. 3, 2018:
http://voiceofdetroit.net/wp-content/uploads/Searcy-Thelonious-Opinion-Order-12-03-18-compressed-1.pdf
Searcy's pro se motion for new trial, filed July 22, 2016:
http://voiceofdetroit.net/wp-content/uploads/TS-motion-for-new-trial-7-22-16.compressed-2.pdf
Part one of Searcy brief with Motion:
http://voiceofdetroit.net/wp-content/uploads/TS-brief-7-22-16-part-one.compressed-1.pdf
Part two of  Searcy brief with Motion:
http://voiceofdetroit.net/wp-content/uploads/TS-brief-7-22-16-part-two.compressed-1.pdf
********************************************************************************

Voice of Detroit is a pro bono newspaper. VOD's editors and reporters, most of whom live on fixed incomes or are incarcerated, are not paid for their work. Ongoing costs include quarterly web charges of $380, P.O. box fee of $150/yr. and costs for research including court records, and internet fees, as well as office supplies, gas, etc.
Please DONATE TO VOD at
*********************************************************************************
A PDF of this article is available for printing at 
http://voiceofdetroit.net/wp-content/uploads/APPEALS-COURT-TO-HEAR-SEARCY-CASE-FEB.-4_-HITMAN-CONFESSED-TO-MURDER-LIES-TOLD-ABOUT-FATAL-BULLETS-_-VOICE-OF-DETROIT_-The-citys-independent-newspaper-unbossed-and-unbought.pdf
VOD STORIES ON THELONIOUS SEARCY'S WRONGFUL CONVICTION IN 2005, EVIDENTIARY HEARING 2017-18, IN CHRONOLOGICAL ORDER:
FALSE DETROIT CONVICTION: VINCENT SMOTHERS SAYS HE, NOT THELONIOUS SEARCY, KILLED JAMAL SEGARS IN 2004 | VOICE OF DETROIT: The city's independent newspaper, unbossed and unbought 
IS EXONERATION NEAR FOR THELONIOUS SEARCY, SERVING LIFE FOR MURDER VINCENT SMOTHERS CONFESSED TO? | VOICE OF DETROIT: The city's independent newspaper, unbossed and unbought 
SEARCY WINS EVIDENTIARY HEARING; SMOTHERS EXPECTED TO TESTIFY HE WAS THE KILLER IN 2004 CASE | VOICE OF DETROIT: The city's independent newspaper, unbossed and unbought 
RALLY TO FREE DETROIT'S WRONGFULLY CONVICTED, OUST KYM WORTHY SAT. OCT. 21 2-6 PM | VOICE OF DETROIT: The city's independent newspaper, unbossed and unbought  
PACK COURT TO STOP WRONGFUL CONVICTION OF THELONIOUS SEARCY MON. MARCH 19, 9 AM; JUDGE KENNY | VOICE OF DETROIT: The city's independent newspaper, unbossed and unbought 
VINCENT SMOTHERS TAKES STAND TO EXONERATE THELONIOUS SEARCY IN 2004 DETROIT MURDER | VOICE OF DETROIT: The city's independent newspaper, unbossed and unbought 
SMOTHERS' CO-DEFENDANT MARZELL BLACK BACKS CONFESSION TO SEGARS MURDER, AT SEARCY HEARING | VOICE OF DETROIT: The city's independent newspaper, unbossed and unbought 
TESTIMONY AT 2 MARCH HEARINGS SHOWED SEARCY LIKELY INNOCENT; NEXT HEARING DELAYED TO MAY 9 | VOICE OF DETROIT: The city's independent newspaper, unbossed and unbought 
FAVORABLE SIGNIFICANT EVIDENCE SURFACES AT SEARCY HEARING ON INNOCENCE CLAIM | VOICE OF DETROIT: The city's independent newspaper, unbossed and unbought 
TRIAL EVIDENCE VS. THELONIOUS SEARCY IN 2004 CITY AIRPORT MURDER DISCREDITED AT MAY 15 HEARING | VOICE OF DETROIT: The city's independent newspaper, unbossed and unbought 
PROSECUTORS, COPS, TECHS LIED, FALSIFIED EVIDENCE VS. THELONIOUS SEARCY, ATTY. SAYS IN FINAL HEARING | VOICE OF DETROIT: The city's independent newspaper, unbossed and unbought 
JUDGE KENNY STRIKES DOWN THELONIOUS SEARCY BID FOR FREEDOM ON 'ACTUAL INNOCENCE' OF 2004 MURDER | VOICE OF DETROIT: The city's independent newspaper, unbossed and unbought 
THELONIOUS SEARCY TARGETS WAYNE CO. PROS. PATRICK MUSCAT IN ATTY. GRIEVANCE COMMISSION COMPLAINT | VOICE OF DETROIT: The city's independent newspaper, unbossed and unbought
SUPREME CT. GRANTS REHEARING TO THELONIOUS SEARCY: HITMAN CONFESSED; JUDGE, AP LIED TO JURY | VOICE OF DETROIT: The city's independent newspaper, unbossed and unbought
MICHIGAN PRISONERS NEED COVID-19 VACCINES NOW, SAY ADVOCATES; A.M.A., OTHERS DEMAND 1st-TIER PRIORITY | VOICE OF DETROIT: The city's independent newspaper, unbossed and unbought