Michael Thompson Clemency Project Rallies families, friends of 12 Michigan lifers, applying for clemency with Mich. Gov. Gretchen Whitmer
Michigan prison population has tripled over the last 40 years; clemency project is first step in battle against mass incarceration
By VOD Field editor Ricardo Ferrell    and Mike McCurdy
FLINT, MI 9/16/22 – With momentum garnered during the Michael Thompson Clemency Project's (MTCP) last event "Fighting for Freedom" on Juneteenth at Flint's Capitol Theatre, advocates, family, friends and supporters again gathered, this time at the Vehicle City Social Club for a letter writing campaign.
Letters of support are being sent on behalf of the MTCP's 12 applicants for commutation to the Office of Gov. Gretchen Whitmer and Michigan's Parole Board. On this night in a room where many tears were shed, the stories of MTCP's constituents were told by friends and family members who got on stage and shared how having an incarcerated loved one has impacted them and their families as well.
Michael "Meeko" Thompson, Founder and President of the Board of Directors of MTCP shared his compelling story with the crowd, about his 25-year struggle for freedom after being given a 42-60 year prison term for selling three pounds of cannabis to a friend.
Now some 20 months after Gov. Whitmer signed his commutation, he went on stage as a clear example that clemency can help right the injustices of our system of mass incarceration. He vowed to continue to travel the country talking to crowds and advocate for prison reform and push for clemency for those left behind.
Some of the incarcerated men who were the subjects of the event, (including VOD editor  Ricardo Ferrell) chose to be there vicariously, telling their pre-recorded stories. Aside from Ferrell's story, LeRoy Washington, who has known MTCP founder Michael Thompson ('Meeko') since he was a kid, shared his story as well. Washington said Thompson was a positive influence on him and always steered him in the right direction. He described how when he was 14, Meeko stepped in and deterred him from joining a gang.
Like the others, Washington is hoping that his application for commutation, prepared by the law offices of Kimberly Kendall Corral, will receive the required recommendation of the Michigan Parole Board and prayerfully be granted by Gov. Gretchen Whitmer soon thereafter, bringing to an end his 28 years behind bars.
The dire need for both prison and criminal justice reforms was a major topic at the event. Flint's Mayor Sheldon Neely spoke about the need to give incarcerated individuals a second chance, and for legislatures to finally step up and reform the system.  Neely once held the seat as a Michigan State Representative before being elected mayor of Flint.
Never before had the families and supporters of MTCP's incarcerated constituents gathered to tell their stories in one spot.
"The event was a huge success," said Marshall Clabeaux, Codirector of MTCP, "We collected several letters on behalf of our constituents and were able to get a glimpse into the lives that are so drastically affected by the continued draconian and unnecessary incarceration of these men. Every story is different, but each of these men have proven they are ready to re-enter society and each of them is counting on the Governor to hear their pleas."
The event made it clear that Michigan has a real problem with elderly prisoners being held beyond a reasonable time. At what point is enough, enough? Thompson asked, referring to the cruel and unusual nature of continuing to incarcerate the elderly for crimes they were convicted of in their youth, and in abusive conditions, while they no longer pose a threat.
Flint resident and candidate for Flint School Board Claudia Perkins stressed that there exists a noticeable disparity in sentencing practices for People of Color. And the sole person that can do anything about it in many of these cases is Gov. Gretchen Whitmer.
In 2019, Governor Whitmer issued an executive order, creating the Michigan Task Force on Jail and Pretrial Incarceration. The stated goal of the bipartisan task force was to examine why the prison population has tripled in Michigan over the last 40 years, and what can be done to reduce the population. If one of the aims of the Michigan Prison Task Force is to reduce the population of those incarcerated, finding candidates like the listed 12 applicants should be a starting point.
These men combined have served around 400 years and counting. When is enough ever enough, especially when they have aged out of criminality, are elderly and sick, and struggle each passing day just to get out of bed and hope for another day?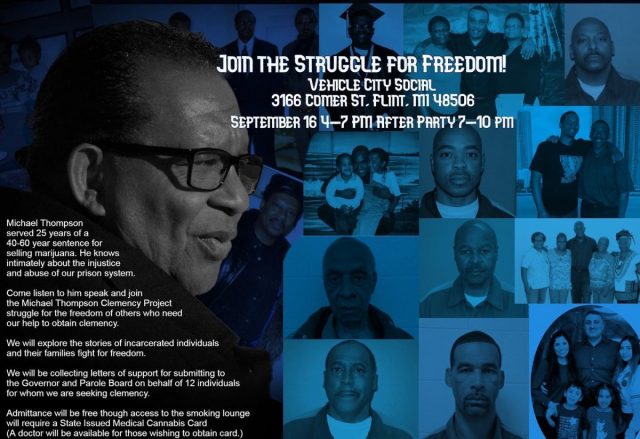 MICHAEL THOMPSON PROJECT FIGHTS FOR CLEMENCY FOR 11 MICHIGAN PRISONERS WHO HAVE SERVED 30-40-50 YRS. | VOICE OF DETROIT: The city's independent newspaper, unbossed and unbought
LEROY WASHINGTON, DAUGHTER CO-FOUND NATL. ANTI-BULLYING PROJECT TO CHANGE, SAVE LIVES | VOICE OF DETROIT: The city's independent newspaper, unbossed and unbought