Above: Interview with Atty. Darnell T. Barton, who represents Tracy Douglas, and with Katybeth Davis, a Monroe resident running for State Senate in District 16.
Dozens rally for Tracy Douglas outside the Monroe County Courthouse Oct. 6, say attack part of an ongoing pattern of rampant bigotry there
Bodycams: "I drilled her like a champ." attacker Dennis Landis told police Aug. 20;  white Dep. Sheriff Jack Hall told Douglas, "I'm blacker than you."
Total of four white men participated in the assault, including two deputy sheriffs who manhandled Douglas
Douglas charged with "assault and battery," Landis with "aggravated assault;" Hall facing federal civil rights charge
Monroe resident supporters say county continues racist history
By Diane Bukowski
October 11, 2022
Monroe, MI — Tracy Douglas, 60, put out a plea for support on TikTok, after a group of white shoppers assaulted her in the parking lot of a Lambertville, MI liquor store on Aug. 20, shouting  racial slurs and slugging her in the face, causing a concussion, a broken nose,  and blackened eyes.
Dozens of supporters answered her call Oct. 6, in front of the Monroe County courthouse.
"We traveled from Detroit to offer our moral and emotional support to the sister Tracy Douglas who was viciously attacked and beaten for no apparent reason at all other than her being a Black woman in the wrong place at the wrong time," said  Prisoners Doing the Right Thing in a statement. "It is important that we stand together united, in the face of racial hatred, bias and abuse, no matter who it is."
The Monroe County Prosecutor's Office has now charged Douglas with assault and battery on the white female shopper who initiated the confrontation, using racial slurs, and Dennis Landis, who hit Douglas, with aggravated assault.
Police bodycam videos show Landis boasting to a Deputy Sheriff, "I drilled her like a champ, I'm trained in jiujitsu," as her attackers and the Sheriff laugh.  Monroe County Deputy Sheriff Jack Hall is heard telling Douglas, "I'm blacker than you," claiming he grew up in southwest Detroit. Then, he made her sit in his police car while he went back to chat and laugh with her attackers before an ambulance took her to the hospital.
"They have charged her with assault and battery, which is egregious because, the video does not show anything, or at the very least a mutual confrontation," Douglas' attorney Darnell T. Barton told VOD.
"After being pushed and prodded, they finally charged the man who  hit her, but only with aggravated assault, and they are not going to charge the man who held her down.  There should be a higher charge [in the case of] a woman who's being held down and restrained while an experienced fighter hits her."
He said the two Deputy Sheriffs who came to the scene also assaulted Douglas, putting their hands on her without provocation. He said prosecutors have now begun a "misinformation" campaign against Douglas, claiming she slapped one of the deputies, "victimizing the victim all over again."
After the rally Oct. 6, VOD interviewed lifelong Monroe resident and activist Katybeth Davis, who is running for State Senate in District 16 (Monroe, Lenawee and Hillsdale Counties.) Davis called Monroe County a "hotbed" of racism and oppression.
"This has been why we've been fighting and crying and saying this is going on here in Monroe County," she said. "I'm fed up. If this is what I've got to do, sacrifice myself and even my family, just to give people who deserve to have a normal life and just a chance at happiness, so be it."
Davis said despite the fact that the Black population in Monroe County is gradually increasing compared to other counties, the County has no Black police officers or firefighters. She said several police officers who came from Detroit to work there left after two weeks "because of the culture."  She cited deportations by Immigration and Custom Enforcement (I.C.E.), failure to test detainees at the Monroe County jail for COVID-19, and a walk-out at Monroe County High School over issues of racism including the use of the "N" word are samples of the problems.
https://www.q13fox.com/news/monroe-students-to-walk-out-over-racism-allegations
https://www.votekatybethdavis.com/
To honor Indigenous Peoples Day (a/k/a Columbus Day) on Oct. 10, Channel 7 Detroit ran a segment of its "Two Americas," focusing on the fight to take down a huge statue of Gen. George Armstrong Custer (known as the "Indian killer) in downtown Monroe and remove his name from multiple streets, schools and other venues. A Channel 7 reporter rode with Katybeth Davis through the County as she pointed out the prevalence of Custer designations everywhere.
On Oct. 11, several news sites reported that the Custer monument was vandalized with graffiti stating "We scalped" underneath Custer's name. The Monroe Public Safety (Police) Department, and "other agencies" responded, arresting two individuals purported to be from Detroit, with another "getting away."
The law enforcement response was immediate, in contrast to the failure of Monroe County Deputy Sheriffs to arrest the men who assaulted Douglas, instead restraining her, bleeding with a broken nose, in their squad car until an ambulance arrived.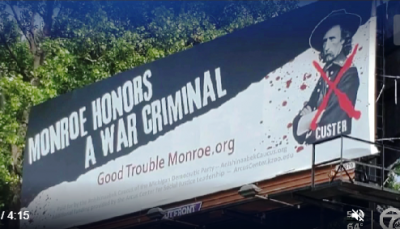 RELATED: THE ARTICLE BELOW INCLUDES ALL POLICE BODYCAM VIDEOS RELEASED TO ABC 12 AT ITS CONCLUSION.
Woman hurt in parking lot altercation files civil rights complaint against responding deputy, body cam released (13abc.com)
'I Have Two Black Eyes': Two White Men Punch 60-Year-Old Black Woman In Face, Breaking Her Nose, After She Door-Dinged Pickup. Cops Send Her to Hospital, Let Men Go (atlantablackstar.com)
https://www.q13fox.com/news/family-looking-to-leave-monroe-following-racial-harassment-assault
https://www.q13fox.com/news/monroe-students-to-walk-out-over-racism-allegations 
Multiple other articles can be found by Googling "Tracy Douglas" Monroe Michigan.
**********************************************************************************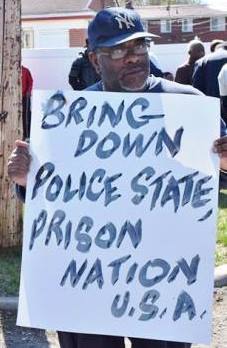 Voice of Detroit is a pro bono newspaper, now devoting itself entirely to stories related to our PRISON NATION and POLICE STATE.
VOD's editors and reporters, most of whom live on fixed incomes or are incarcerated, are not paid for their work. Ongoing costs include quarterly web charges of $460.00, P.O. box fee of $180/yr. and other costs including utility and internet bills, costs for research including court records and internet fees, office supplies, gas, etc.
Please DONATE TO VOD at:
**********************************************************************************