Do not talk to us today about potential for "violence" from protestors, to do so is to appropriate the language and framing of white supremacy. 
                                THE POLICE ARE THE NUCLEUS OF VIOLENCE
"The very idea of being non-violent in this system is laughable because it is erected and maintained through violence at our expense."
BY RYAN S. & BREANNA BONNER ● JUSTICE ● JANUARY 27, 2023
Stop Telling Black People Not To Riot Over the Lynching of Tyre Nichols (kansascitydefender.com)

[VOD Editor: We have just discovered this newspaper, established by young Blacks after the murder of George Floyd. It is reminiscent of the original Michigan Citizen here, which ceased publication in 2014. KCD broke the story of dozens of Black women missing in Kansas City, some victims of a white supremacist. Please go to the KCD website at Home – Kansas City Defender to see the entire newspaper and donate on its website. ]
Less than two weeks ago, we celebrated the birthday of one of our most prolific leaders, Dr. Martin Luther King Jr., who famously stated that "the riot is the language of the unheard." Today, these words ring truer than ever in the wake of the lynching of Tyre Nichols by Memphis police.
In the past week, those who have watched the video of Nichols' ruthless murder have expressed their disgust, Chief of Police and government leaders alike have urged people not to protest in response to the video.
"There's a right way and a wrong way to express yourself when you're upset or angry about something, we need to make sure if there's that sentiment expressed here it's done in the right way," FBI Director Christopher Wray said at today's press conference in a thinly veiled threat.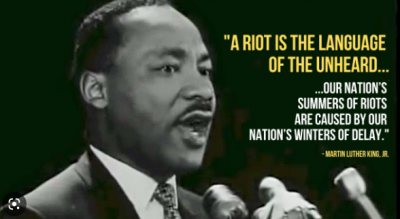 President Joe Biden said in a written statement "Violence is destructive and against the law. It has no place in peaceful protests seeking justice."
But the system brought this upon itself when it barbarically murdered Tyre Nichols — may peace, love and protection be brought to his family. Rest in Power, brother.
Whatever the response of the people, regardless of how visceral, how unorganized, how expressive, whether it is a candlelight vigil or burning down buildings – there can be no condemnation of such actions that are themselves responses to the brazen, vicious violence inflicted daily on the Black community by the systems of policing and white supremacy.
We will no longer be fooled or misled by the media which detracts from the truth and fact of the savagery, the unconscionable brutality of the police.
The police are the nucleus of violence 
They are such when suffocating, shooting, kneeing on the neck, choking and asphyxiating, lynching, beating and tazing, hanging and murdering people, but also when inflicting psychological violence through slave-era patrolling, surveilling and terrorizing our neighborhoods and cities.
Their mere everyday existence is structural violence as it extracts and drains hundreds of millions of dollars that would otherwise be invested in education, healthcare, affordable housing, mental health, childcare and other life-affirming institutions.
The police instead siphon off these necessary community nutrients, acting as a parasite which extracts these resources from our communities – ultimately driving us into homelessness, segregation era education facilities, and children so food and housing insecure that worms eat half of the food they ingest – all while the police purchase multi-million dollar helicopters, military grade vehicles, weaponry and drones.
If we are to discuss violence today, let us discuss this.
Do not talk to us today about potential for "violence" from protestors, to do so is to appropriate the language and framing of white supremacy, to be the slave risking their own life to protect the master's burning house – it is traitorous to our people.
We urge all Black people, all students, all poets, all dreamers, all blue collar workers, and all those from coast to coast to snap out of their spell of apathy. 
On some level, it is both anger and love that fuel our movements forward towards liberation. And we should be very angry.
Between the police once again waging warfare on Black Americans for doing everyday tasks, police murdering indigenous protectors from protecting their land against the expansion of military power, and bills across the country stripping Black people from the rights to know their history and their rights to survive, we are warranted anger.
What should first exit our hearts and mouths as we prepare for what is to come – is solidarity, what can we do to support the family and each other – if or when riots do occur, how we can be establishing mutual aid networks and bail funds for these courageous freedom fighters sacrificing their lives and safety to uplift Tyre's name, these freedom fighters who are demanding a dismantling of this unimaginably destructive system and through their actions saying we will absolutely not allow this to go on with business as usual.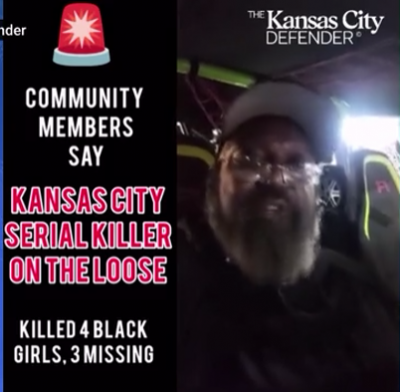 These oppressive systems wreak both physical ills and psychological destruction on our minds. With every outburst of violence as a result of policing, we shrug it off, we keep going with our day in hopes of not being worn down by the reality of our country becoming increasingly unlivable.
We urge every reader to break this cycle.
Instead, take a second and really feel an emotion about the state of our country. Reflect on every Black victim of police violence and feel anger towards a system that encourages and condones this. Consider the Black women who have been missing and killed.
Feel longing, feel hurt, feel anger, feel slighted. Feel human.
Truly, take a moment and mourn for those that you will never meet. We must grieve and grieve publicly. As the quote states "Grief is the last act of love we have to give to our loved ones. Where there is deep grief, there is great love".
With our collective grief, we re-instill the value in sharing love for every member of our community- both the ones we love for a lifetime, and the ones we love but never get to know.
Next, we must understand collectively that this level of grief should not be necessary; we shouldn't be losing our community members to state sanctioned violence. Reject the notion that these deaths are inevitable. Reject the idea that some must suffer in order to maintain safety.
Ultimately, reject the notion that the world must continue to look this way.
It doesn't. We must act, and we must act quickly. The very idea of being non-violent in this system is laughable because it is erected and maintained through violence at our expense.
Stop telling Black people not to riot after the release of the Tyre Nichols Video.
Any form of riot in response to such horrific violence can be described only as sacred and righteous action.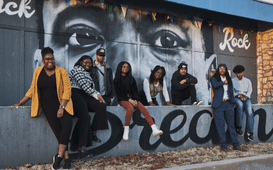 The World's Most Innovative Black News Startup Home – Kansas City Defender
We are a nonprofit digital startup producing news, digital tools and public services for Black people across the midwest. 
Related, published by Kansas City Defender:
KANSAS CITY POLICE DEPT. UNDER FIRE FOR DENIAL OF KIDNAPPINGS, RAPES AND MURDERS OF BLACK WOMEN | VOICE OF DETROIT: The city's independent newspaper, unbossed and unbought
Read VOD's extensive coverage of murders by police in Detroit by searching "police" and names of victims listed below in our search engine.