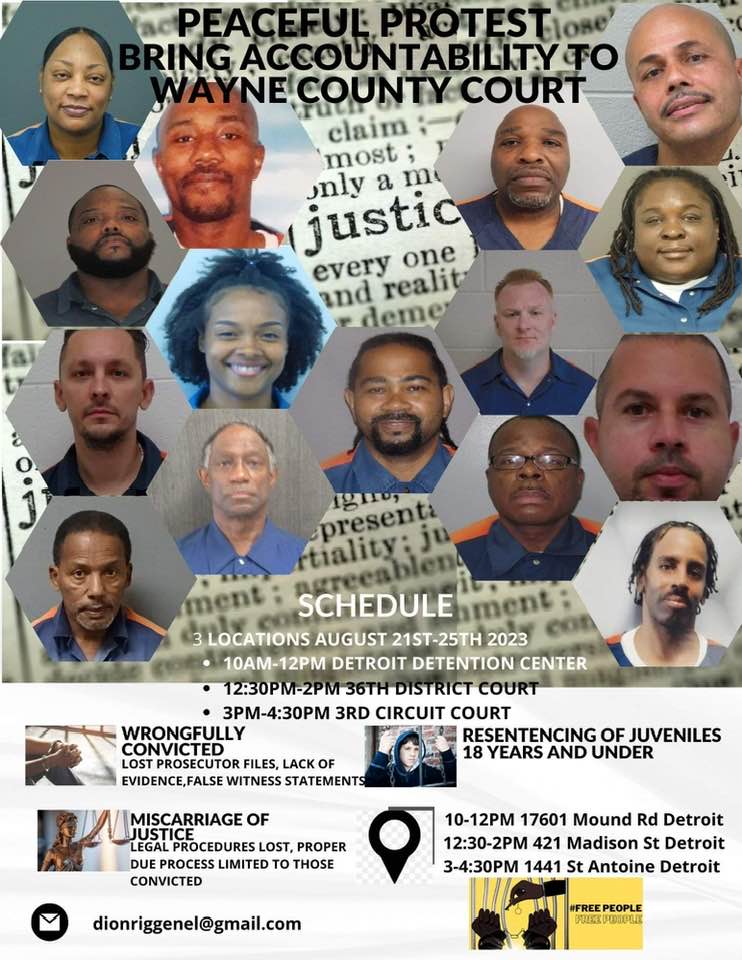 ______________________________________________________________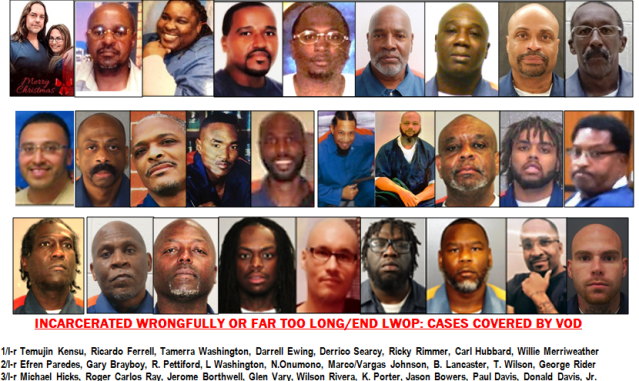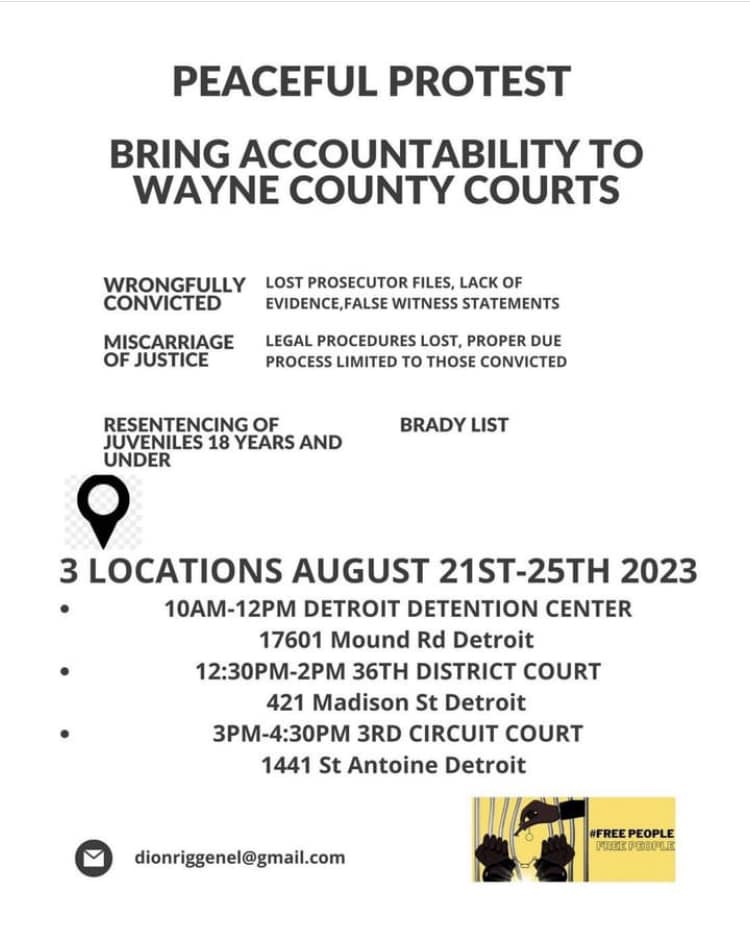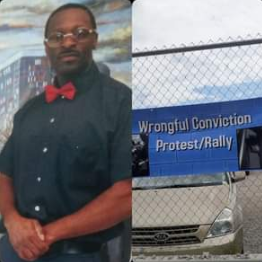 https://www.facebook.com/dion.riggenel
Home | Freepeoplecampaign (freepeoplefreepeople.info) 
Dion RiggenEl. (734) 756-9836.
________________________________________________________
Hold cops and prosecutors criminally accountable!

 Voice of Detroit has long advocated that prosecutors, along with the cops responsible for wrongful convictions, must be brought to justice. In a just world, they would serve the same penalties as the people they sent away to prison for LIFE, stealing their LIFE, LIBERTY AND PURSUIT OF HAPPINESS forever!
In Cook County, New York city and other locations across the country, prosecutors have been variously indicted,  fired, lost their law licenses, and otherwise punished for the unspeakable crimes they have committed, largely against poor people and people of color.
In Wayne County and across Michigan, such crimes by cops aided by prosecutors have been rampant. When will justice be meted out here?
2 former assistant state's attorneys charged in botched prosecution of alleged Burge torture victim – Chicago Sun-Times (suntimes.com)
"Special prosecutor Lawrence Oliver II on Wednesday unsealed charges accusing longtime prosecutors, Nick Trutenko and Andrew Horvat, of lying about Trutenko's decades-long relationship with a key witness against a man accused of the 1982 murders of two Chicago police officers.
Jackie Wilson's case, and that of his brother, Andrew Wilson, was marred by some of the first documented allegations of torture by disgraced Chicago Police Department Cmdr. Jon Burge and would see Wilson stand trial for the killings of Officers William Fahy and Richard O'Brien three times." —Chicago Sun-Times, March 8, 2023
________________________________________________________
FREE WRONGFULLY CONVICTED IN MICHIGAN
By Tamerra Washington, VOD Reporter
From Women's Huron Valley CF
Women prisoners in Michigan watched hopefully as our fellow male counterparts received justice. Witnessing the unified brotherhood experience exoneration at a rate never known in the history of wrongful convictions.
Does anyone see the gender disparity?
I've personally maintained my innocence since the initial arrest. No one cared to listen. No one ever investigated the story told. Orders were given by the judge that were not adhered to. Manifest errors. Systemic biases. False witness testimony. Prosecutorial misconduct. There are many women here just like me. Different cases, same injustices.
Who helps the underprivileged?
I've frequently inquired as to the status of relief for women. I was Blessed to speak to the woman that signed off on my experienced miscarriages of justice. According to her…" missing files on a 2011 conviction was unacceptable ". Approaching two years now… STILL NO ACCOUNTABILITY.
In 2021 I was granted a Discovery Motion, then denied after the hearing because, according to prosecution, my files are missing. I'm met with nonchalance as if my life does not matter. As if women are not just as capable of doing wonderful things in our communities. We are! Women have lived experiences and are prime citizens to attribute to peer support. Understanding the importance of wrap around services upon release to reduce recidivism. I know many dedicated women willing to uplift and do exemplary works upon exoneration.
From my understanding, the CIU's, Clinics, and Projects are swamped with gross malfeasances and there are lots of outright actually innocent individuals confined that's deserving of an exoneration. The judicial process fails the mass majority of underprivileged citizens. Once a jury affirms guilt, it's far too easy to fall down a rabbit hole.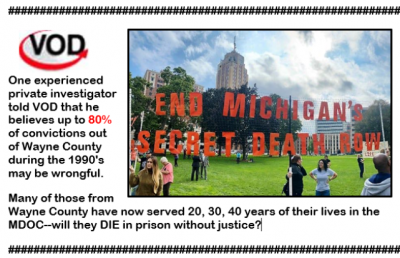 The result of unchecked power in Michigan's criminal processing, starting with the police and justice denied in the courts. How does an innocent person spend 47 years in prison? How long must we suffer?
Create a cubicle for women cases only. Separate us from the men since they have many institutions and we only have one. Michigan has funding for important issues. Increase the funding for CIU's, Clinics, and Projects. Our lives are important!
At the Federal level; provide Incentives to prioritize the exoneration of women. Other countries would be condemned for this treatment of their citizens. America… the land of the FREE has one of the highest rates of incarceration.
Michigan's justice system has a moral responsibility to women as well as the men. No person is deserving of deprivation of Life, Liberty, and the pursuit of Happiness.
Support SECOND LOOK LEGISLATION. It would give judges space to right the wrongs with many convictions.
Tamerra Washington 486364
WHV
@ Tamerra Washington on Facebook
@ MissCarrying Justice League on Facebook
www.MCJL-Registry.com
**********************************************************************************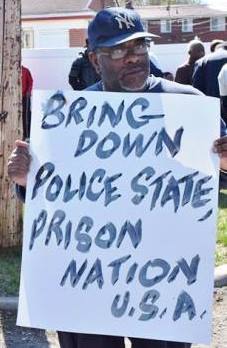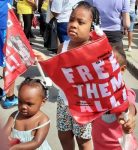 URGENT: Voice of Detroit is a pro bono newspaper, now devoting itself entirely to stories related to our PRISON  NATION and POLICE STATE. Funds urgently needed for web hosting charge of $465.00 Sept. 4, ongoing expenses.
VOD's editors and reporters, most of whom live on fixed incomes or are incarcerated, are not paid for their work. In addition to quarterly web hosting charge. other expenses include P.O. box fee of $200/yr., costs including utility and internet bills, costs for research including court records and internet fees, office supplies, gas, etc.
Please DONATE TO VOD at:
CASH APP 313-825-6126 MDianeBukowski
***********************************************************************************